This year I wasn't planning on throwing a chocolate party again for the third time. I thought everyone was kind of over the party theme. But I guessed wrong after friends were asking me when it was scheduled for this year, since it's usually held around v-day. So, everything was planned kind of at the last minute. I'm loving the apothecary style lately and thought it would be fun to incorporate in the party–jars and vintage labels. Because of timing I didn't do everything I wanted to do with the party theme, but I still think it came out well.
PS–I was not good about taking pictures! Once the party started, I was running around and completely forgot. So I never got a picture of the final table with all the desserts. But it was quite a sight!
For the invitations I searched for those little bottles and finally find them at A.I. Friedman. I filled them with m&m candies for the "chocolate pills". Very apothecary.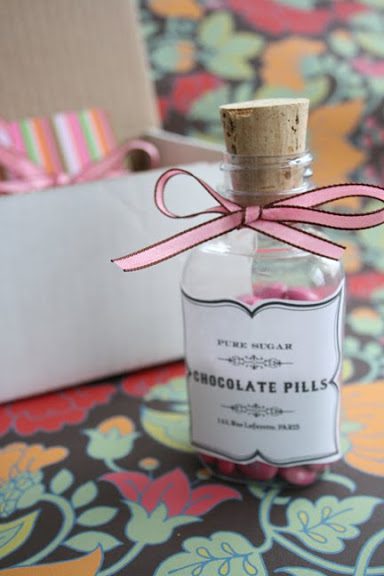 Part of the backdrop of the serving table, I hung spring flowers in mason jars. I wrapped wire around the mason jars and hung with ribbon.
Some of the desserts were served in these apothecary jars with labels. All the guests were asked to bring something chocolate. So, when they came to the party they were given these tags to label their dessert. This helped with the chocolate contest, so everyone knew what was what and what dessert they wanted to vote for. I must say that this year the desserts were amazing. I know I say that every year! But it seemed like everyone put alot of thought and preparation into their desserts. No Costco brownies at this chocolate table!! Oh no. My favorite was the chocolate bread pudding with vanilla bean sauce. I'm not kidding–I had dreams about it that night. But the winner of the contest made chocolate crepes with raspberry filling and hazelnut filling. Oh yum. Some other favorites were red velvet chocolate balls and chocolate oblivion torte with strawberry sauce.
At the end of the night, guests were given a pastry box to fill with remaining desserts because there's only so much chocolate you can eat in one night!
I'll post pictures of the games tomorrow!