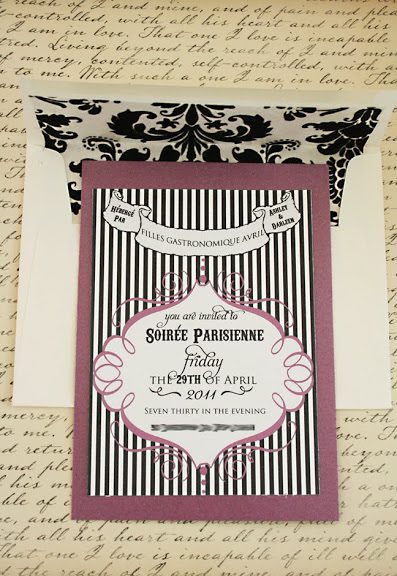 Paris Soiree: I'm SO excited to share with you my gourmet girls dinner that I hosted. My partner Ashley and I hosted last month, and we are so happy with how it turned out. It was magical and very Parisian! Ashley did an amazing job on the French-themed food, and I was happy that all the decorations came out just the way I wanted them. All the decoration resources are at the bottom of the post.
The styling and colors of the party came from the invitations that I designed. I wanted to do a black and white theme, but needed some pop of color so I added an eggplant color for my accent. I had this black velvet damask wrapping paper laying around my house that needed to be put to use. So I used the wrapping paper for the envelope liner…and for MANY other decorations. Oh the joys of paper!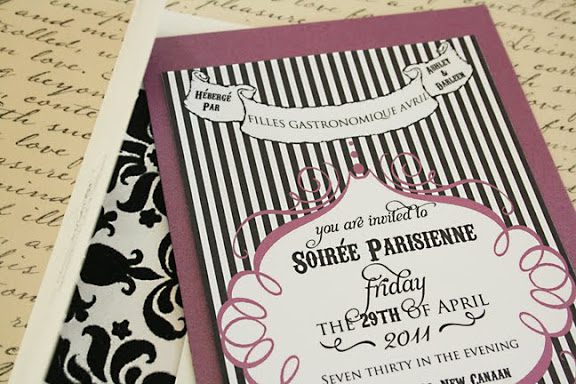 The dinner was held at the home of Ashley's parents, which is elegant and very French. Really no decorations were needed…but I decided to add a few. I took vintage black and white umbrellas and hung them upside down from the ceiling. I used the 3m hooks to suspend the umbrellas and they left no marks on the ceiling. Great way to make a grand entrance! The umbrellas gave that Parisian feel and made the party intimate and whimsical.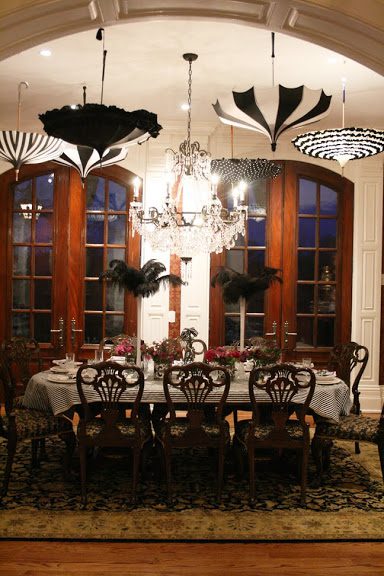 Feather centerpieces gave a little burlesque drama–I was definitely thinking Moulin Rouge and Cabaret.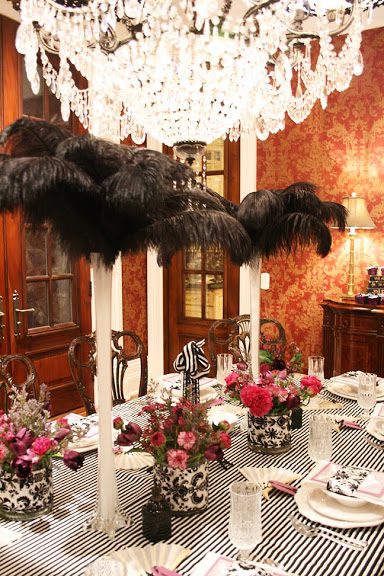 You can never go wrong with flower centerpieces of peonies and tulips, and this is where the eggplant purple was incorporate in the table setting. Do you see where I used my damask wrapping paper?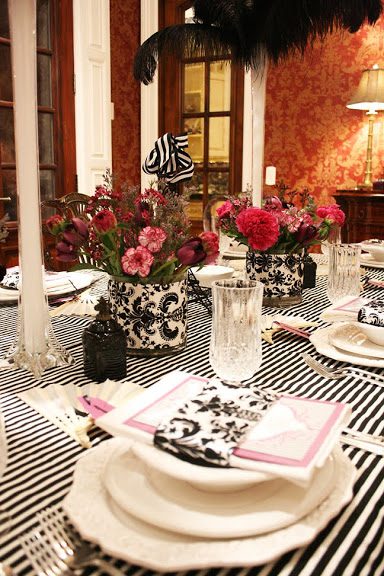 Ashley created an amazing French-themed menu. Every bite was to savor. The menu design was similar to the invitation. I forgot to take a picture of the actual menu!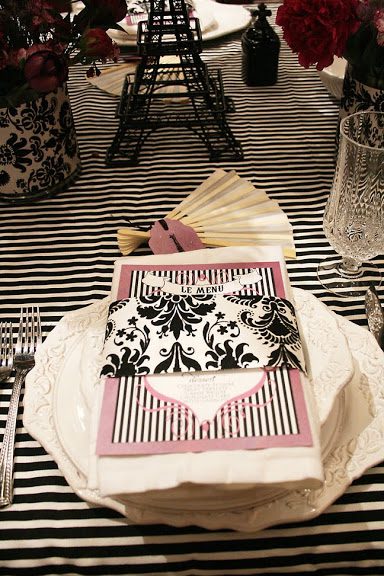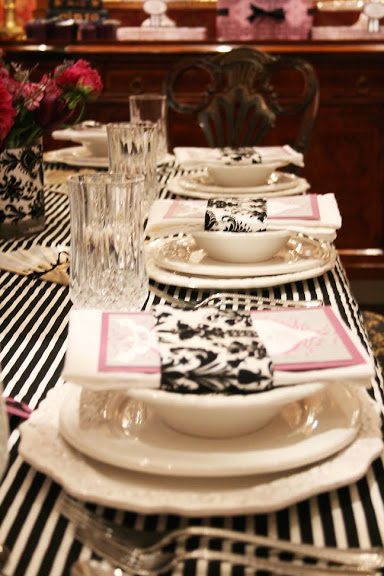 All the girls received white silk fans with an eiffel tower tag and french macaroons as party favors.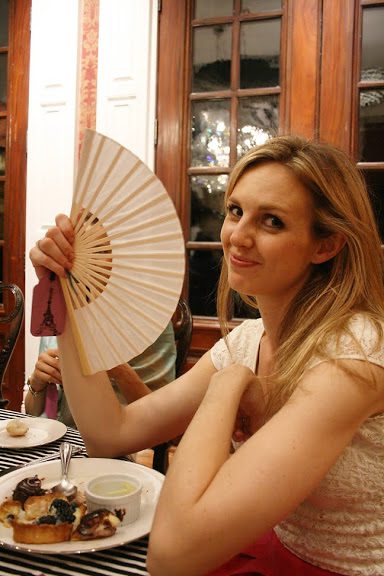 In the dining room, there is a beautiful buffet credenza so we decided to display the desserts. French pastries–chocolate eclairs, fruit tartlets, creme brulee and chocolate cake with ganache. They were delish!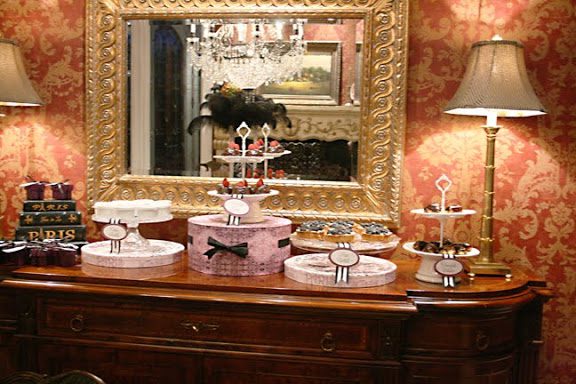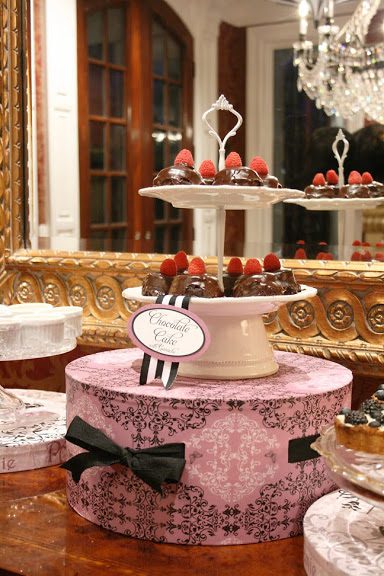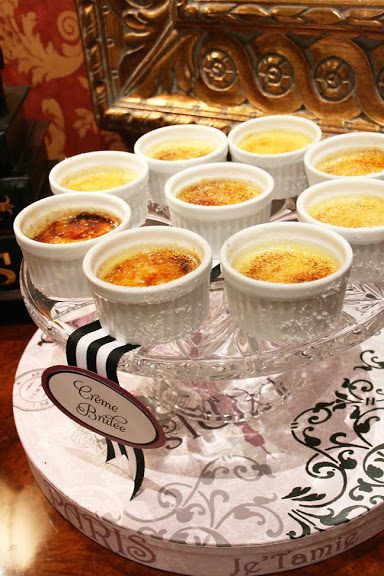 Appetizers were served on silver trays and were all bite size. I ate so many of these!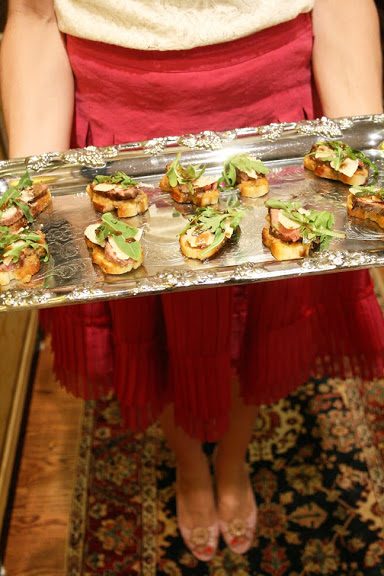 My favorite dish was the entree–sea bass with a saffron jus. It melts in your mouth.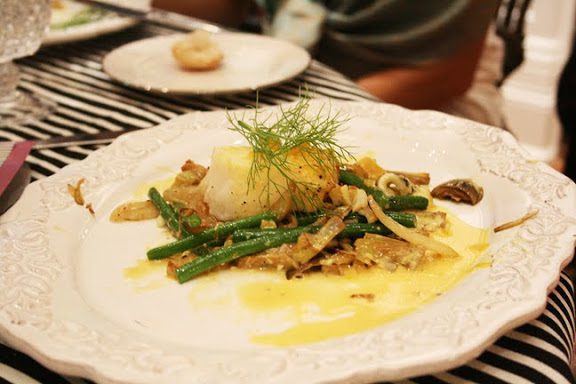 My partner Ashley and I finally enjoying the night.


The night turned out wonderful and we loved how everything turned out!