Have I mentioned we are slightly, overly obse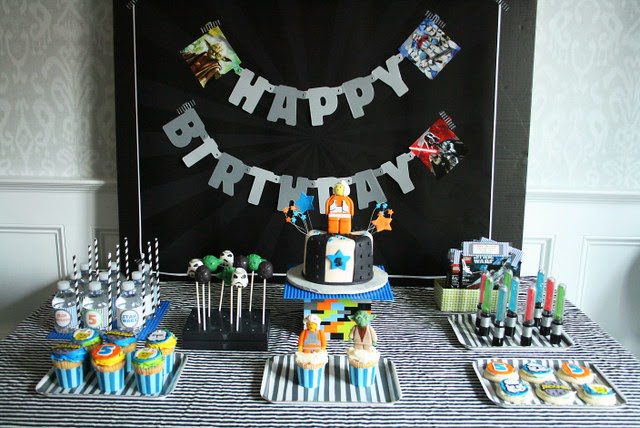 ssed with Star Wars?  Like…my kids can recite lines from the movies, my boys wear Star Wars underpants and carry the lunch boxes to school too.  And you wouldn't have wanted to hear their cries when I told them they couldn't do the Jedi Training Camp at Disney because camp was full.  I promised them next time.  So my little Jackson turned 5 in the fall, and I was not surprised when said he wanted a Star Wars party.  Well, I have already thrown a Star Wars party for his older brother which was a huge hit.  But Jackson wanted to go with the Star Wars Lego party theme instead.  I keep my leftover party supplies so I was still able to use items that I used for the Star Wars.  And was able to reuse the printables I designed.  For that, it was a pretty easy party to pull together, which I needed because his birthday is right during the holidays.  As always resources are listed below.  One thing I did was print up at the local print shop a huge bulls eye image for the backdrop.  They were able to blow up the image large enough to cover my poster board. I used that same image in his invitations.
How cool is his cake?  It's one of my favorite and tastes better than it looks!  3-D Lego minifigure jedi brings the whole theme into play.  I put my older son to work by having him build me a lego cake stand.
More 3-D mini figures for our cupcakes.  We had the party after lunch so I ended up just serving cake and cookies.  For the cupcakes and cookies, I found mini light sabers on Amazon and stuck them right next to the fondants.
No shortage on star wars minifigures at our house!
Straws are attached to the water bottles by little sticky dots.
So what activities did we do at the party?  Well, I really wanted to keep cost down and honestly didn't want to put too much thought into it.  Remember, we were right during full holiday mode. So I purchased a few new Star Wars Lego boxes for the party and had the parts and instructions laid out on our table for the kids to build and play with.  I checked into different Lego rental companies and even craigslist for old Lego kits, but the prices for Legos are quite expensive and going with new boxes just made sense.  Jackson and his friends are at the age where they just sat and built the Lego kits the entire party.  For those who weren't quite Lego fanatics, I had our bounce house up and toys out.  We also had a handmade Lego pinata to break up the party.
Party favors–a simple Lego Star Wars ship
Happy Birthday Jackson!  May the force be with you!
Resources:
Star Wars printables: me
Bullseye poster board: image by me then printed at OfficeMax copycenter
Happy Birthday Star Wars garland: Target
Birthday Cake with 3-D Lego minifigure: Sugar Benders
Star Wars Cake Pops: So Sweet Pops
Lego Cupcake toppers: MJ Tabush Cake Designs
Lego guy and Lego yoga toppers: MJ Tabush Cake Designs
Star Wars lightsaber lollipops
Lego Cake Stand: we made it
Star Wars Republic Attack Cruiser Party Favors
Mini light sabers
Star Wars Lego Kits