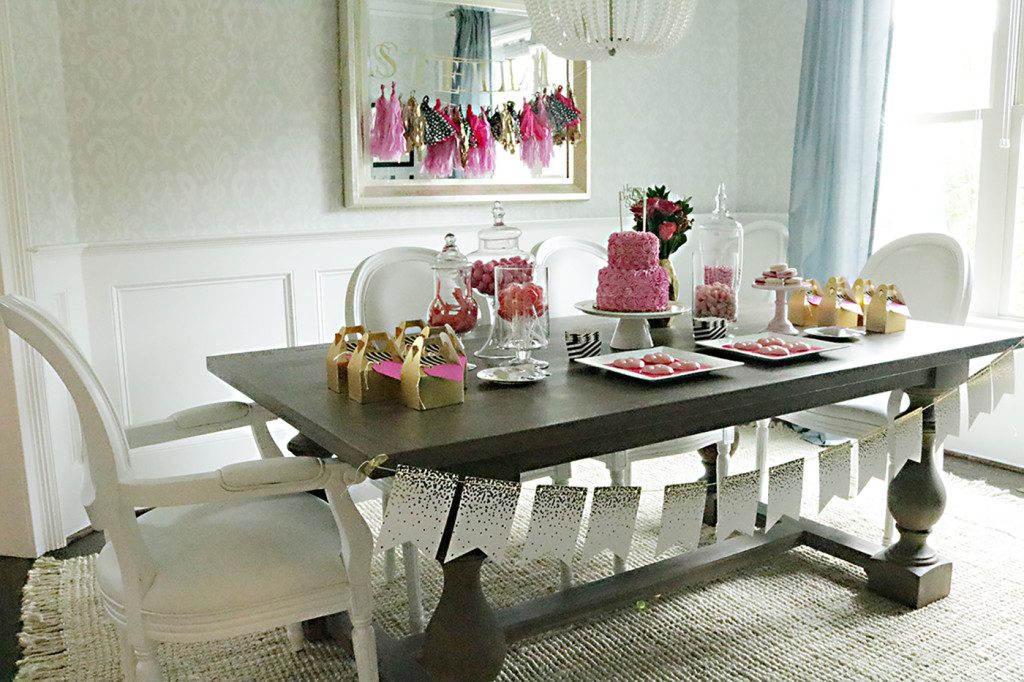 My oldest daughter Stella just turned 11 years old.  Since it's not a big milestone birthday in a tween's life, we kept the birthday extravaganzas pretty simple.  She decided to have some of her friends come over for a night of karaoke and dancing.  I probably didn't have to do one thing because the girls had so much fun keeping themselves entertained.  But I couldn't resist!  I had to do something.  We decided to keep the party colors pink and gold, which was perfect for a girl's tween birthday party.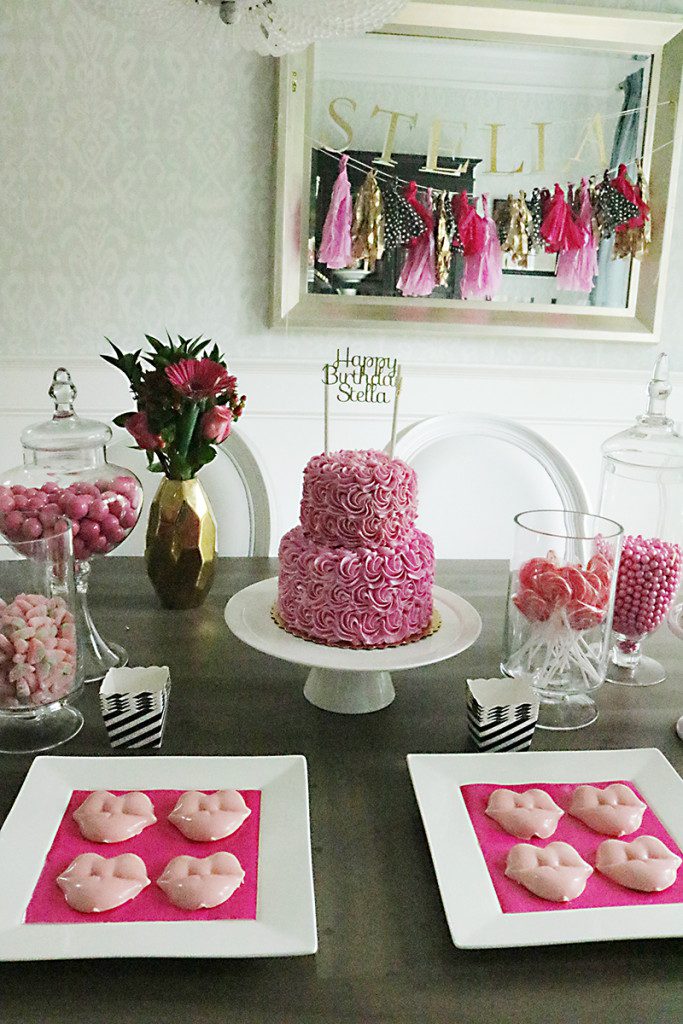 Since it was a night of loud singing, I thought doing some lips decorations would be fun.  I used a lip mold for chocolate treats for the dessert table, and the girls learned how to make their own lip gloss.  We had lip wax candy to give out to the best karaoke singers.  And the gift bags were filled with different lip makeup beauty items.
The cake is my favorite and seriously so yummy!  Guess where I got it?  Whole Foods.  It was last minute, and it saved me on time.  I bought two different sizes of their pre-made cakes and just placed the smaller one on top of the other.  Quick, easy, yummy and too pretty to eat.  But the favorite-ist (I know this word is found in urban dictionary!) thing is really the cake topper.  It really made the cake and was the focal point of the table.
Here's how to make I made this cake topper in 20 minutes.  I used my Cricut Explore.  Opened the design program through cricut's site.  Using one of my script fonts I had already installed on my computer, I typed out "Happy Birthday Stella" on three lines.  I made sure the letters overlapped each other. Then made sure it was set to only cut and merged it as one.  I used heavy, heavy gold glitter card stock and had the machine cut it on the poster board setting.  Then I just hot glued to two lollipop sticks.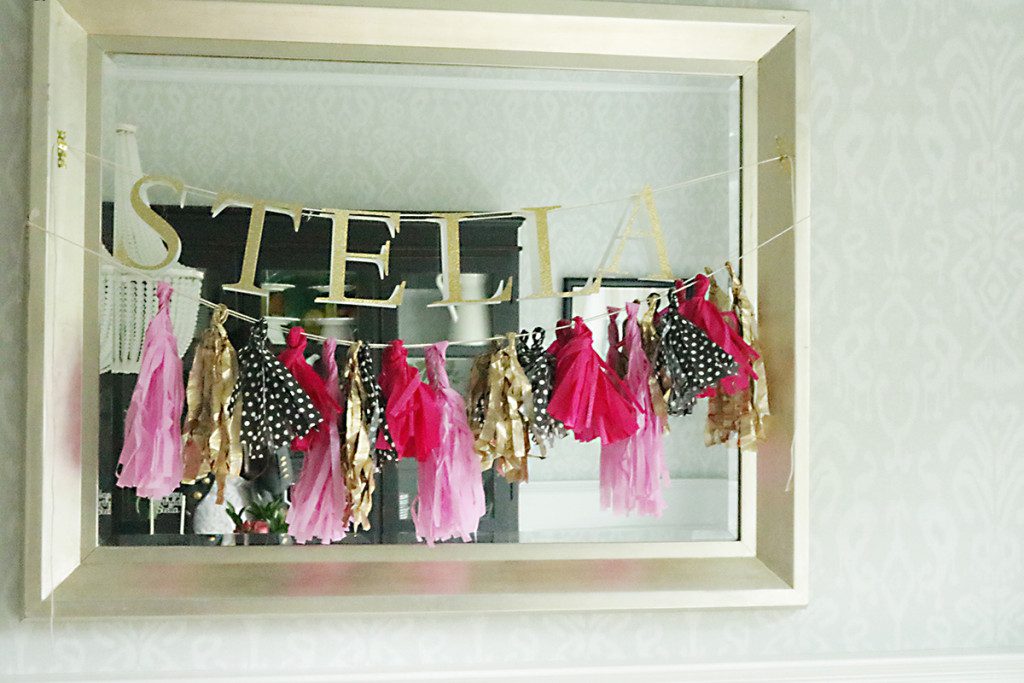 I did the same thing with the with your name banner using my Cricut explore and gold glitter card stock.  This banner came out so cute!  It's now hanging in her room.  The tissue tassel garland was made by Stella and her friend.  I love that she now helps with the decorations.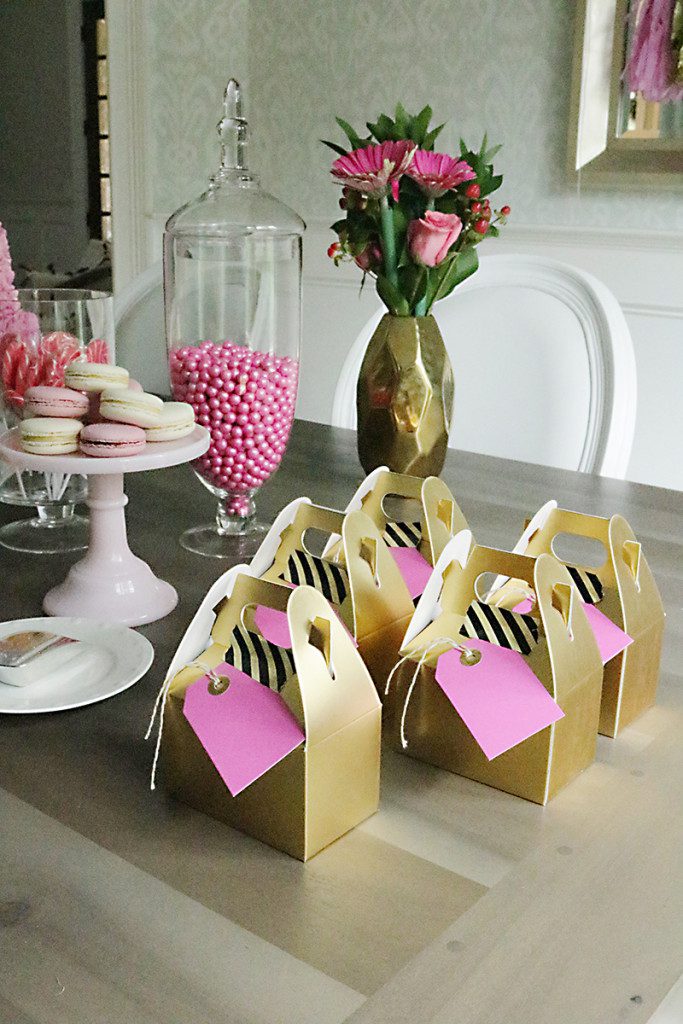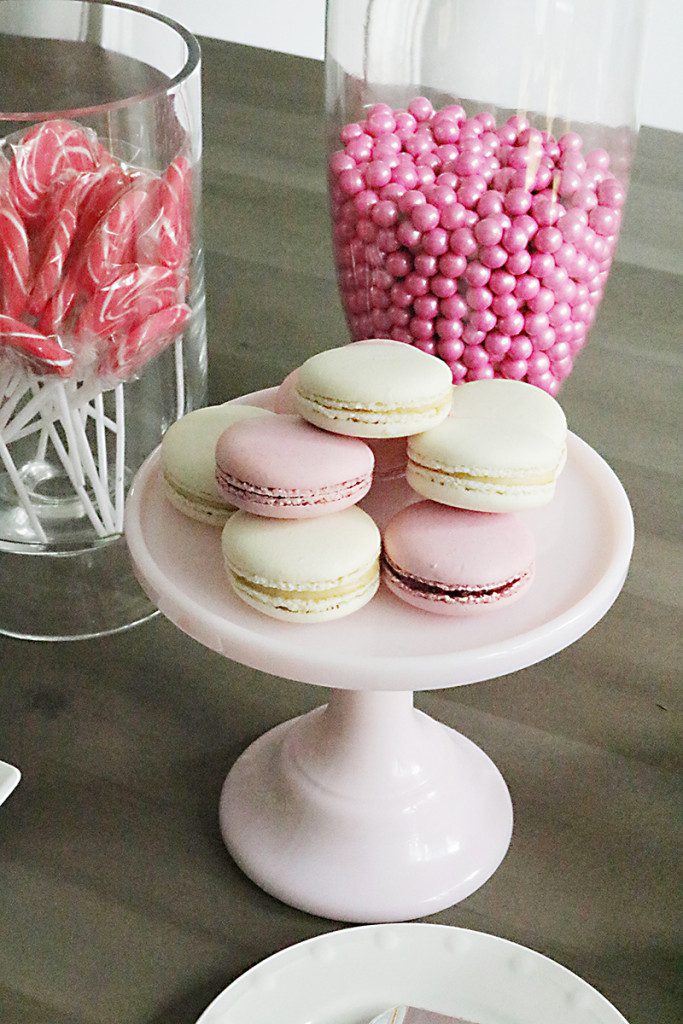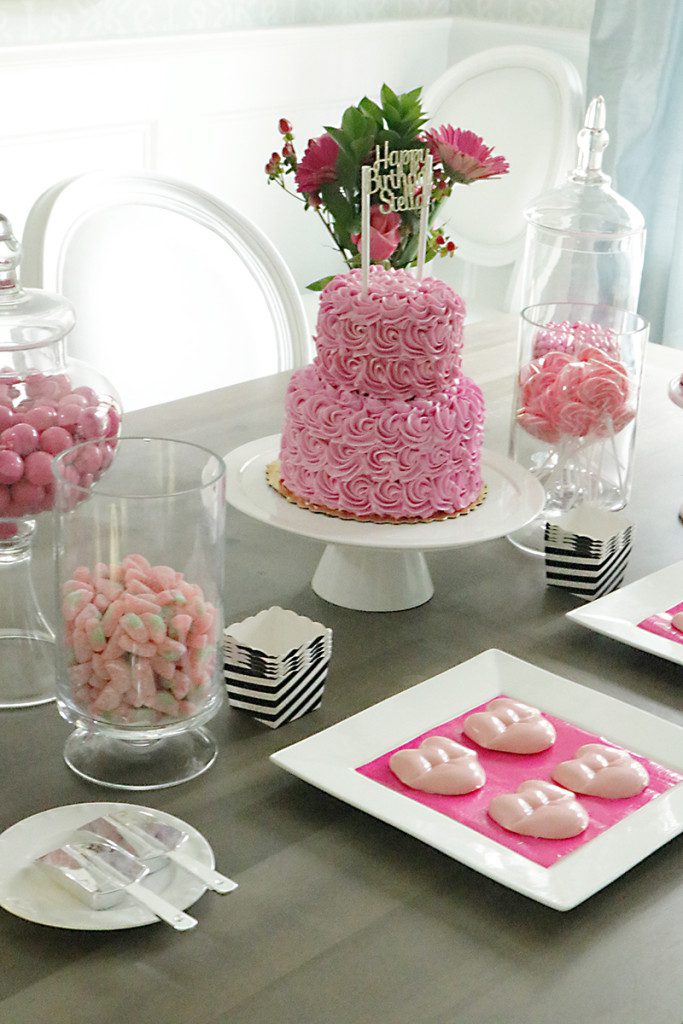 Pink and white macaroons, gold gift bags, pink flowers and lots of pink candy!  You can never go wrong with the color pink for a girl's tween birthday party.  All the party bags and little candy containers came from Target.  They have so many cute party decorations.  Confetti is from The Flair Exchange.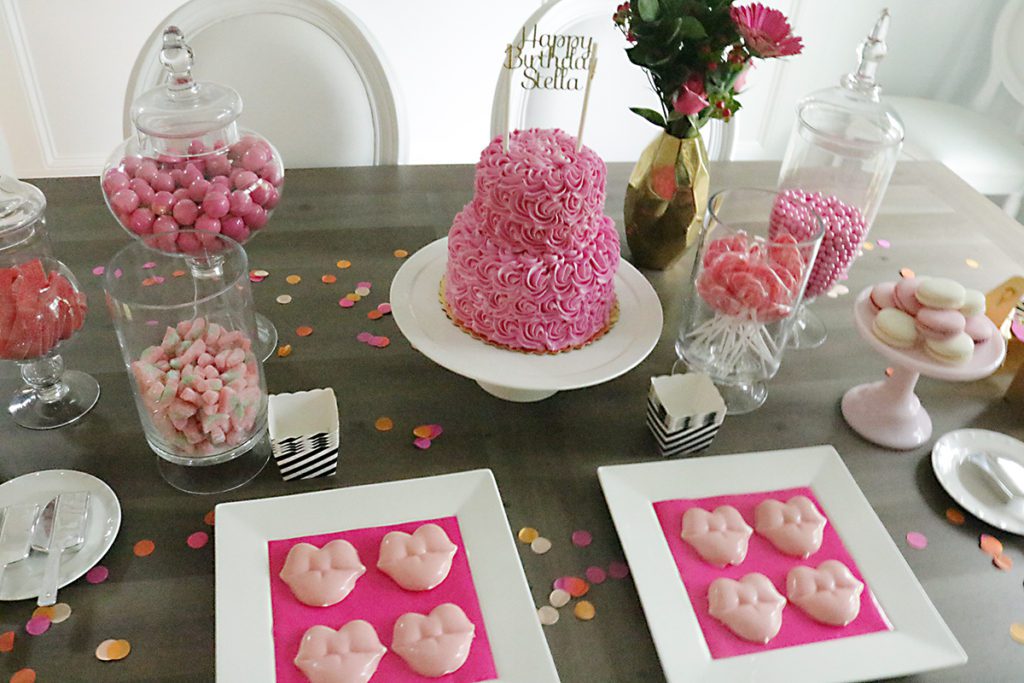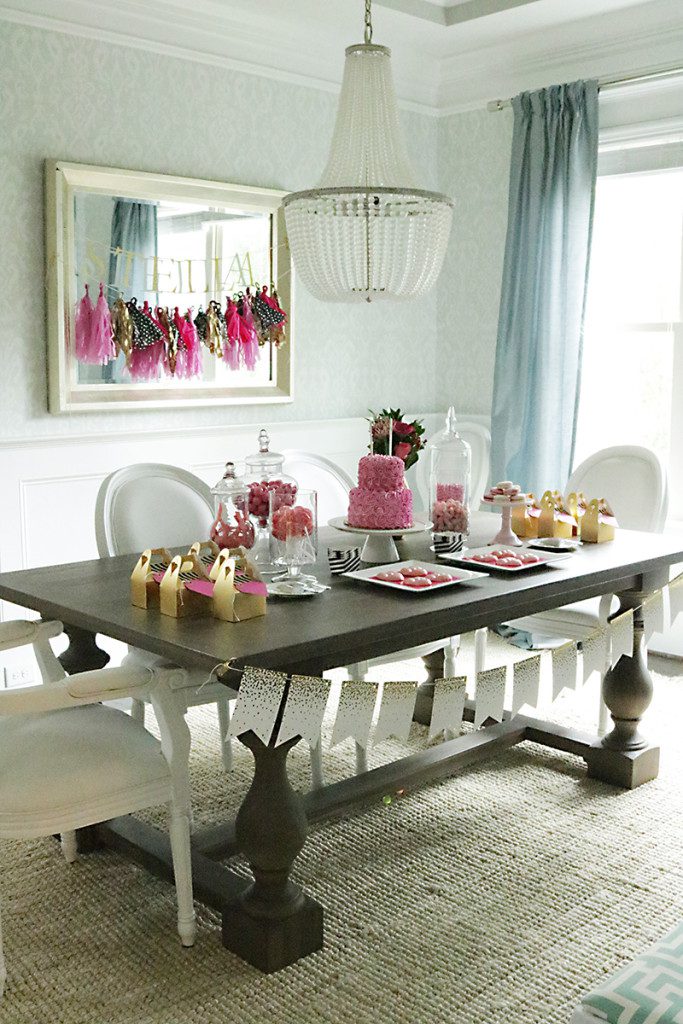 Not bad for throwing this party together in just a few hours!
Check out some other party decorations that goes with a pink and gold tween birthday party:
You may also be interested in these other birthday parties:
Baking Birthday Party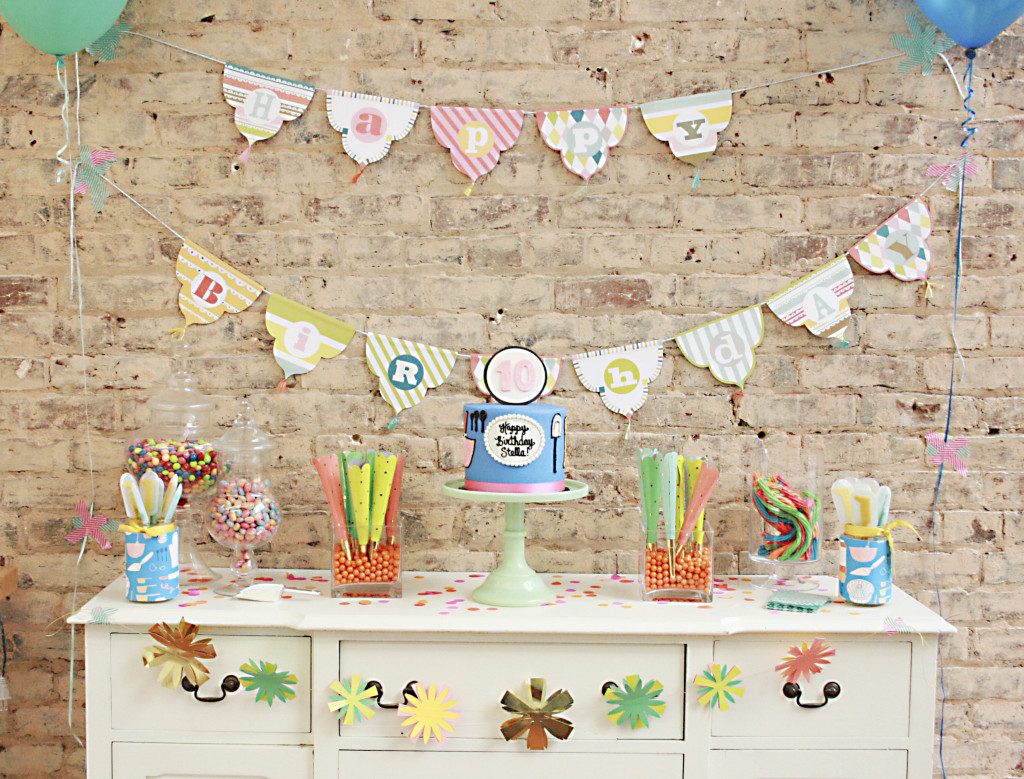 Painting Party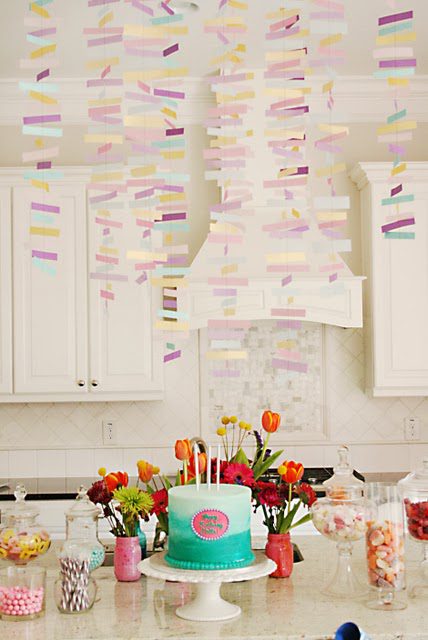 DIY : Jumbo Confetti Balloons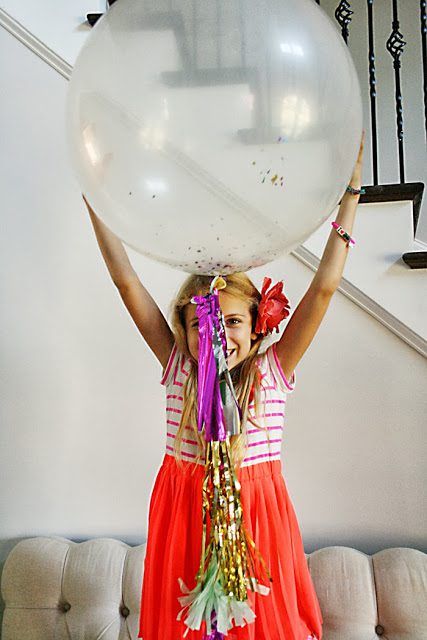 Spa Birthday Party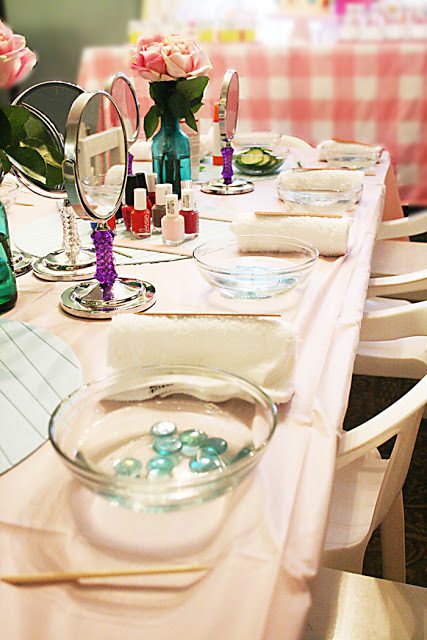 Birthday Tea Party