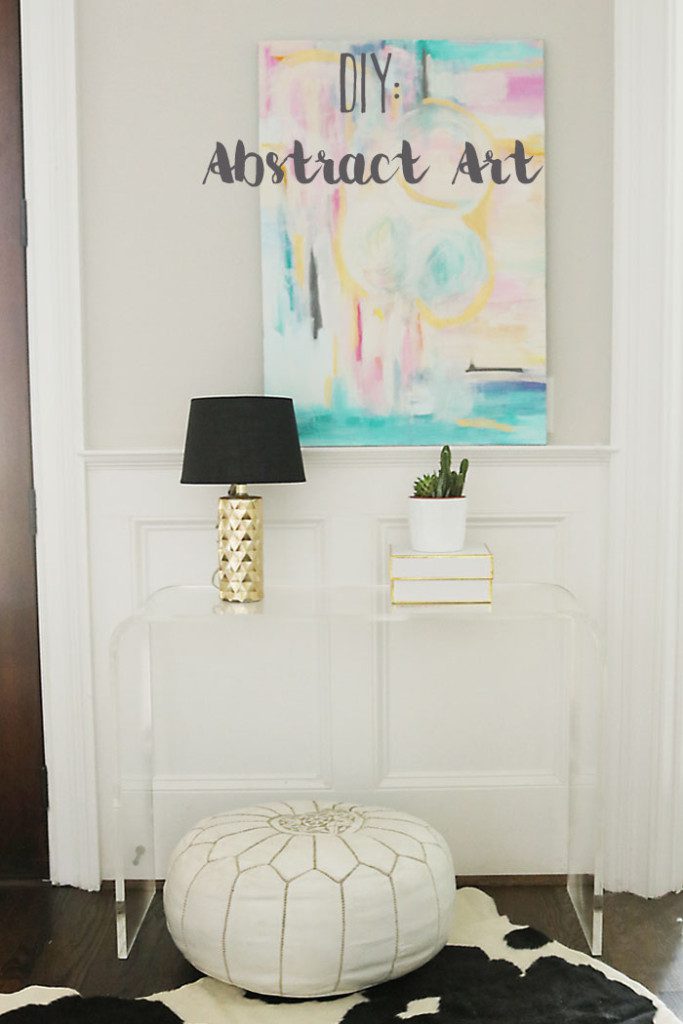 DIY Abstract Art Painting: I am determined, and have set a goal to get our home finished this year. Which means, I need to fill empty walls with pretty pictures. Doing a DIY Abstract Art tutorial has been on my to-do list for some time. I am by no means a professional painter, but I have taken many art classes and know the basics. But really to make a DIY abstract art painting, you don't have to be a professional or have taken an art class. Any one can do it! Even a child because I've done many with my own children, like this DIY abstract painting. Abstract art is my favorite, and I love how you can take different views and perspectives from it. You can even do different mediums; Some people choose to take their abstract art and turn it into a diamond painting. That's when you overlay your art with small diamond-like dots to make them really stand out. If you'd like to give that a go, consider looking over all the steps online, such as where to get supplies, what works best for it, and how to seal your diamond painting. Me? I prefer the paint approach, but that's just my medium of choice. It's the one we'll be focusing on though, so grab some paint, canvas and brushes, and let's make a DIY abstract art painting for you to admire!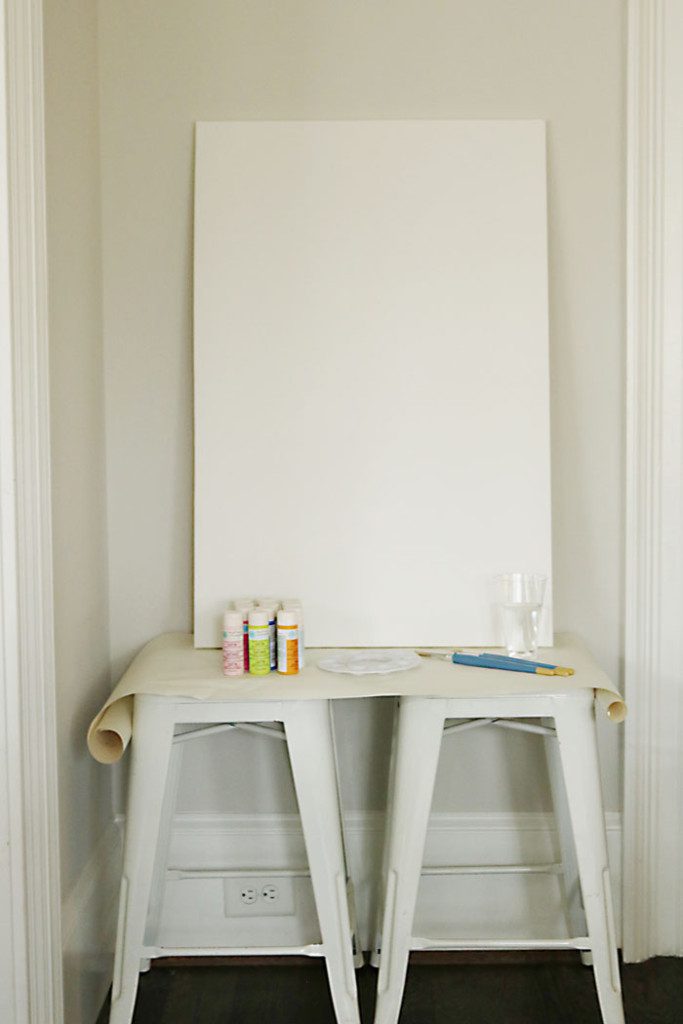 Supplies
water
Any canvas will work to make a DIY abstract art painting. It really depends on your wall space. I painted on a 30×36 canvas and bought the cheapest one. If you don't have one, set up a work space. I used two stools and leaned the canvas against a wall. Make sure to cover you space with paper or an old cloth. Also have a paint palette to hold your paint and mix colors.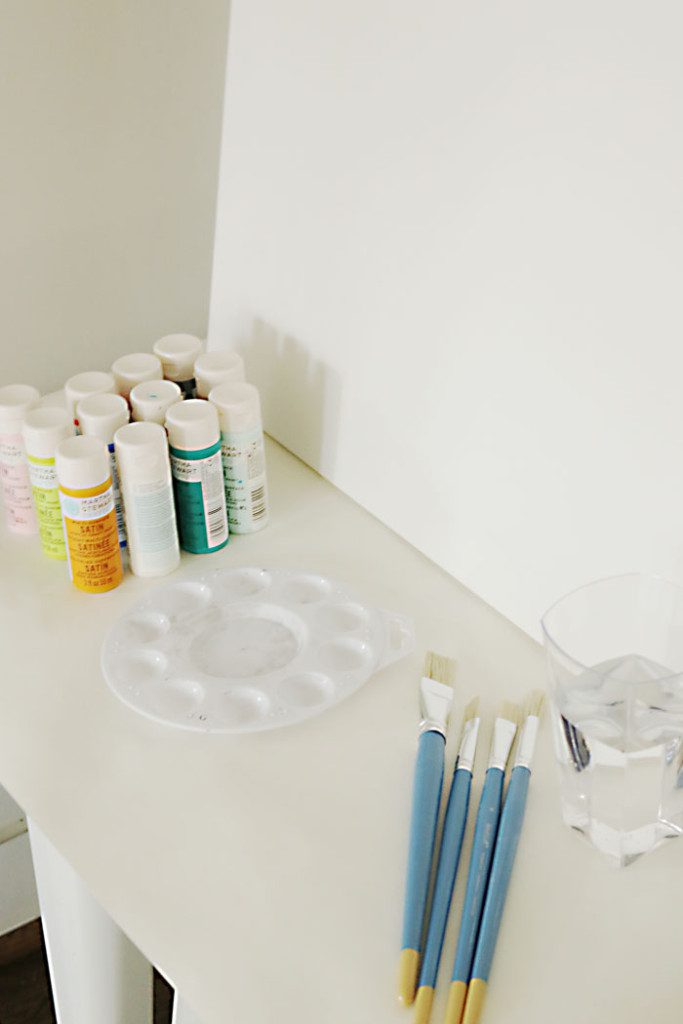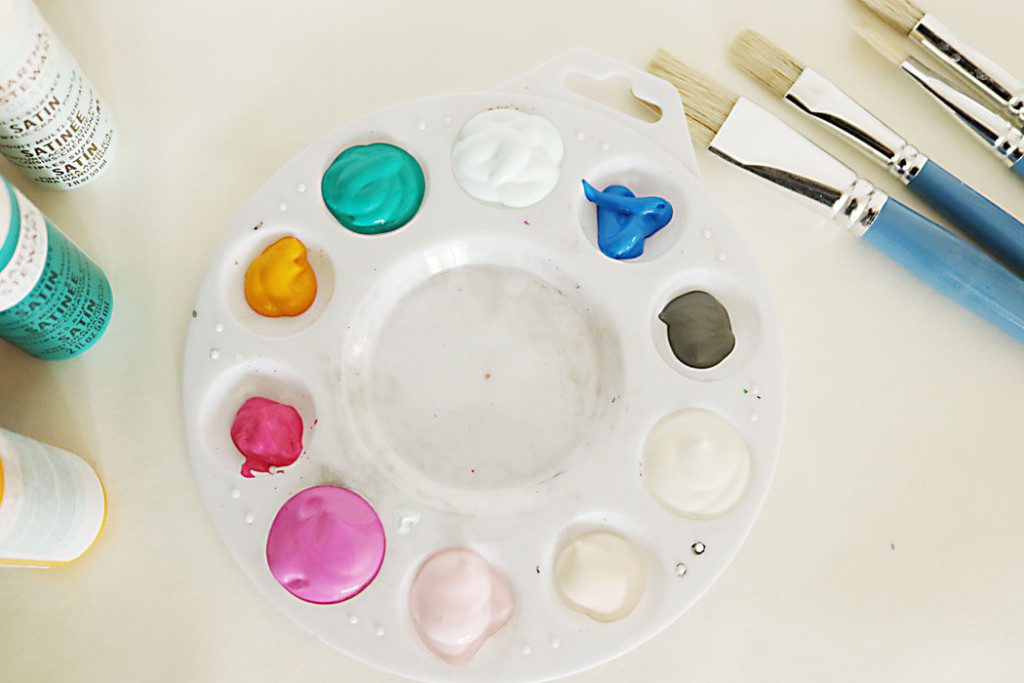 On your palette, I organized the paint by color family (pinks with pinks, blues with blues, neutral with neutral). Make sure you have white paint. That was color I used the most! I have two different shades of white. You can use any color you are going for. These are just the colors in my house. So if you want to use reds and yellows or some other color, go for it! I just suggest getting three different shades of the same color family. One medium, darker and lighter. Unless you know how to mix colors!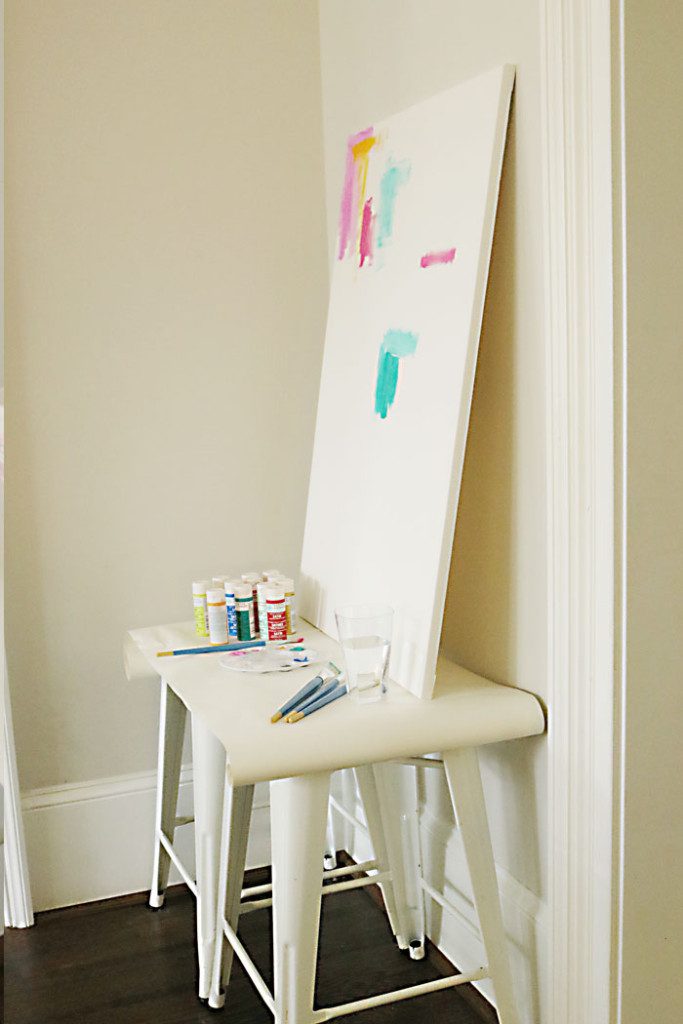 If you'd like you can prime the canvas with a color. Use Gesso paint to do that. A primer also helps to control the texture of the paints. But I didn't do that with mine. I just started with a blank canvas. Begin by painting with the medium color with brush strokes of up and down or side to side anywhere on the canvas. This will set where that color family will be located. Make sure you have a few different brush sizes to create different lines.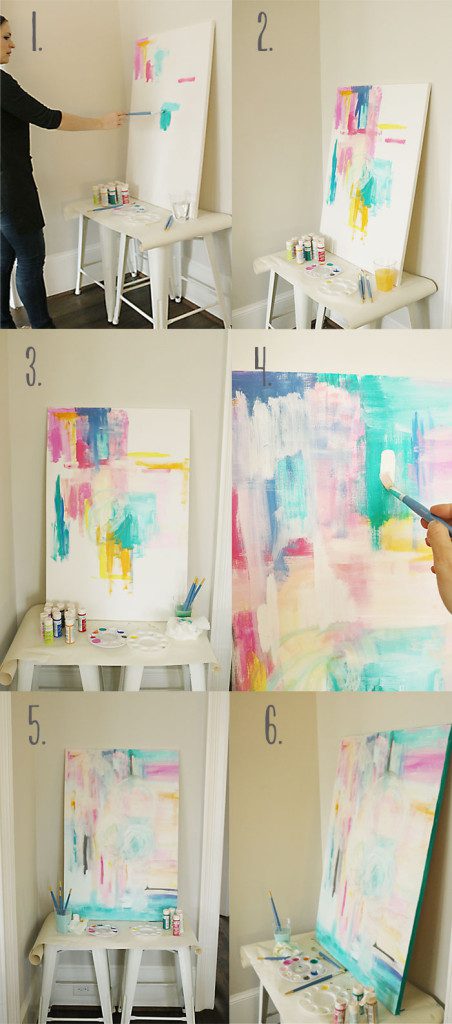 You can start by making horizontal rectangular formations of brushstrokes. Start out with a vague plan of composition and color
Work around the canvas in your color family, but be open to change and let go of out expected outcome. That's the fun of abstract!
Start blending the color families together connecting them with complementary colors
Add white to paint over areas you don't like or want to blend together or want to lighten. I used a lot of white!
Don't be afraid to create depth and use circular motions and patterns. I wanted to tone down all the up and down strokes so I changed to circular patterns in the middle.
Once you are satisfied, paint the sides of the canvas to create a finish piece
I also suggest walking away from your DIY abstract painting and then coming back to it 10 minutes later. You might see it in a different way and add more colors or different patterns. To finish it off, I added gold metallic acrylic paint to create depth and interest.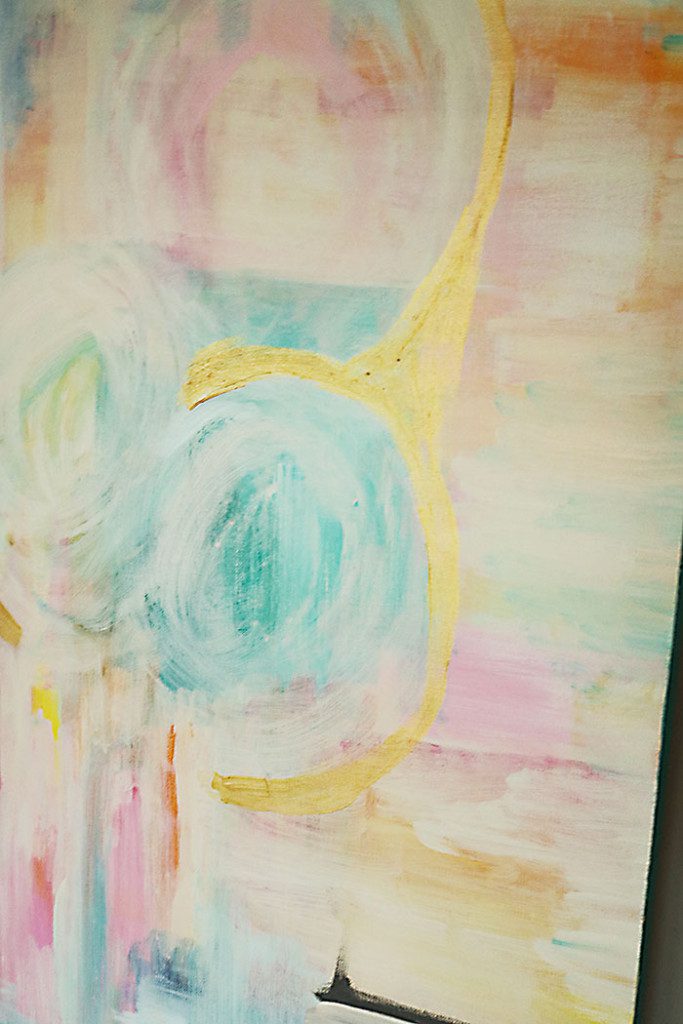 Once dried, you can add a finish gloss over your piece. Don't forget to name it and sign it! This piece is called Ocean Rainfall. Then display it and create more!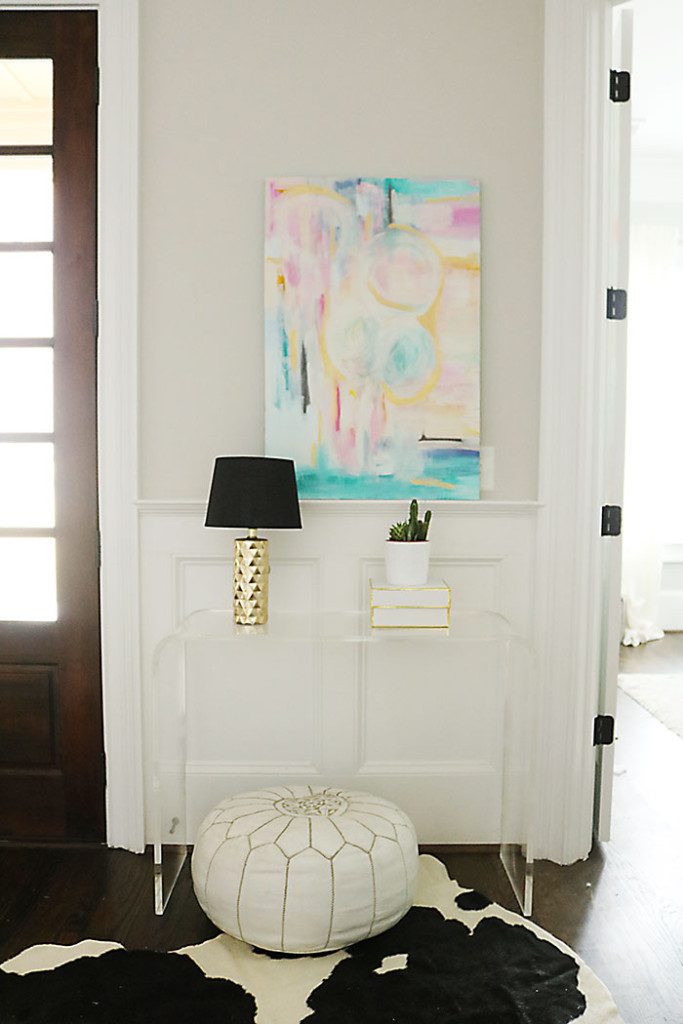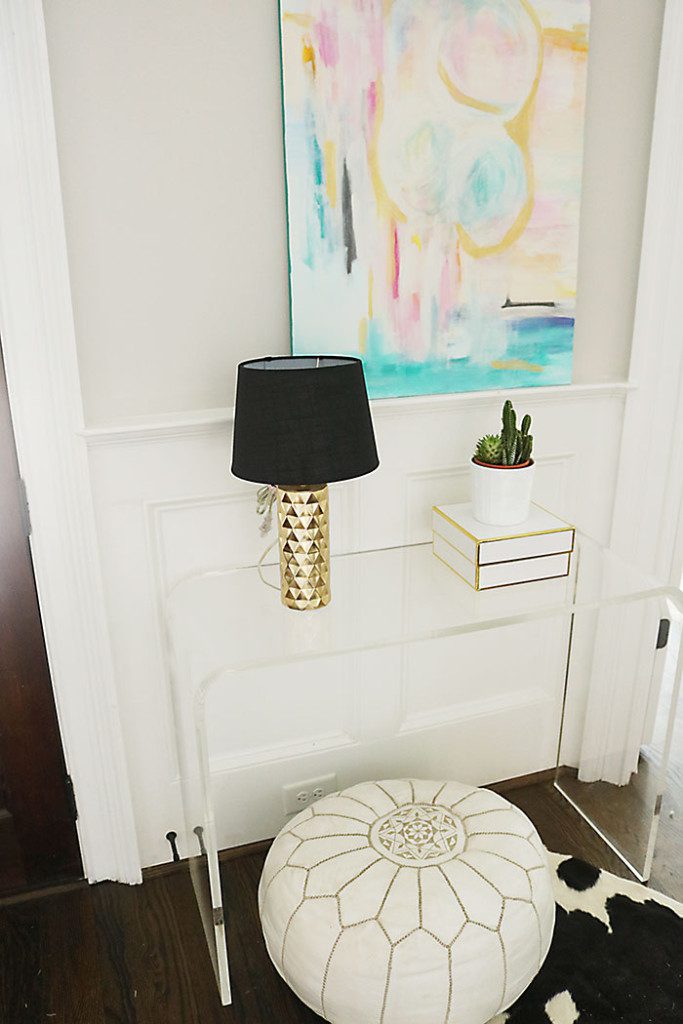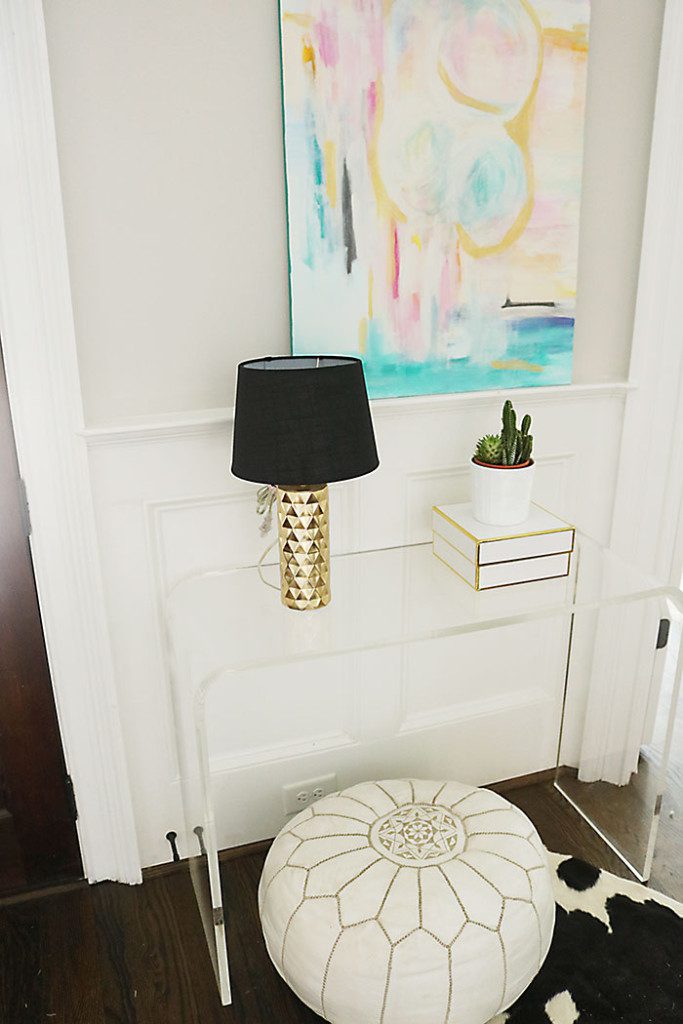 Get the look:

See More Painting Posts: