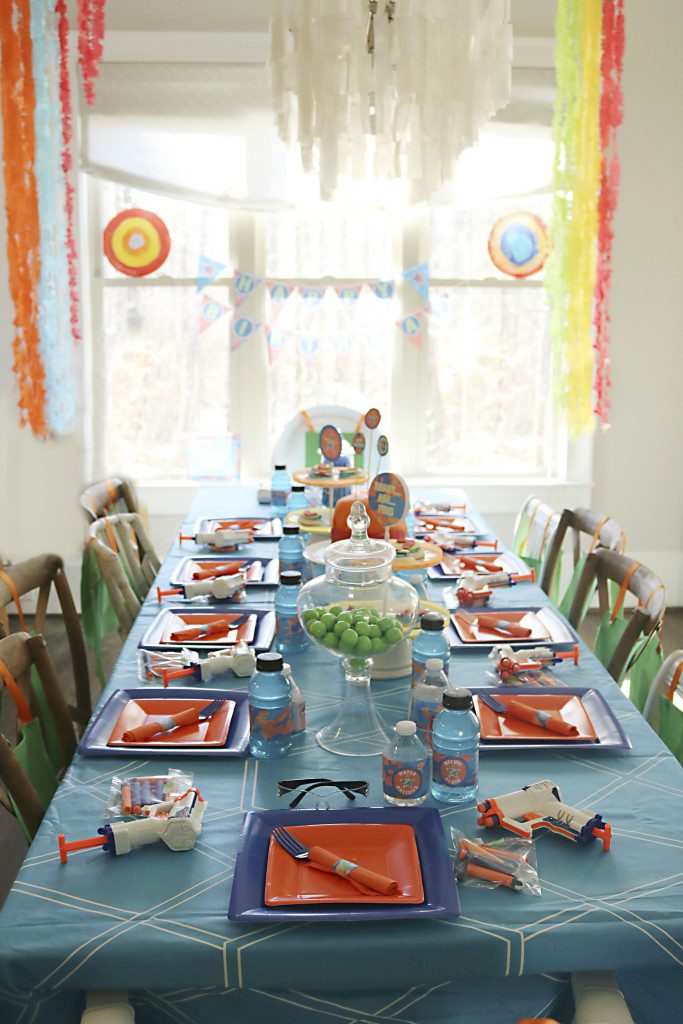 Kids are obsessed with nerf guns these days, especially my own! My kids also love using BB guns from onlybbguns (under parental supervision of course) Even though we know that BB and nerf guns are safe, it is still important that parents are supervising so that no one gets hurt as we're the ones hosting the party. For any other parents who are deciding to host a nerf gun party for their children, as stupid as it sounds, it's important that you can tell the difference between toy guns and real guns. The best way to tell the difference is that Airsoft bb guns come in a two tone colour to distinguish from real guns so please bear this in mind before organizing a party. So anyway, I knew a Nerf gun birthday party was going to happen eventually. We celebrated Jackson's 7th birthday the week of Thanksgiving so it was a little hectic squeezing a birthday party in, especially when I was hosting! But it was going to happen or not. Nerf gun birthday party he wanted! It turned out really cute. Since it was cold outside, we held all the birthday activities in my unfinished basement with cake and food upstairs. No pictures…it's just not a pretty basement. But a nerf gun birthday party is really perfect for an outside backyard party. And since we couldn't do that, we had to get creative. I was concerned with kids getting hit with the soft bullets in close quarters (after all the Nerf shotgun fires out the bullets really quickly!), so part of their party favors were the safety glasses, which I made sure everyone wear.
To make the nerf gun birthday party fair during games, instead of having party goers bring their own nerf guns, I instead gave each child their owe to make it fair and as a take home party favor. I put a variety of bullets in a plastic bag and used velcro so they could attach it to their "felt vests" when they are in battle. Once the children all arrived we headed downstairs and they warmed up with stretches and boot camp exercises. Then they practiced on target shooting bullseye boards that we painted in the party colors. Then they headed over to the shooting range, which was a large chalkboard that we had drawn body silhouettes prior. They used the suction bullets to try and shoot the vinyl squares that we taped for the body zones. After, balloons were hung from the ceiling and the children tried to shoot the balloons down. Last but not least, we had an obstacle course where the kids tested everything they had learn. After we came up for food and cake! And then the last 10-15 minutes, we bundled up and the children played capture the flag outside with their nerf guns. The felt vests worked great with the velcro bullets! Phew! It's all about keeping 10 boys entertained!
All sources listed below!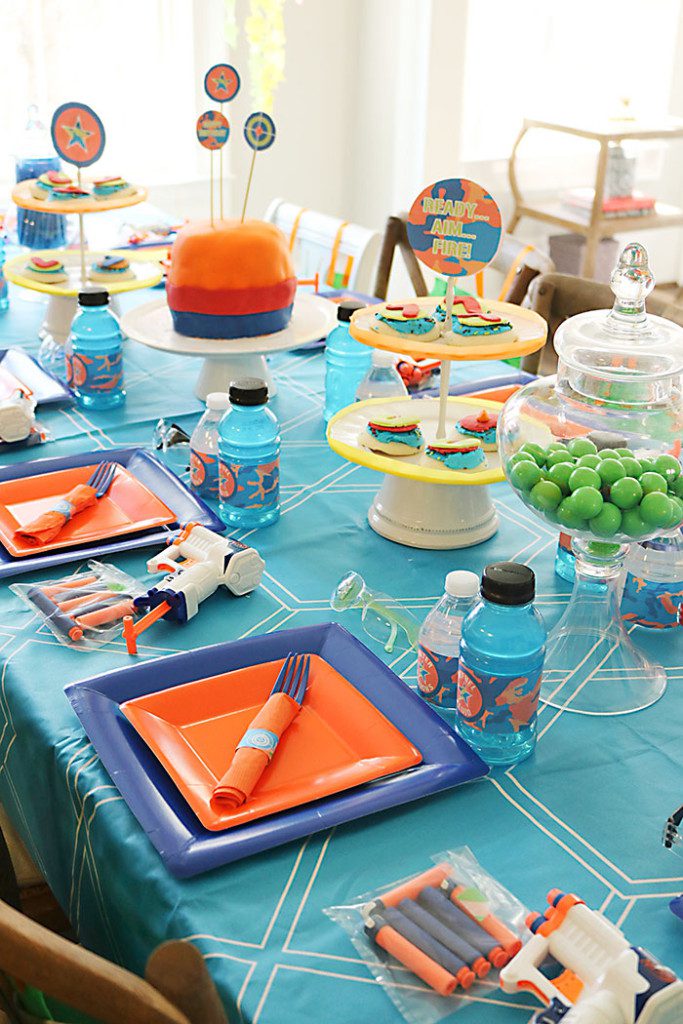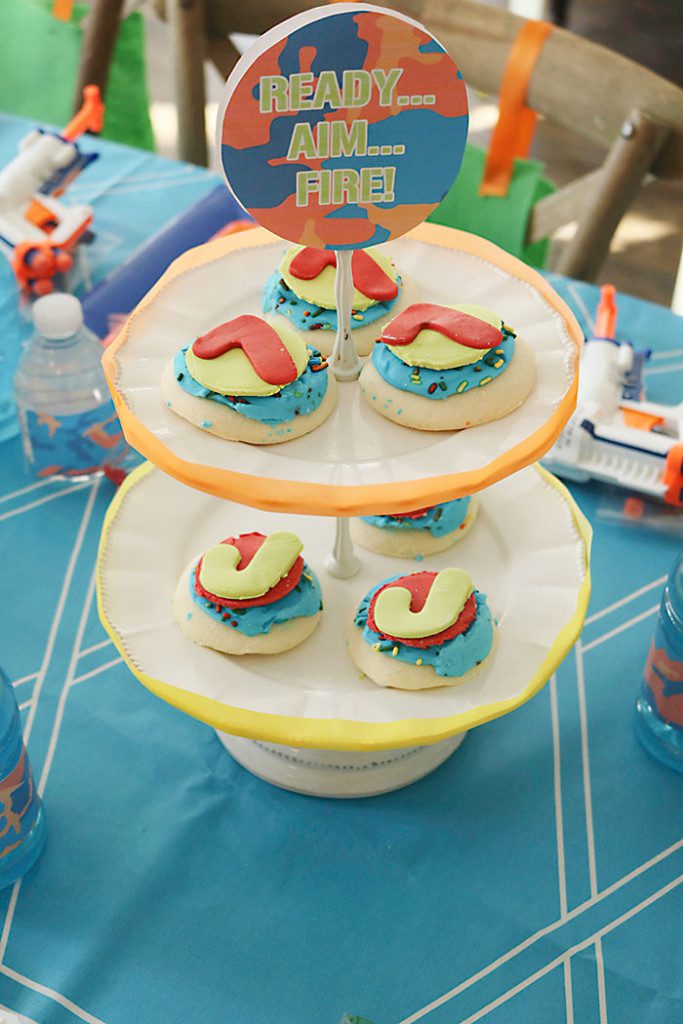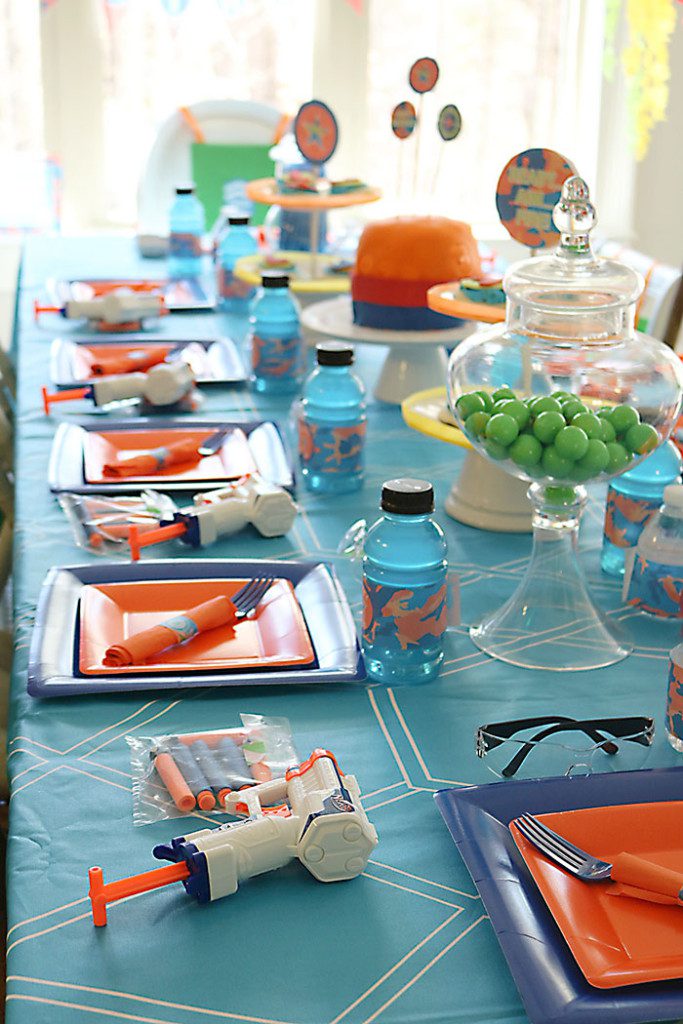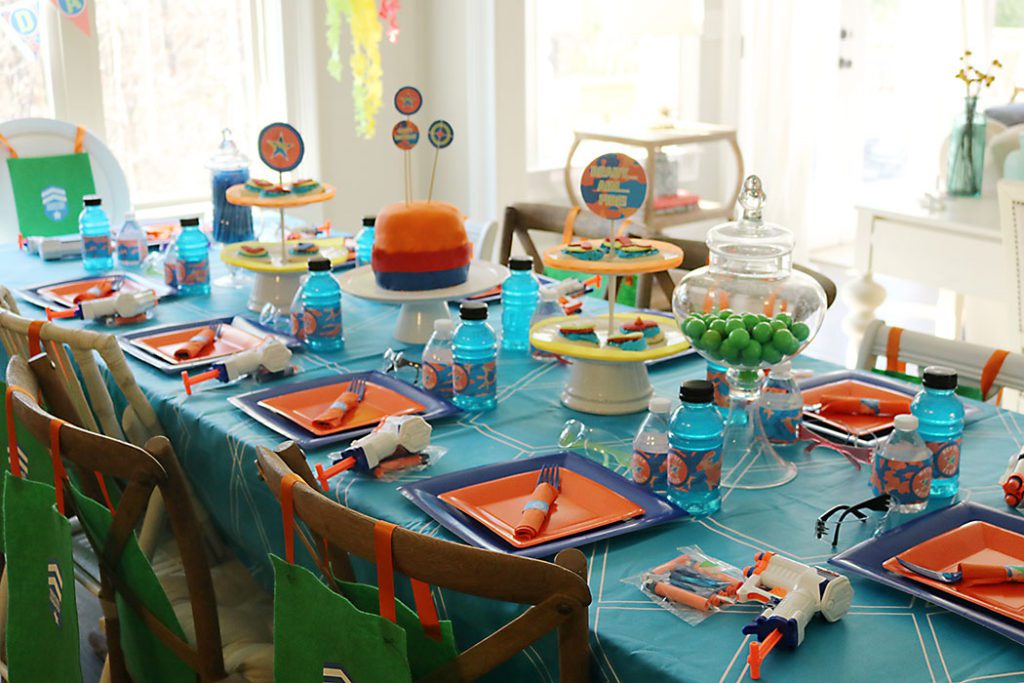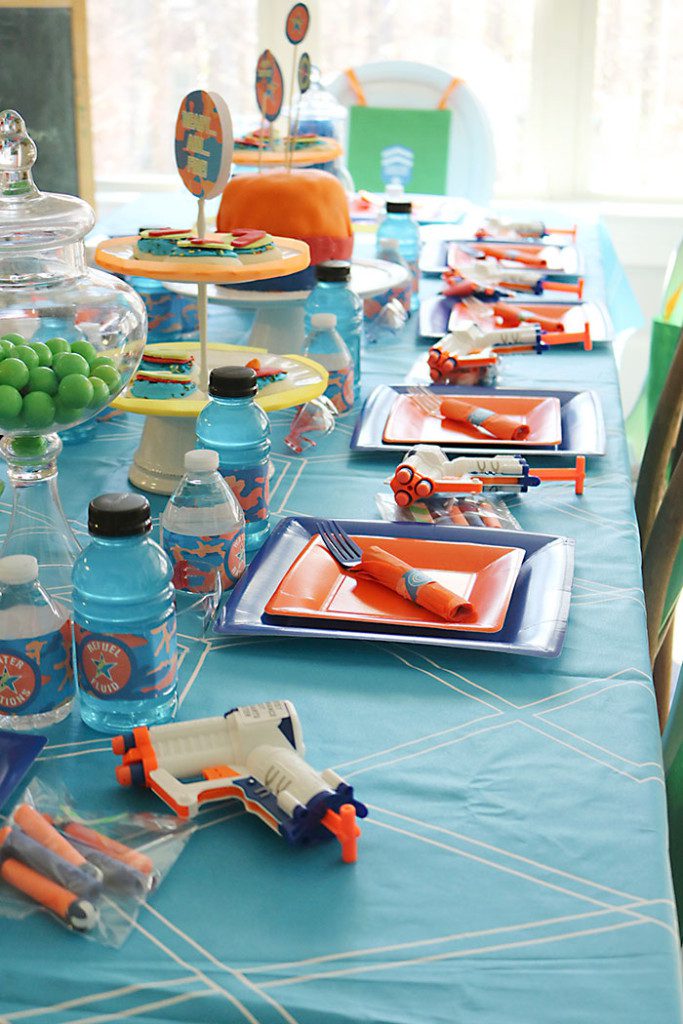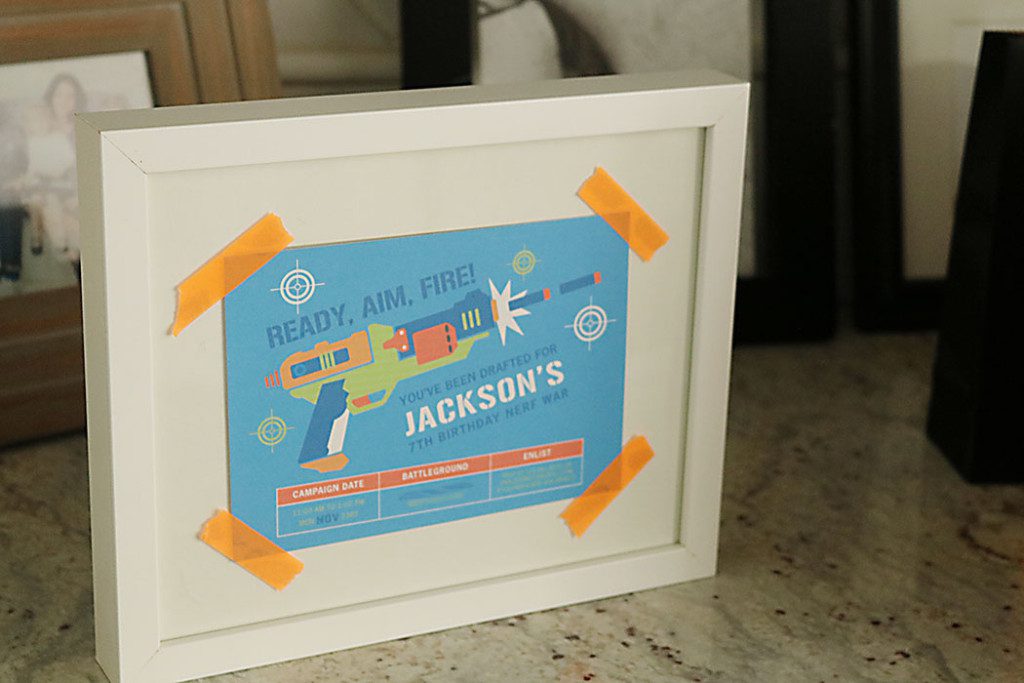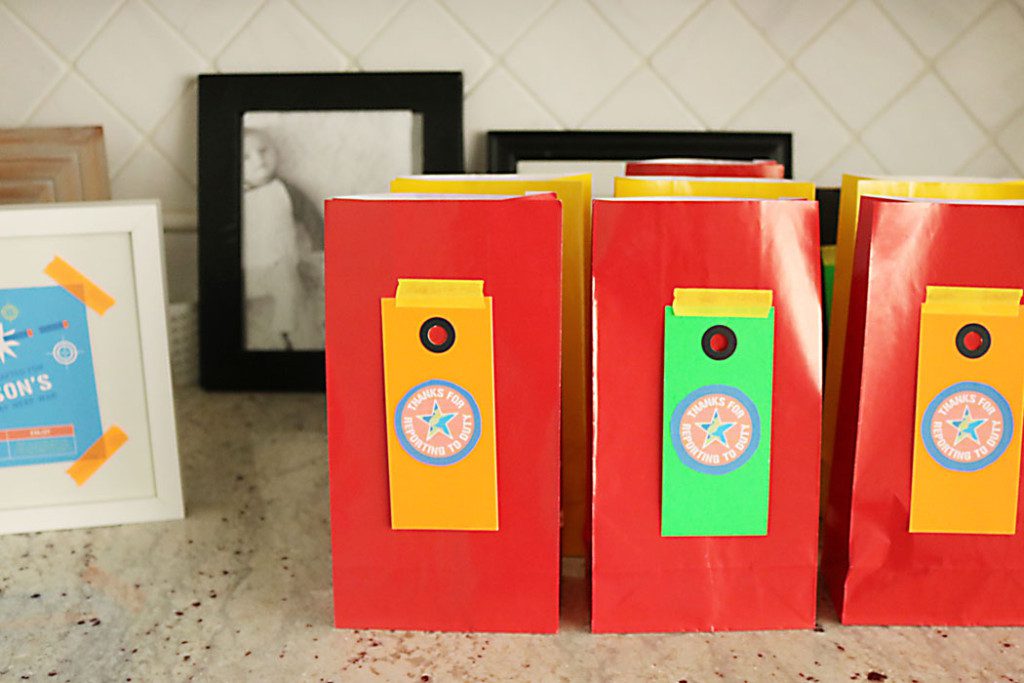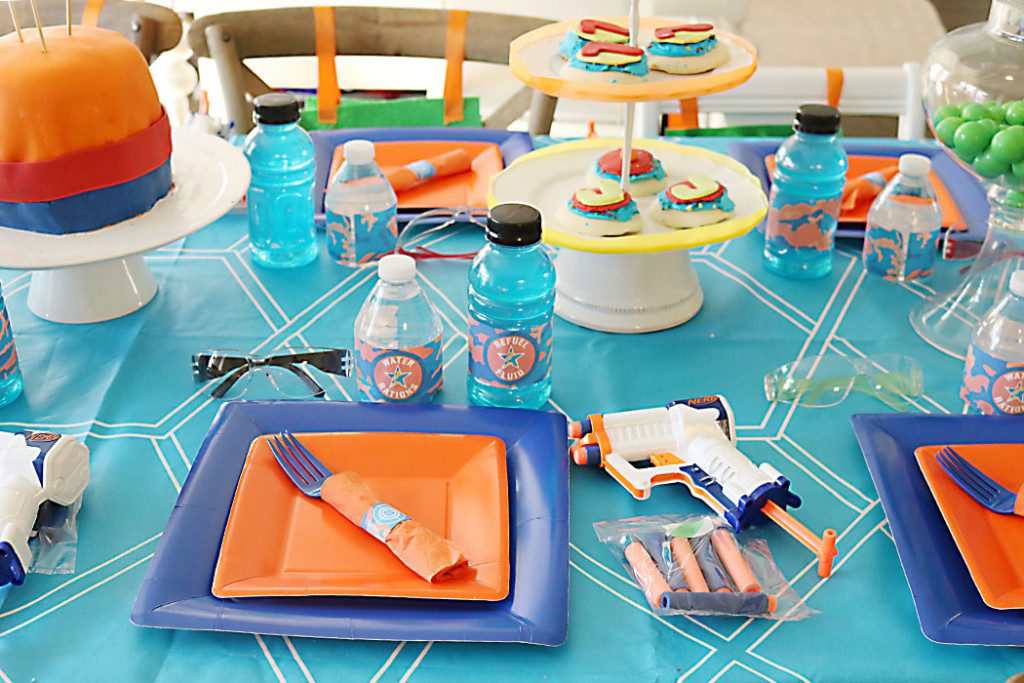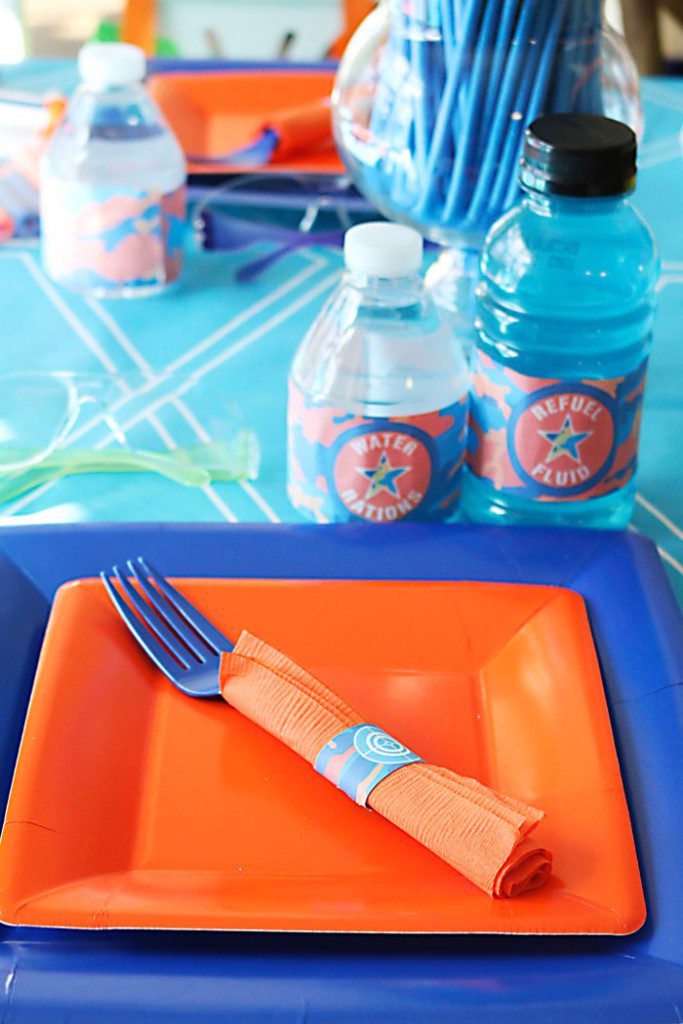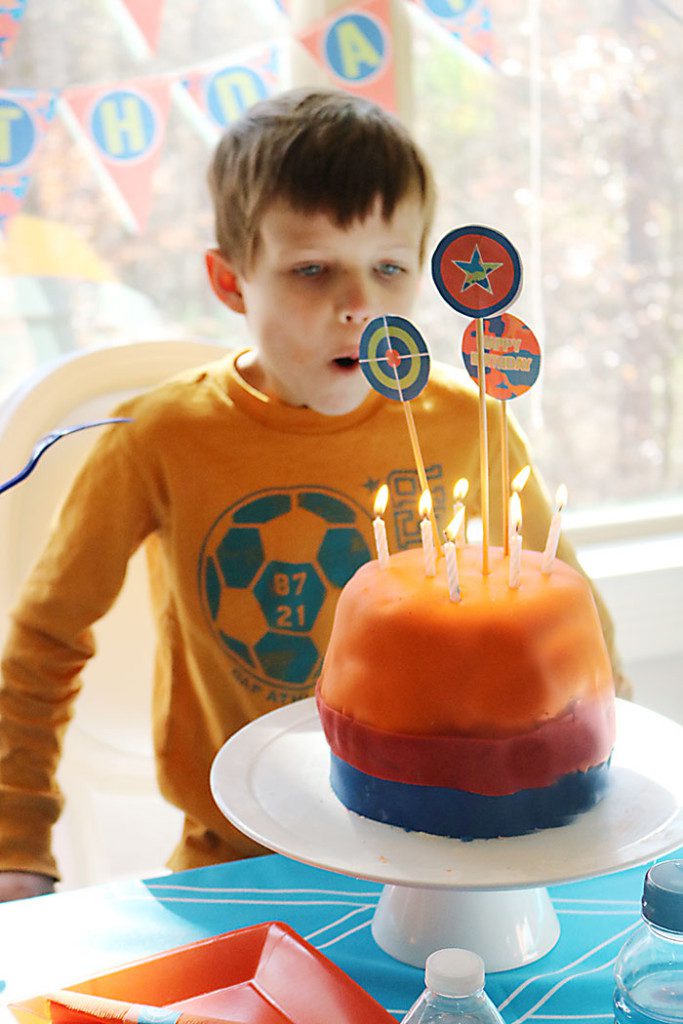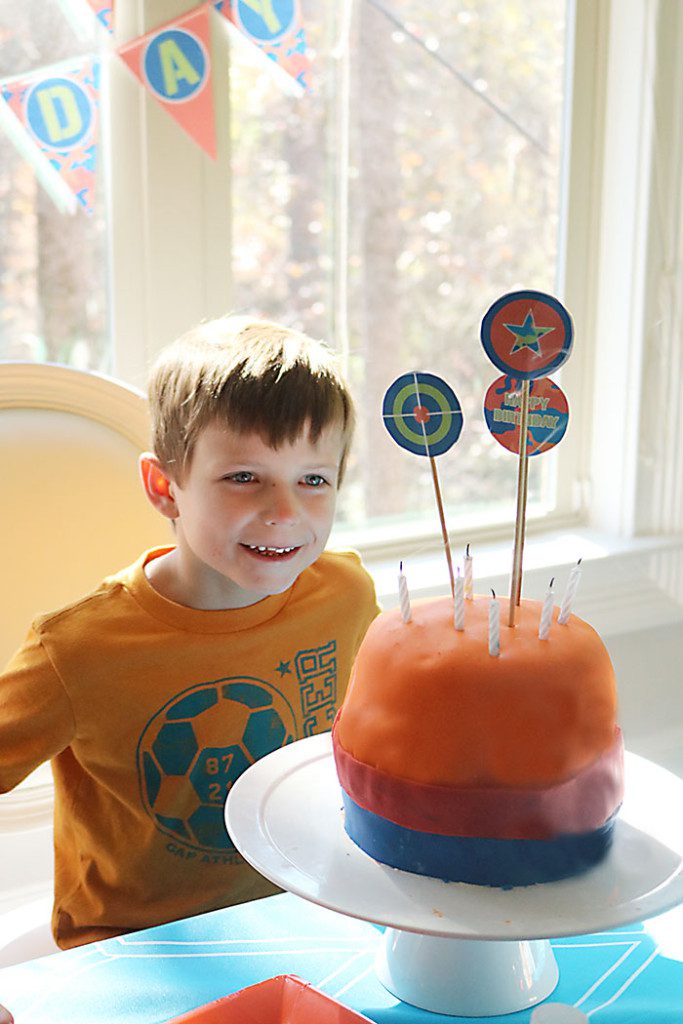 Printables and Invitation: Delight Paperie
Nerf bullet cake: ME (don't make fun. It was my first and last attempt to making a fondant birthday cake! Never again)
Table cloth: Ikea
Bullets: suction, velcro, basic
Felt Vests: two felt rectangles and then sewed ribbon to make it a vest
Want to See More? Check out these other Boy Birthday Parties!