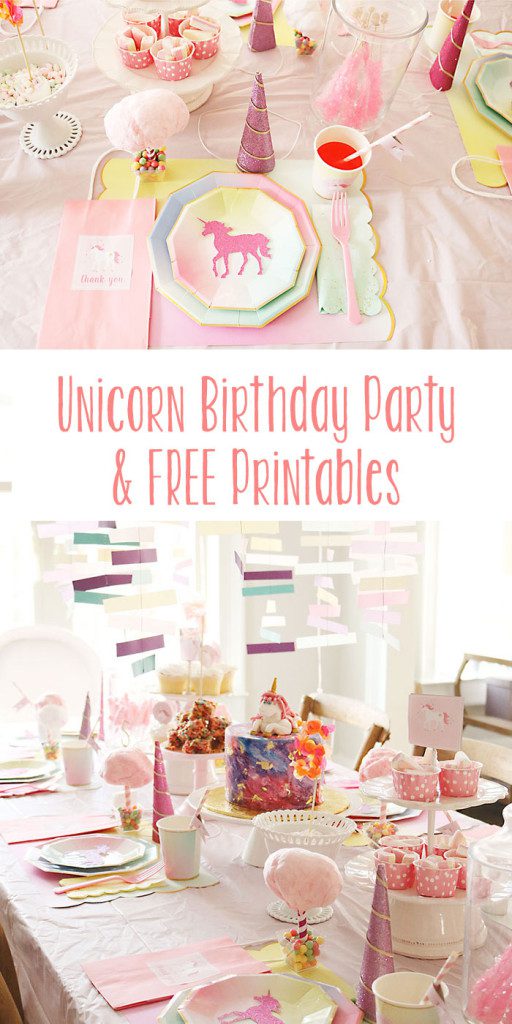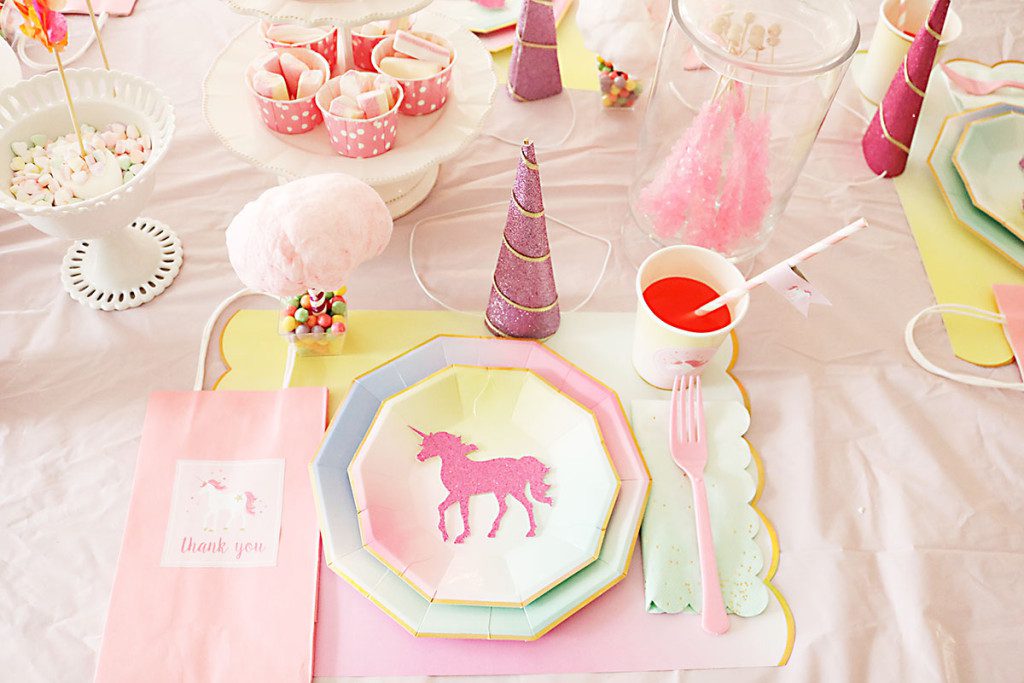 This post contains affiliate links, and I may earn a small commission if you shop through them. This is how I can continue to bring you amazing content.
Unicorn Birthday Party
I am so excited to share Chloe's unicorn birthday party that we threw for her last month. I probably say this for every one of my children's birthday parties, but this unicorn birthday party is seriously my favorite and so adorable. Actually, it was quite magical, and I think Chloe and all her little girlfriends would agree. I love to set the stage for a birthday party with a focal point–either a decorated dessert table or a sit down party table that is whimsically set up to the theme of the party. The children always LOVE it and get so excited to actually sit down at the table and indulge.
I will list all the unicorn birthday party resources at the end of the post. I am also so excited to share with you all the unicorn birthday party printables that I used for this party, designed by Melissa's Designs for Darling Darleen. It is a digital printable download, linked below. Also, set the stage to the party prior by sending out to the guests the printable unicorn birthday party mask invitations. Some of the girls wore the mask invitation to the birthday party. So cute!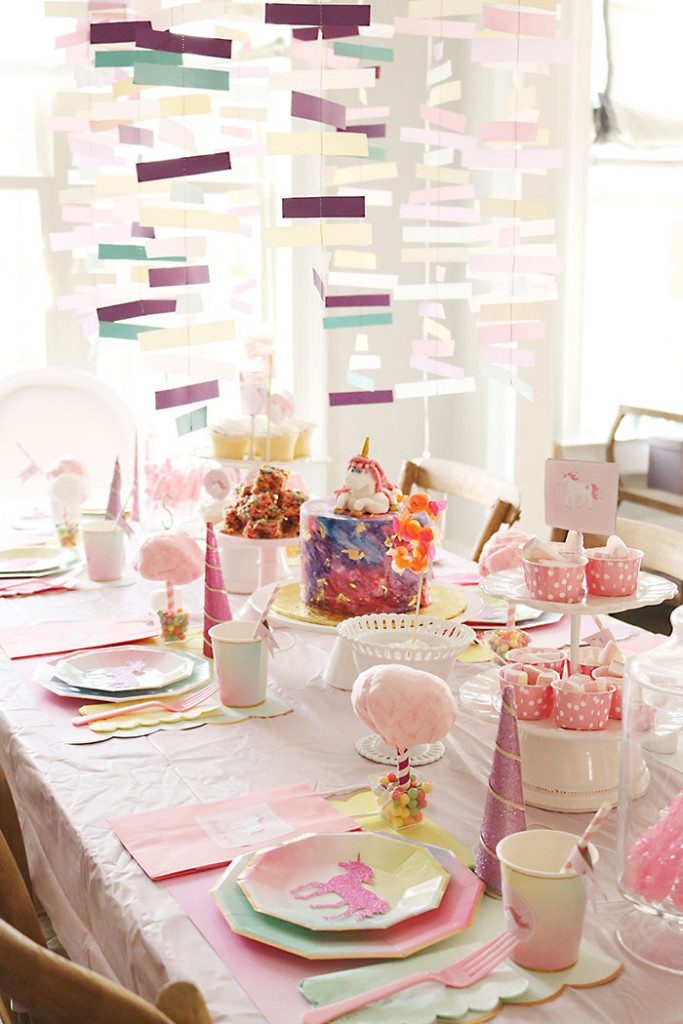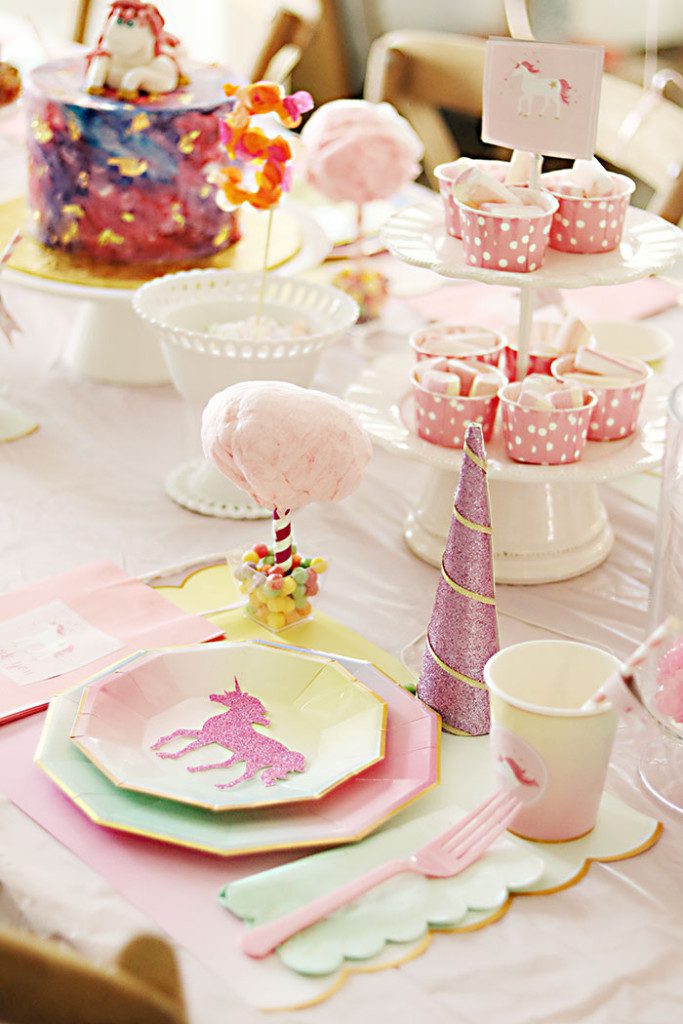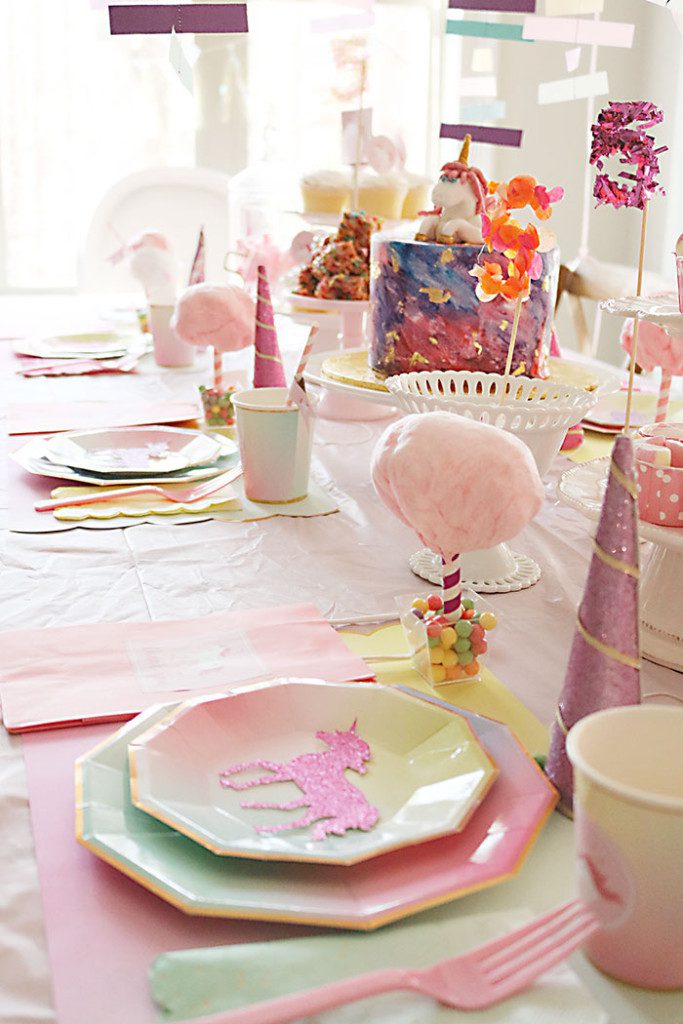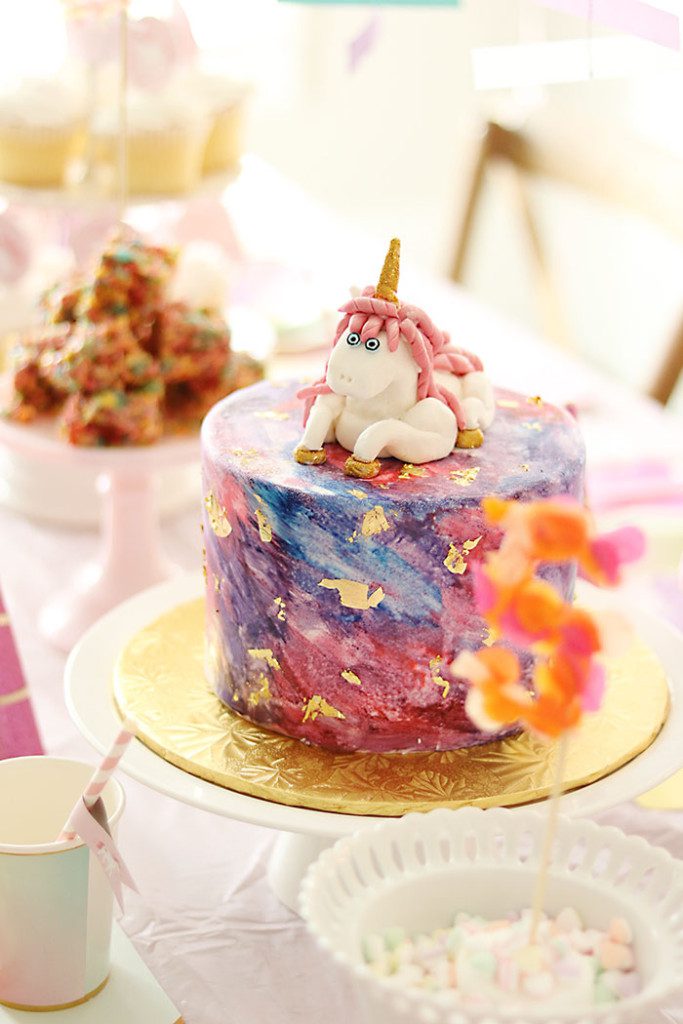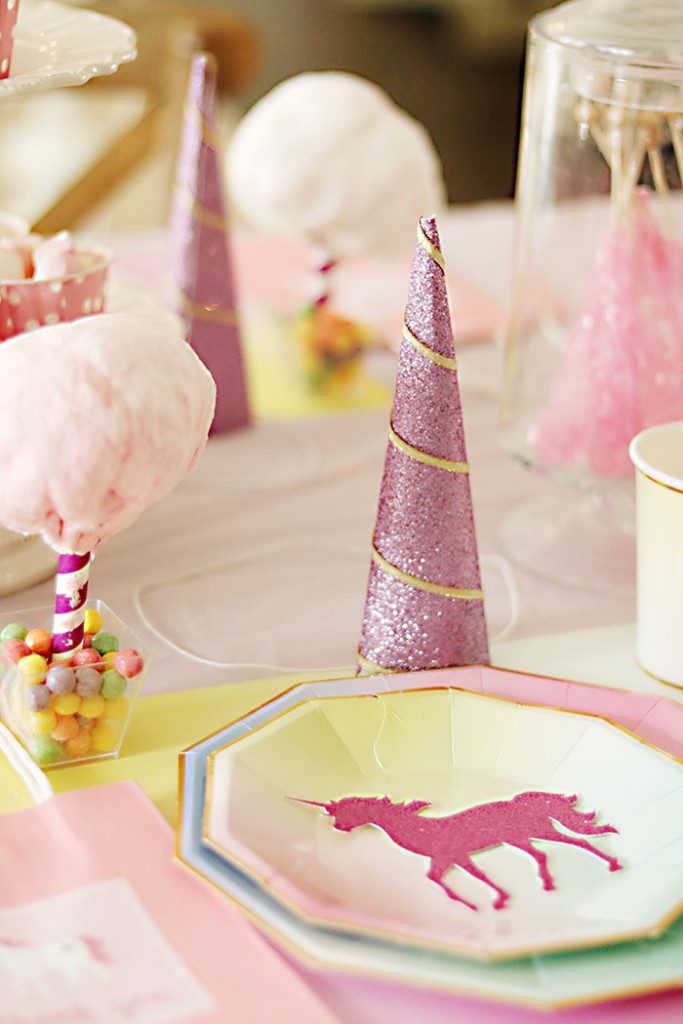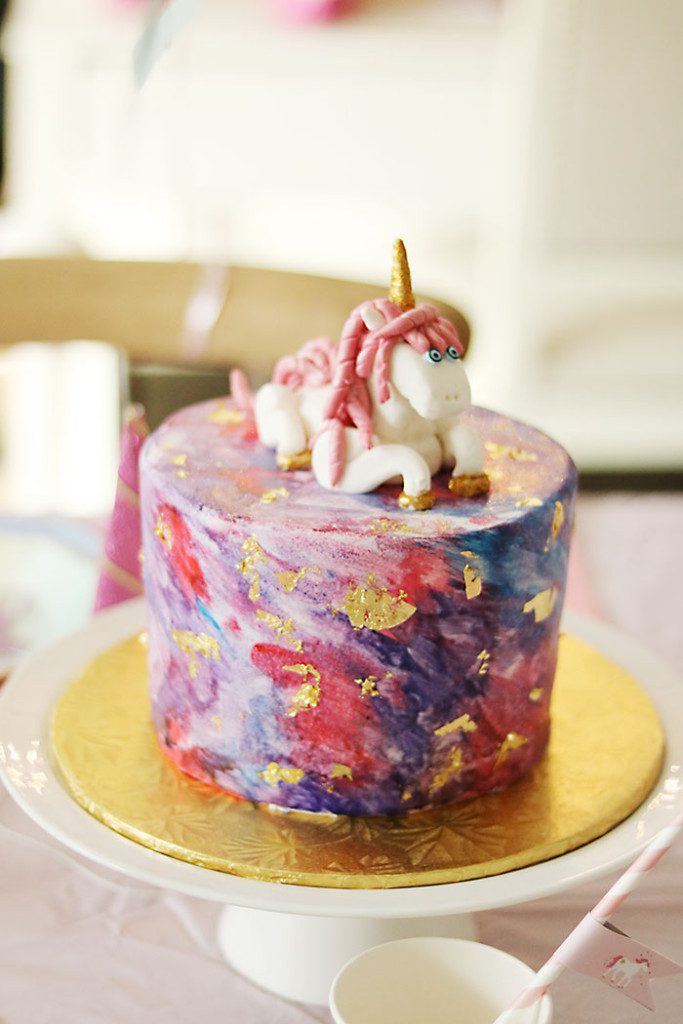 As the guests were arriving, one of the first activities we did for the unicorn birthday party was decorate sugar "horn" cones. Each guest received a sugar cone and a little cup of pink and white frosting, sprinkles and edible gold embellishments. I put the sugar cone on little party plates because they didn't have time to eat them at the party so I could wrap them up for them to take home.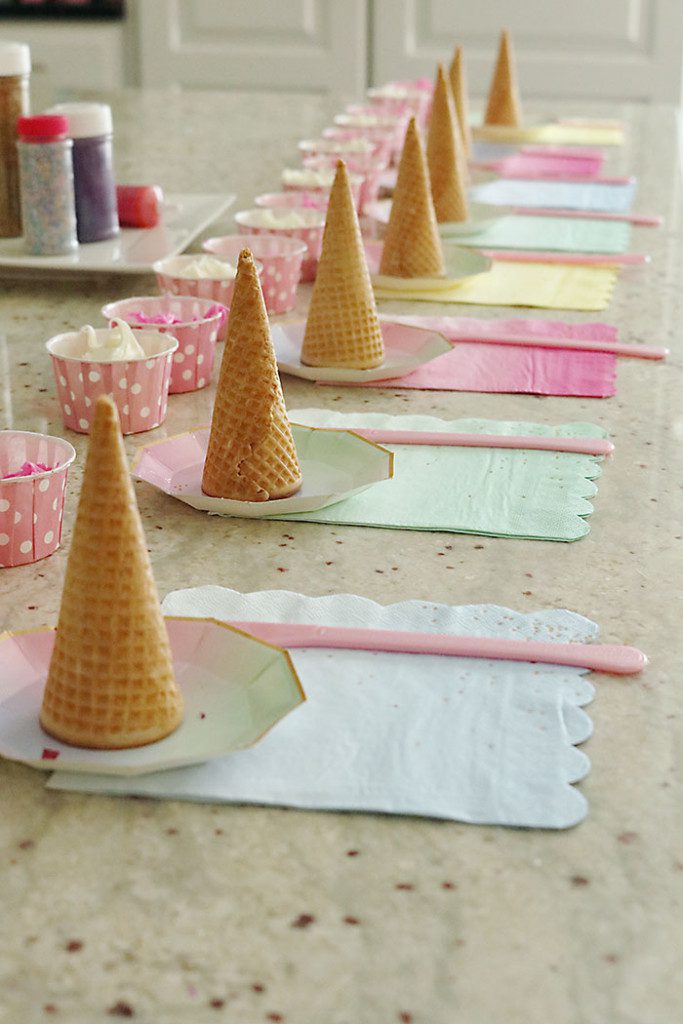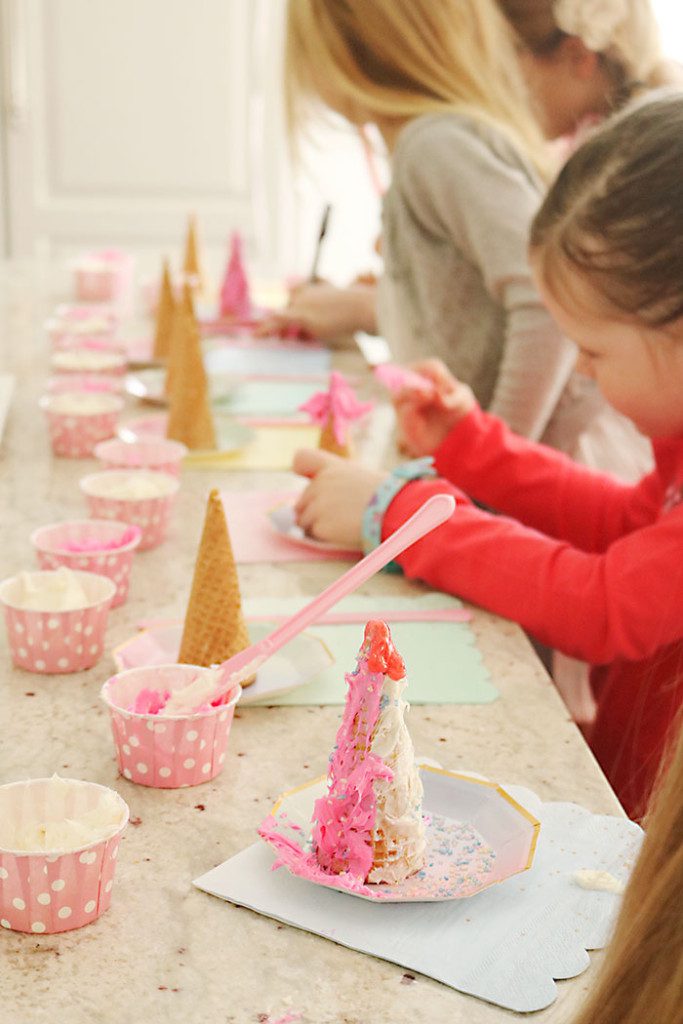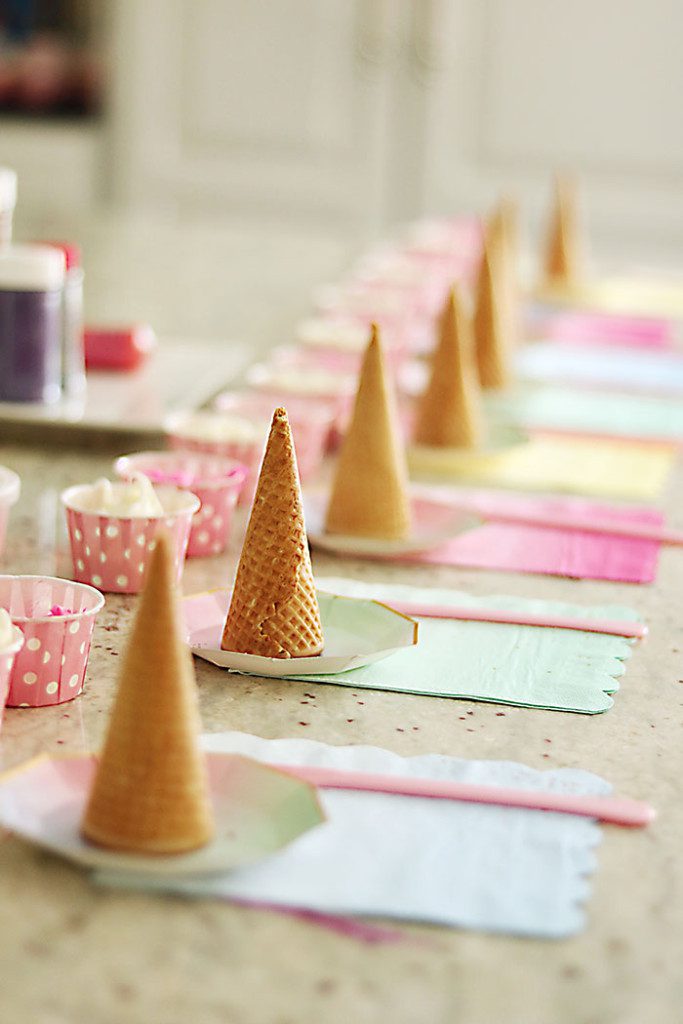 Once the guests all arrived, we played "pin the horn on the unicorn". The pin the game is always a fun one to play at any preschool age birthday party. So much excitement and laughing that happens! No peeking! How adorable is the "pin the horn on the unicorn" game?? I'm excited to say that I've included this printable for you to use at your child's unicorn birthday party.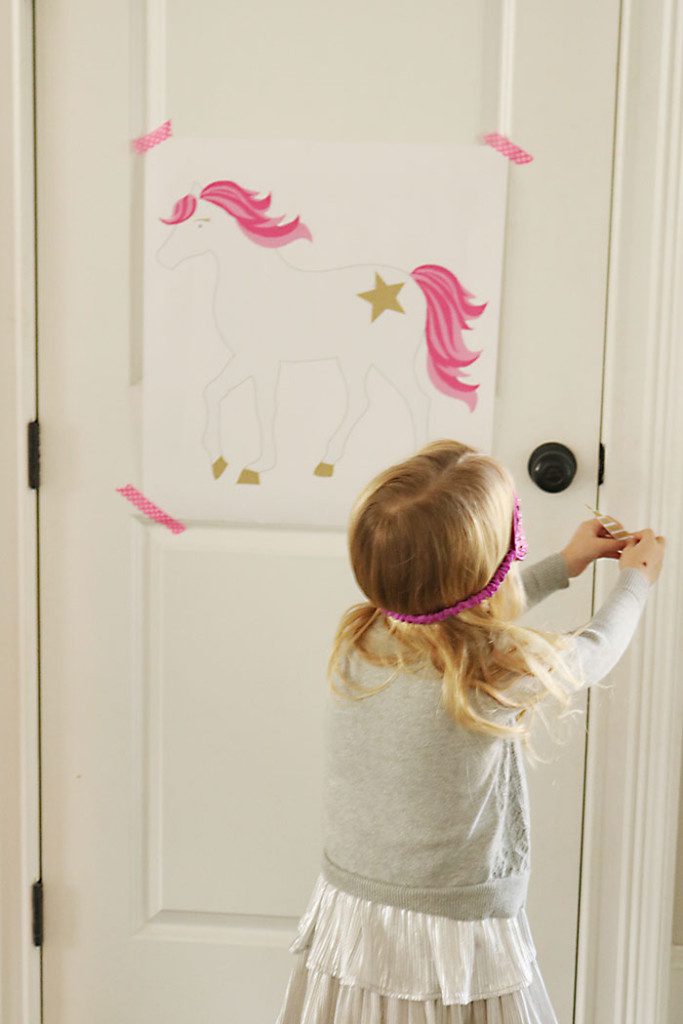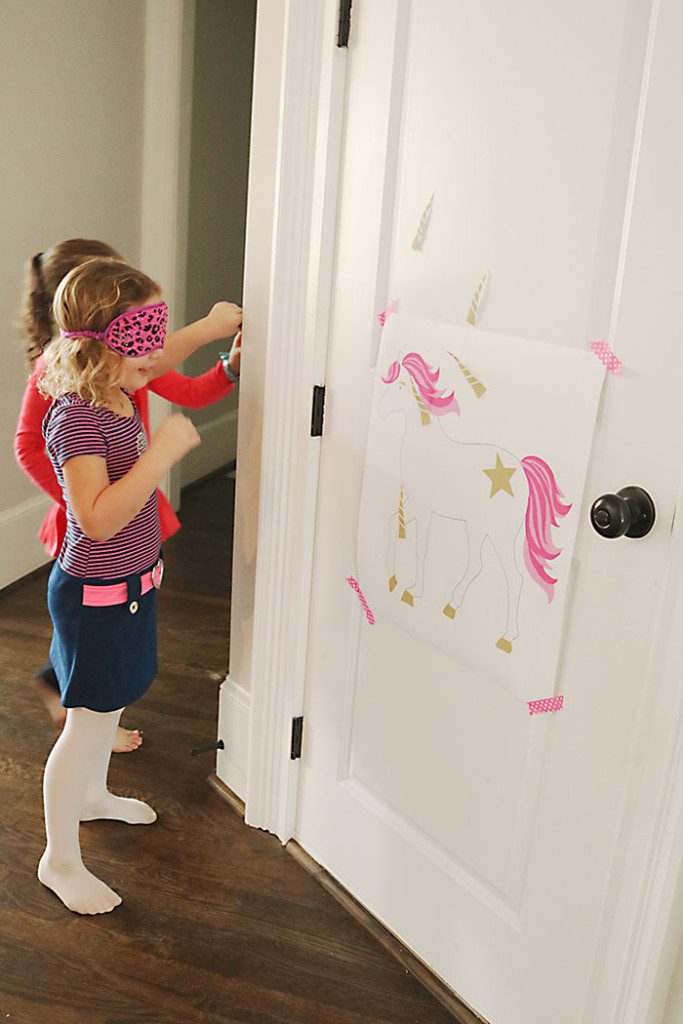 We had a hair and nail station setup so the girls would get glam'd up. They got colored highlights in their hair. Nails painted and unicorn embellishments. Thankfully I had the best helper (Chloe's older sister)! Also, I made unicorn horns out of glittered cardstock prior to the unicorn birthday party. So the girl wore their unicorn horns at the party and pretended to be…unicorns!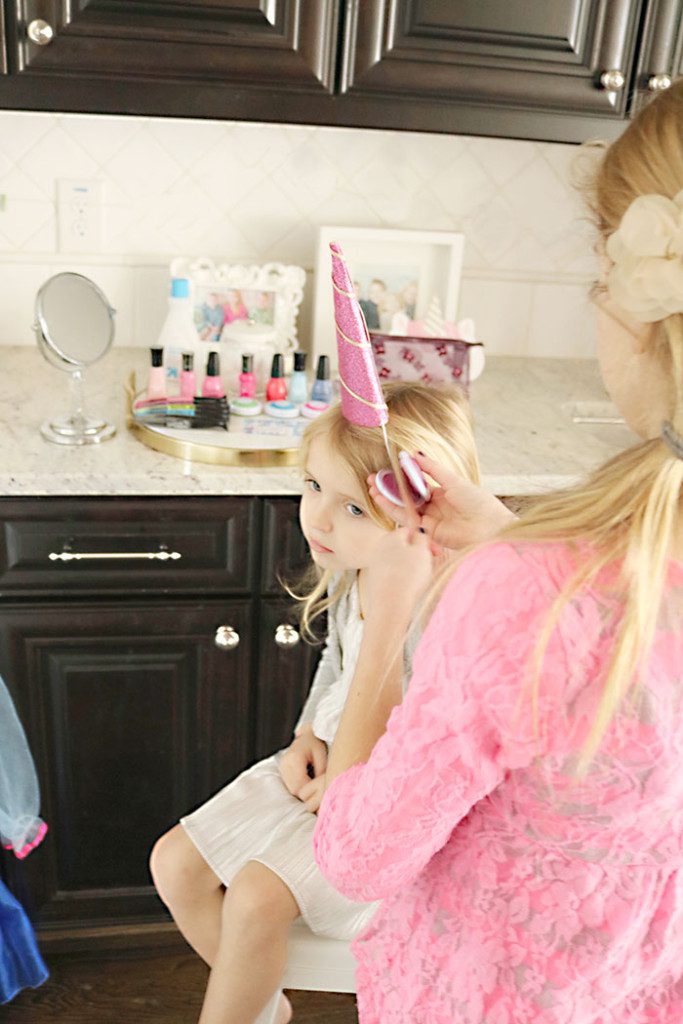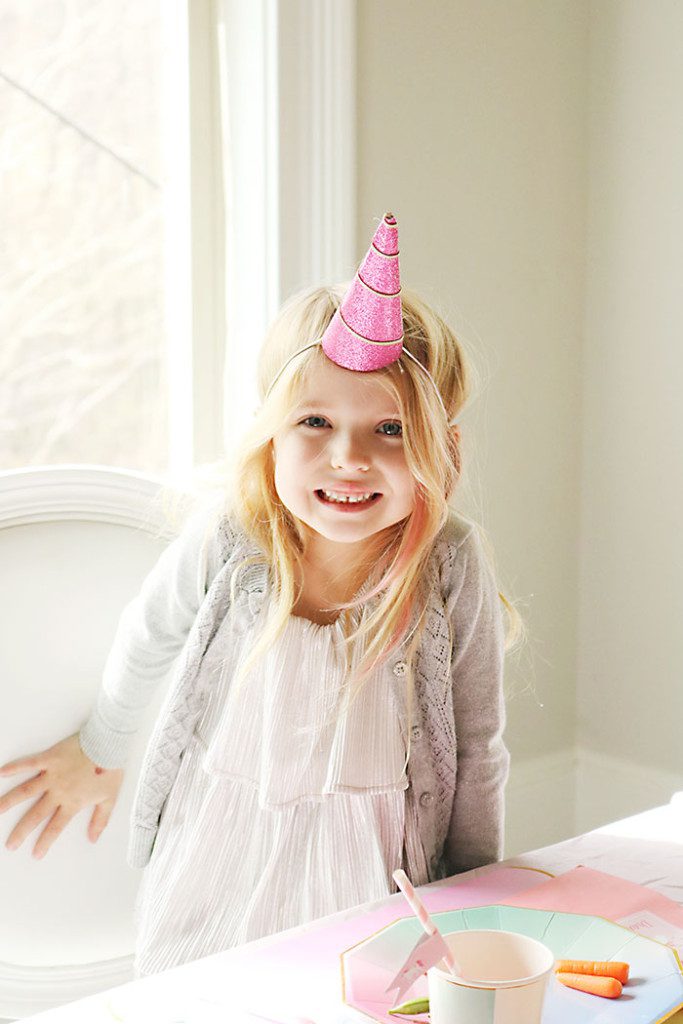 I did feed the children lunch, but after we had a unicorn pinata that was filled with tiny toys before we ate cake. So the girls grabbed their thank you bags and used that to fill with goodies from the pinata.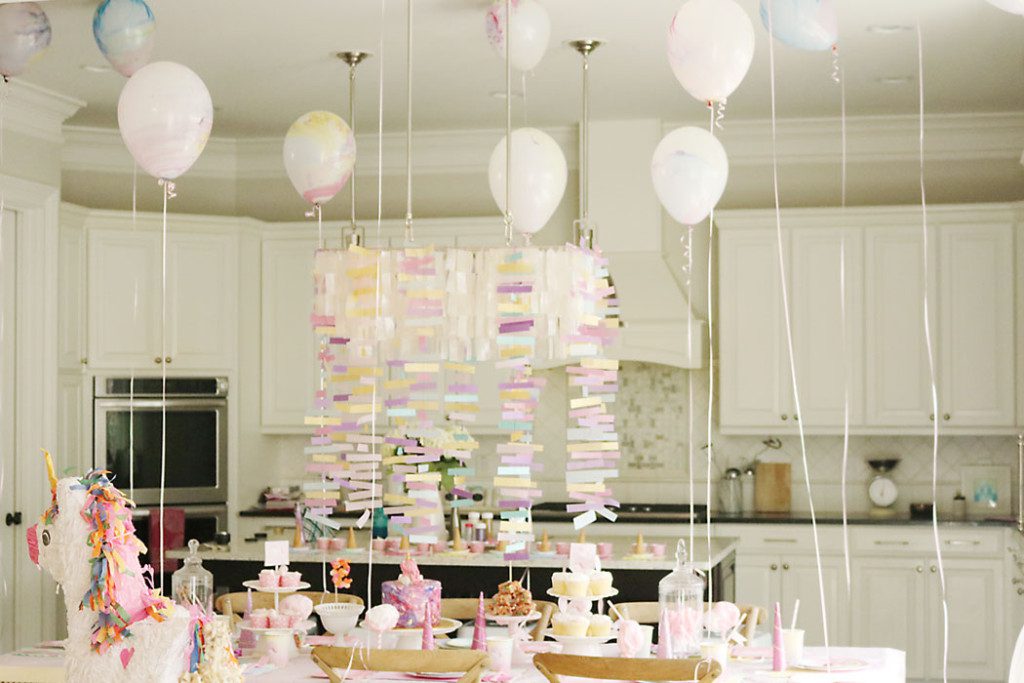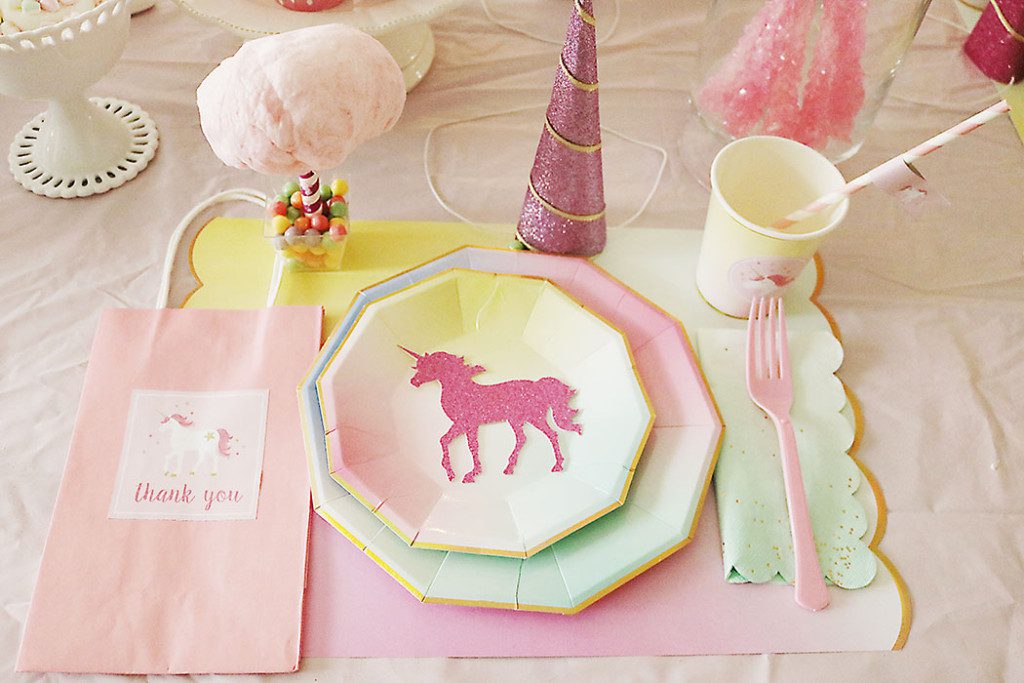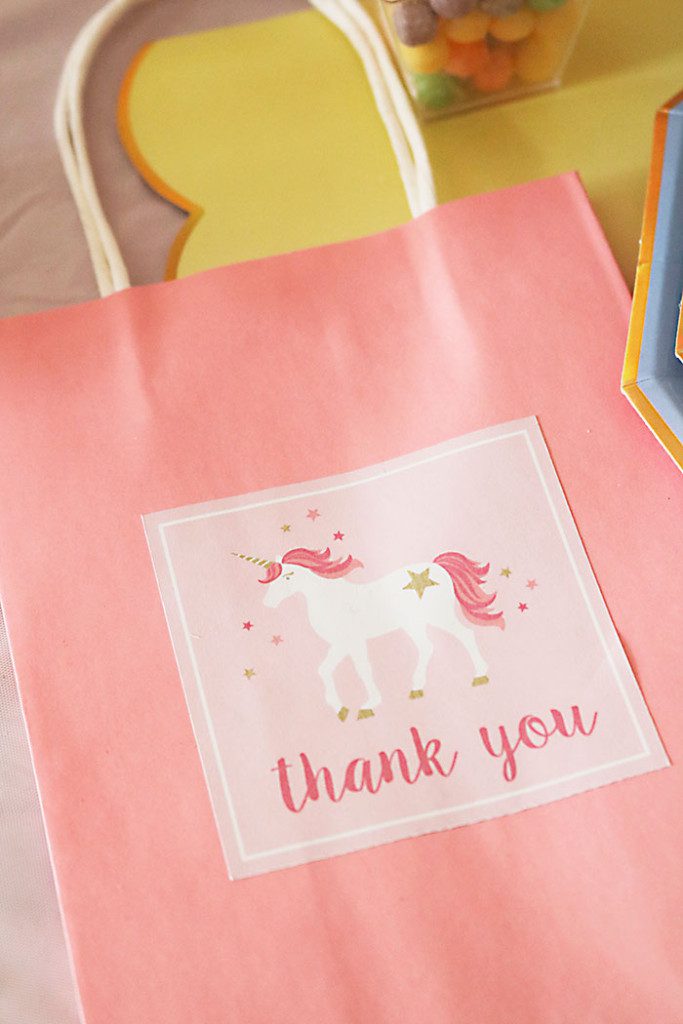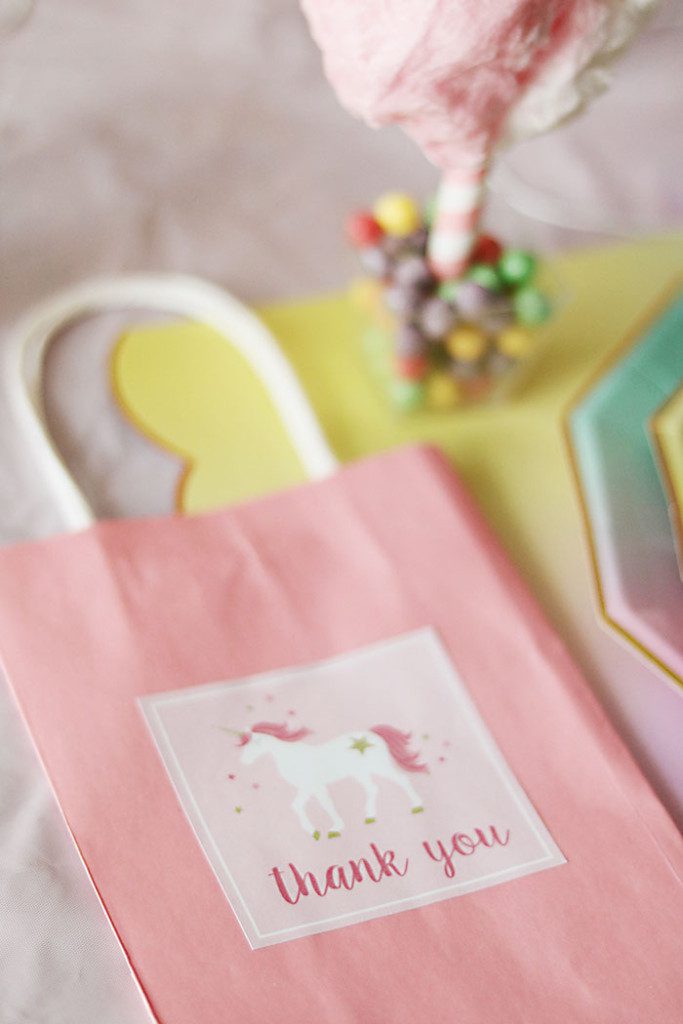 As an end to the big shabang, we sang happy birthday and Chloe blew out candles. The "unicorn" girls finally got to indulge in all the sweets–cake, cupcakes, marshmallow bites, lollipops, rice krispy bites and cotton candy. How adorable and gorgeous is the cake?? I went with my favorite cake bakery, Miss Mamies. She always does an amazing job! This cake is watercolor with edible gold leaf embellishments and the most adorable fondant unicorn!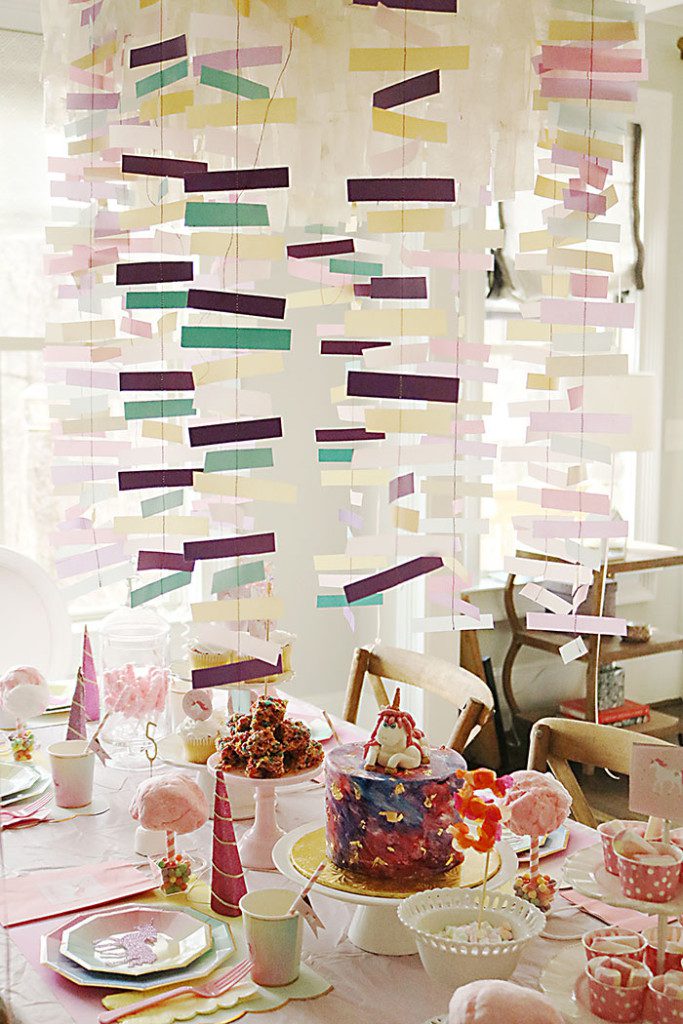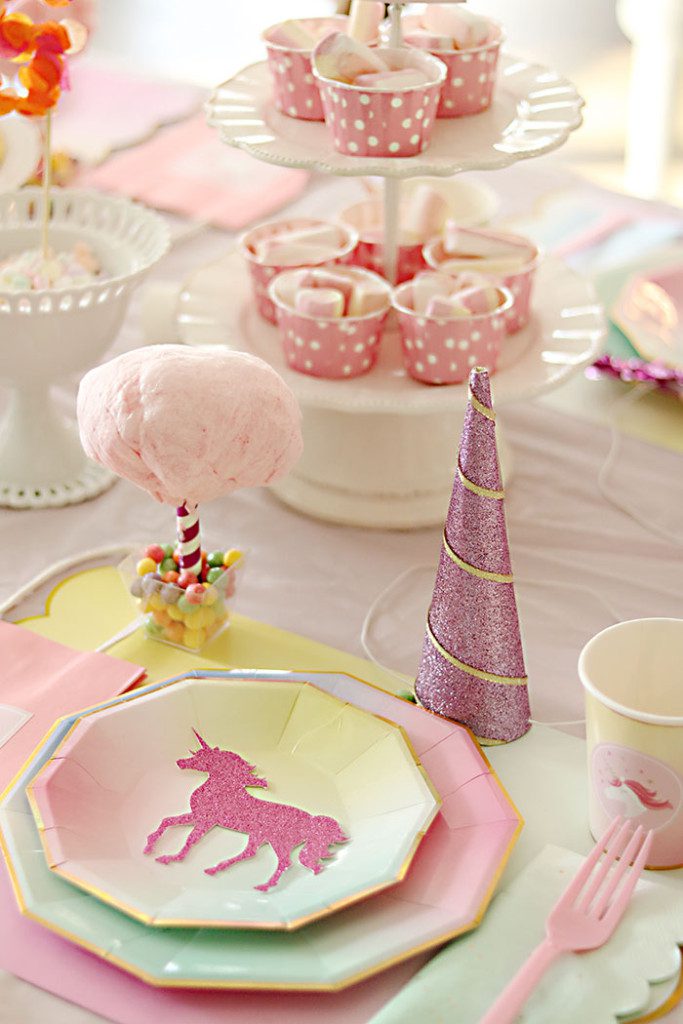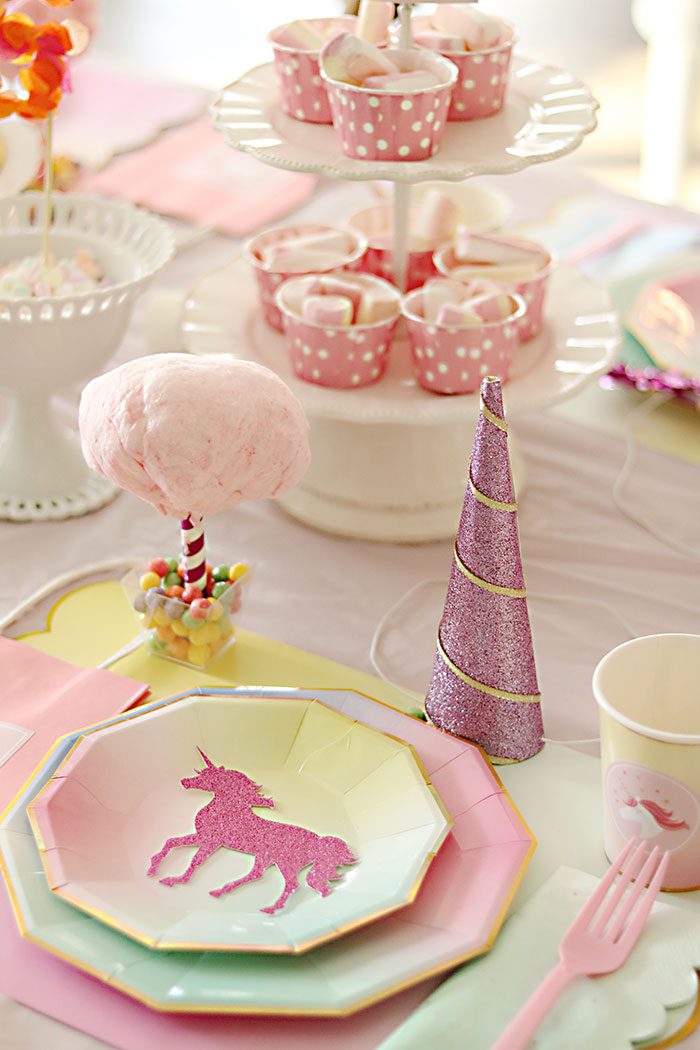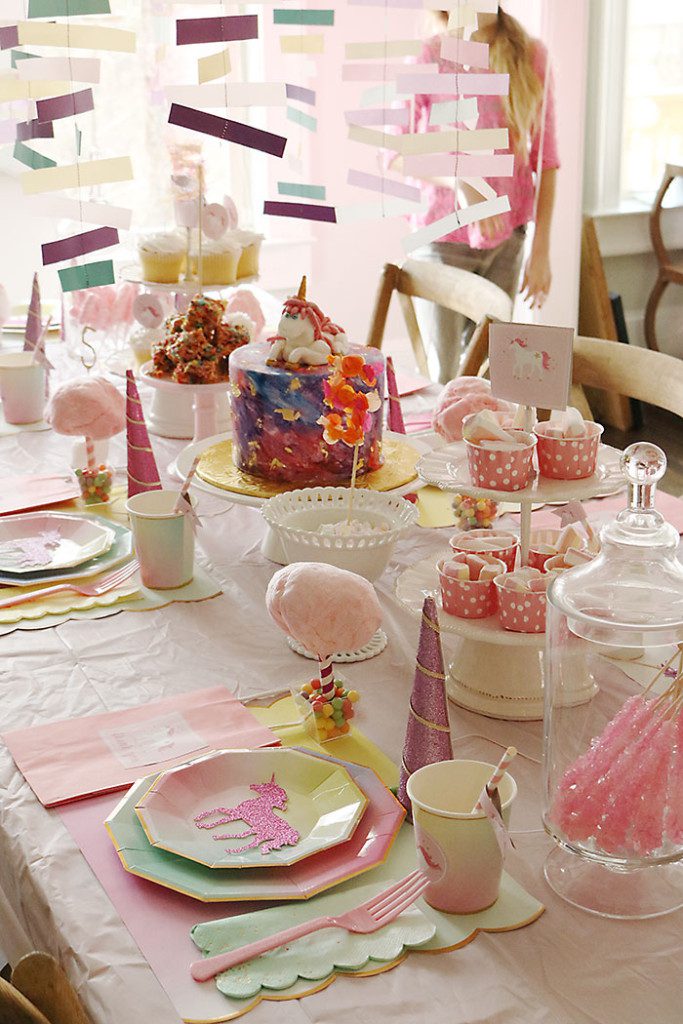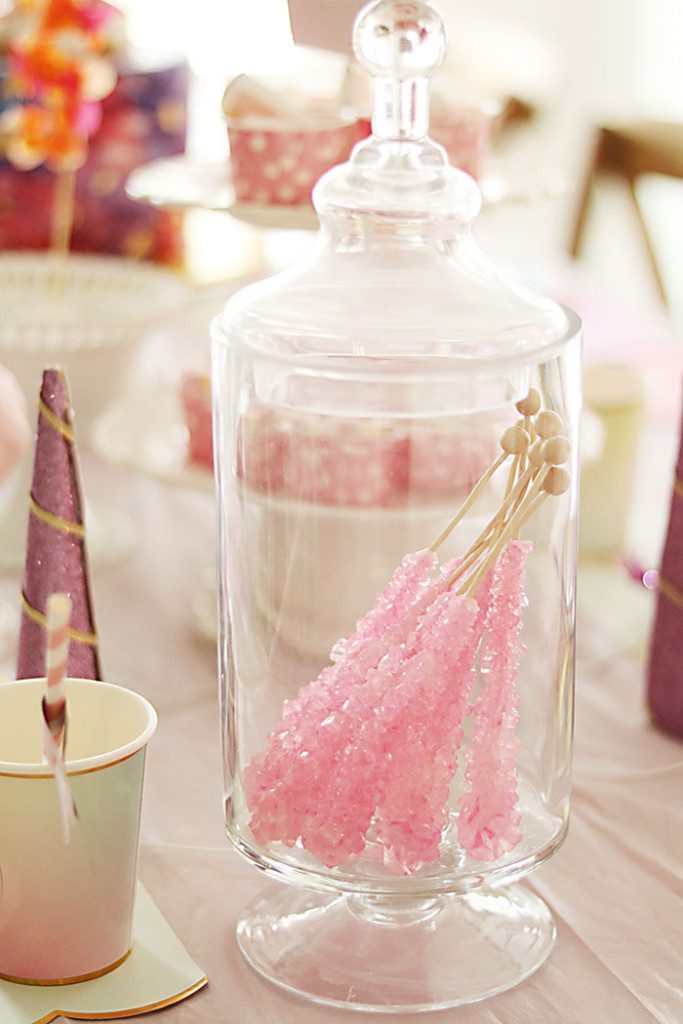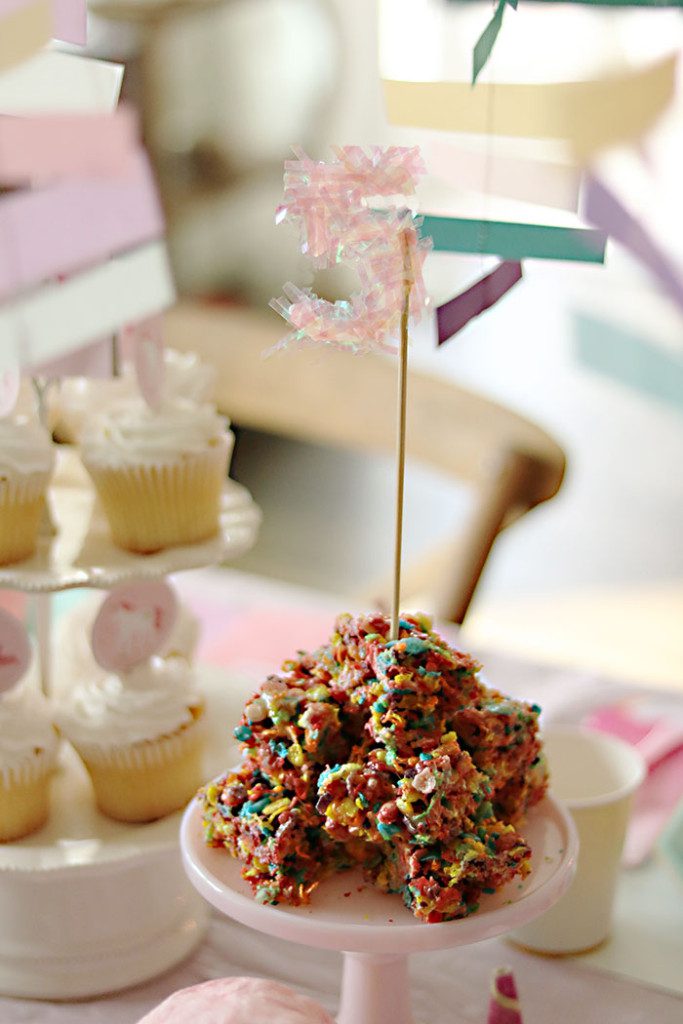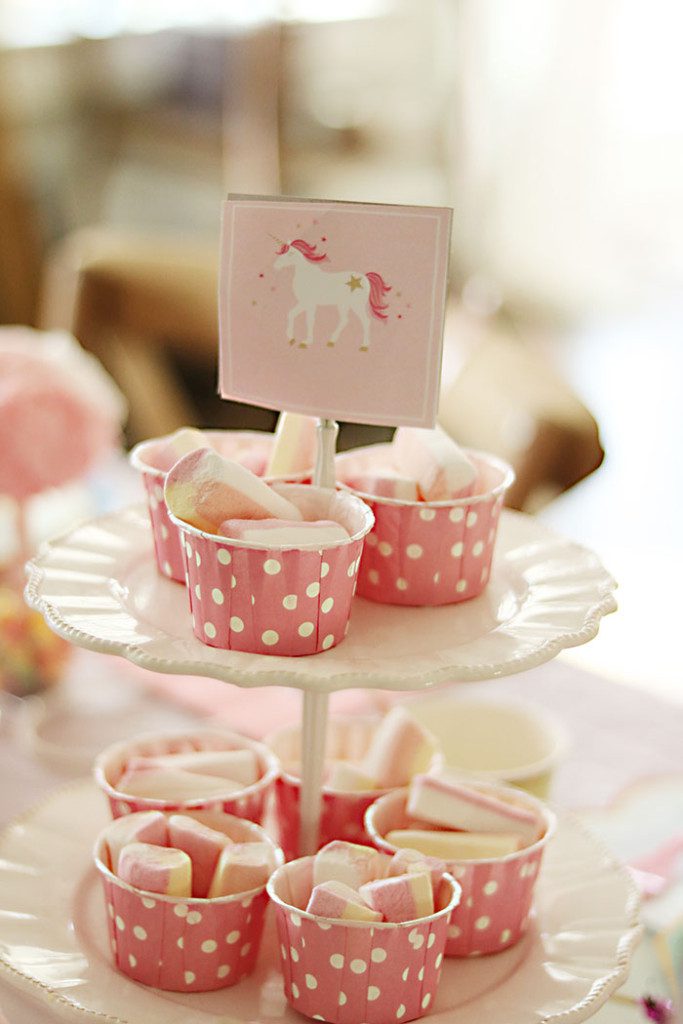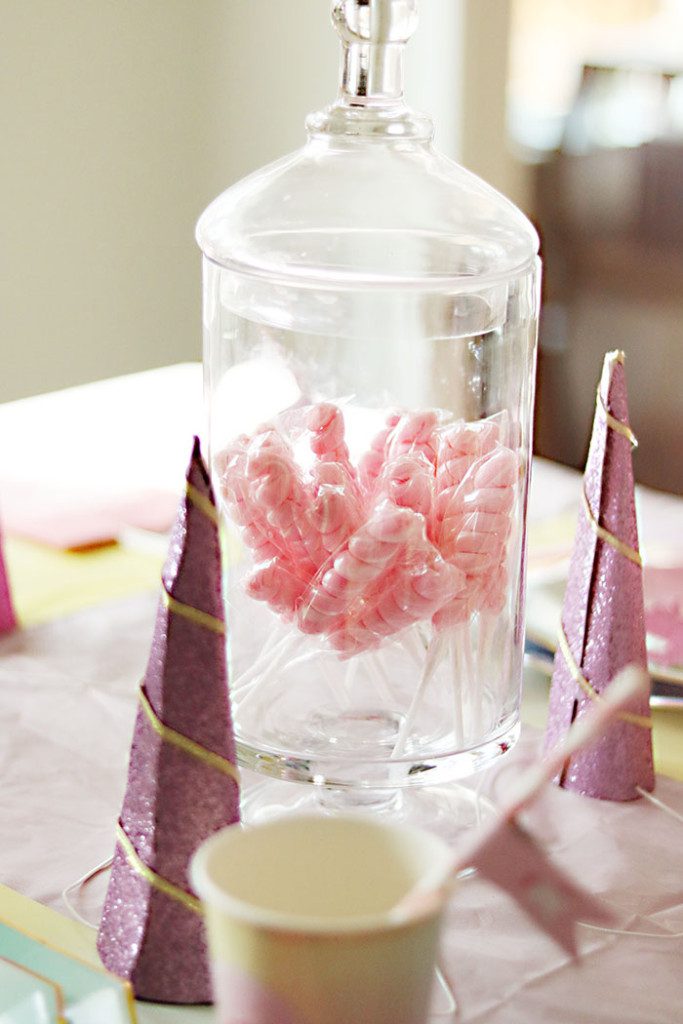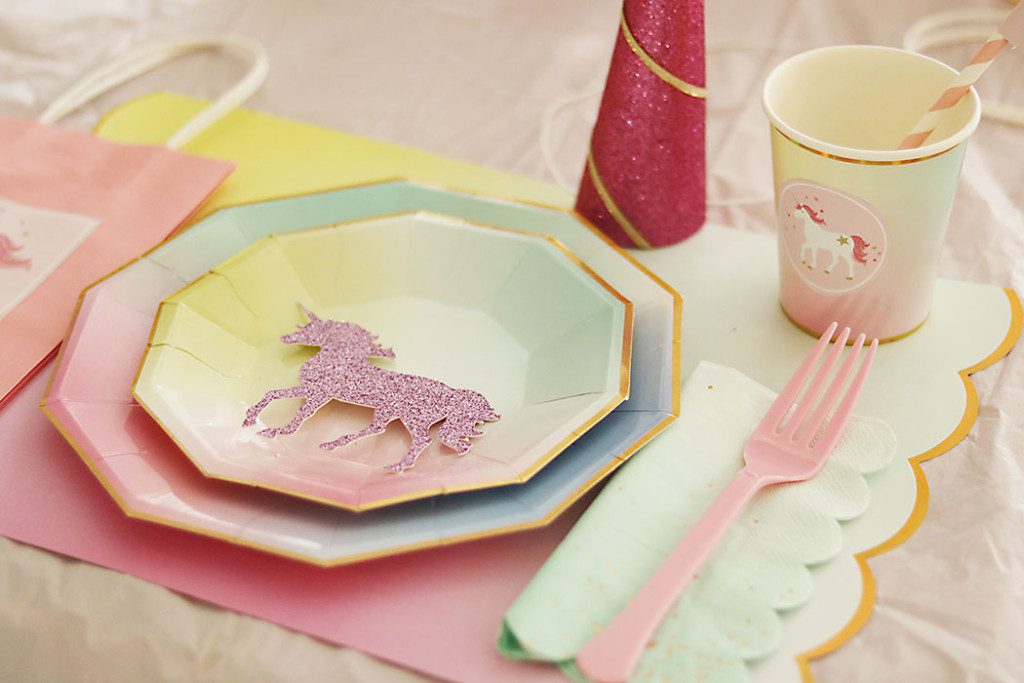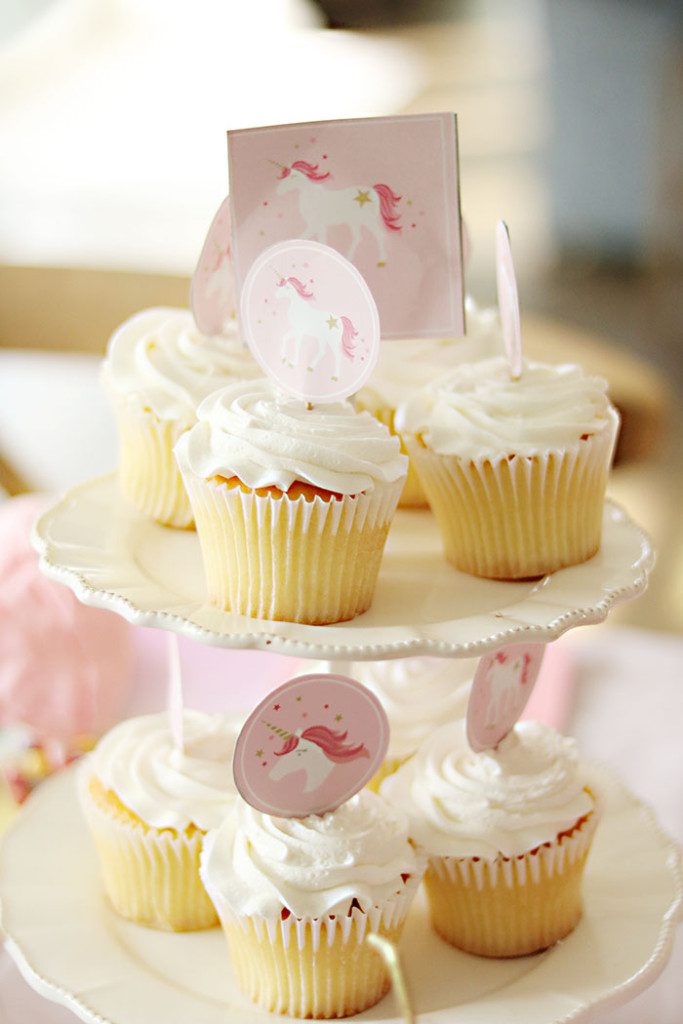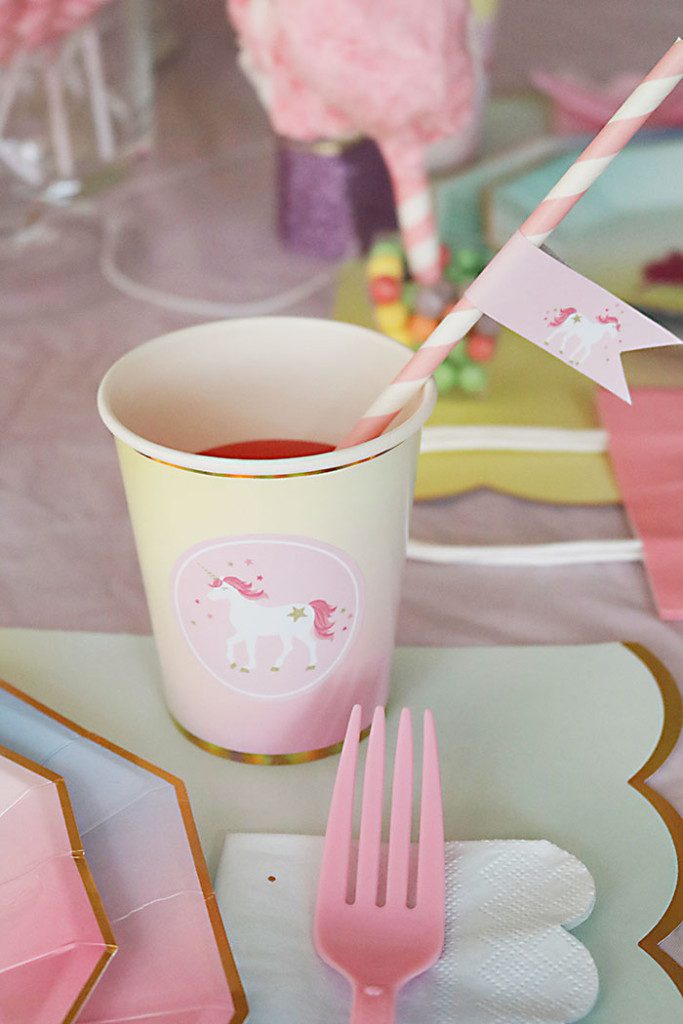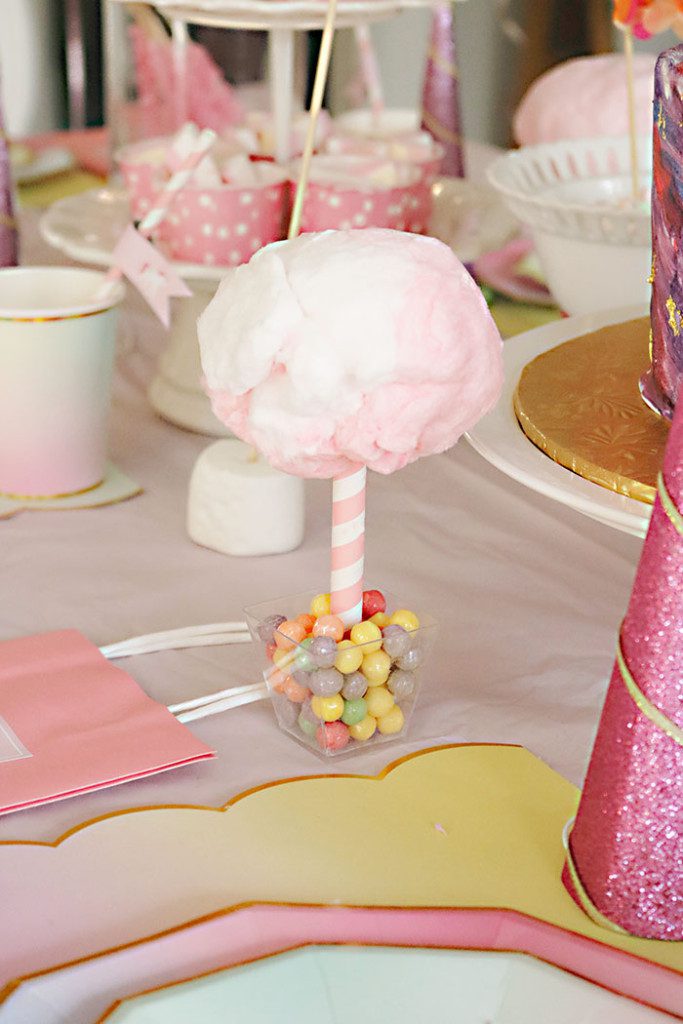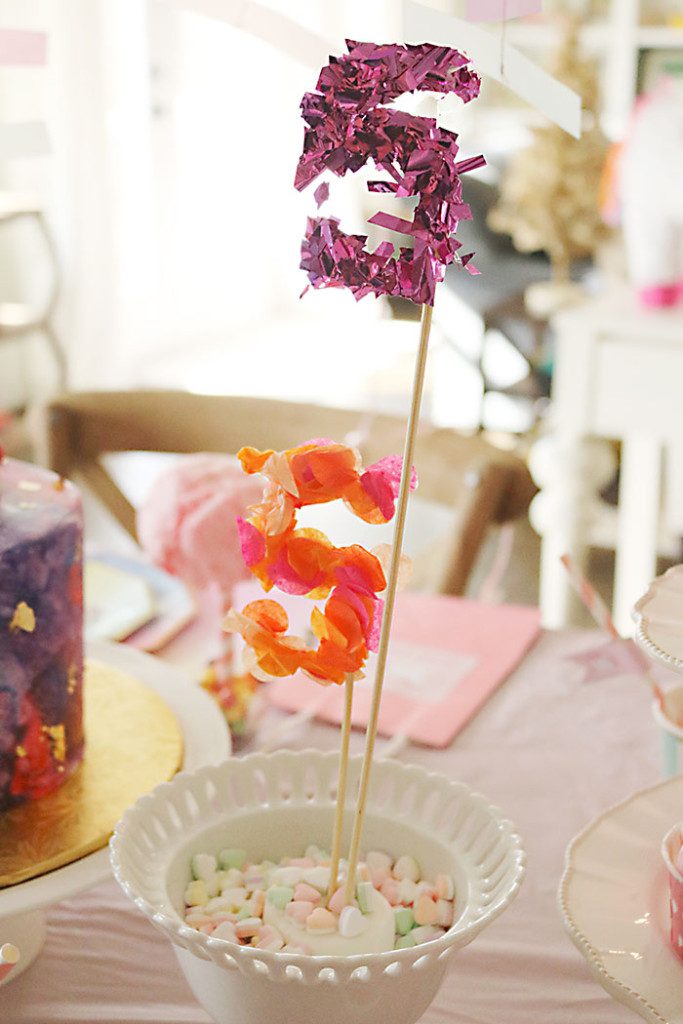 Happy 5th Birthday Miss Chloe! Hope you enjoyed your unicorn birthday party!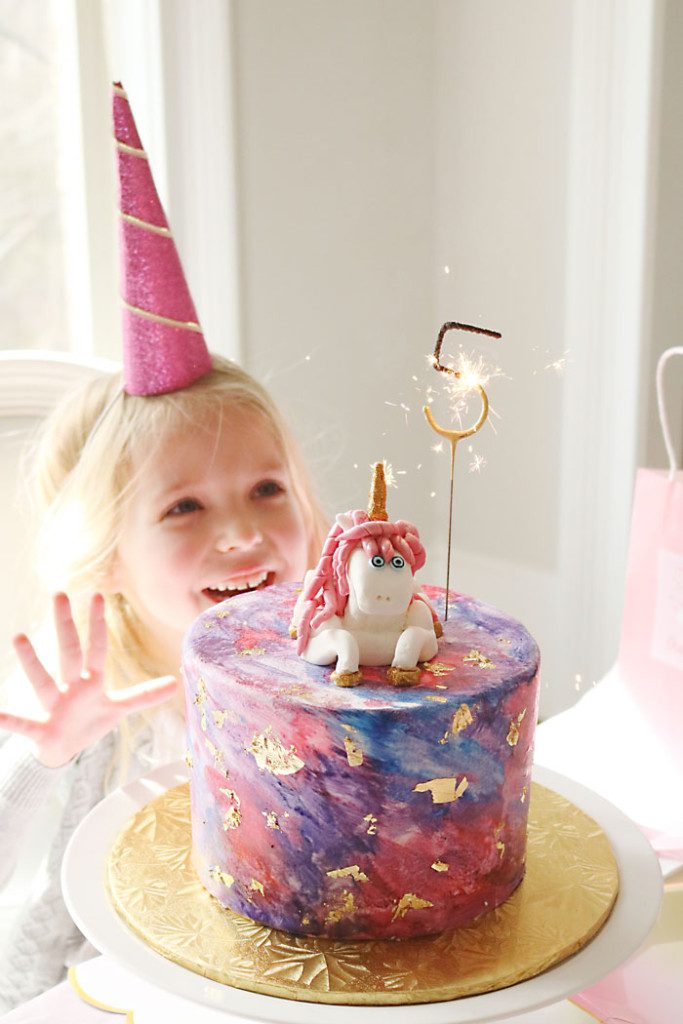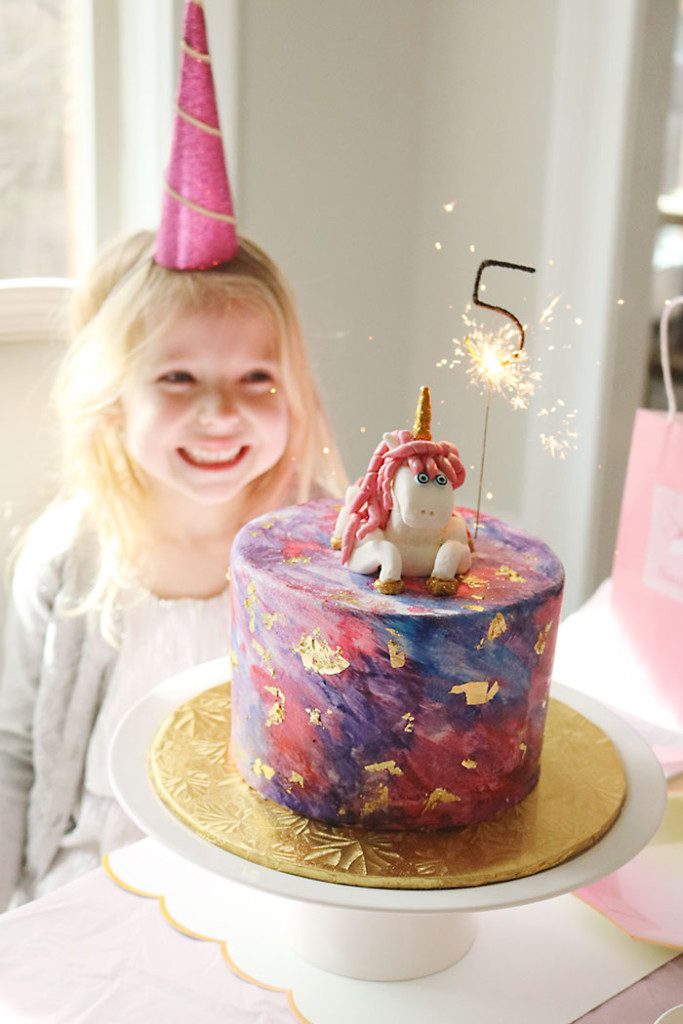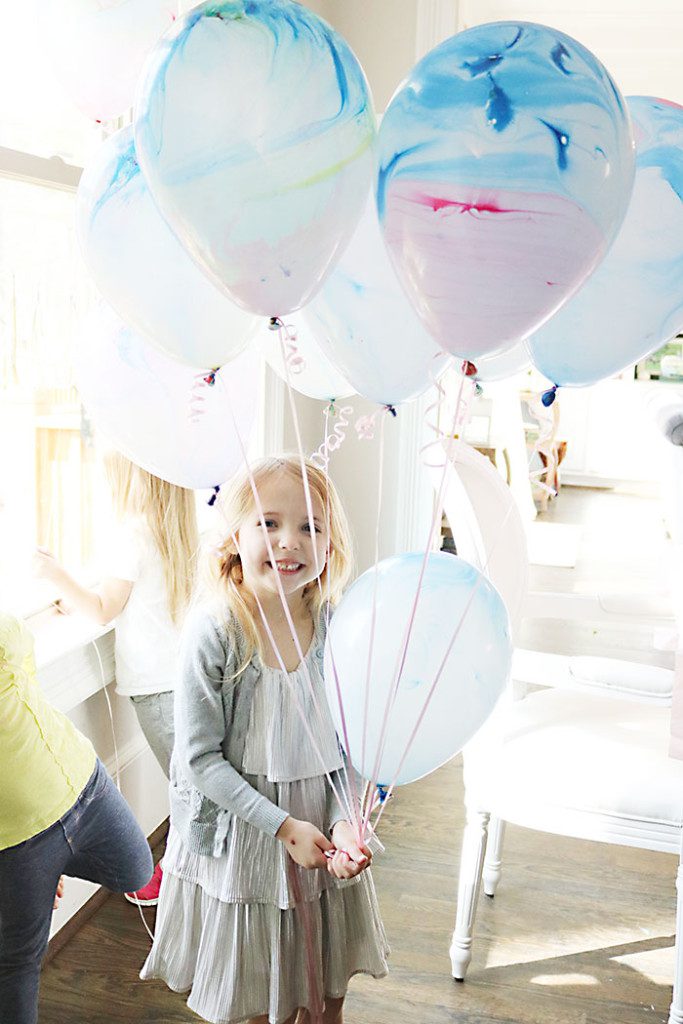 Resources:
Unicorn Printables: Melissa Designs for Darling Darleen
DOWNLOAD UNICORN BIRTHDAY PARTY PRINTABLES
Ombre Cups, Ombre tablecloth, Ombre Napkin
Pink Striped Straws, Pink bags
Unicorn Birthday Cake: Miss Mamie's
Pastel Watercolor Balloons: Balloons and Paper + Party Favor
Unicorn Horns: made them out of glitter cardstock, rolled in a cone then hot glued them together. Wrapped ribbon around it. Added an elastic cord.
Unicorn Glitter Silhouette: made out of left over glitter cardstock and cut out the same unicorn shape on the printables on my Cricut .
Confetti #5 skewers: DIY here
Garland Hanging from Ceiling: reused from Stella's painting birthday party
Want to see more birthday parties?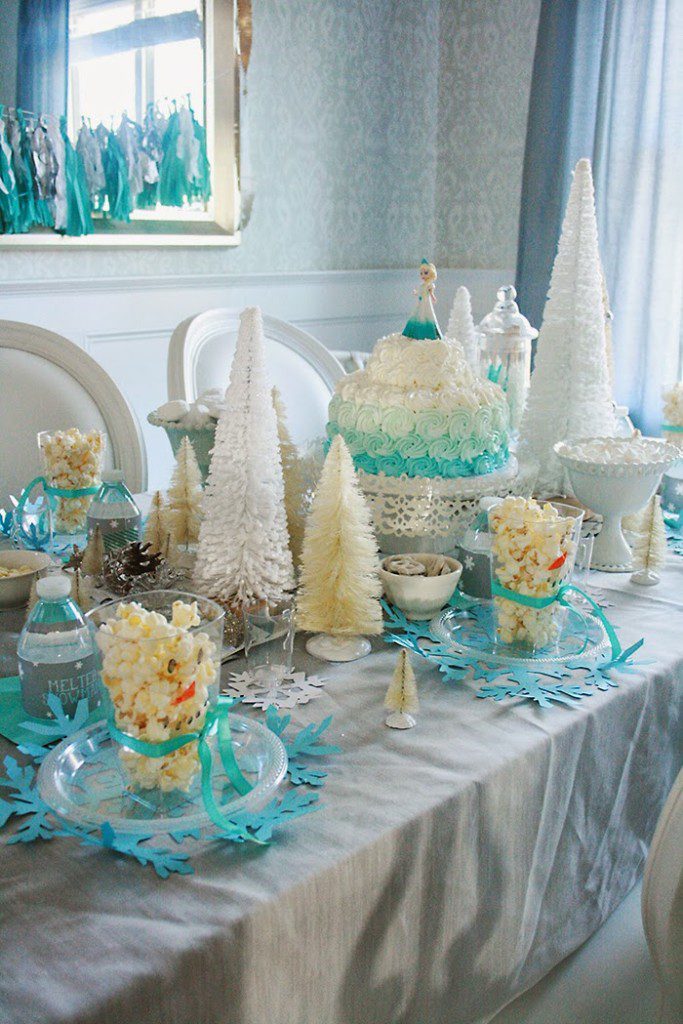 Painting Birthday Party