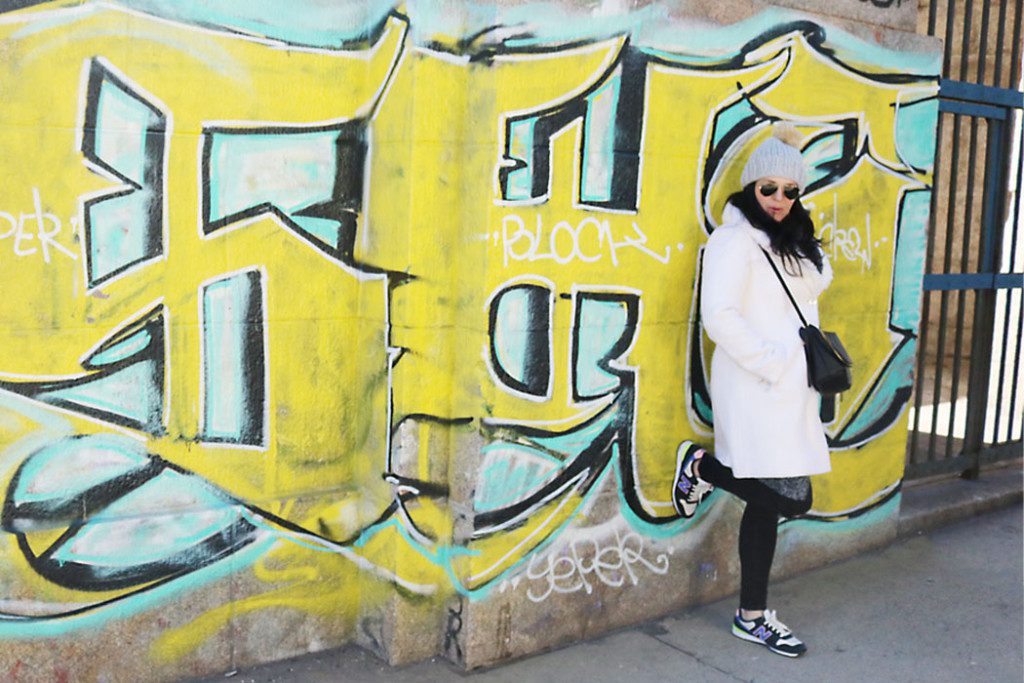 Winter Coat (in cream) | Sunglasses | Sneakers
Crossover Purse | Mutze Hat
New York City Winter Fashion Street Style
I just recently got back from a quick weekend girl's trip to New York City. It was a much needed trip and just makes me miss everything about the City. I need to visit it more often so I don't get so homesick! We went the end of February so it was still nippy cold outside. That is one thing I don't miss about living in the Tri-State area: the cold! It was freezing, but we really didn't complain too much because we were prepared with good walking shoes, layers, hats and gloves and a heavy winter coat. Packing for a New York City winter fashion street style trip is a little tricky, but I knew the coat I brought could be dressed up for Broadway or dressed down for a walk across Brooklyn bridge. Also, it's nice to go with close friends because you can share clothes.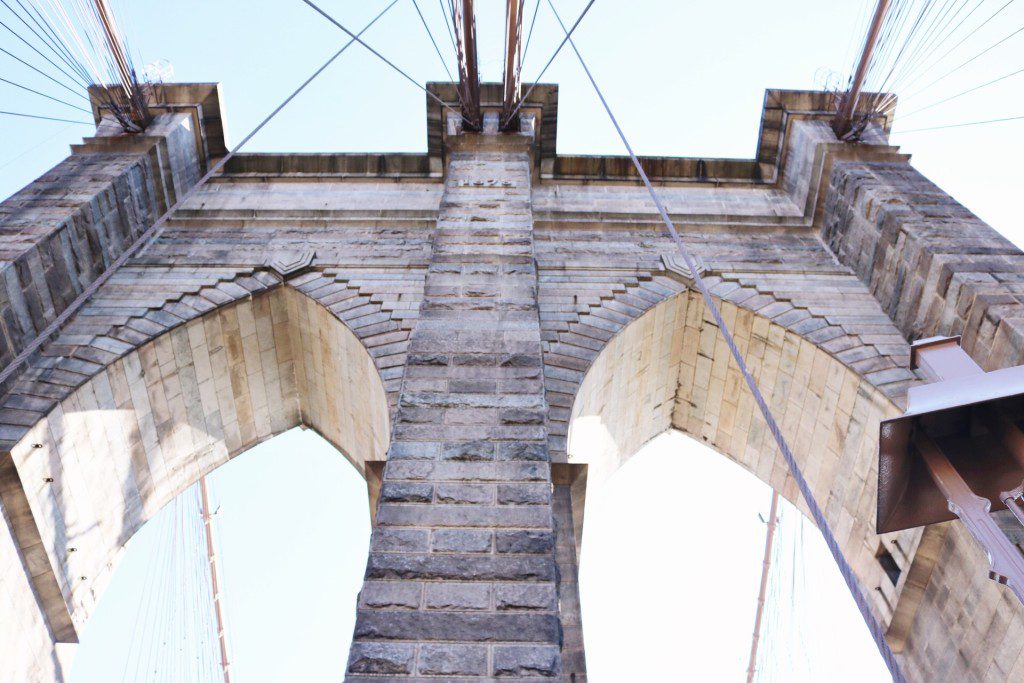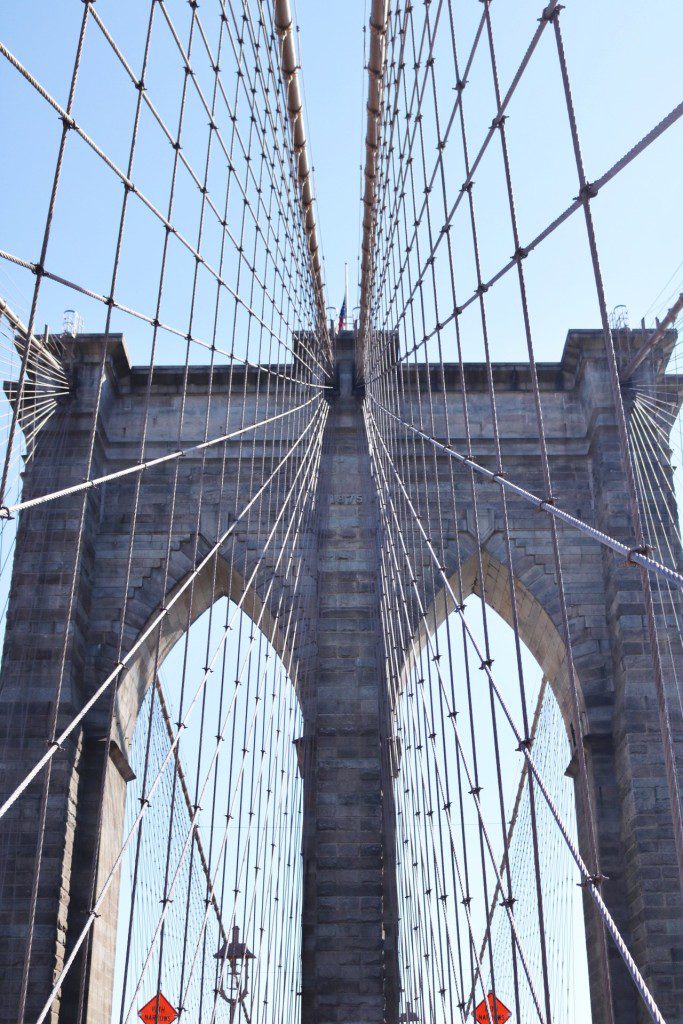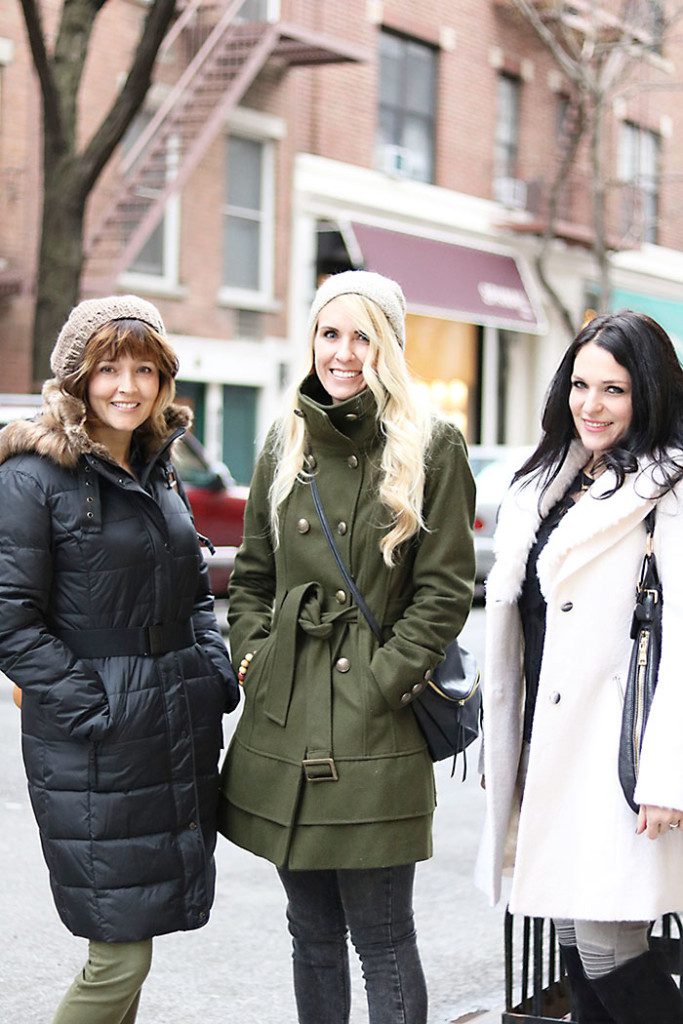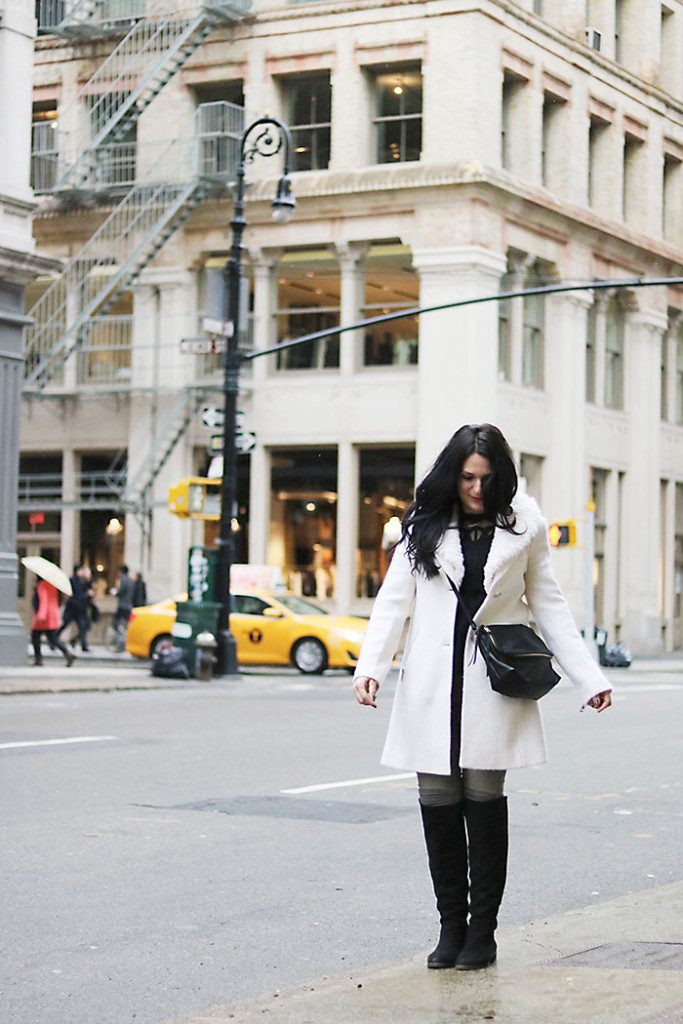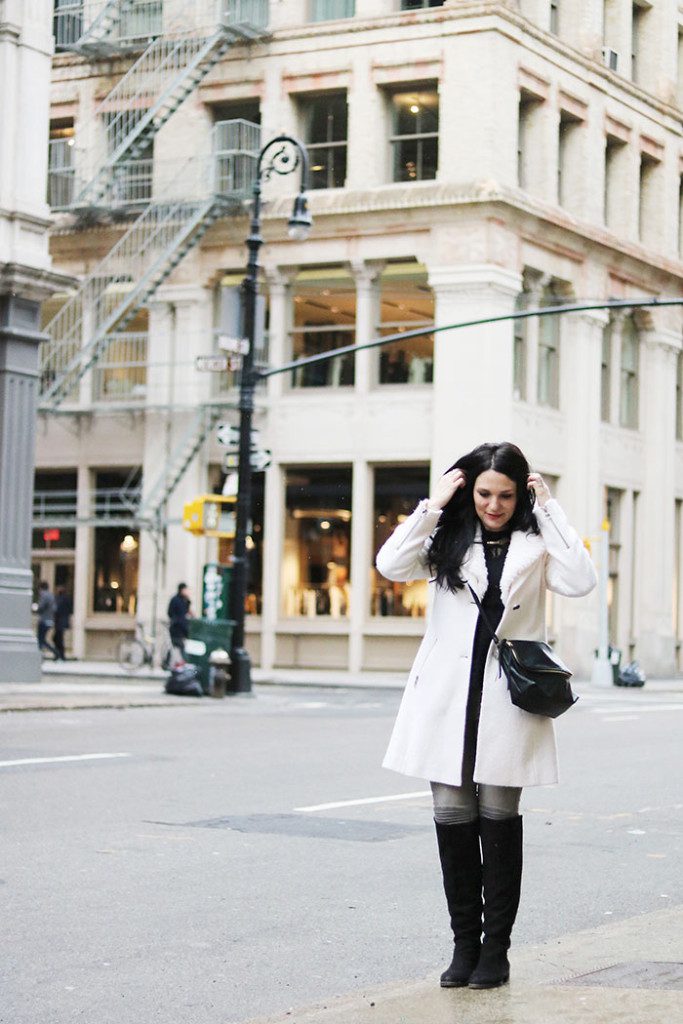 The trip was just for the weekend, but we packed in a ton activities. The first day was spent shopping in Soho. There are so many great boutiques, art galleries and vintage shops in Soho. You really can't complete it all in one day but it's one of my favorite stops in NYC. I took my friends to Blue Ribbon Sushi, which was one of my favorite sushi restaurants and more of a local joint. Of course we had to stop by Rice to Riches and Laduree. Just as I thought, they enjoyed going to these places even more than I did. And they've even said that they can't wait to come back and explore SoHo NYC even more as there is plenty of stuff that they didn't get the chance to do. I can't say I blame them, I would do the same too. Although on saying that, I would definitely be spending all of my time in and around the shops as I want to keep up to date with all of the latest fashion trends.
Like I said, the winter white Guess coat was a good New York City winter fashion street style piece, and I was glad I brought it. When we went shopping in Soho, I could walk into Chloe and Prada store and not feel like I looked haggard from all the walking we had been doing. Another night we went to a fancy restaurant called The Four Seasons (so yummy), and the coat could be dressed up with an all black outfit. I suggest if you head to New York City during winter to bring a coat that could work with many different shoes and transition from all day walking to an evening out at the opera.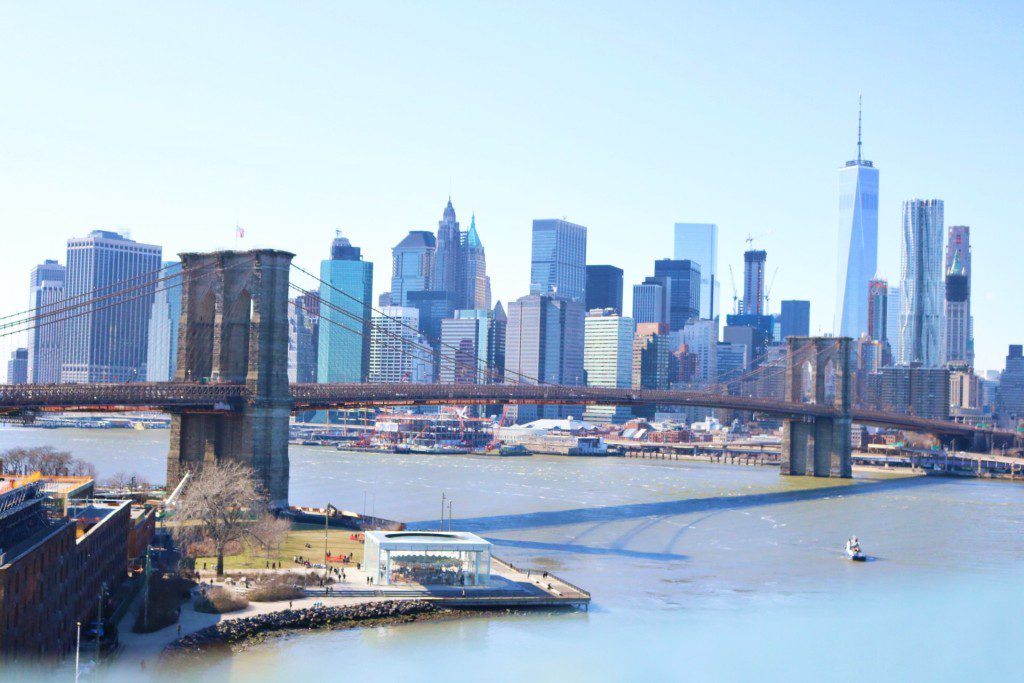 Can you spot the carousal in the top picture?? I took this picture from the Manhattan bridge overlooking the Brooklyn Bridge and Lower Manhattan. This bridge is a little less traveled, but you get a really beautiful view of Brooklyn. We walked the Brooklyn Bridge over then walked back via the Manhattan bridge . It dropped us off at Lower East Side, so stopped at Doughnut Plant and stuffed our little faces up with the best, savoring doughnuts.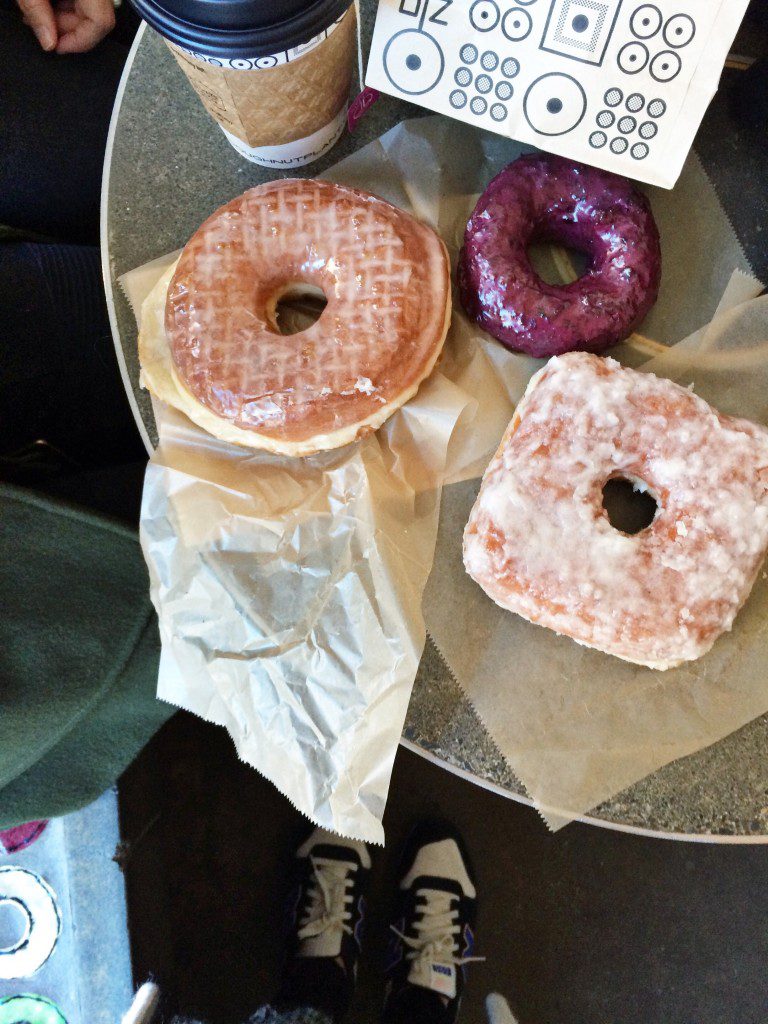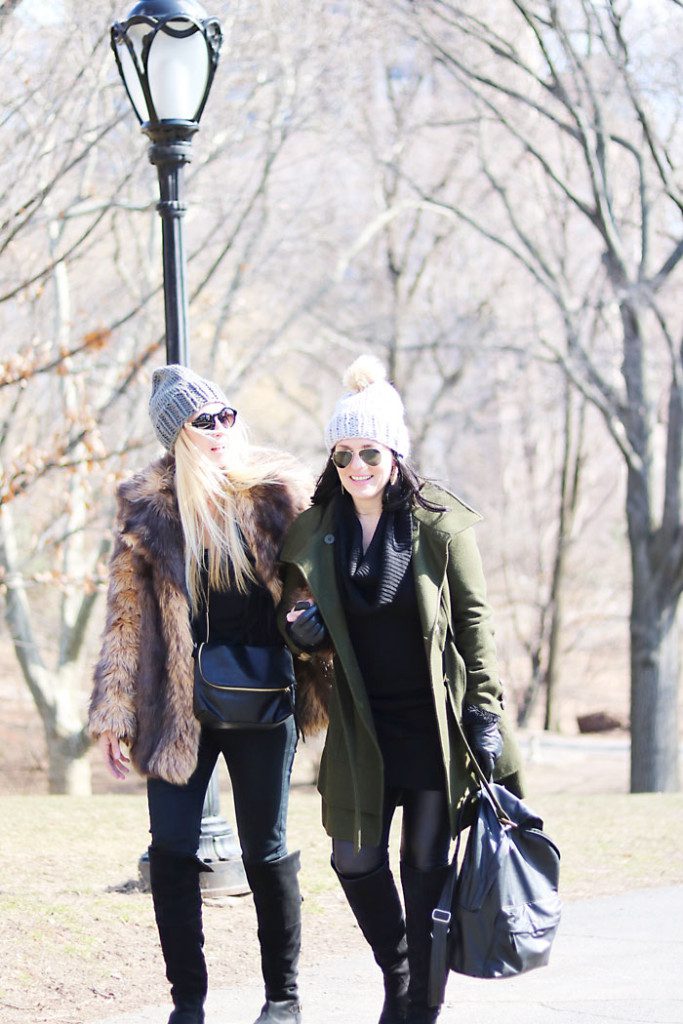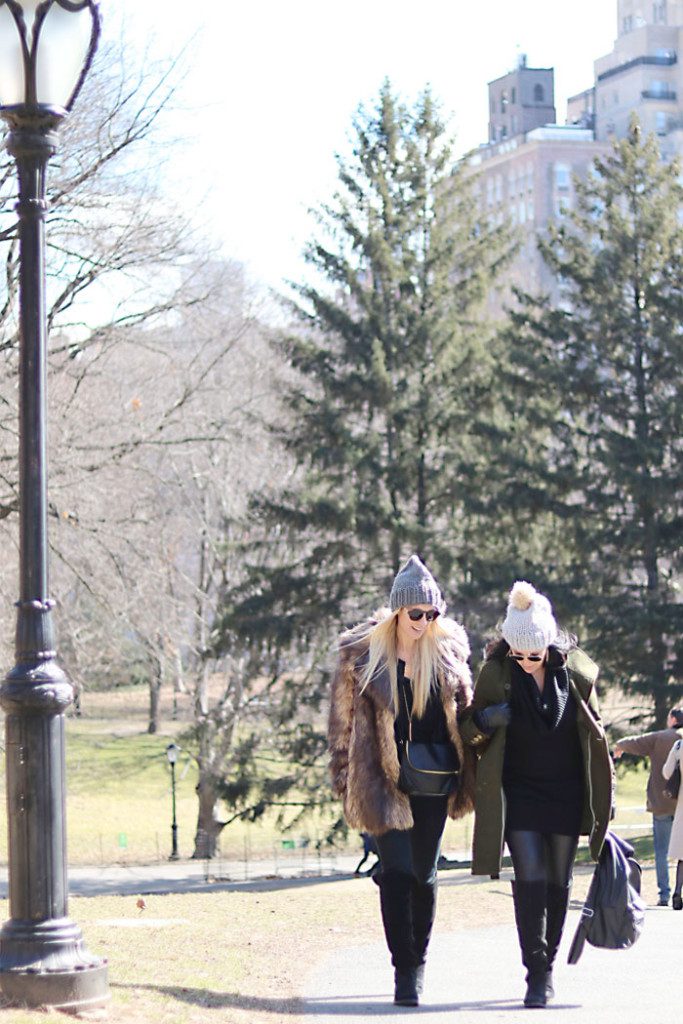 Faux Fur Coat | Black Back pack
Another day was spent at Central Park and the Metropolitan Museum. Two of my favorite spots in the city. When I leaves in CT, we use to go to the MET almost every weekend because my boys were obsessed with the knights and armor exhibit. I still haven't seen all the art at the MET; it's so huge!
I must say that wearing a faux fur coat, like my friend Ashley brought, fits in perfectly for New York City Winter fashion street style. There is probably more faux fur coats on the New York City streets than polyester coats! Stylish hats and gloves are a must. I saw some nice ones on www.ezibuy.com before I came but I didn't buy any, I'm regretting it now! But really what was a lifesaver was a backpack or a crossover bag. They really helped save our backs! We were walking all day and didn't go back to our hotel until night time. It was nice to carry all of our things in a stylish back pack to keep everything we needed at hand without worrying about where to put it in our coats. Whilst I love the one I brought, after a friend talked about this DipaloSelects.com article on imitation handbags during the walk I'm tempted to shop around for next time. We also saw a great Broadway play that I highly recommend called The Curious Incident of the Dog in the Nightime.
Heading to New York City for a Quick New York Minute? Here are some of my favorite places to visit.
Here are my top 10 places I like to hit up when in town:
ABC Carpet and Home (Union Square)
Moda Fabrics (Fashion District) (fabric shop for Project Runway and close to Parsons)
MJ Trimmings (Herald Square)
Century 21 (Lower Manhattan)
Lohemanns (Union Square)
Purl Fabric (Soho)
Soho Shopping (go on Thursday when the shops stay open a little longer)
Strand Book Store
Bloomingdales
Artists & Fleas
Here are my top 10 places to EAT:
Laduree Paris (Soho)
Doughnut Plant (Lower Manhattan)
Rice to Riches (Soho)
Norma's (Midtown)
Cafe Habana (Soho/Lower East Side)
Georgetown Cupcake (Soho)
Alice's Tea Cup (Upper West Side)
Levain Bakery
Shake Shack
Dylan's Candy Bar (Upper East Side)