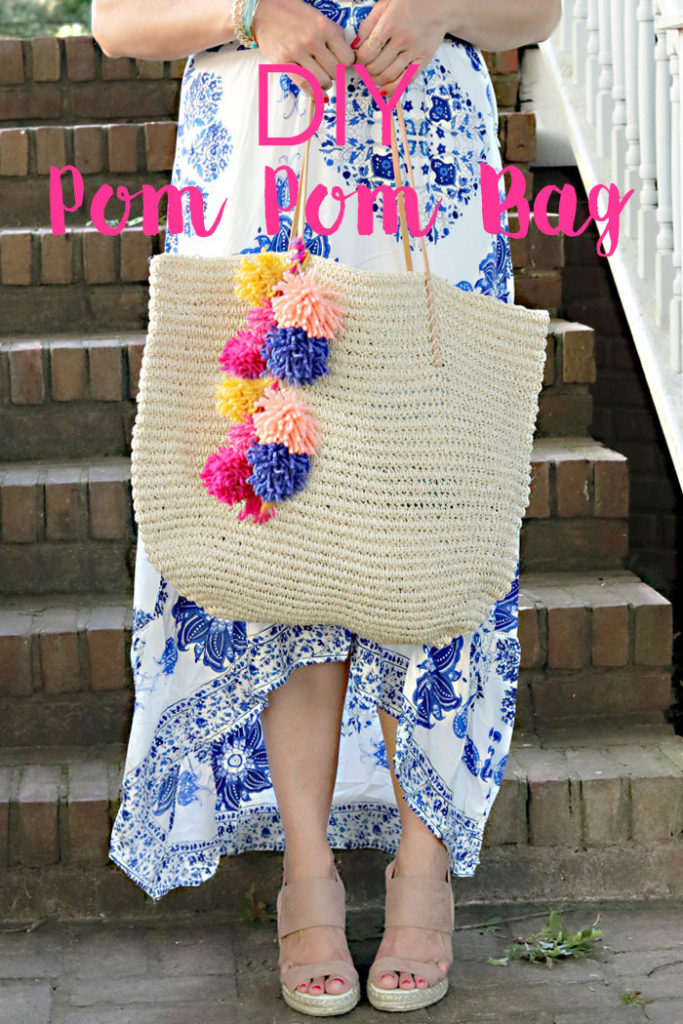 DIY Pom Pom Bag
This summer stay on trend with anything pom pom! Grab a few of your girlfriends for an evening of pom pom making! This DIY Pom Pom Bag is a fun craft and easy on the wallet, and so stylish. Everyone will be complimenting your tote bag at the pool! Most of the pom pom bags I've seen around are well over $100 (I'm obsessed with this one), but this pom pom bag can be made for under $10. During the summer months, straw/raffia tote bags can be found all over the place for a good price–dollar store, grocery store or maybe you have an old one sitting in your closet. Easily turn a boring woven tote bag into a colorful glam take on a classic beach style. Make this for your 4th of July holiday!
DIY Pom Pom Bag
yarn (assorted colors)
Scissors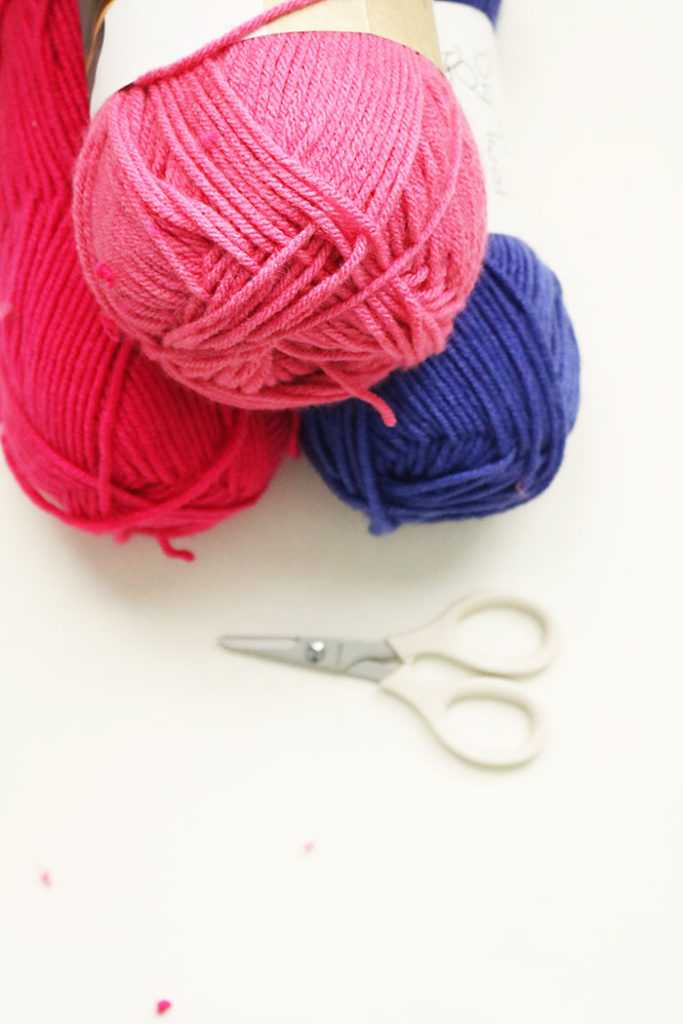 Pick up an assortment of yarn or stick with just one color. Or as a friend who might knit if they have yarn to spare. You won't need a lot!
Take the yarn and place over your hand, leaving one side long enough to tie off at the end
Take the other end and wrap it around your hand.
Continue to wrap the yarn over and over your hand. The more wrapping around the hand, the fuller the pom pom will be. I wrapped about 60 times around my hand! I would not do anything less than 20 times.
Once you are done wrapping, take the yarn and place it in between your two middle fingers.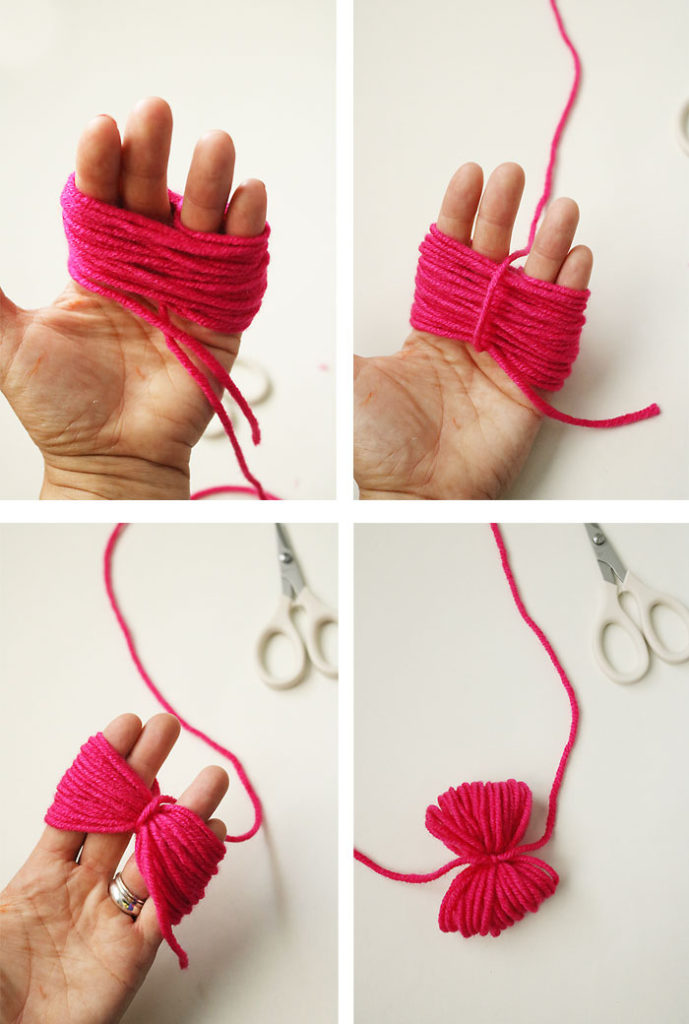 Wrap it behind the yarn, and slide it back through the middle two fingers.
Then bring it back up toward the middle two fingers. Slightly pull the yarn up to your fingers from your palm
Then continue to wrap the yarn around and around, tightening the middle part of the yarnd
Once it is tight, pull it off your fingers. Tie it off with the other end of the yarn string with a double knot. Cut the shorter end with scissors. Make sure

not

to cut off the long string side.
Take your scissors and cut the loop ends
Pull the cut yarn strings together
Gather them together and cut the strings so they are all even.
Trim until you are satisfied with your pom pom.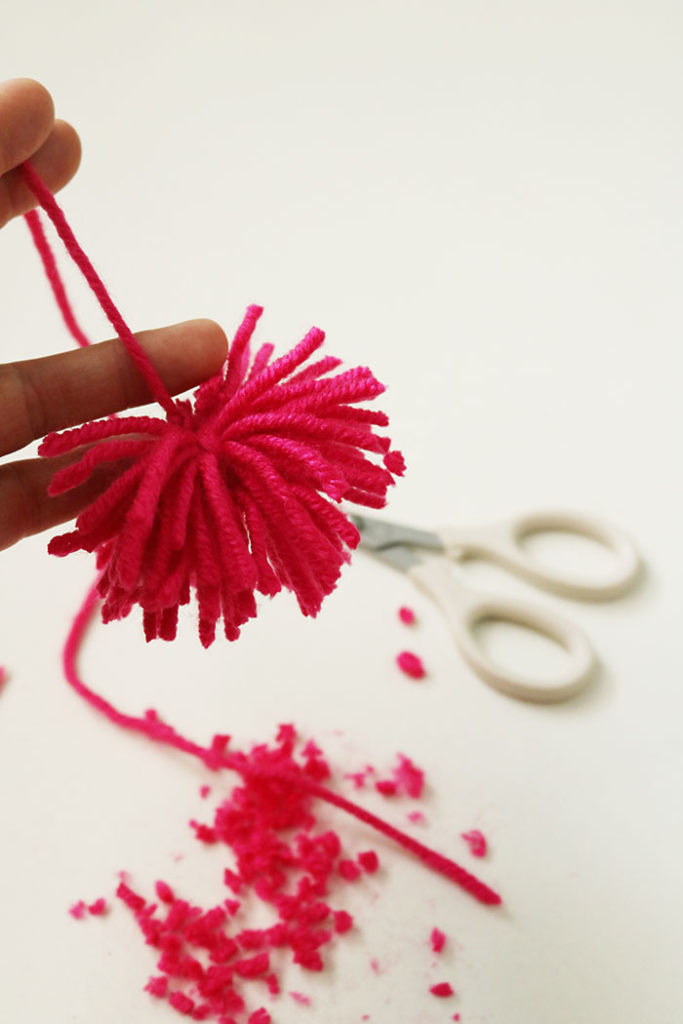 Take the long string and tie to the handle of your bag. Add more pom poms in different colors! Add pom pom layers to make a tassel by tying pom poms to each other.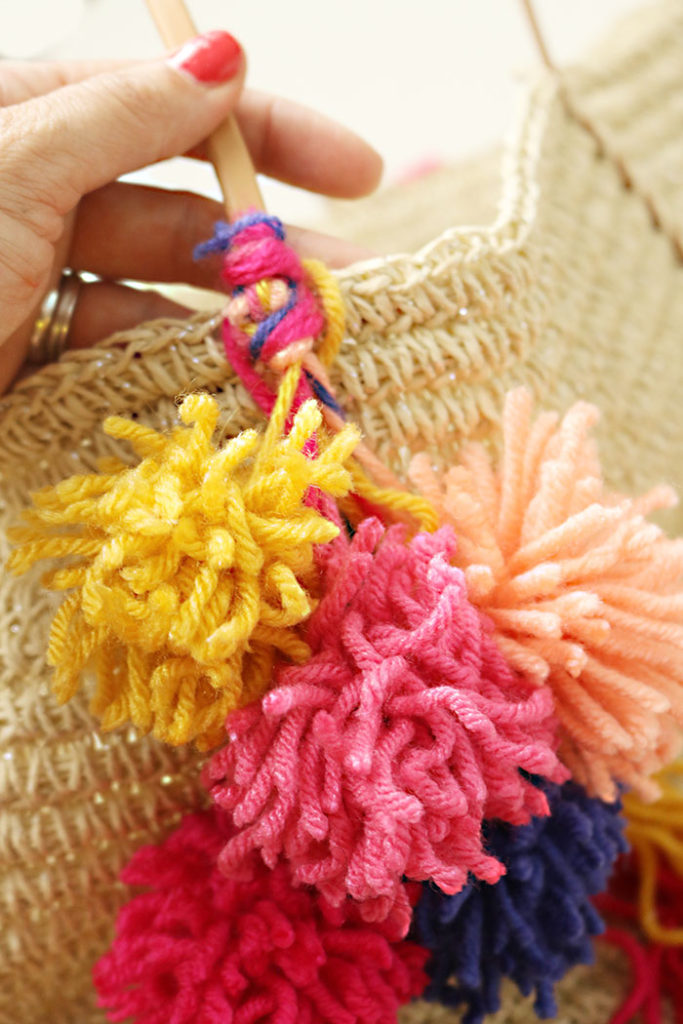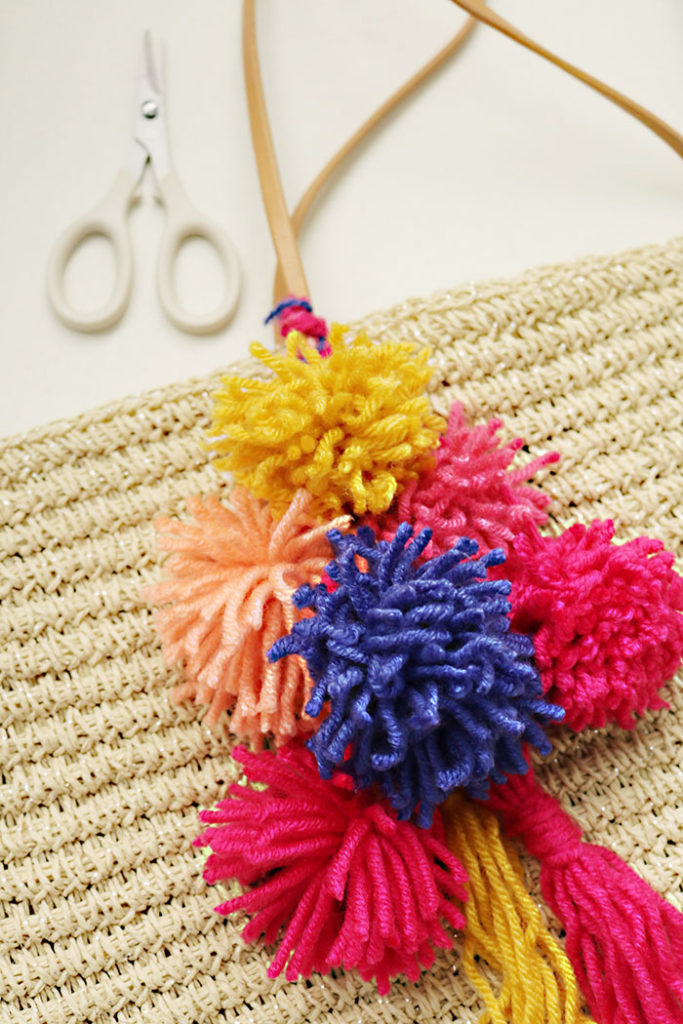 Show off and enjoy!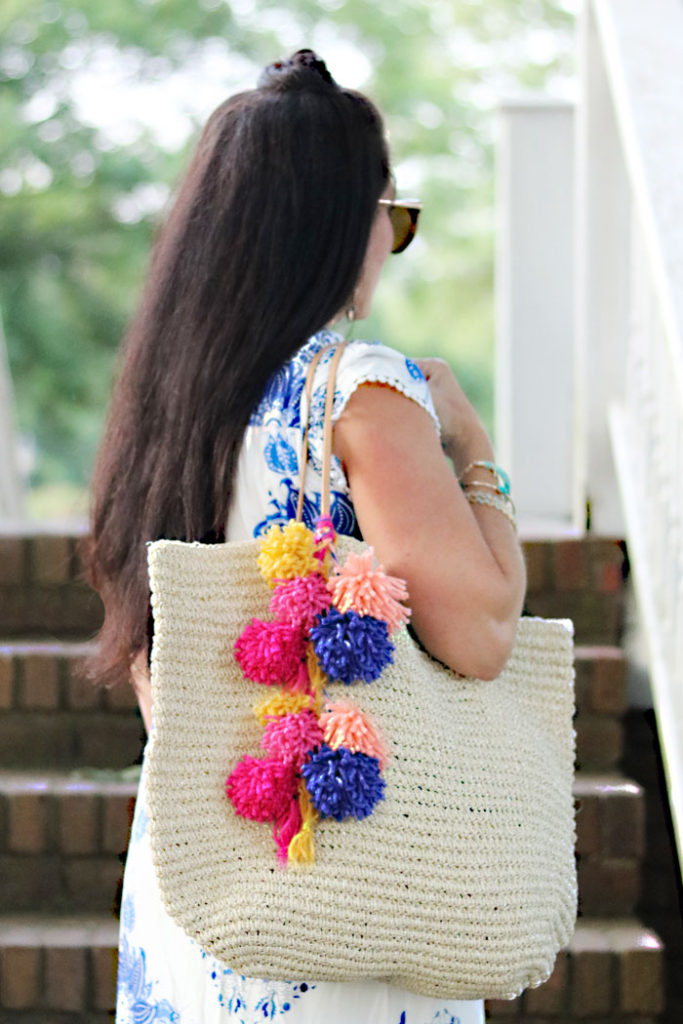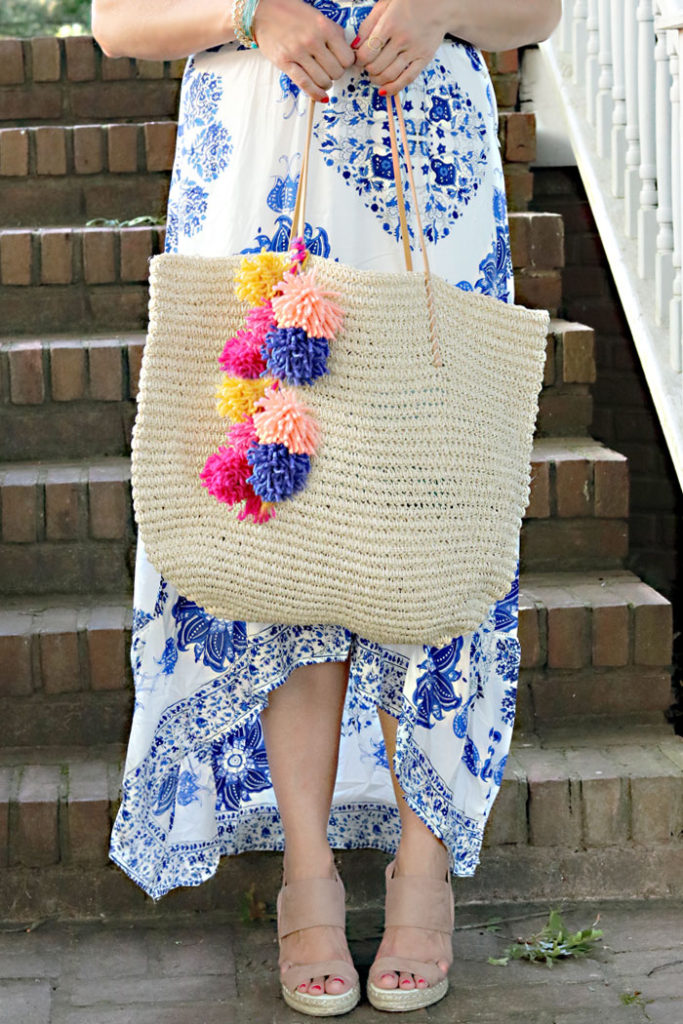 Here are some other pom pom bags that I'm obsessed with!
Try out this
Pom Pom craft
!