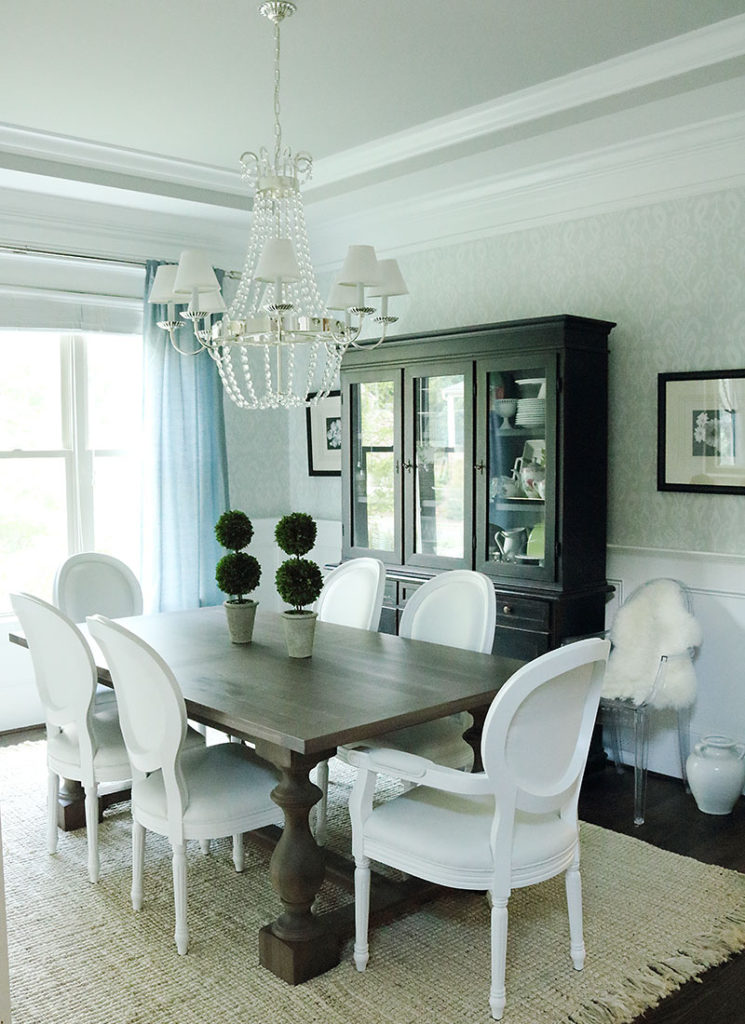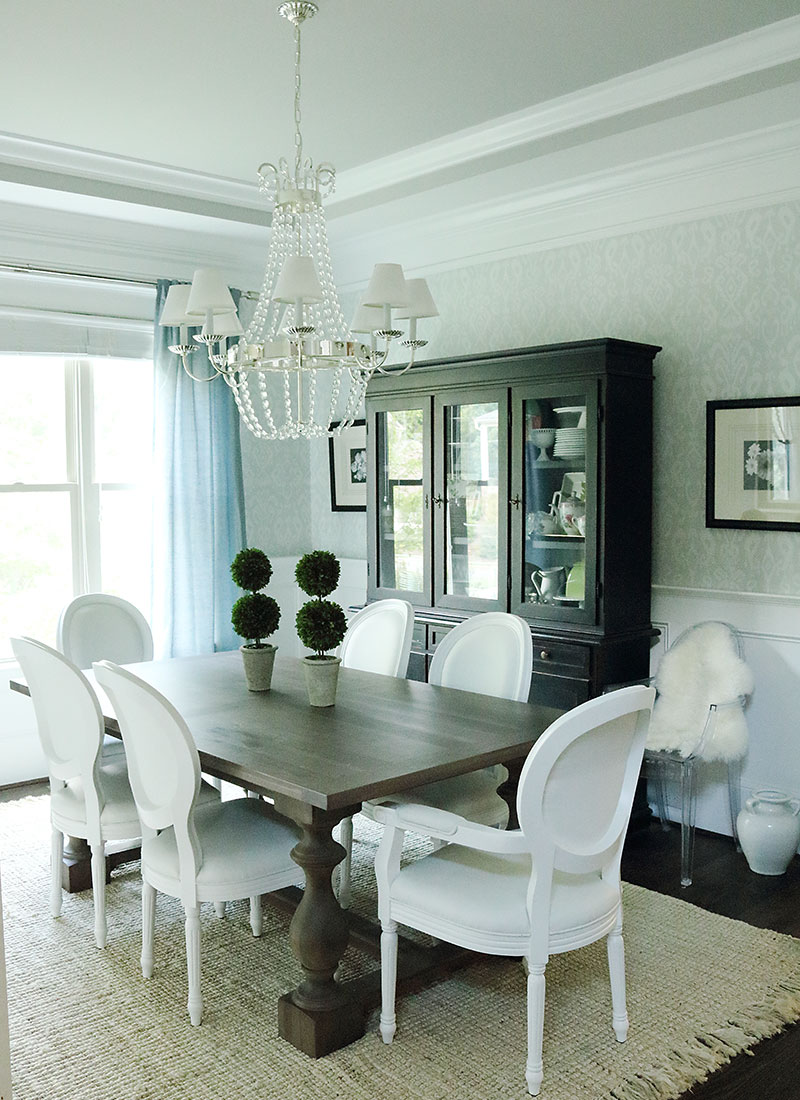 Modern Dining Room Light Fixture
We recently replaced our dining room light fixture for a paris flea chandelier in the above picture. Our dining room was without a light fixture for a few months as I looked and looked for a suitable and budget-friendly light fixture (lights are expensive!). We moved the original empire-style beaded chandelier to our bedroom because the size of the fixture was small and looked disproportionate to the table and dining room. We did all the work ourselves, but in hindsight, it probably would have been quicker and easier to hire an electrician. Also, the fixture had three little lights so at night the dining room was moody and dark. We really needed to replace it with a modern dining room light fixture. But I also needed to consider that we live in a very traditional southern home so I wanted a light that was complemented the style of the home. Finding a light fixture can be difficult, especially when you have particular needs for the style of our home. With our necessity of a mixture of modern and traditional, we discussed whether custom lighting fabrication would be the right option for us. However, this was not long before we found the chandelier that fits our home design perfectly. We briefly considered installing a WiFi light switch like the tp link vs wemo, but we decided against it as we simply preferred the classic look.
When buying a dining room light fixture, you really do need to consider the style of the fixture but also the functionality of the fixture. Here are 4 tips I have learned while dealing with our dining room light fixture drama.
Take into consideration the size of your dining room and dining room table. Measure the height and width. Proportion is the key and a good place to start. A dining room light fixture should have 30-34″ of clearance from the tabletop.
Consider the height of your ceiling (which was another issue of ours). We have really high ceiling so I needed to find a chandelier that had substance. I love all the wire modern light fixtures and arm light fixtures, but in my dining room it would have become lost. You want your light fixture to be the attention seeker of the room. Also when installing, make sure there is enough clearance between the bottom of where the chandelier will hang and the head of a tall person.
Lighting! Consider how many light bulbs the dining room light fixture will have. Like I said before, our previous fixture only had three light bulbs so the room had didn't have a lot of light when the light was on. With that being said, LED ceiling lights are efficient and stylish, so this may be something worth considering when it comes to updating the lighting situation.

Good for a romantic dinner, not good for entertaining. Make sure your lighting is soft and not too blinding.

Consider the style of the chandelier. I love mixing styles, but you don't want to go overboard with many styles clashing in your house. The dining room is one of the home's main focal rooms, so keep it consistent and have complementing styles. The modern dining room light fixture is really in style right now. But you don't have to feel pressure to put a style in that everyone is doing and then in the end doesn't look good! I've done that before too. I do like how there are modern contemporary light fixtures and then modern traditional light fixtures. The best of both worlds! I've shared some of my favorites modern dining room lights below.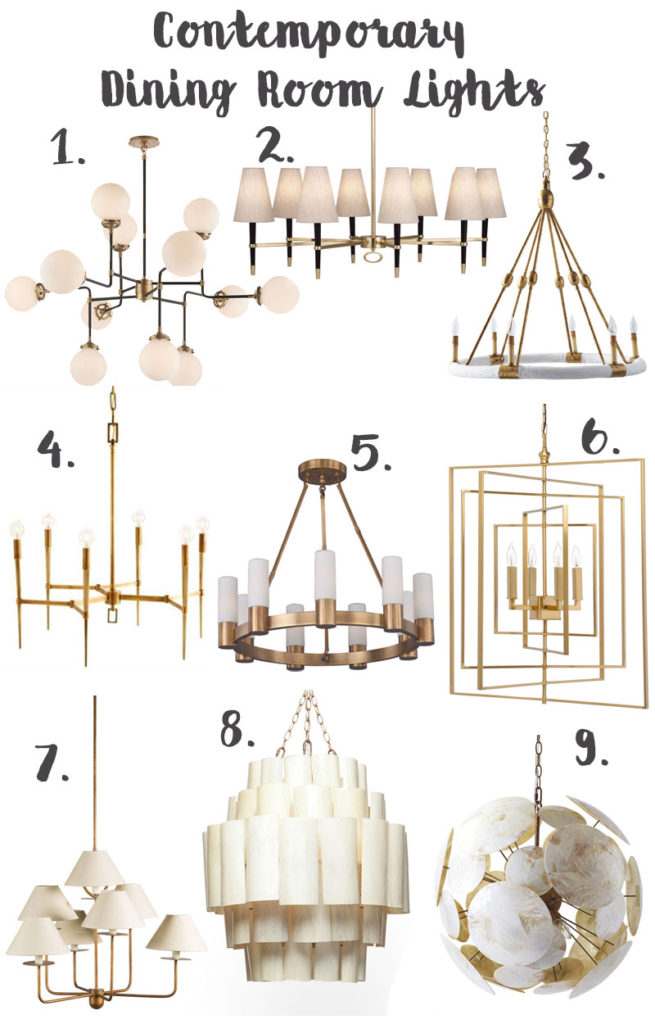 1 | 2 | 3 | 4 | 5 | 6 | 7 | 8 | 9
I love these contemporary modern dining room light fixtures. They are statement pieces but are still not completely over the top. With four or more light bulbs and also their size and width seem adequate.
Here are some more contemporary modern dining room light fixtures: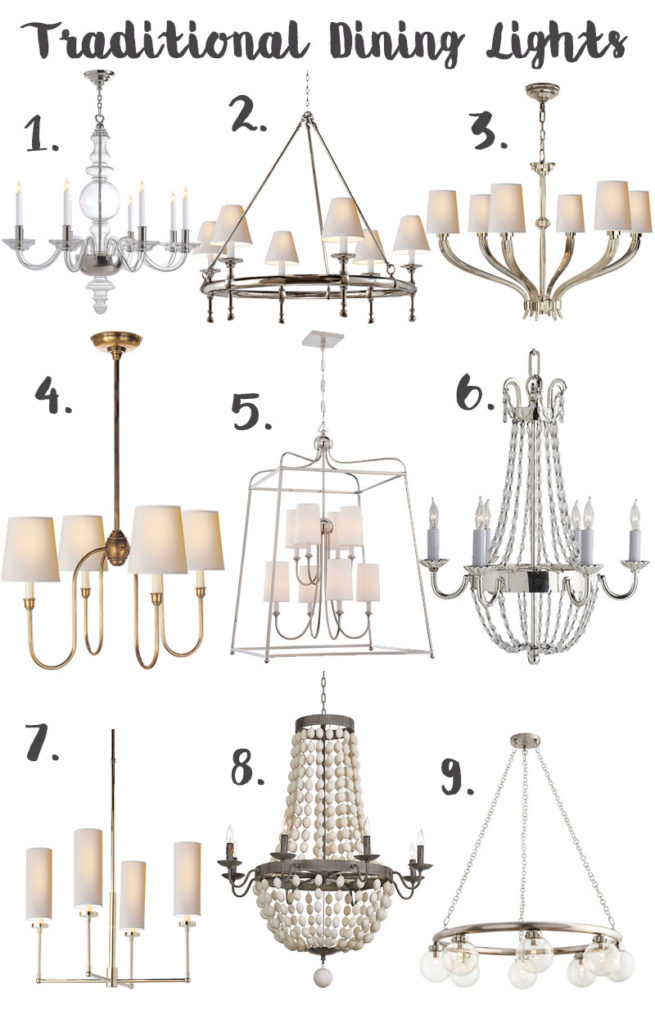 1 | 2 | 3 | 4 | 5 | 6 | 7 | 8 | 9
I love that there are so many traditional modern light fixtures now available. A classic updated look. There are so many choices and metal finishes. The light fixture that I bought for our dining room is option #6 (it comes in a gold brass finish too). I just added lamp shades for a more finish look.
Here are some more traditional modern light fixtures:
Here are some of the items from my dining room: