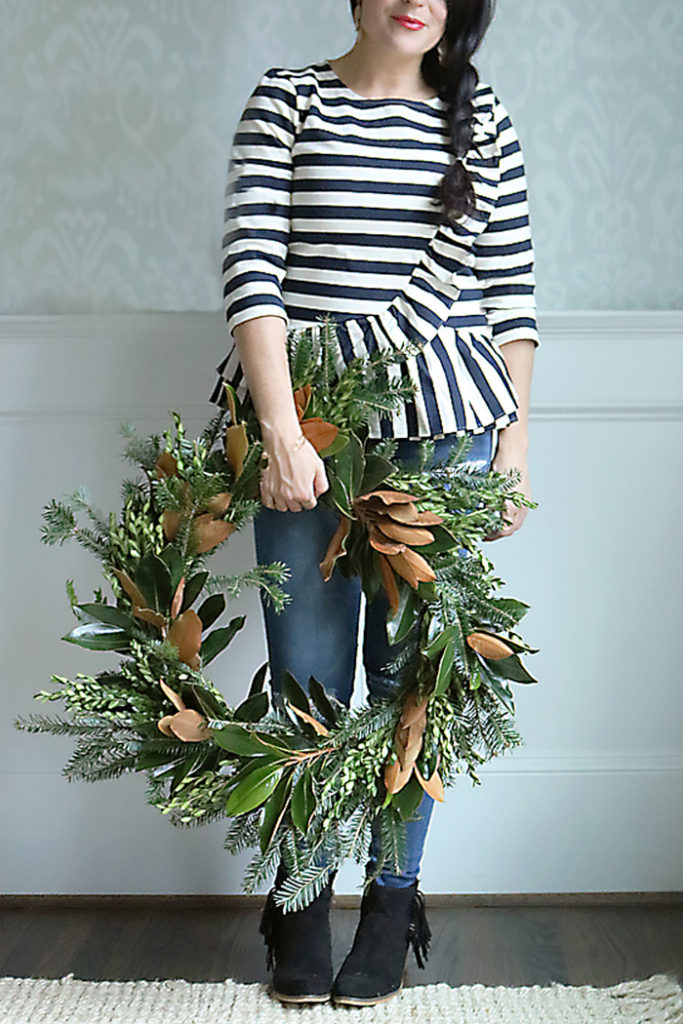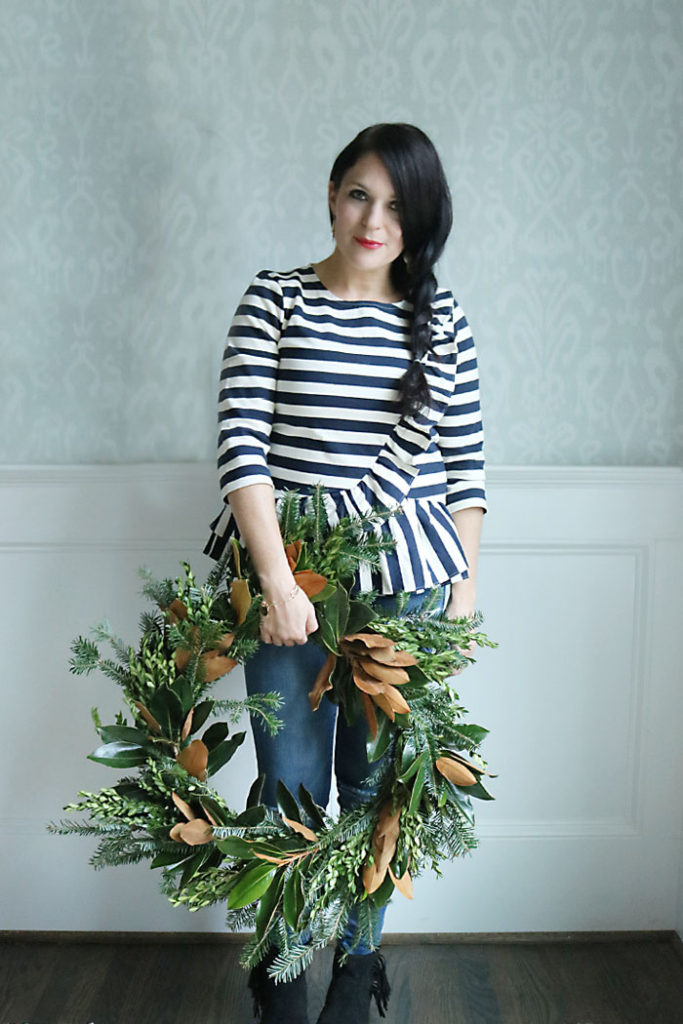 DIY Fresh Magnolia Mixed Branch Wreath
Fresh Christmas wreaths are my favorite! I try to make two fresh ones every year. So last spring I had my landscaper plant two magnolia trees in my backyard since we live in the south. Every southern home should have their own magnolia tree, right? Our house definitely needed one. But really the main reasons why was so I can make magnolia wreaths and garland during Christmas. A mature magnolia tree is huge, so we ended up planting two miniature magnolia trees because we didn't have the yard space. Since the miniatures don't get as big, they also don't have as large of leaves. Our magnolia trees are still babies, so I didn't have enough leaves for full magnolia wreath. Instead, I decided to DIY fresh magnolia mixed branch wreath, using clippings from my Christmas tree and my front yard boxwoods. If you have evergreen plants in your yard, they do great with mixing in with a wreath. Also, get thrifty and use your Christmas tree clippings by making either a wreath, garland, swag or put some in a vase for a simple centerpiece.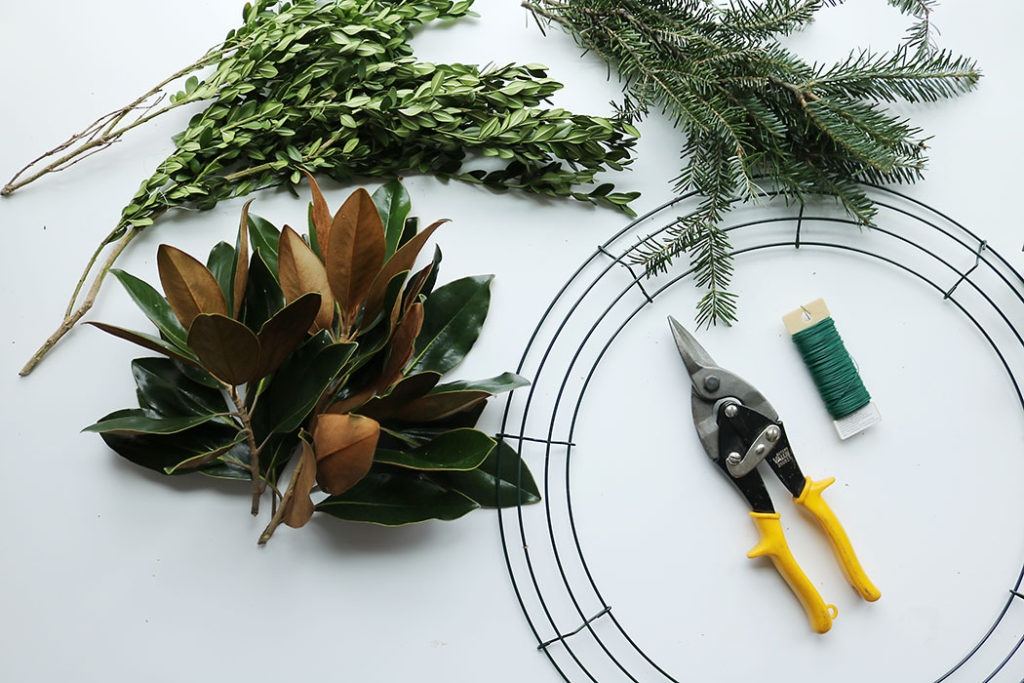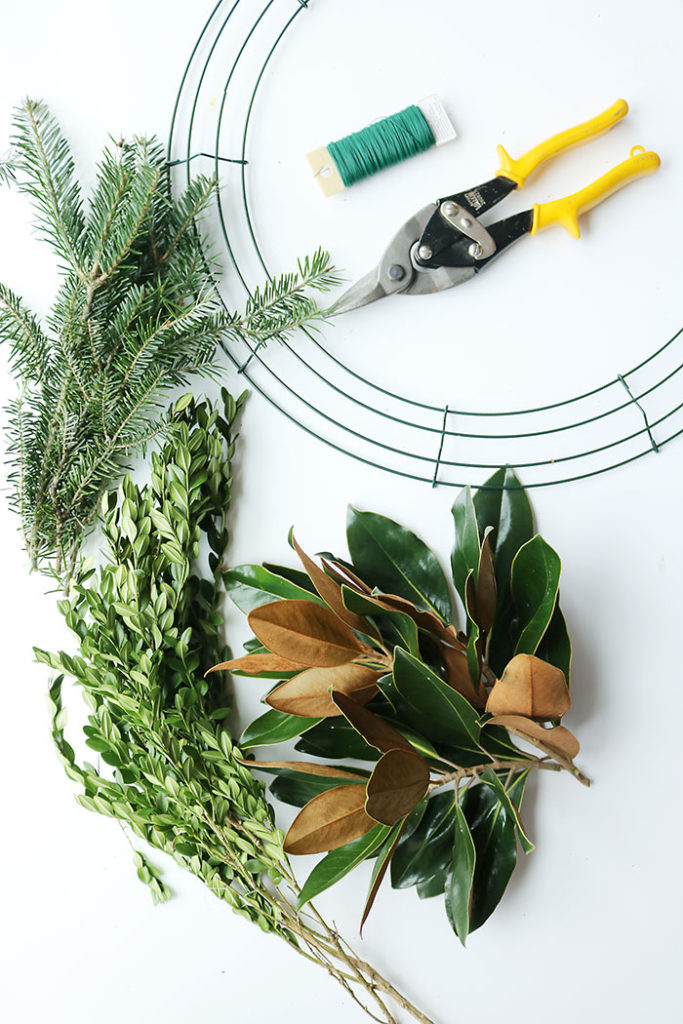 DIY Fresh Magnolia Mixed Branch Wreath Supplies
Magnolia leaves
Fir or Cedar clippings
Boxwood or Eucalyptus clippings
There's not a lot of supplies to make a magnolia mixed branch wreath. I reuse my wreath wire every year. Make sure you have a good pair of floral shears, so its easy to cut branches off the tree.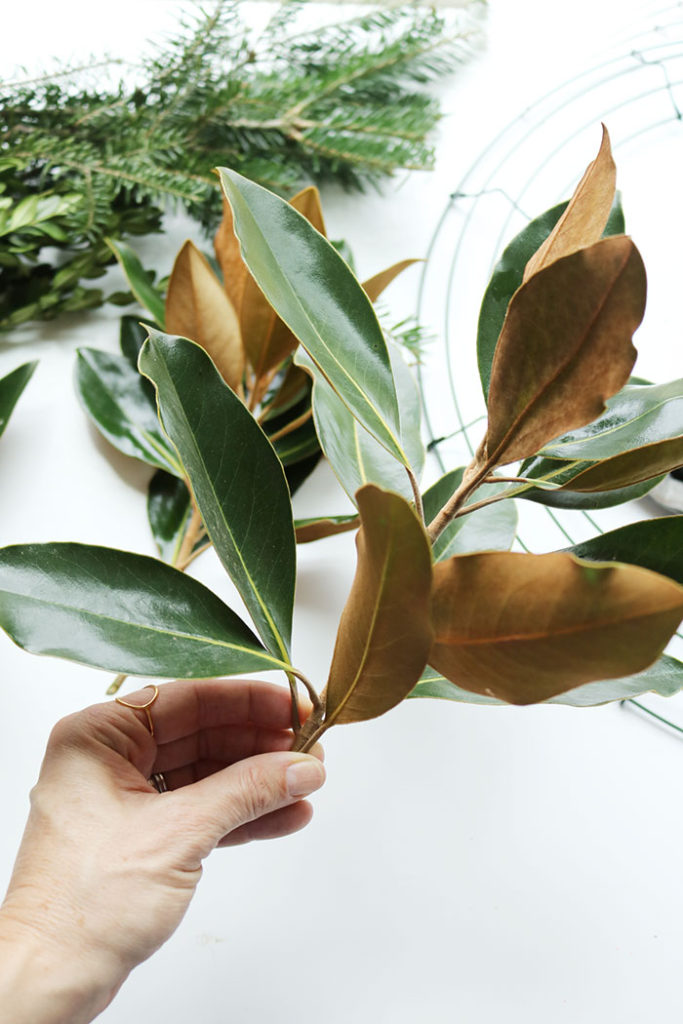 Magnolia leaves have such an elegant, classy appeal with their contrasting sides. It's no wonder that store-bought magnolia wreaths are quite expensive. If you live in an area with magnolia trees, most floral nurseries have magnolia leaves in the bundles. As you can see one stem has quite a few leaves so you can really use one branch and then wire the bundle to the wreath.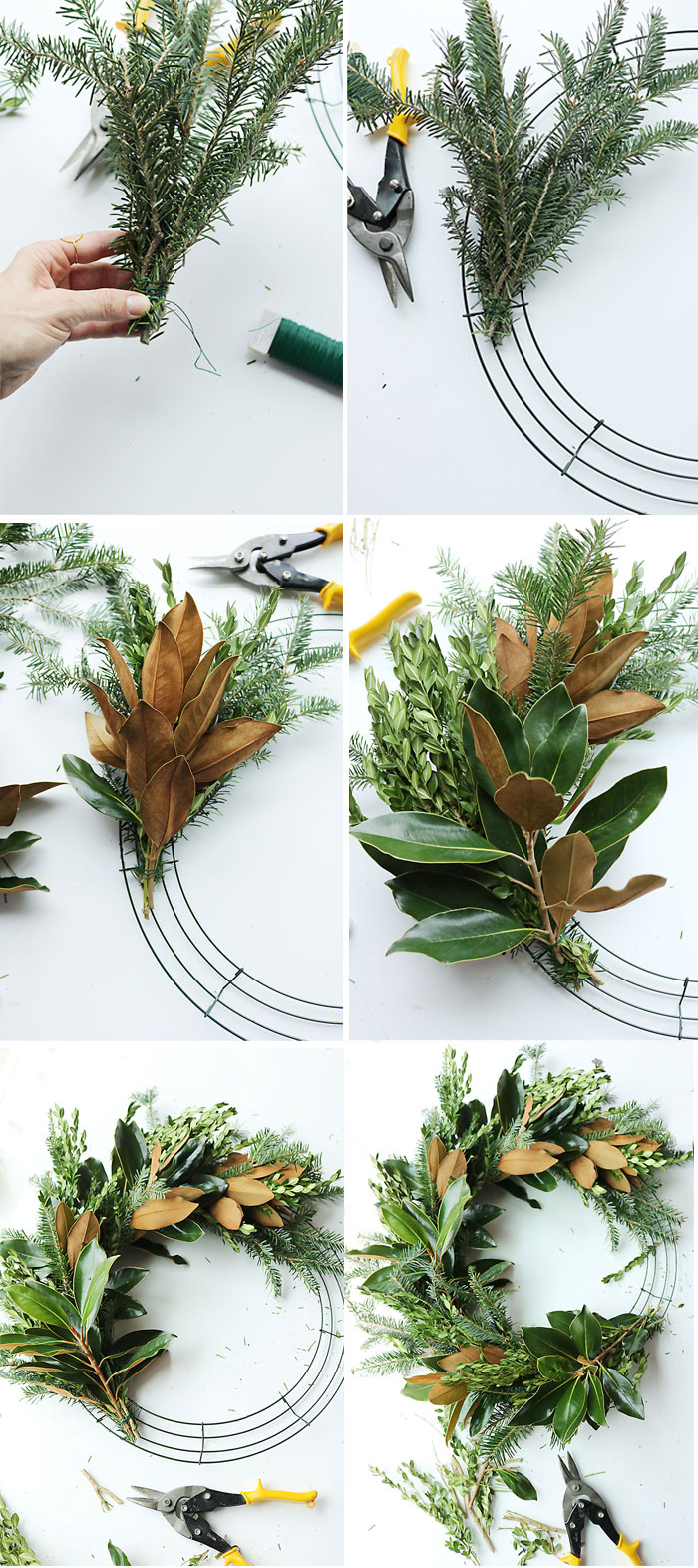 Take about 3 to 4 branches of your Christmas tree clippings. Trim so they all the same height. Cut a long piece of wire and wrap tightly around the base of the clippings leaving about 2 inches of wire on both sides.
Place the tree branches on the cross wire of the wreath wire and then wrap the floral wire tightly around the thick cross wire. Secure.
Then take one magnolia branch and place a few boxwood stems behind it, then tightly wrap the base with floral wire leaving about 2 inches of wire on both sides. Place slightly offset of the tree branches then secure to the wreath with wire.
Repeat with the tree branches and then the magnolia and boxwood leaves, placing offset a few inches down the wreath.
Continue to make mixed branch sets and work around the wreath until it is completed, placing one set from the other. I worked the wreath counter-clockwise.
Once the wreath is completed, take floral wire and wire wrap all the branches together to the wreath about every 3 inches until you complete the circle. This will make the branches more secured and from flopping around.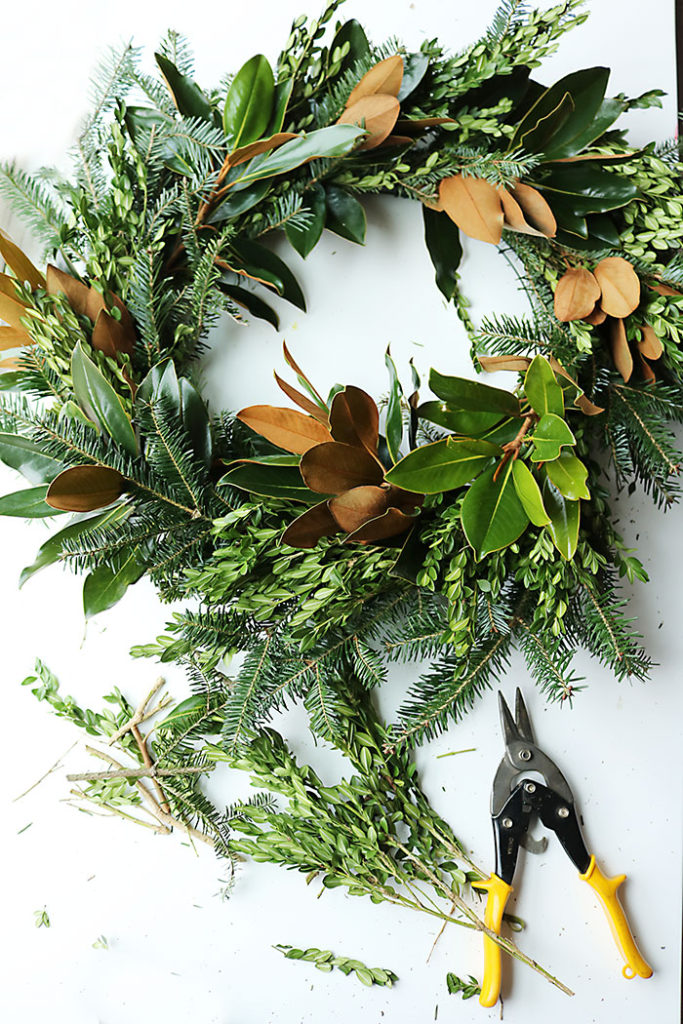 Then enjoy your DIY fresh magnolia mixed branch wreath. Add a bow or long ribbon to the wreath to complete the look.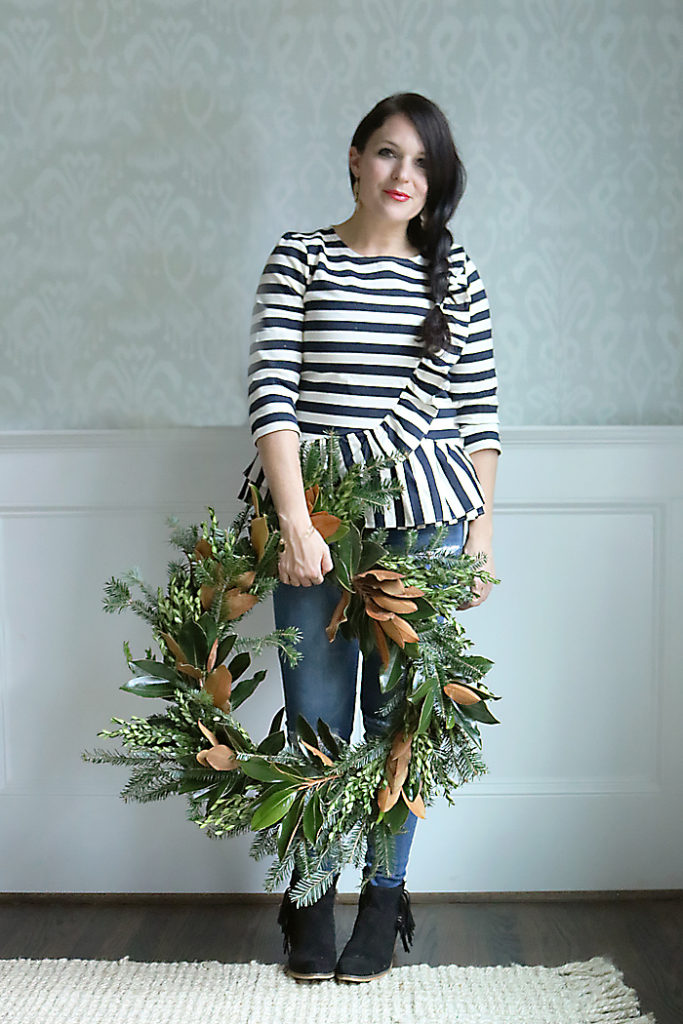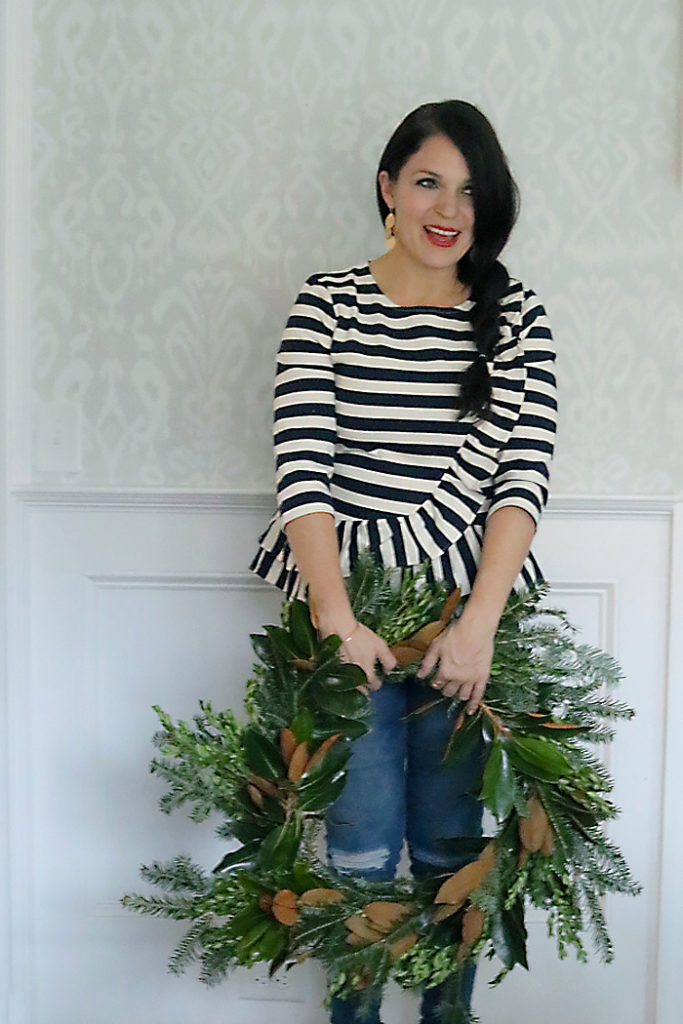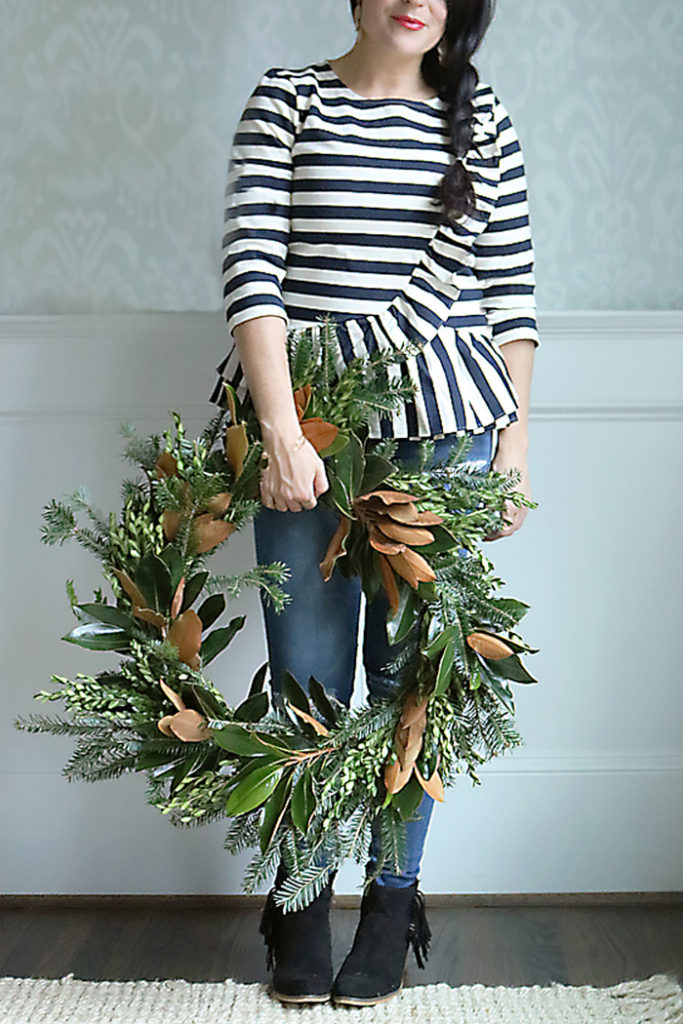 SHOP the Post:


Here's are other DIY wreaths: