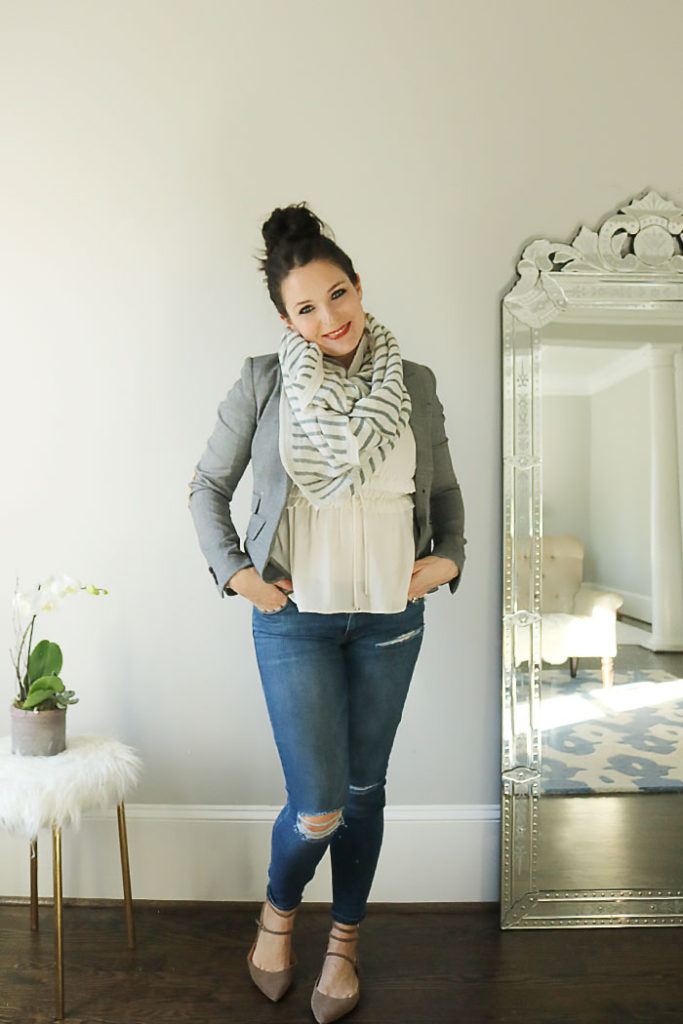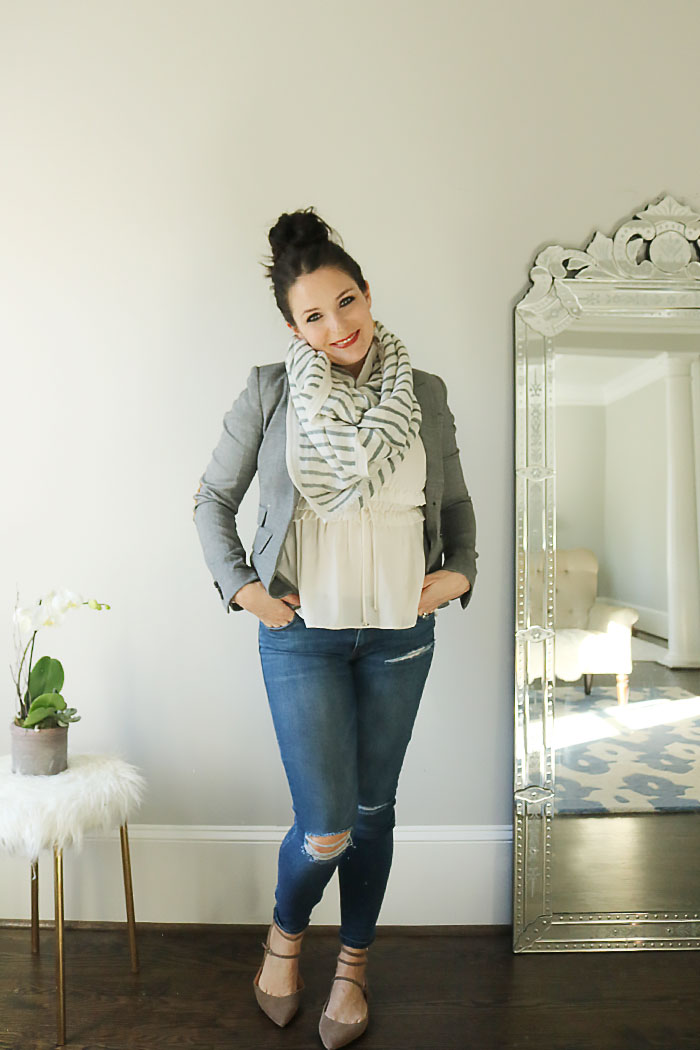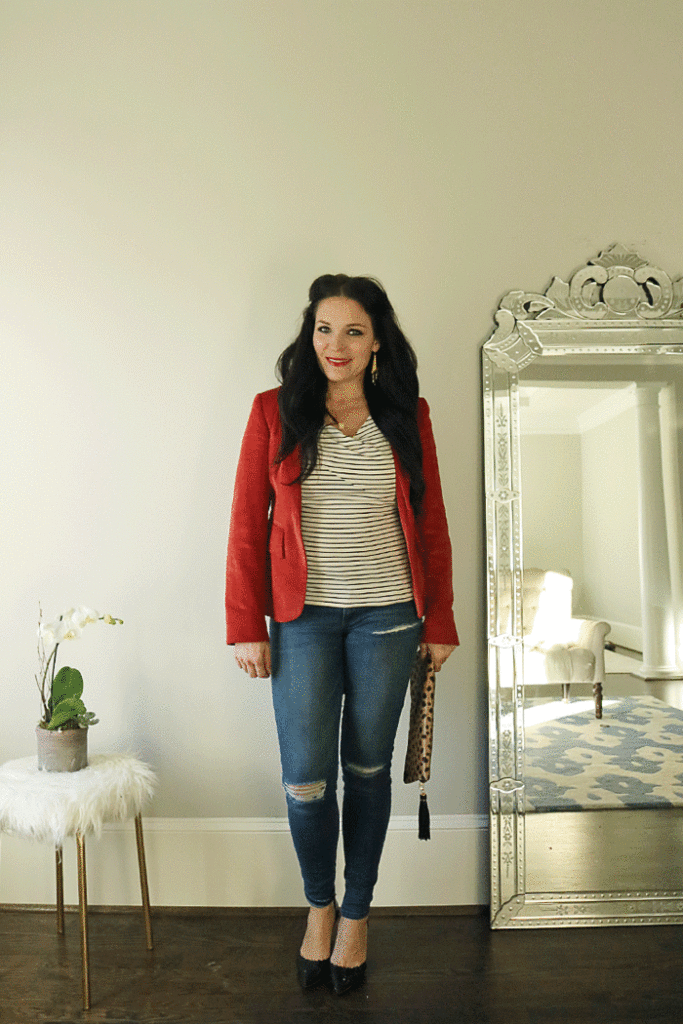 Casual Blazer Outfit
The perfect transitional outfit from winter to spring is a casual blazer outfit.  Our springtimes come early in the south, so we have had a few days of cool mornings to warm afternoons.  Throwing a blazer on is a great choice for those days when it's too warm for a coat, but too cold for just a blouse.  A blazer is not what it once was and has adapted so much since the days of men's sport jackets.  Often worn by women for business attire, the blazer has been redefined through the years, and is a staple in most wardrobes.  Once a traditional piece of clothing, the blazer now has be styled in a variety of ways, and now comes in a variety of fabric and texture.  You may see it styled more often as a casual blazer outfit with holed jeans than a traditional business suit with trouser pants. Here are a few ways to get that casual blazer outfit while mixing it up a bit.
Casual Blazer Outfit: Schoolboy blazer with elbow patches and blanket scarf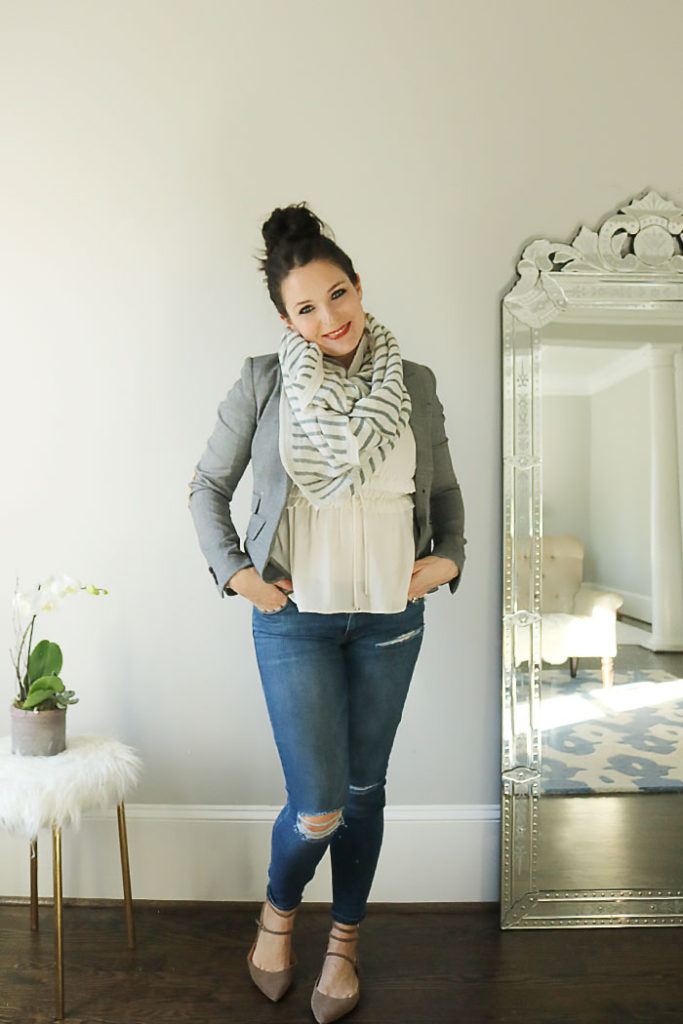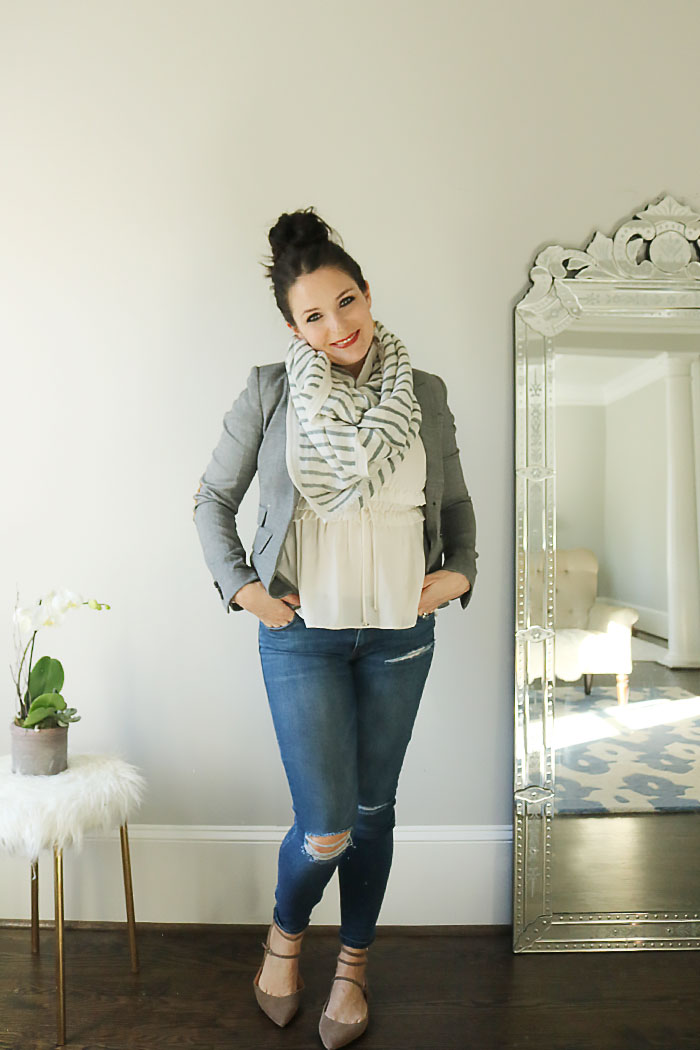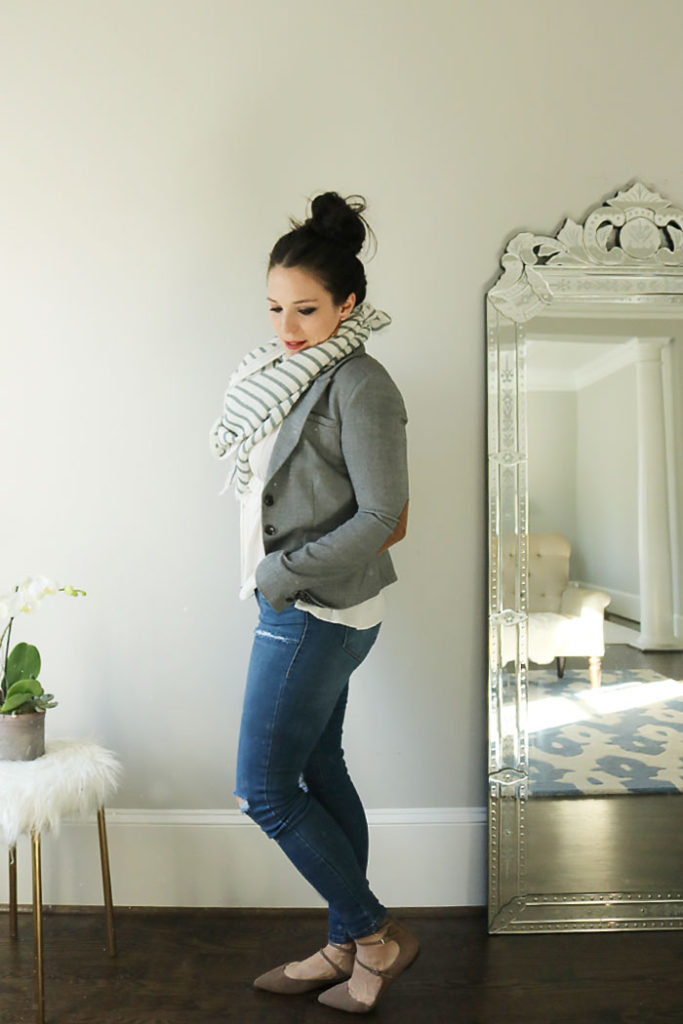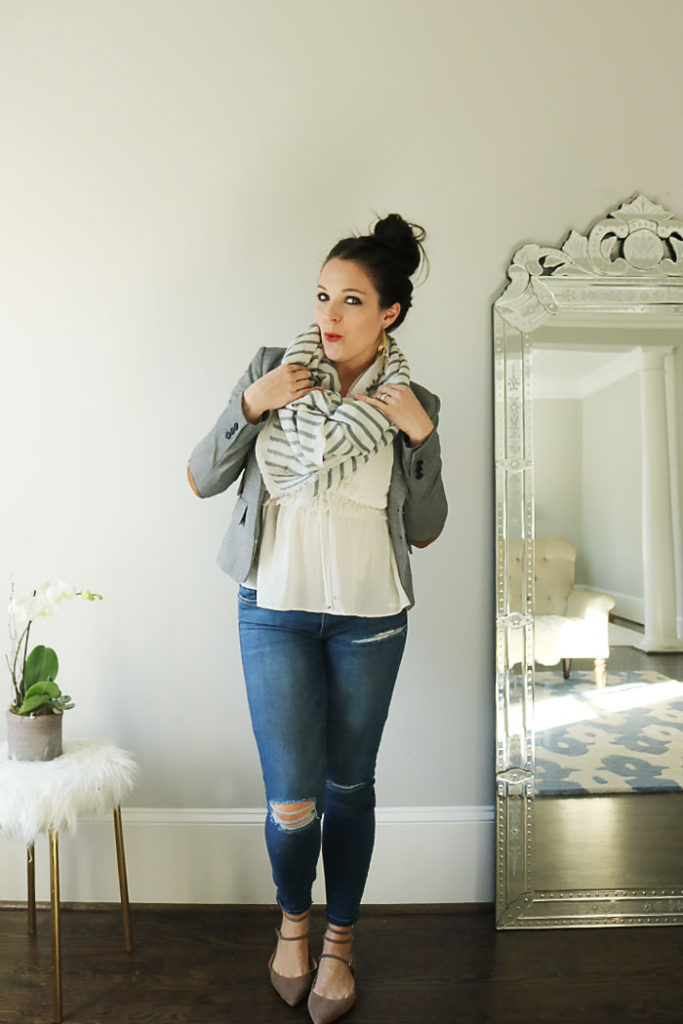 SHOP THE POST:

There is still a bite of cold in the mornings, so when you throw on a blazer add a scarf to finish off your outfit while still accessorizing it.  This is my typical "mom" outfit.  I want to look put together during the day for a lunch date and still be able to play soccer mom in the afternoon.  A schoolboy blazer with distinct leather elbow patches and a posh, slightly shrunken fit is an all time favorite.

Casual Blazer Outfit: Velvet blazer and Sweater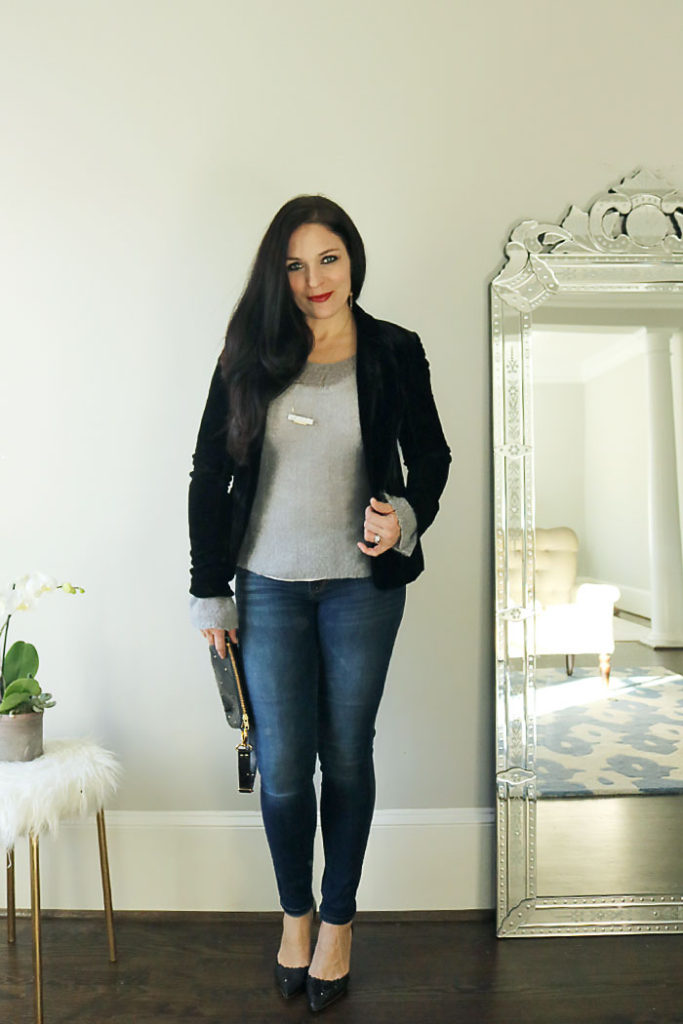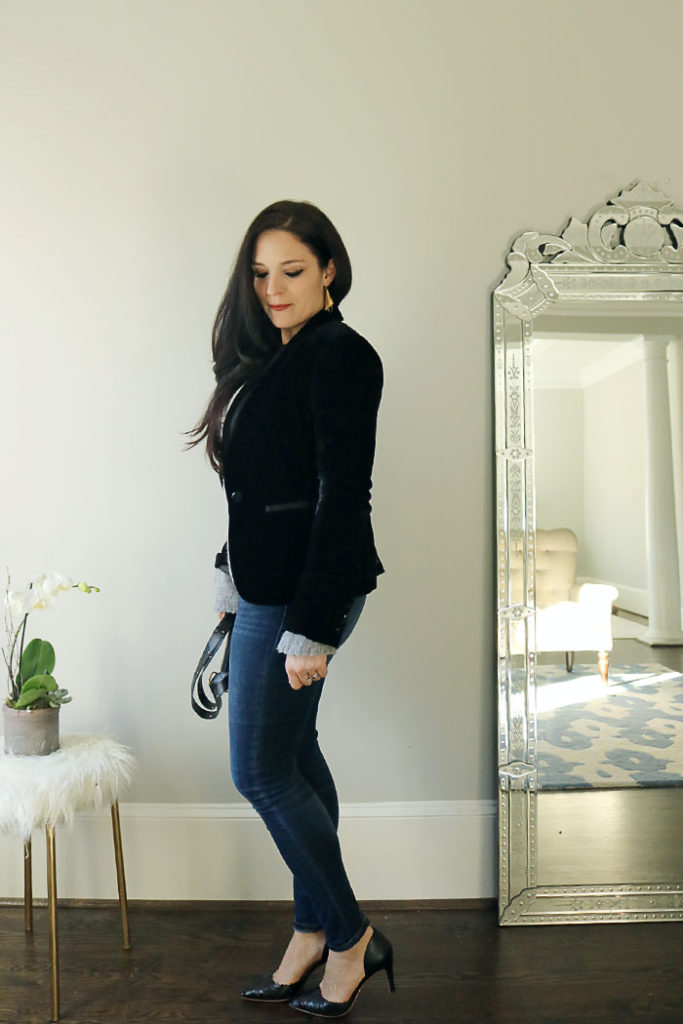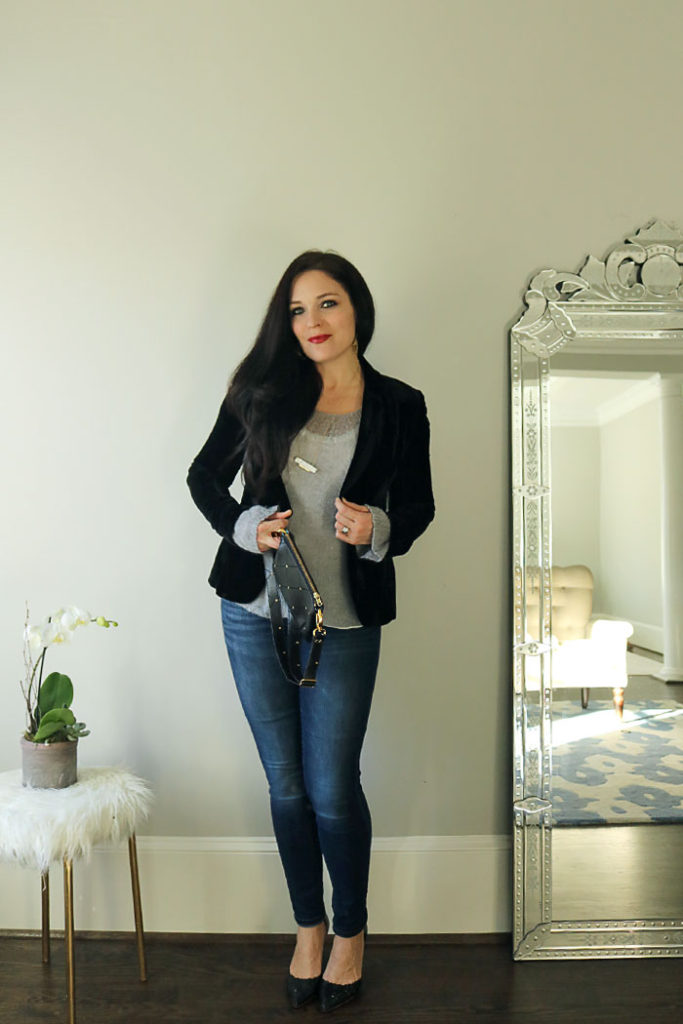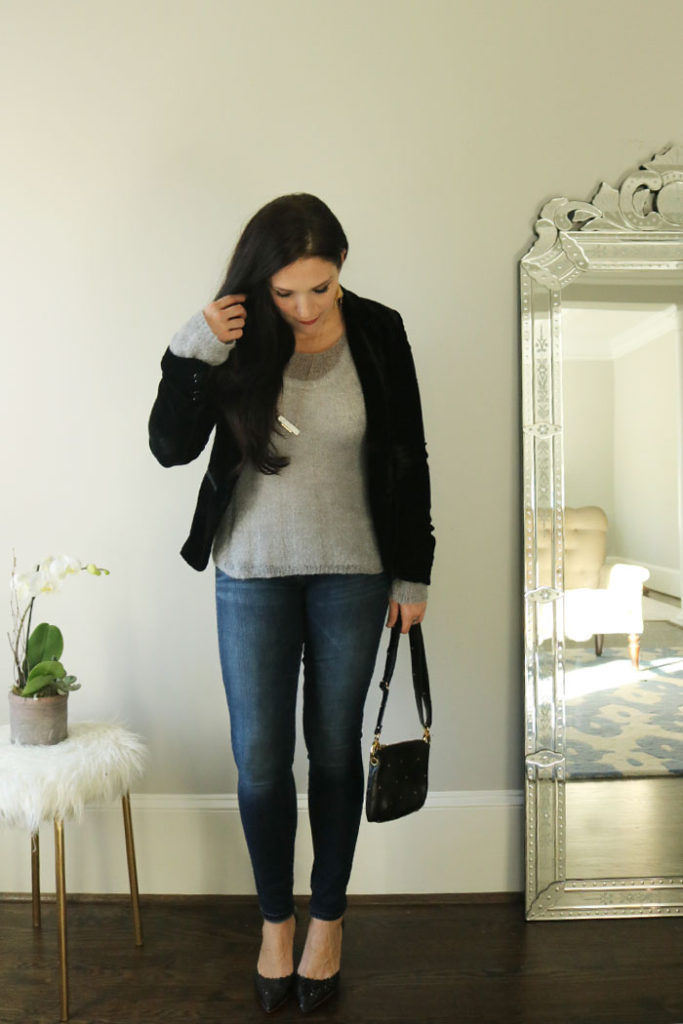 SHOP THE POST:
DMJ Necklace | CECELIA NEW YORK heels (similar) | DAYLIN SKY Bag


Velvet was big this winter season and same with velvet blazers.  A velvet blazer is not for everyday but that's what makes it so distinctive, and it is a nice alternative to a black blazer.  I love the look of a velvet blazer over a soft thick sweater.  Wear heels to keep it classy and jeans to pair it down.
Casual Blazer Outfit: Keeping it safe with Black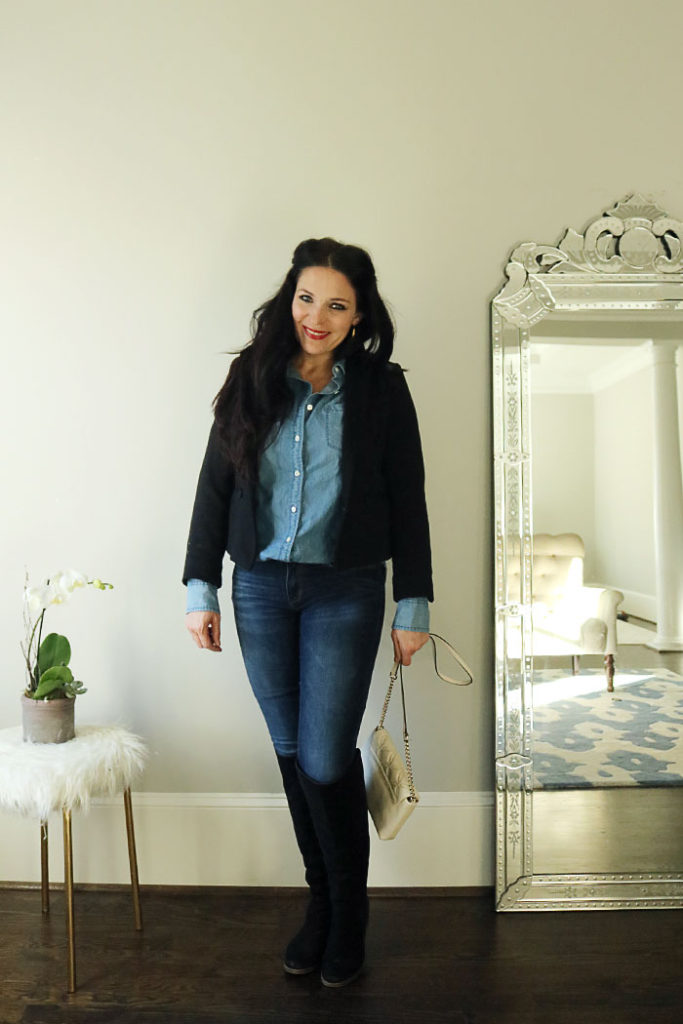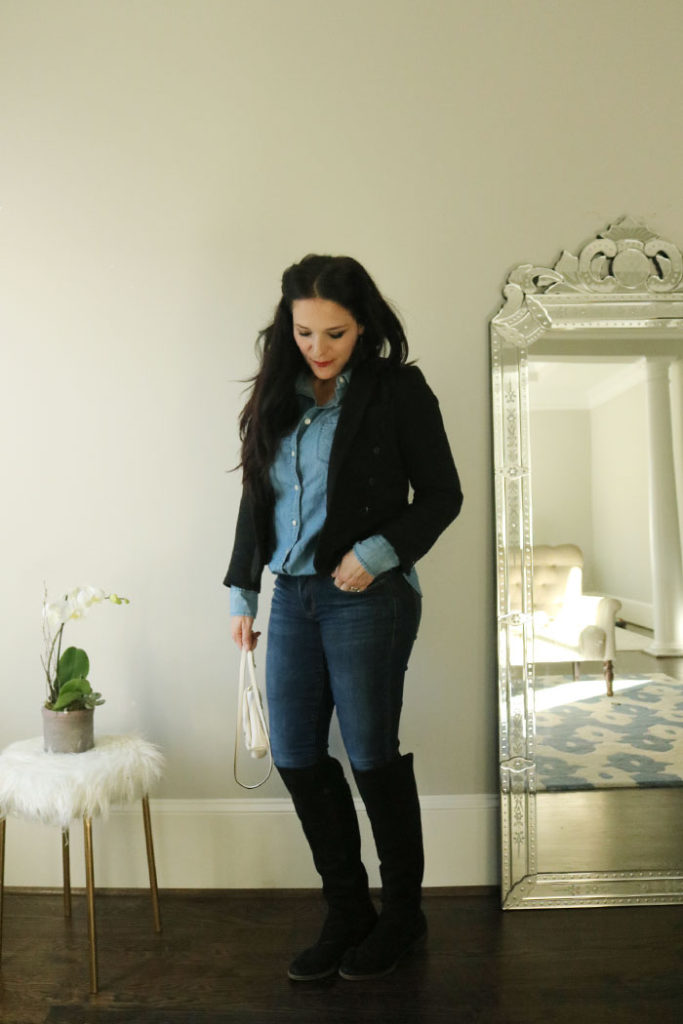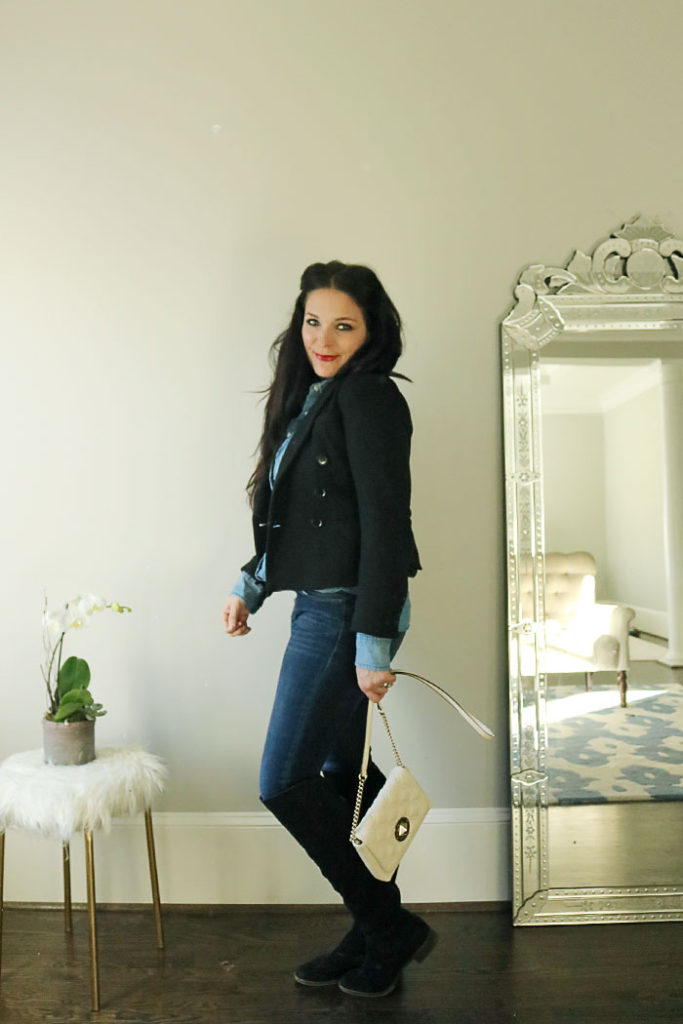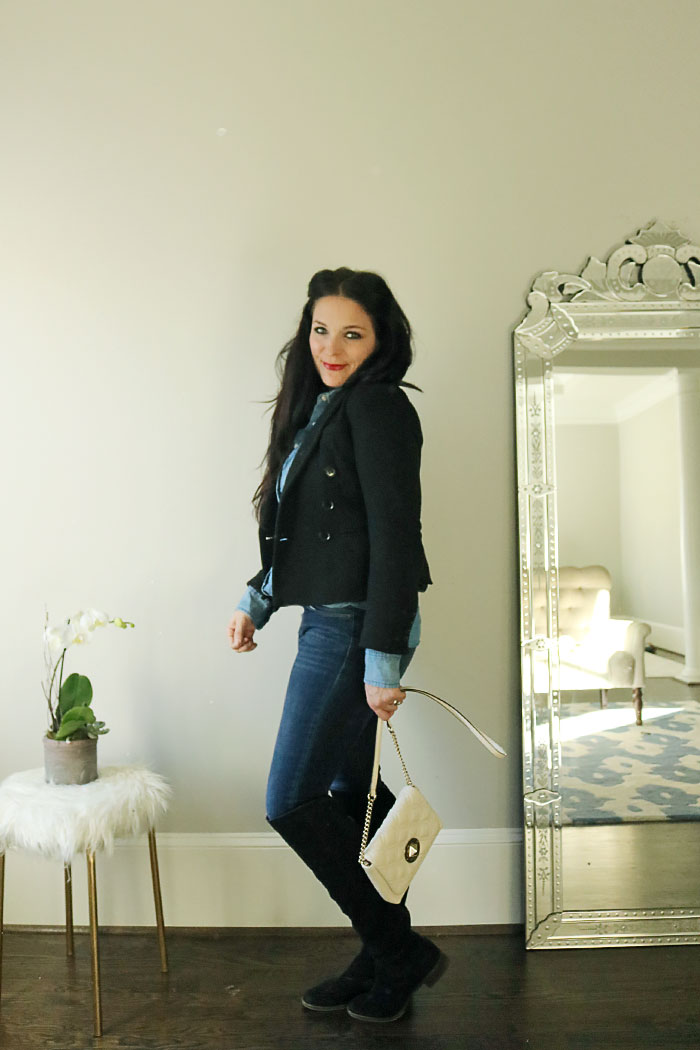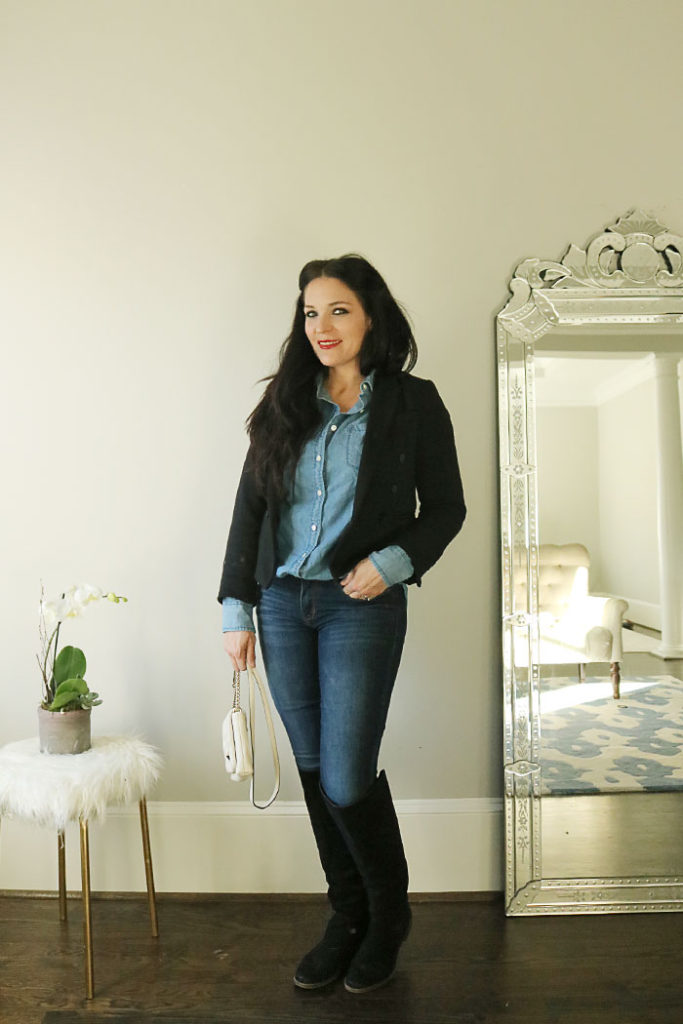 SHOP THE POST:


If you don't have a basic black blazer or any blazer, start with a traditional, black blazer.  There are so many ways to style a black blazer.  I can't live without my black blazer.  I wear it with skirts, dresses, jeans.  My ultimate favorite!  Denim on denim is a style trend this winter/spring so to bring in variety finish it off with a blazer and a colorful belt.

Casual Blazer: Corduroy and Herringbone Blazer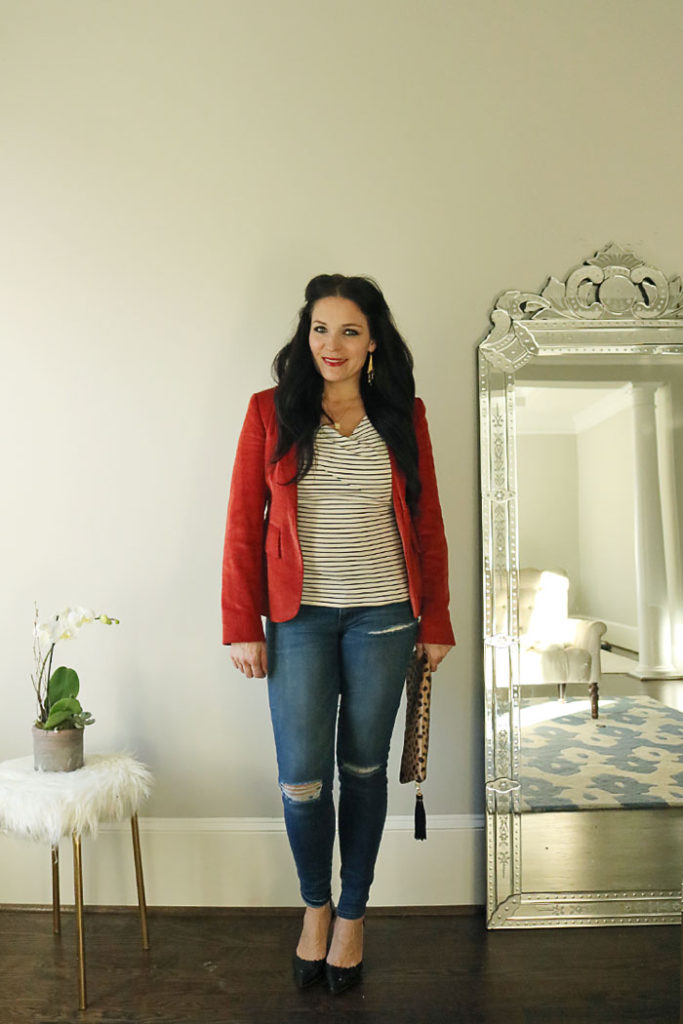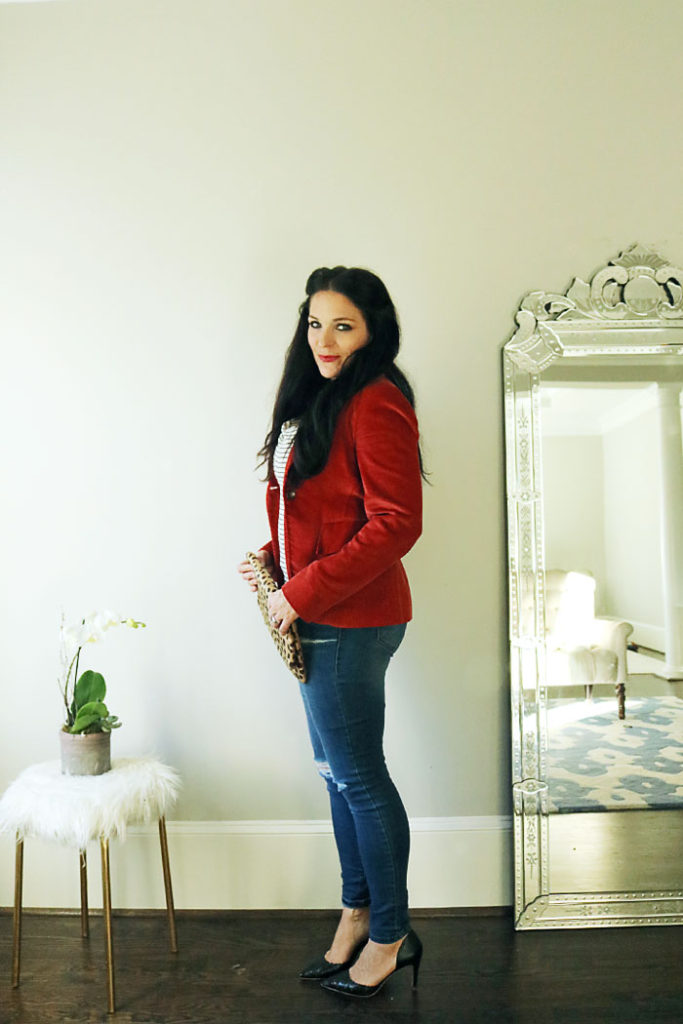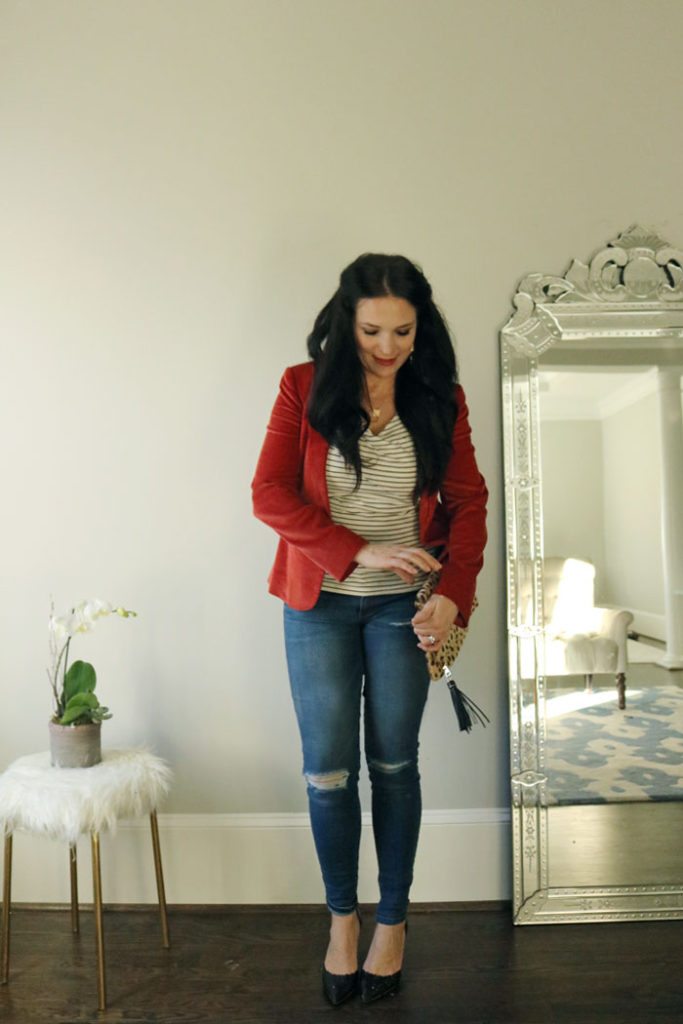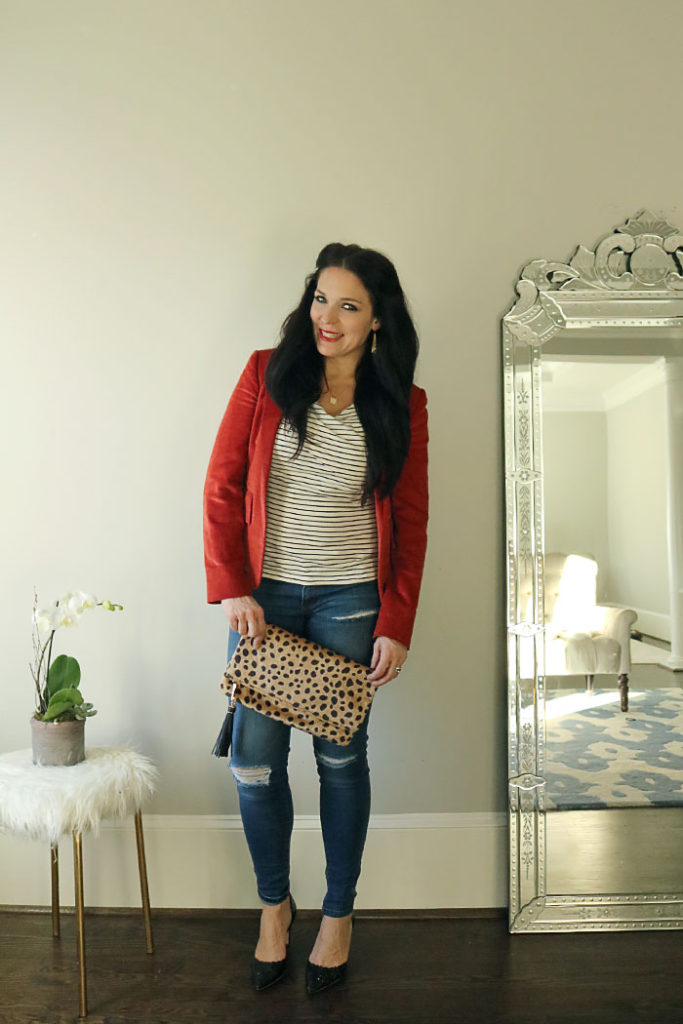 SHOP the Post:
Leopard Clutch | Earrings | Personalized Dog Tag Necklace | Cecelia New York Laser Cut Heels (similar)


Corduroy and herringbone fabrics you see more during the Fall months, but pull out your corduroy blazer, tweed or herringbone blazer and enjoy it this winter/spring but wear it with a striped shirt or fun word-scripted t-shirt for a lighter look.