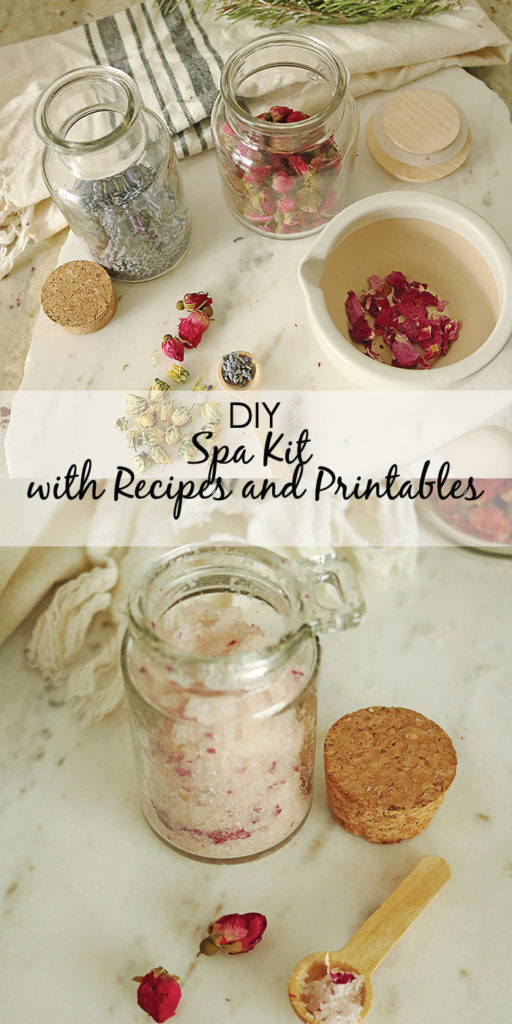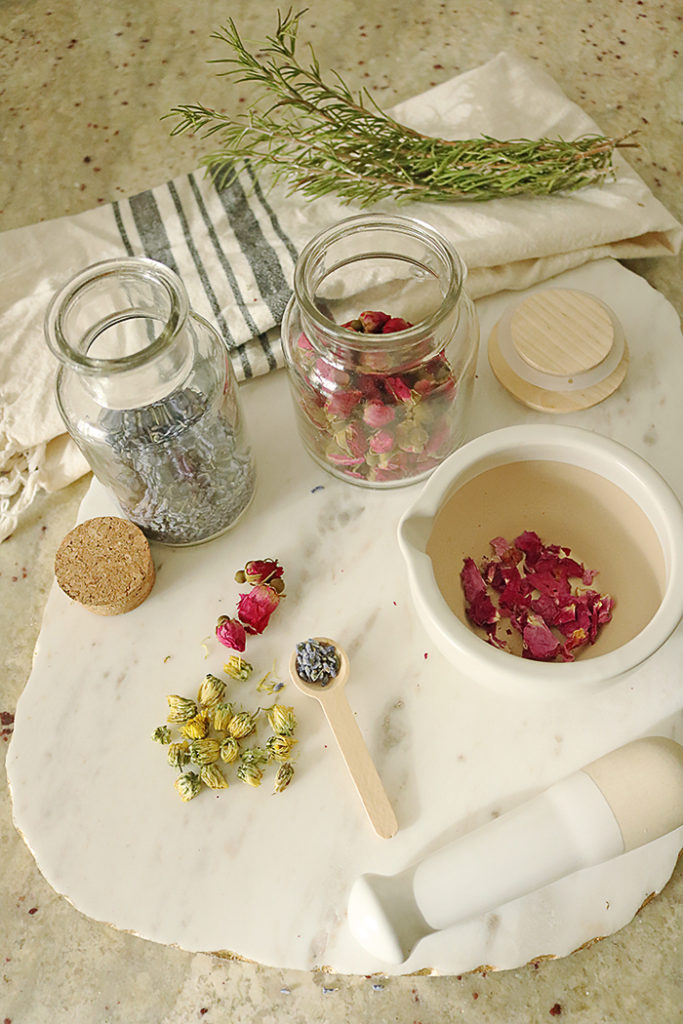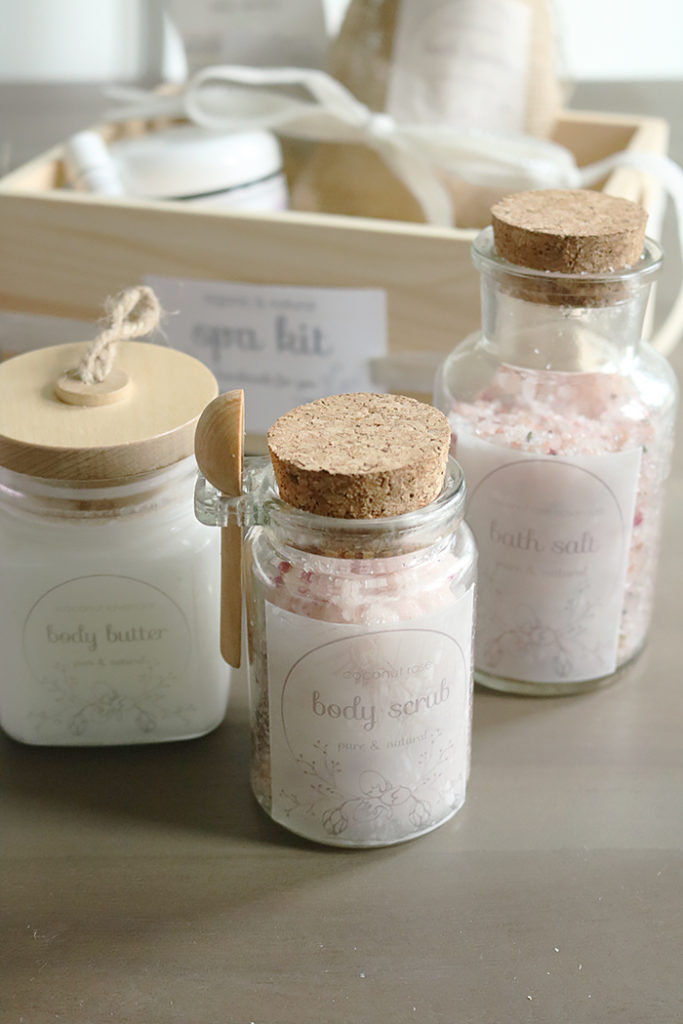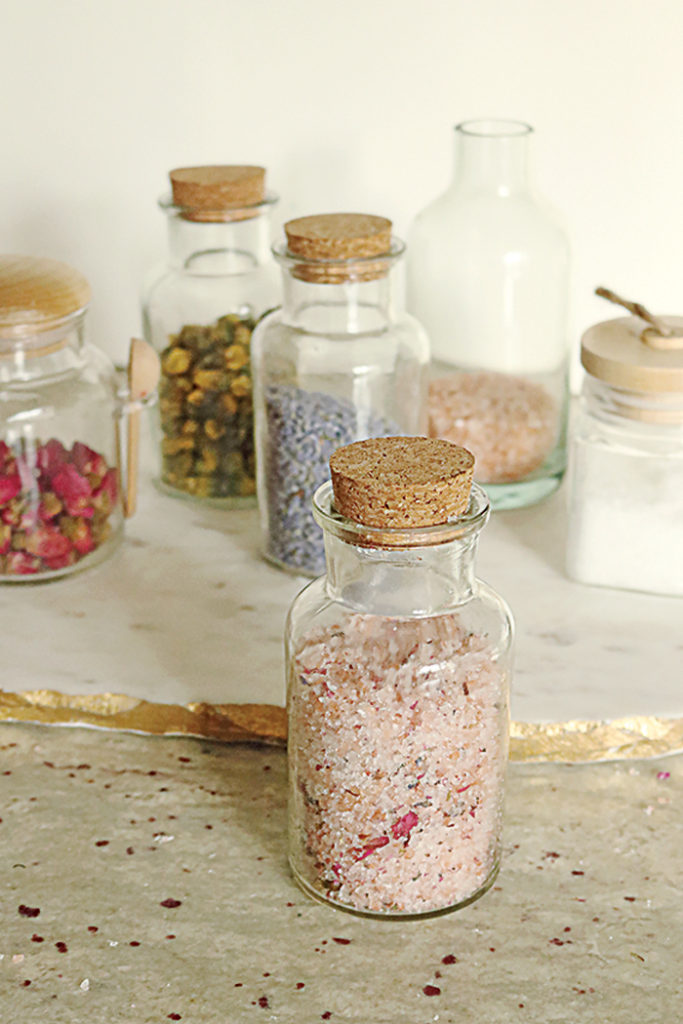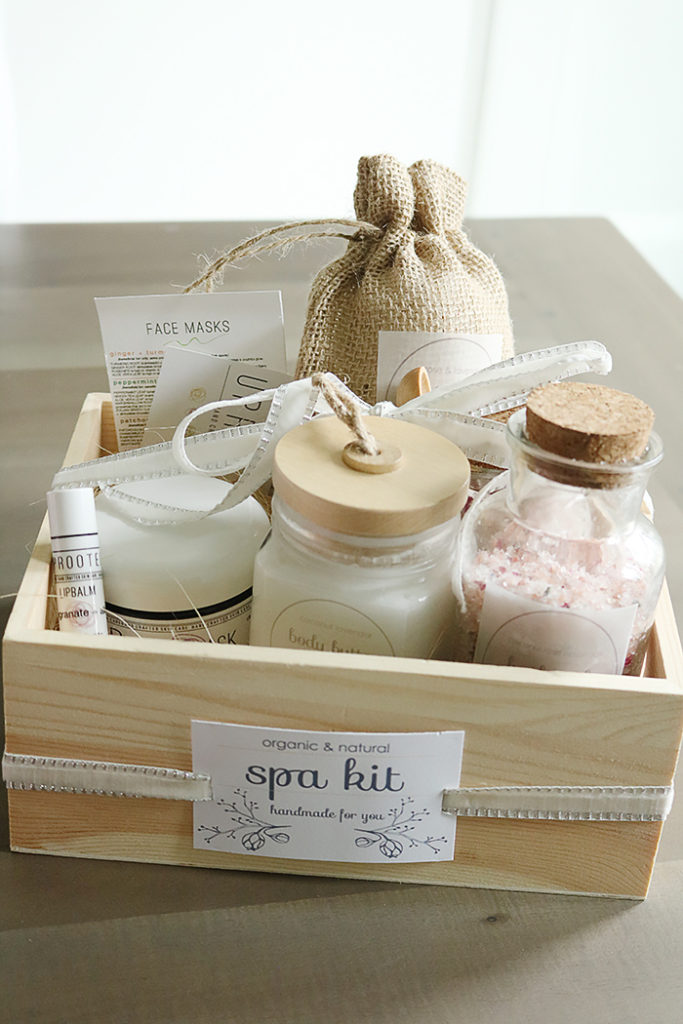 DIY Spa Kit with Recipes and Printables
I love homemade bath products, and often throw together a mixture of salts and essential oils before I take a bath or when I am under the weather.  So, I've been wanted to put together a post for a DIY spa kit with recipes and printables, and the good excuse finally came when my daughter had to donate an item for an auction.  I thought this would be perfect since it had to be a donation she made or something she could complete.  All the items we used to make the bath products are natural and organic.  And if you make your own, I strongly encourage you to get organic and raw items.  This is your body so use the best items to put on it! We also threw into our spa kit Uprooted Skincare face masks because they are simply THE best and they use the best organic, natural clay and therapeutic essential oils to make your face shine! The FREE printables are listed at the end of the post with editable labels.  The recipes included in our spa kit are for bath bombs, body butter, body scrub and bath salts.  My kitchen turned into a spa-making factory over the weekend while my daughter and I had so much fun putting together this DIY spa kit with recipes and printables!  This is a fun craft to do with teens.
DIY Spa Kit : Bath Bombs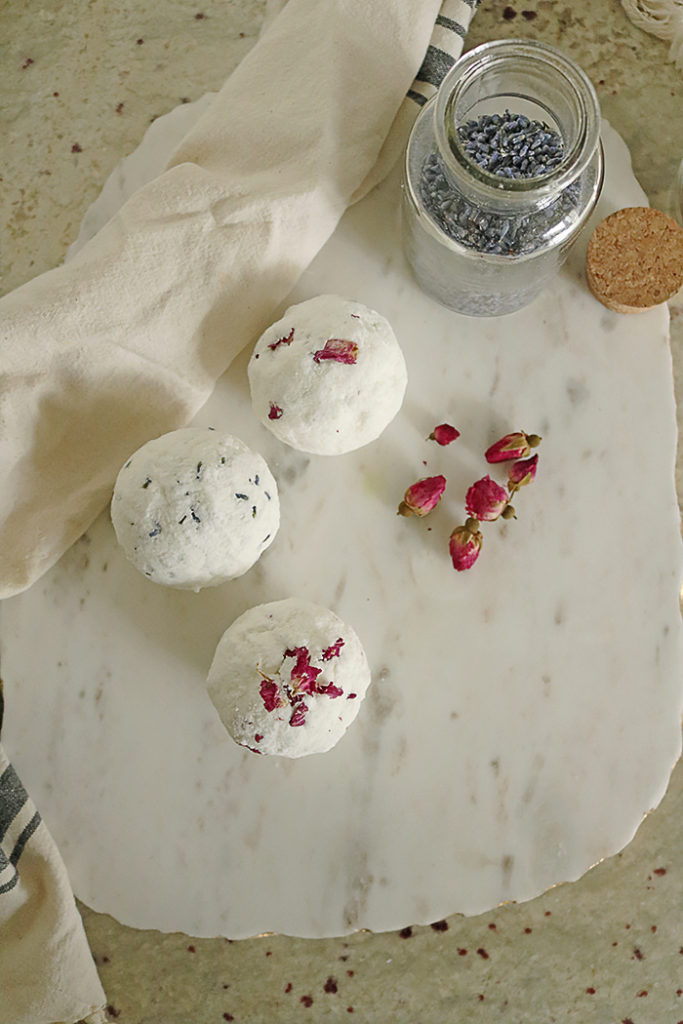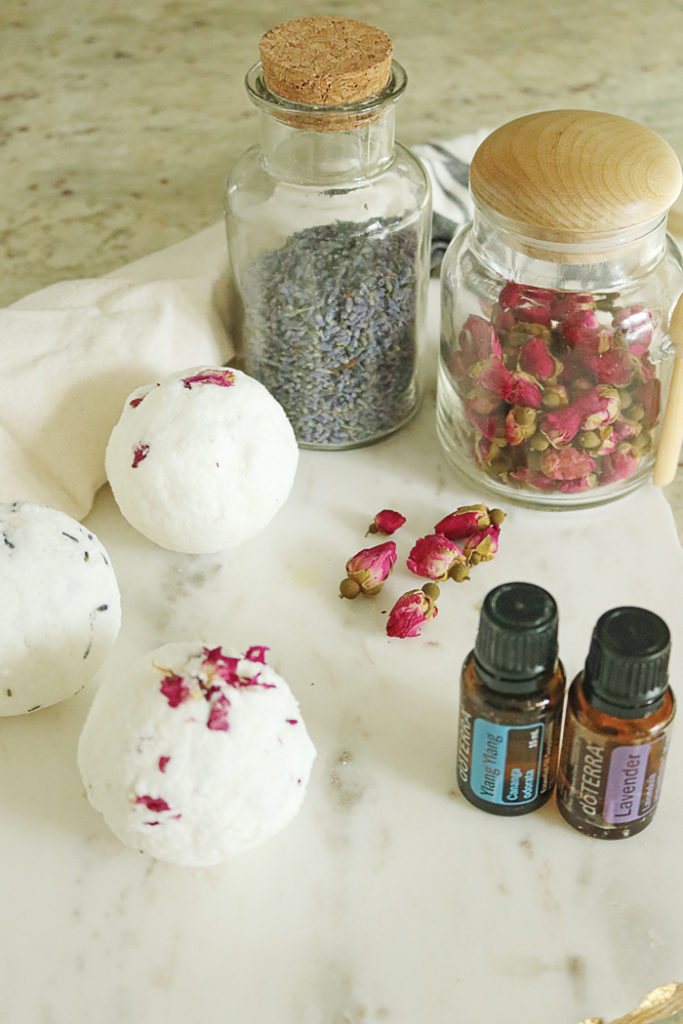 ALL NATURAL FLORAL BATH BOMBS
4 oz. baking soda
2 oz. citric acid
2 oz. corn starch
2 oz. Epsom salts
1 1/2 tsp of coconut oil
1 1/2 to 2 tsp of water
1 tsp or about 20-30 drops of essential oils
1 to 2 tsp of dried floral
Combine all the dry ingredients in a bowl and stir with a whisk.  Place all the liquid into a cup and stir until well mixed.  Make sure the coconut oil is melted so it mixes well.  Slowly add a little liquid to the dry ingredients while whisking.  The mixture should begin to clump together when squished.  Be careful not to add too much liquid or it will ruin your bath bomb.  Once the wet ingredients are combined with the dry, you should be able to squeeze it together.  If it's too powdery then add a tiny bit of water and mix until it holds and sticks together.  Add your dried floral and mix in.  I used lavender essential oil with dried lavender.  And ylang ylang essential oil with dried rose petals.  Then pack your mixture into the molds and press the two sides together.  Squeeze the mold to create your sphere and press firmly to prevent it from cracking.  Rotate the mold and tap slightly around the mold to remove any excess moisture and to help loosen the mold.  Gently remove one side of the mold and allow it to dry out for about 10 minutes.  Then gently remove the other side of the mold.  Place the bath bomb on wax paper on top of a fluffy towel.  Let them dry for about 24 hours before you use them or pack them up.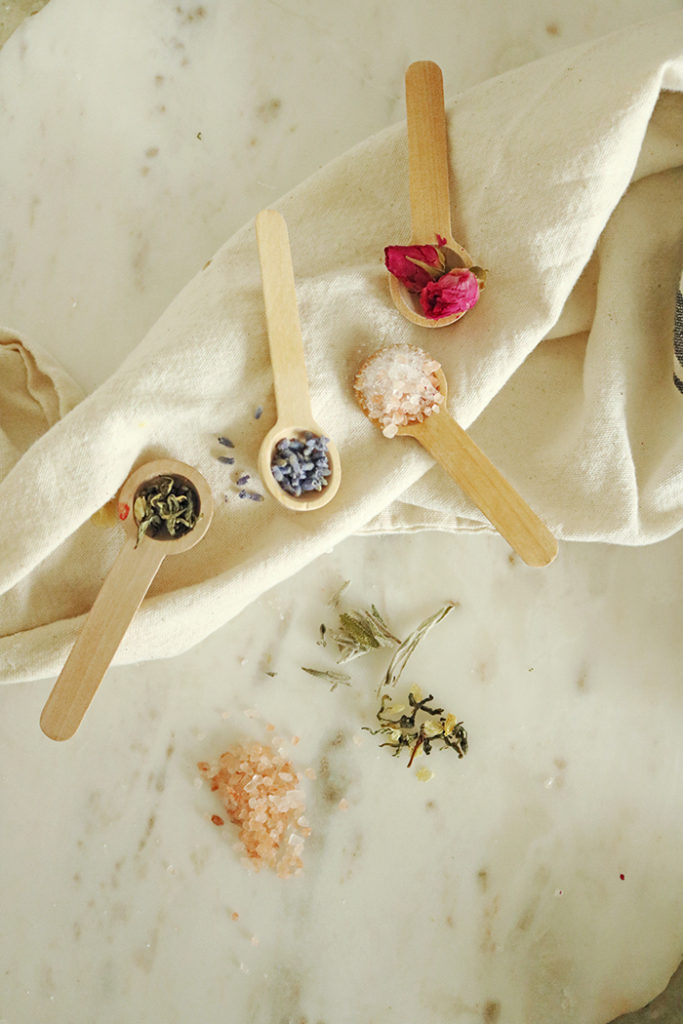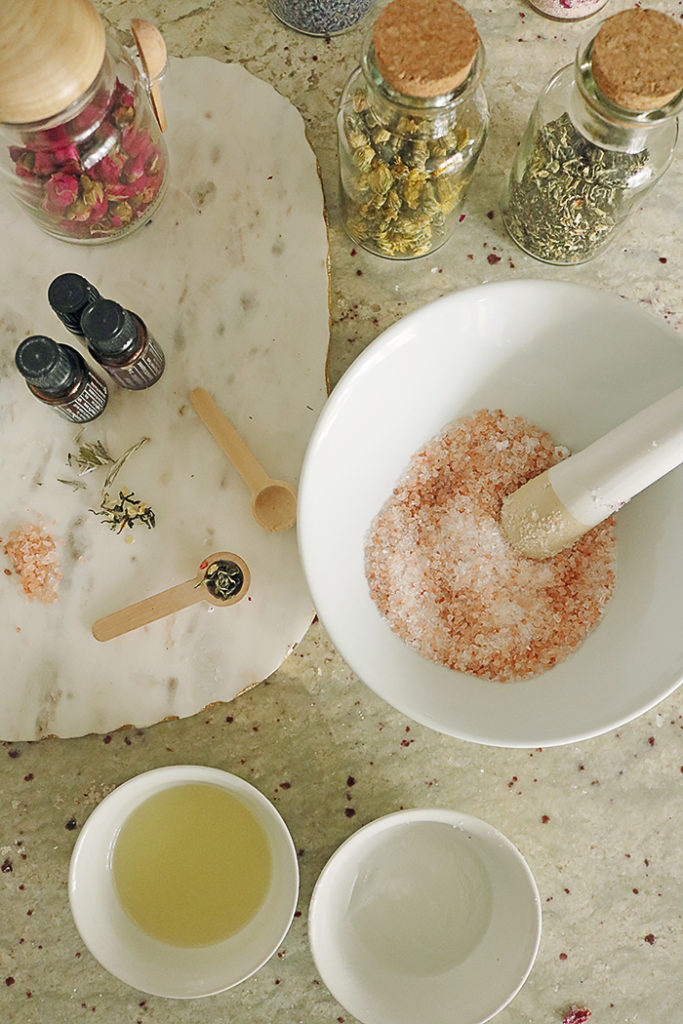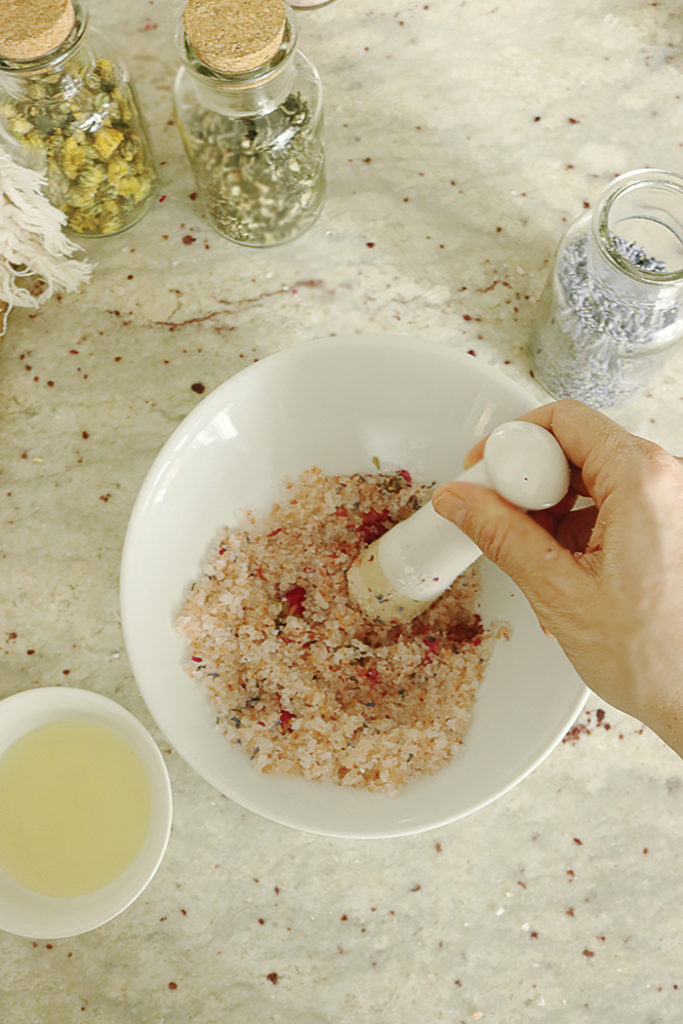 FLORAL BATH SALTS
1 cup of epsom salts
1 cup of pink Himalayan salt rocks
10-15 drops of essential oils (I used serenity oil blend)
1 tablespoon of coconut oil (warm)
Dried floral and herbs
Optional: Add bentonite clay to the mix for added health benefits!
Mix all your ingredients in a bowl.  Make sure the oil is evenly mixed through the salts.  Transfer to a glass bottle and seal tightly.
Bath Salts are so easy to make and very therapeutic and beneficial to the bath when taking a bath! Sprinkle under warm running water and soak your body in it for 20 minutes.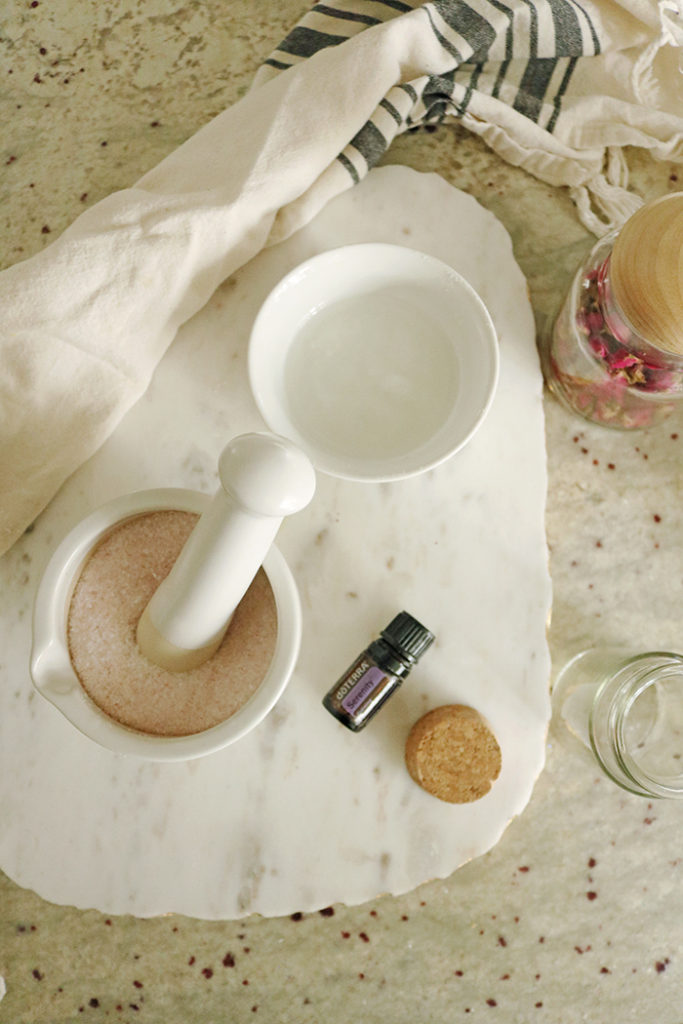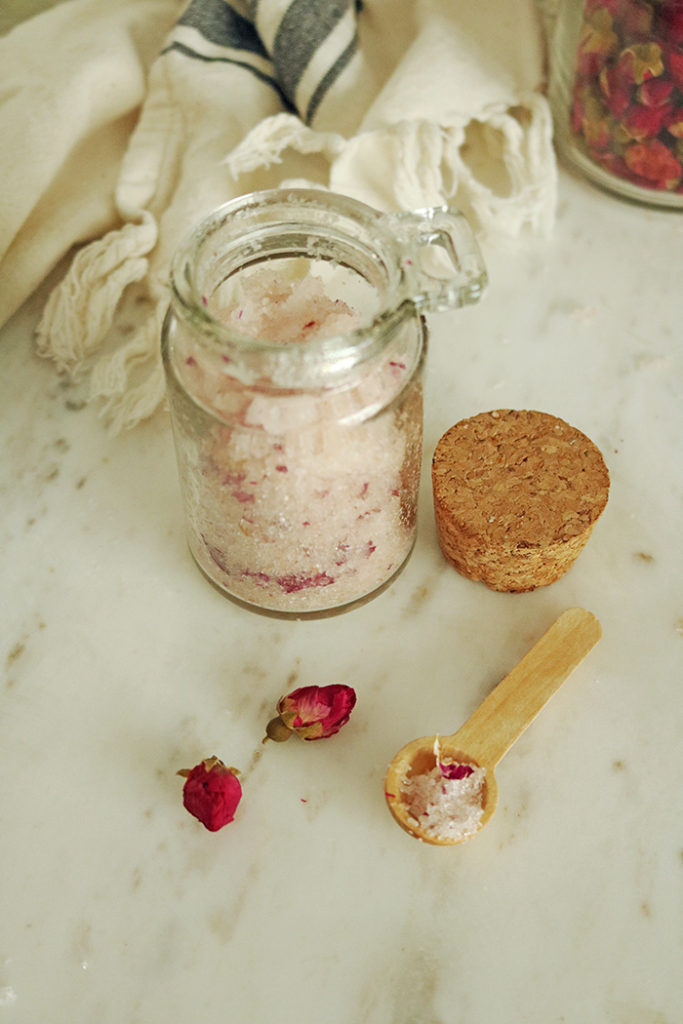 ROSE BODY SCRUB
1/2 cup of finely ground pink Himalayan salt
1 tsp of melted coconut oil
1 tsp of Vitamin E oil
4 drops of essential oil (I like serenity oil blend or ylang ylang)
Dried rose petals
Mix these ingredients in a bowl and then transfer to a glass bottle and seal tightly.  Or use it immediately and scrub your body with it!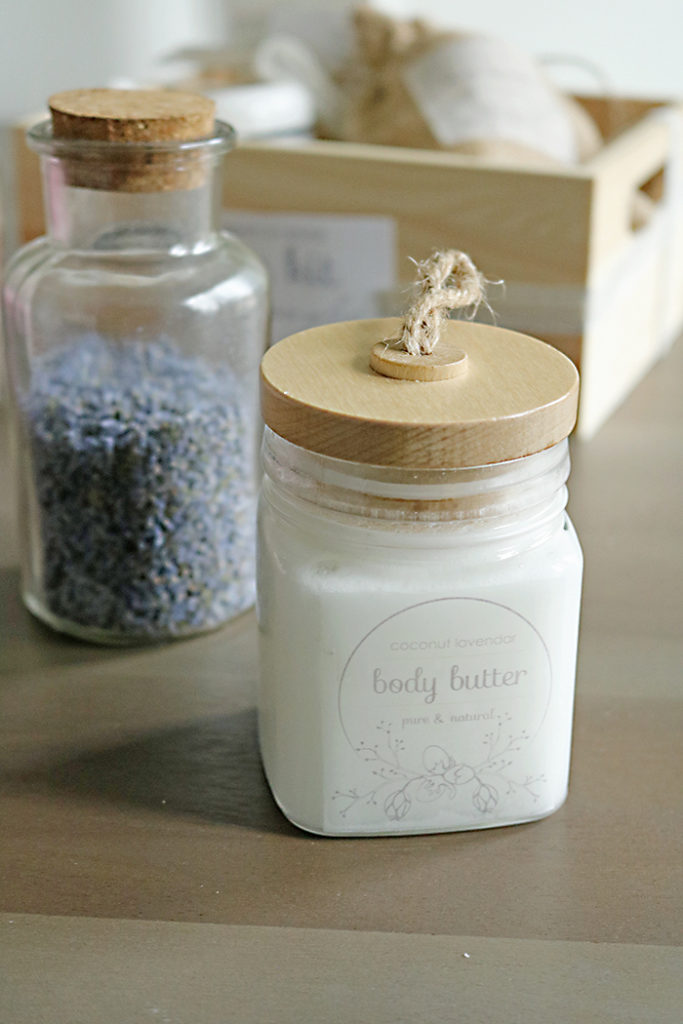 BODY BUTTER
1 cup of organic, raw unfiltered coconut oil (solid, not liquidified)
2 tsp of vitamin E oil
10 drops of lavender essential oil
Add all the items in a mixing bowl.  Use an electric mixers or handheld mixer and whisk for about 5 minutes until it is light and airy.  Spoon the body butter into an airtight glass jar.  Apply everywhere!  I even use it on my face.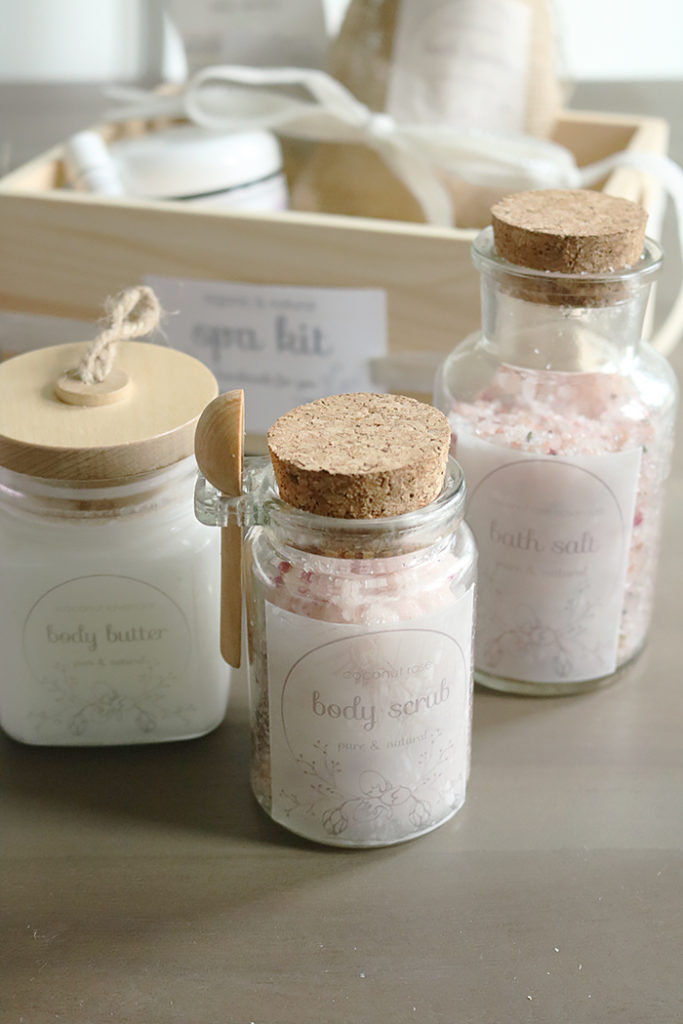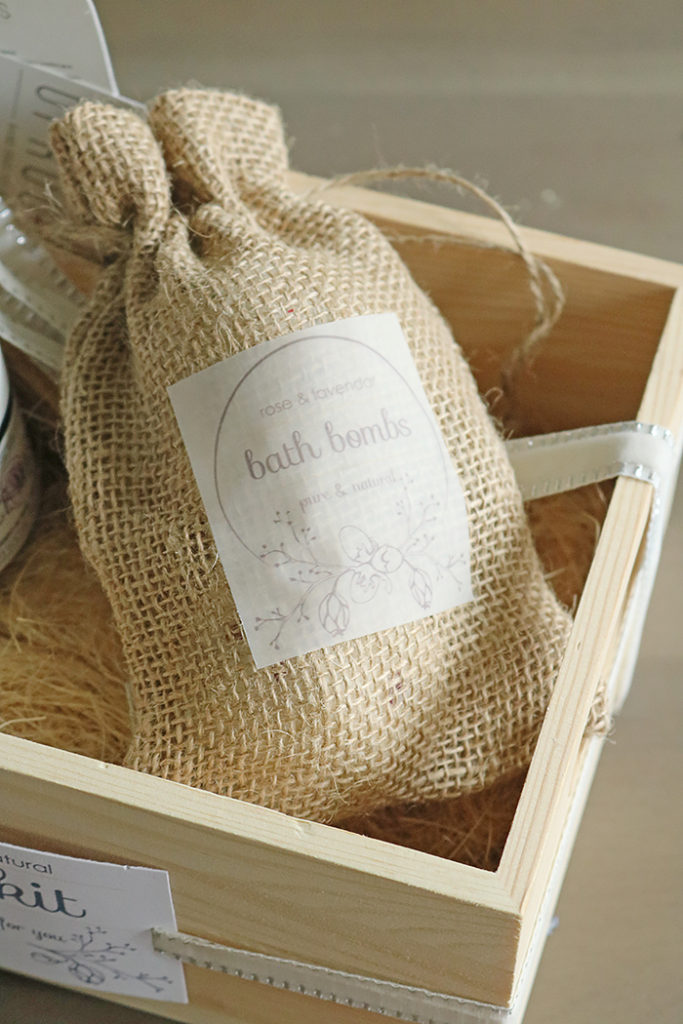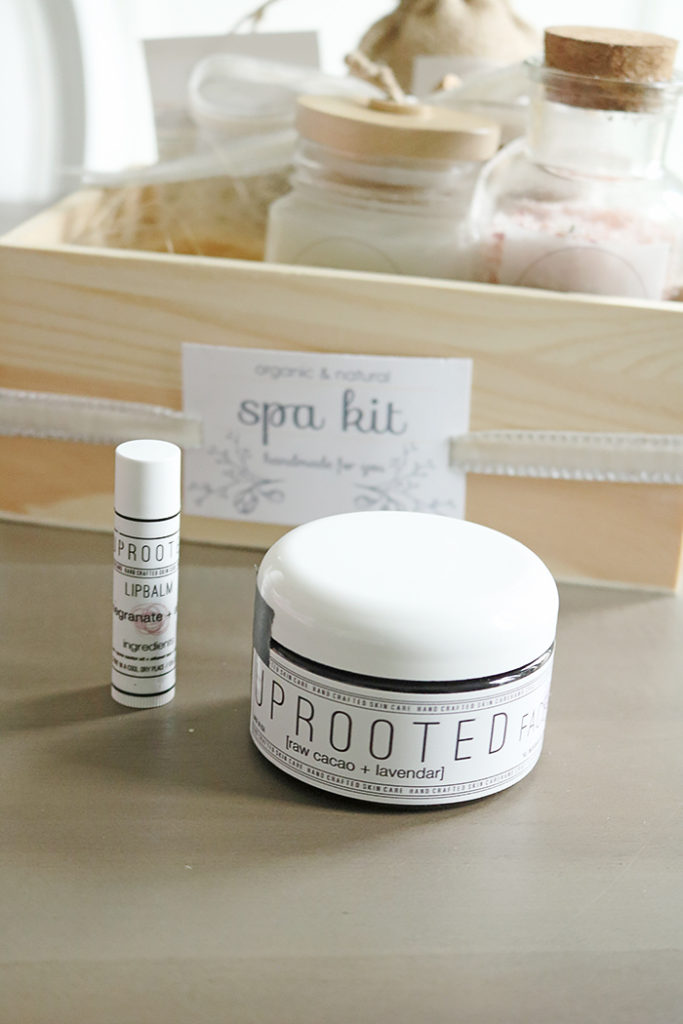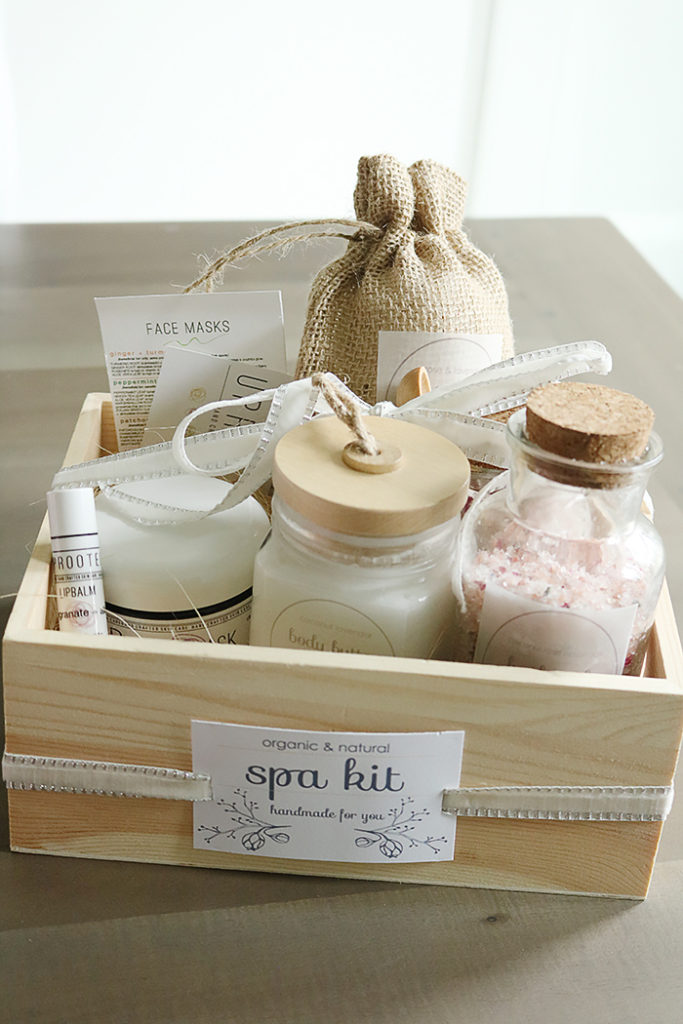 After we made all the items for our DIY spa kit, we packaged it up in pretty glass container and placed them in a wooden crate.  I printed up the labels on clear adhesive labels
DOWNLOAD SPA KIT PRINTABLE WITH WORDS 
DOWNLOAD SPA KIT PRINTABLE EDITABLE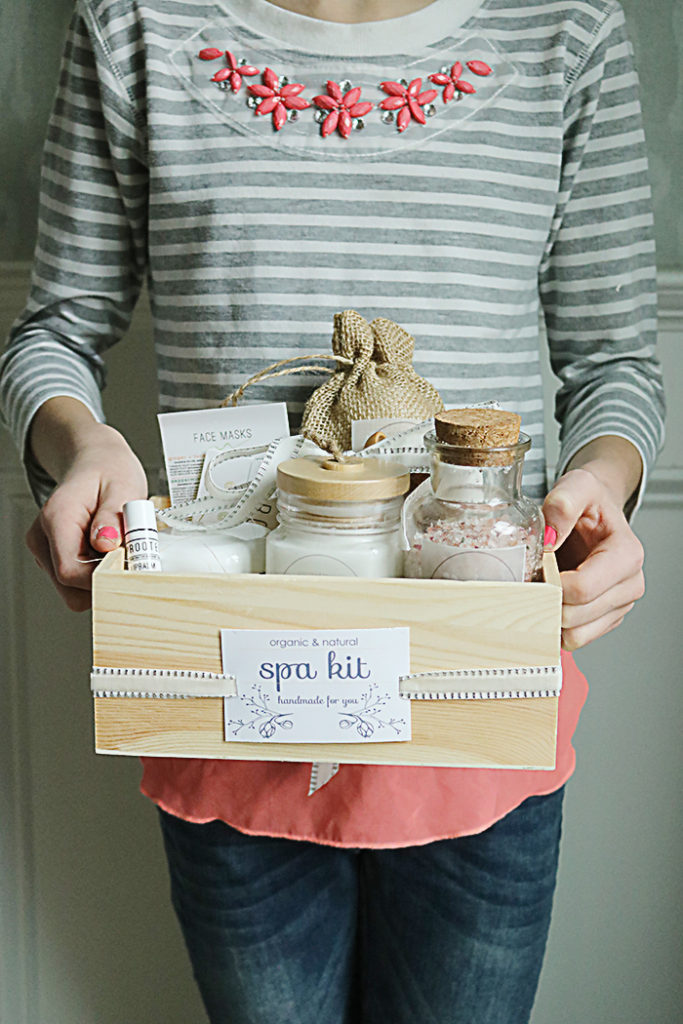 Hope you enjoyed this DIY spa kit with Recipes and Printables!