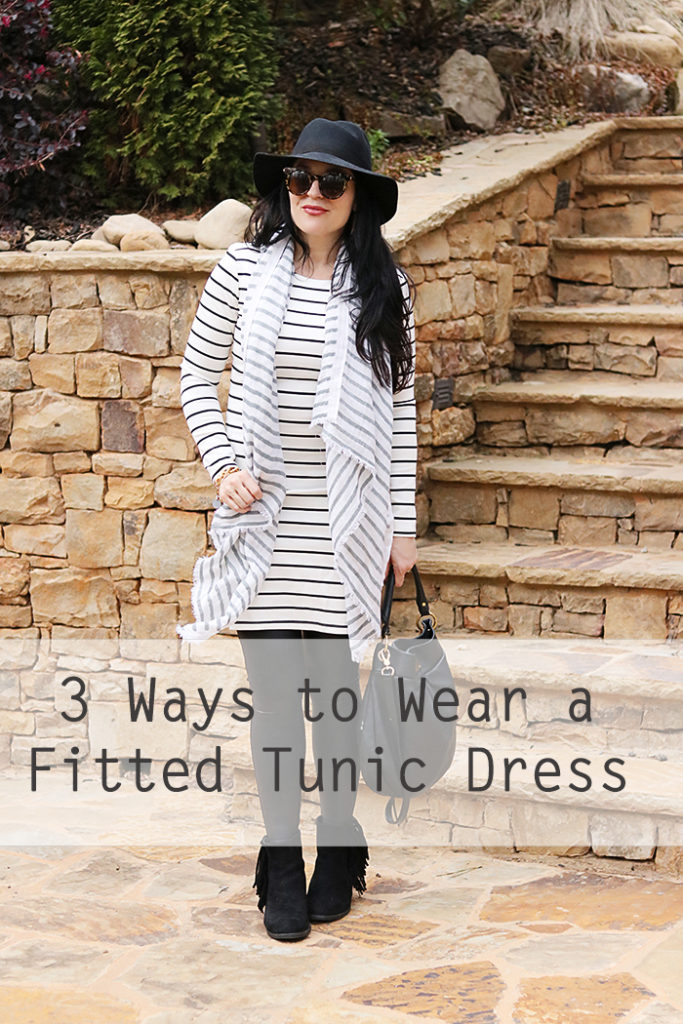 3 Ways to Wear a Tunic Dress
I have to admit; when it comes to travel, I'm the worst packer.  It's quite embarrassing.  I can never decide what to bring and always end up bringing way more than I ever needed or even attempted to wear.  We just got back from a ski trip to Utah, and I was full-on guilty of overpacking TWO suitcases.  Yes, two suitcases (shamefully)!  I'm actually quite happy I know admit to my problem because prior I was in denial.  Anyway, one of my dear friends, who is so stylish and has an amazing wardrobe, always seems to know how to pack for travel with one good item and then wears that item multiple ways.  I have learned a few things from her and have definitely taken note.  I would say, what's tricky is finding that one good item and knowing how to style it so you don't feel like you are wearing it over and over again all week.  One good item I have found and took on my recent winter Utah trip was a fitted tunic dress.  A fitted tunic dress is a great traveling item because its easy to pack, comfortable and can be worn multiple ways.  Here are 3 ways to wear a tunic dress during a week of traveling or a week at home.  For the 3 outfit ideas, I actually decided to wear this striped tunic dress with the same fringe booties that I took on my trip to keep it simple.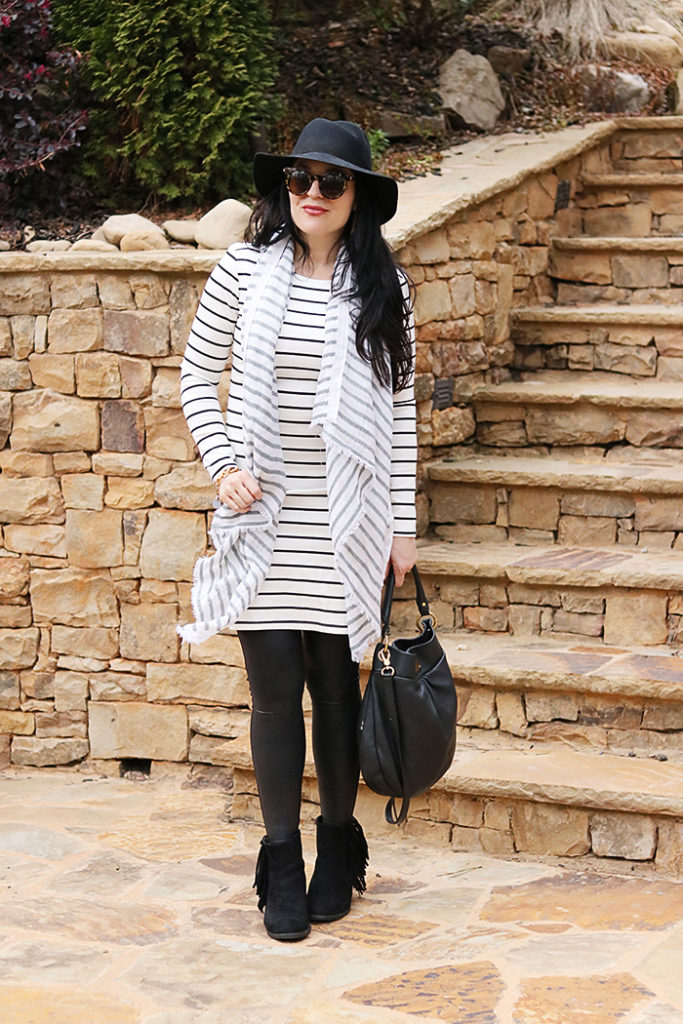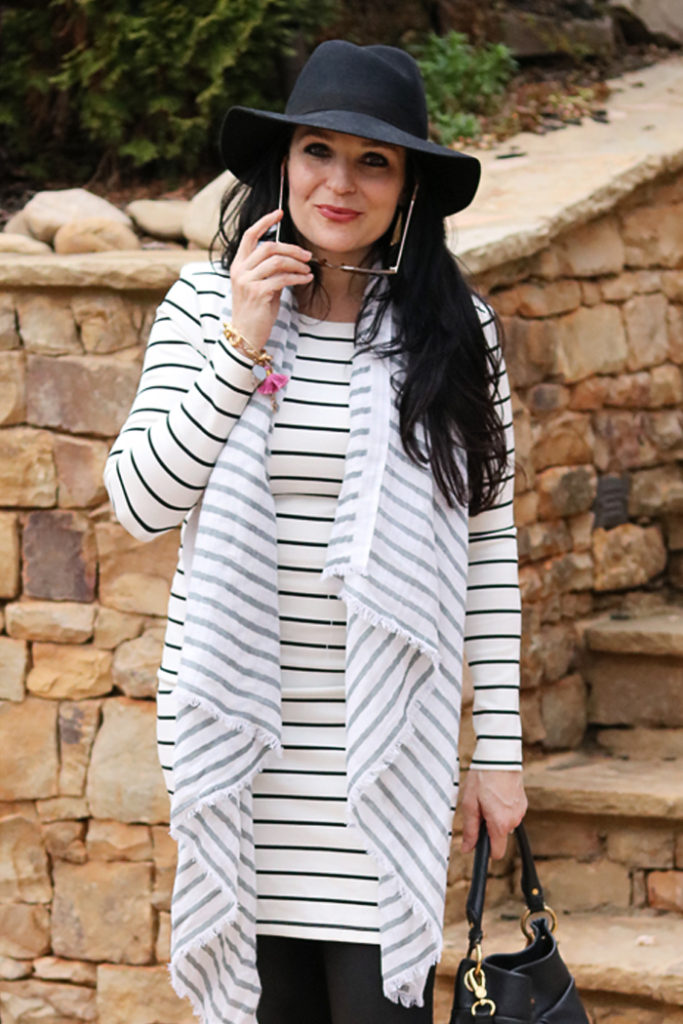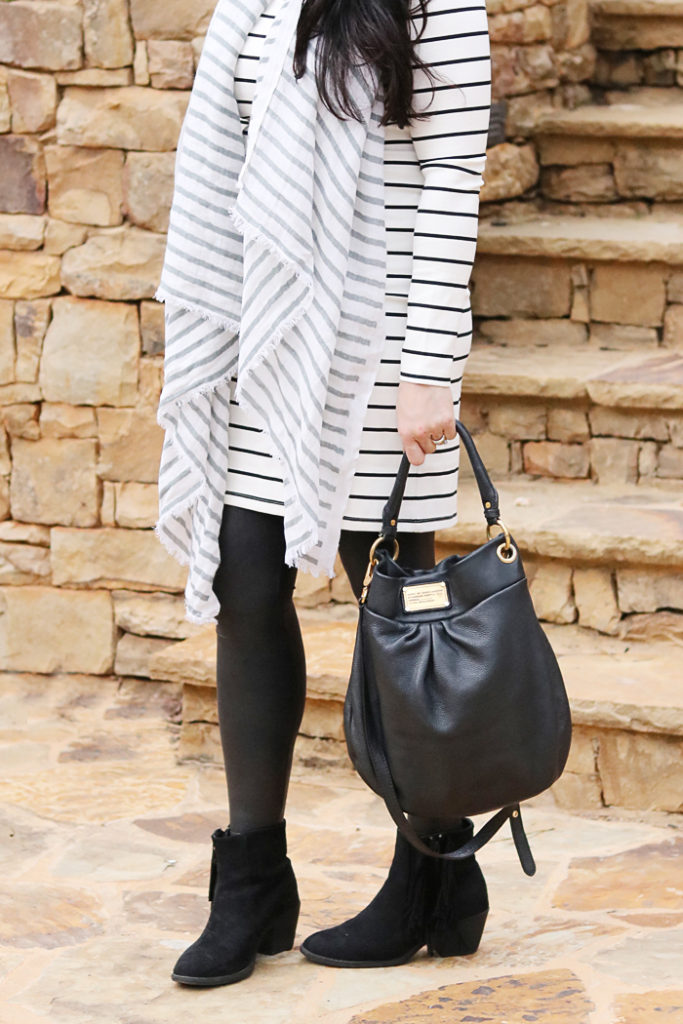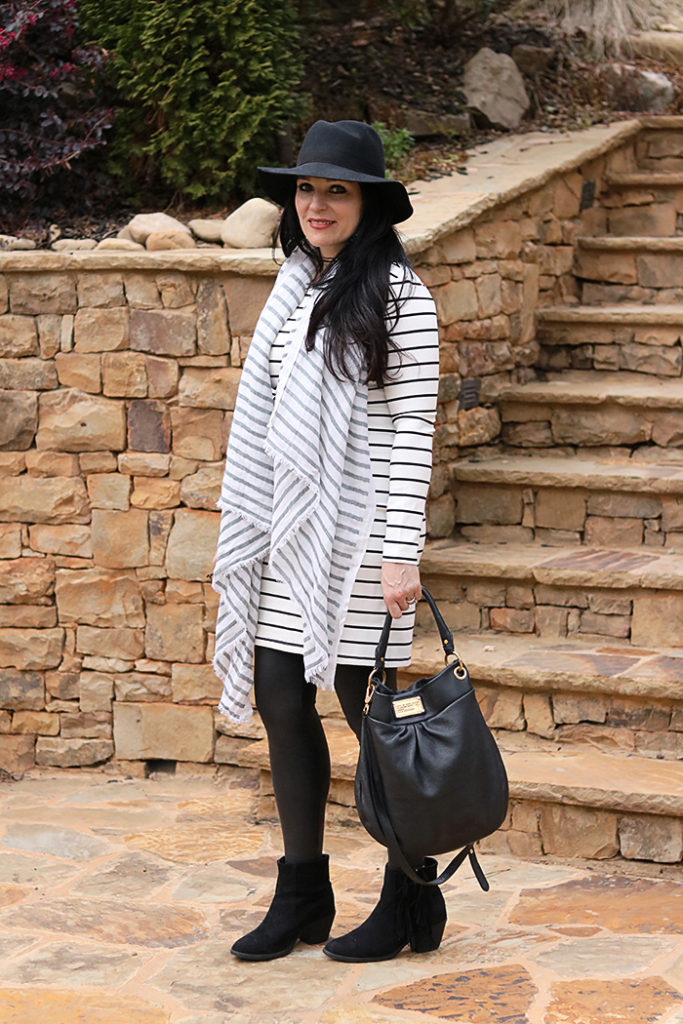 3 Ways to Wear a Tunic Dress– Add Leggings and Accessories
When a fitted tunic dress you can wear leggings with it and get a seamless look.  I actually wore it with my favorite faux leather leggings.  Then just add accessories like a scarf, slouchy bag and big wide-brim hat.  Don't be afraid to mix patterns.  I love the stripe on stripe look!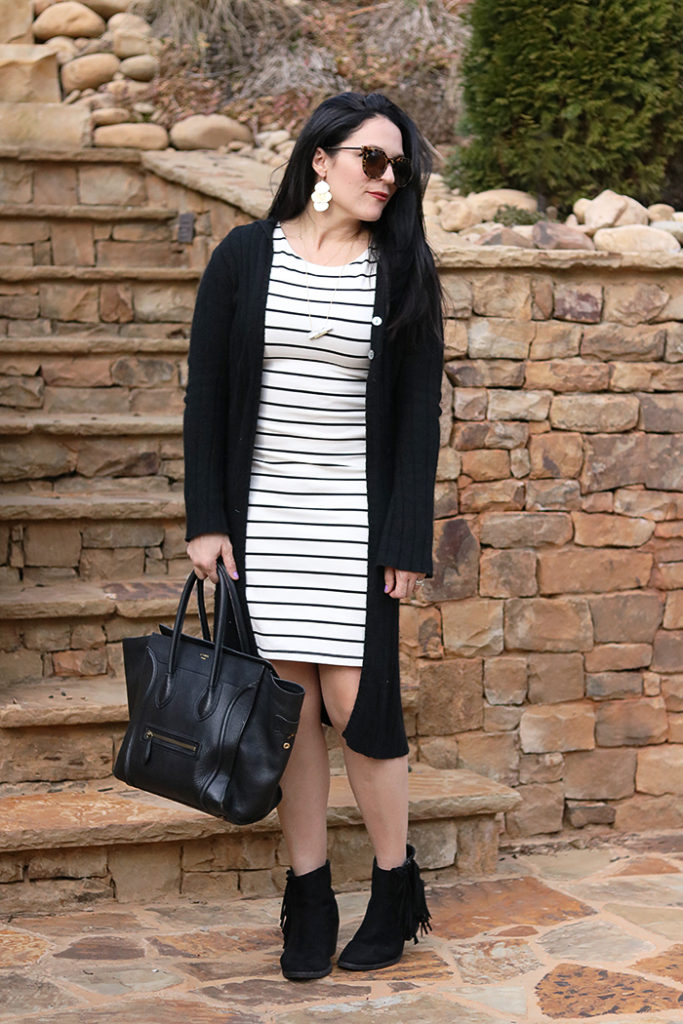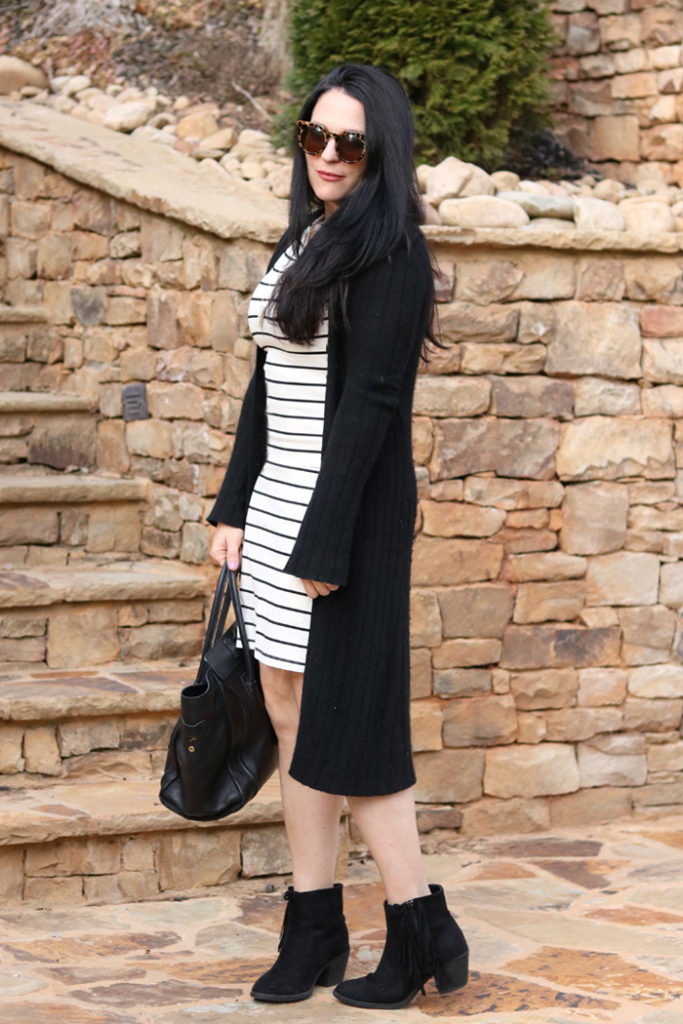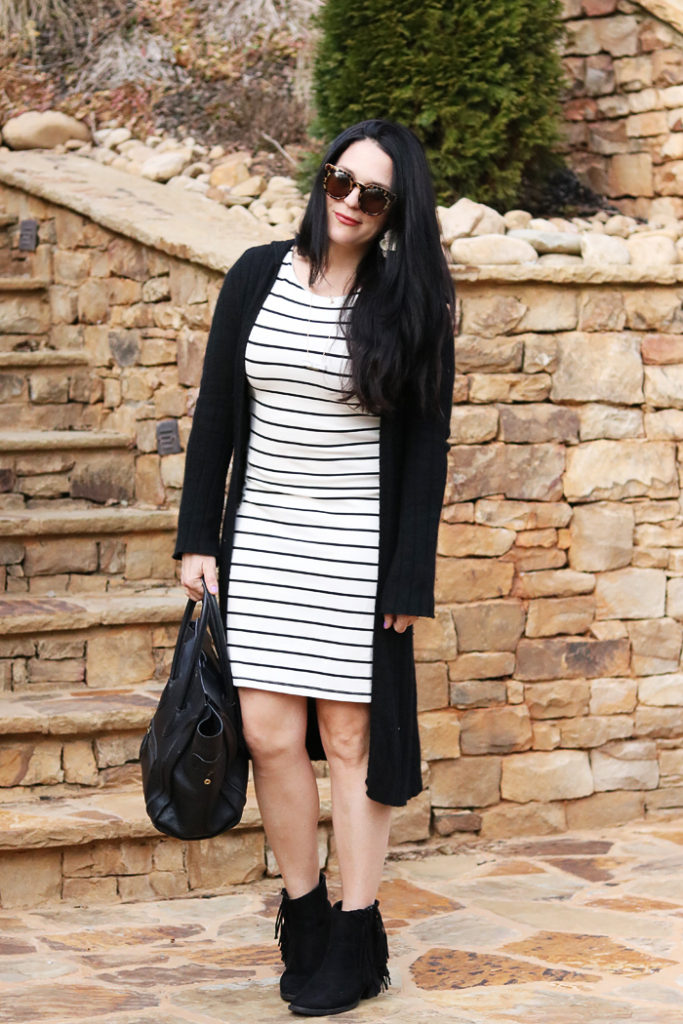 3 Ways to Wear a Tunic Dress–Long Cardigan
Balance out the look of a fitted tunic dress with a long cardigan.  The cardigan will bring a whole new look to a simple tunic dress with a sophisticated style.  Accessorize with a long DMJ necklace, chandelier earrings and large handbag.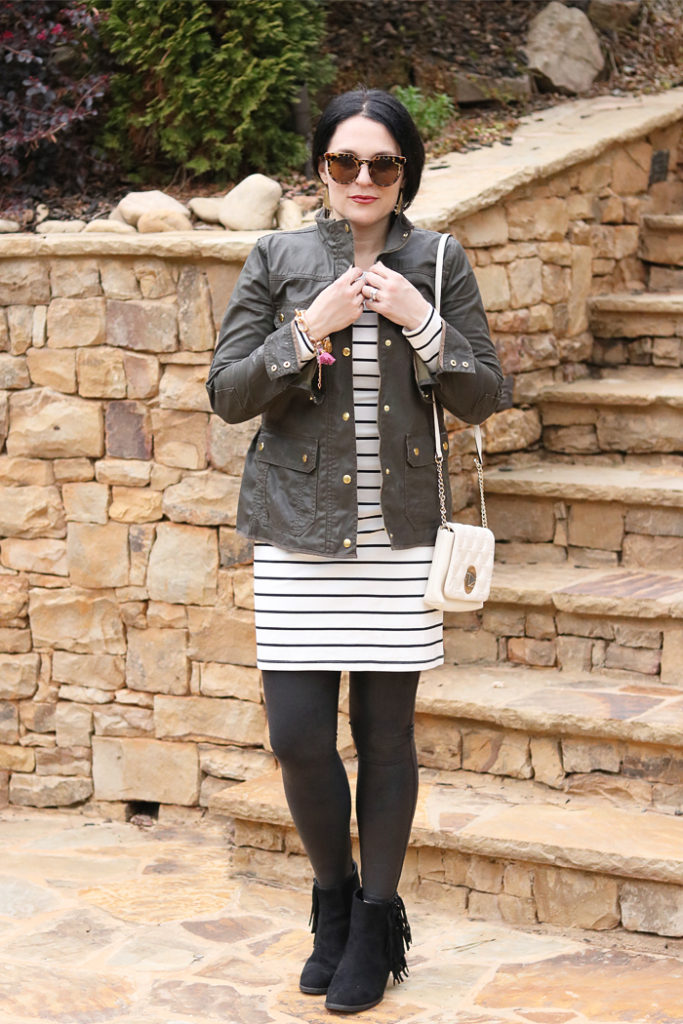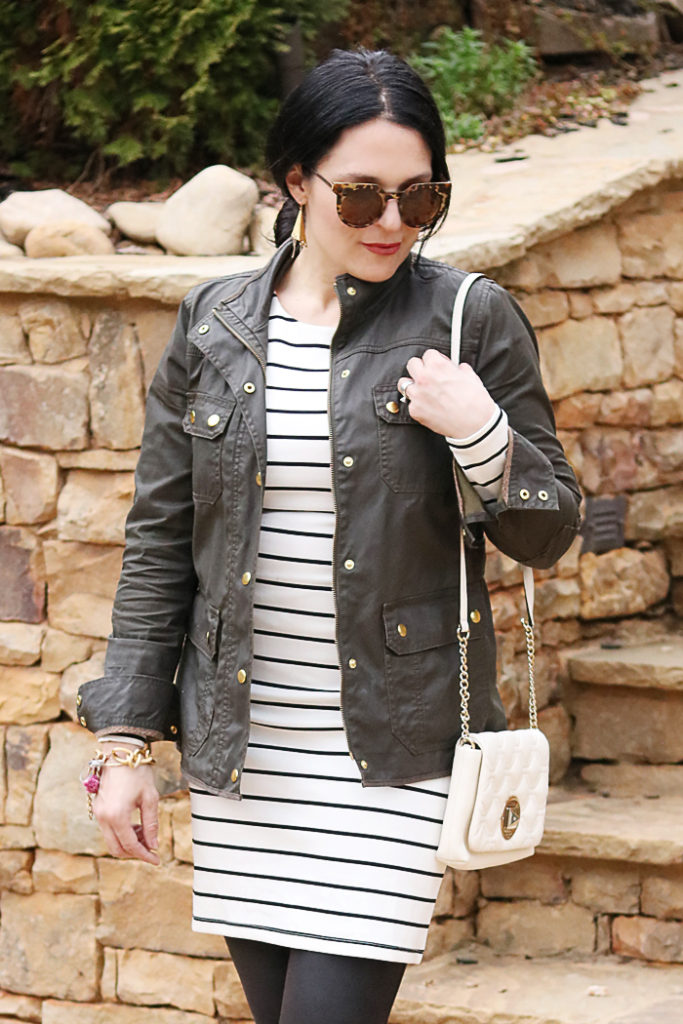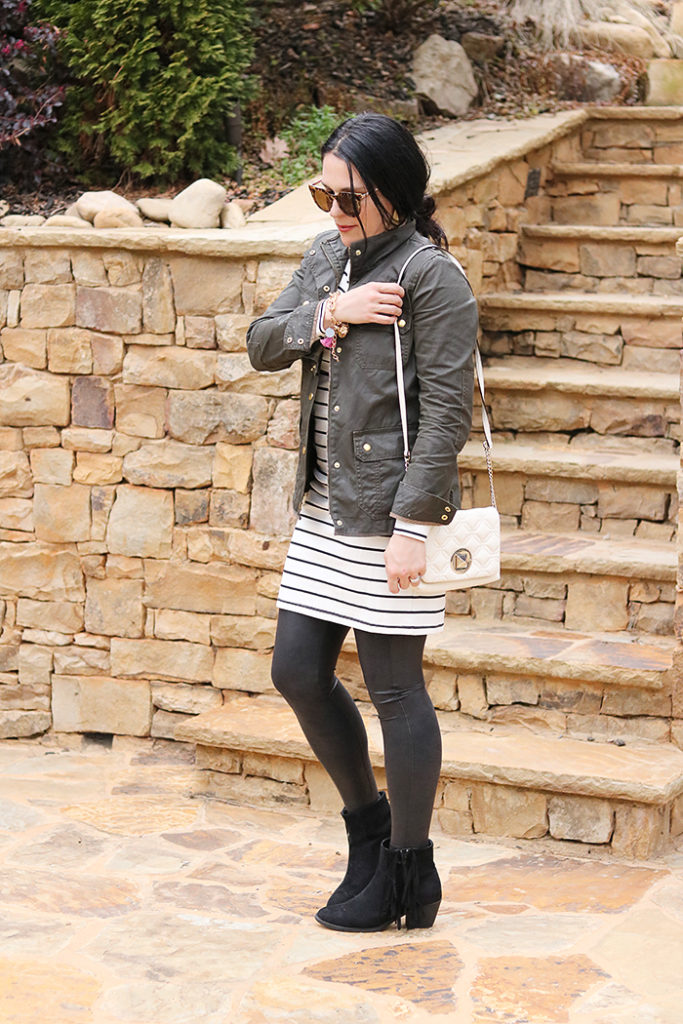 3 Ways to Wear a Tunic Dress–Wear a Military Jacket
A casual military jacket or denim or khaki jacket is a great way to style a tunic dress.  I wore mine with the leggings again, but wear the tunic alone and you'll have a whole new look.  Throw on sneakers for a stylish casual look.  Keep your handbag simple like this Kate Spade quilted bag.  I love to add some DMJ jewelry!  I wore it with a personalize charm bracelet and triangle earrings.