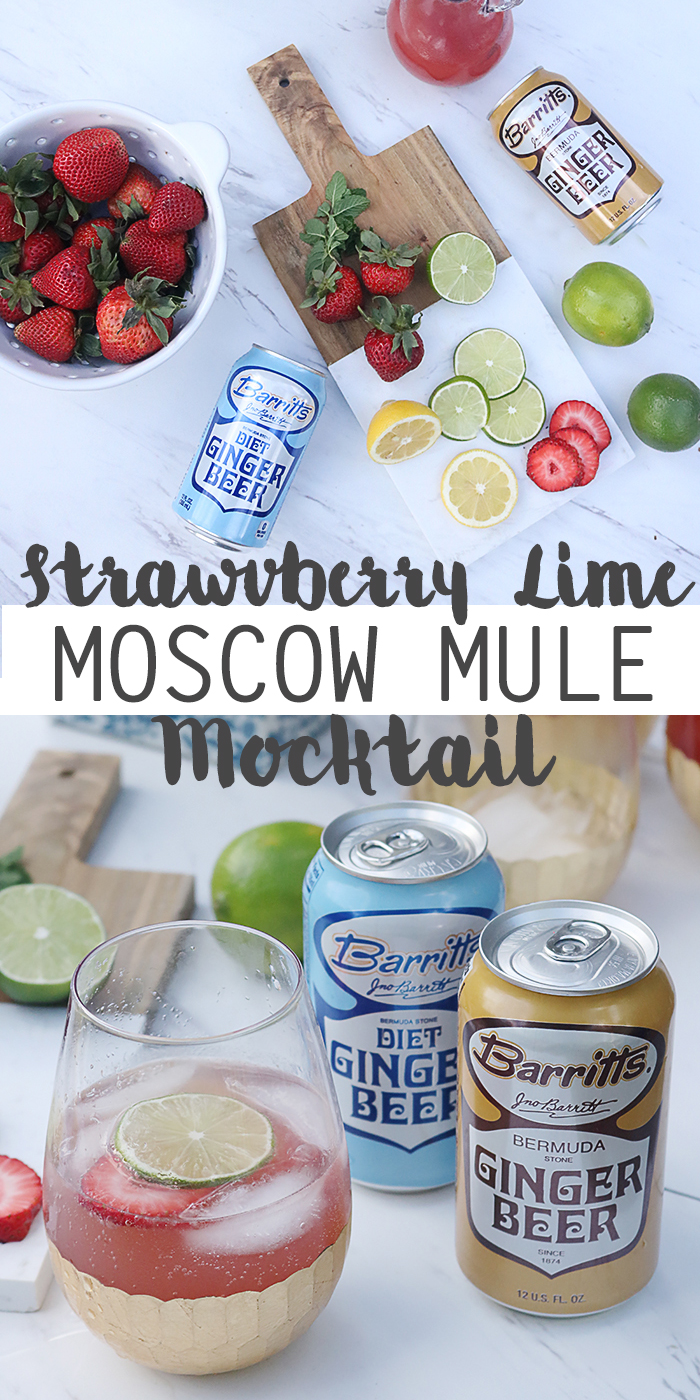 The Memorial Day holiday weekend is right around the corner, and it marks the beginning of summer fun and refreshing fruity drinks. If you've got a picnic or barbecue with friends this weekend, the Strawberry Lime Moscow Mule Mocktail is a perfect way to beat the heat. I'm not a drinker, but I love to enjoy delicious and gorgeous non-alcoholic cocktails. In these, friends have said that adding some DRY vanilla bubbly is always a fantastic way to add another edge to a drink! If you've been following along, you may also know I like to take recipes and twist them around to make them healthy. I've taken the classic moscow mule recipe of vodka, spicy ginger beer and lime juice and made a few changes to make it a mocktail and bring in a taste of summer with fresh strawberries, which are currently in season.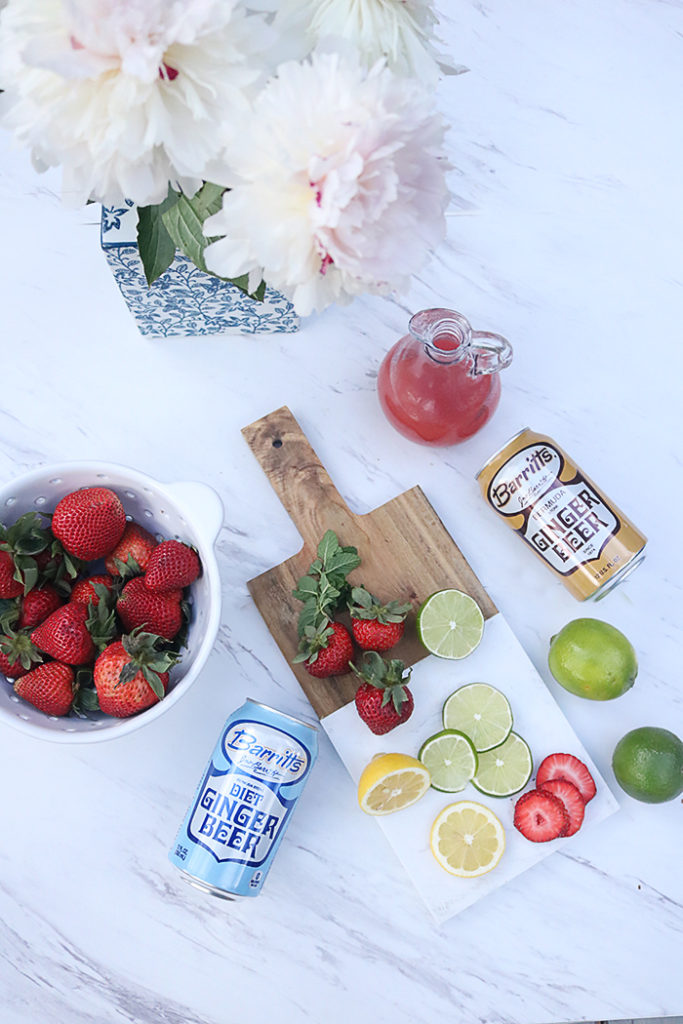 I've teamed up with Barritt's Ginger Beer, which is perfect because it's the main ingredient you need for a moscow mule! Barritt's Ginger Beer is a popular, non-alcoholic zesty ginger soft drink and a great mixer. And also how cool is their retro packaging? You can find Barritt's Ginger Beer in the liquor section of your grocery store or online and it comes in regular, diet or made with cane sugar.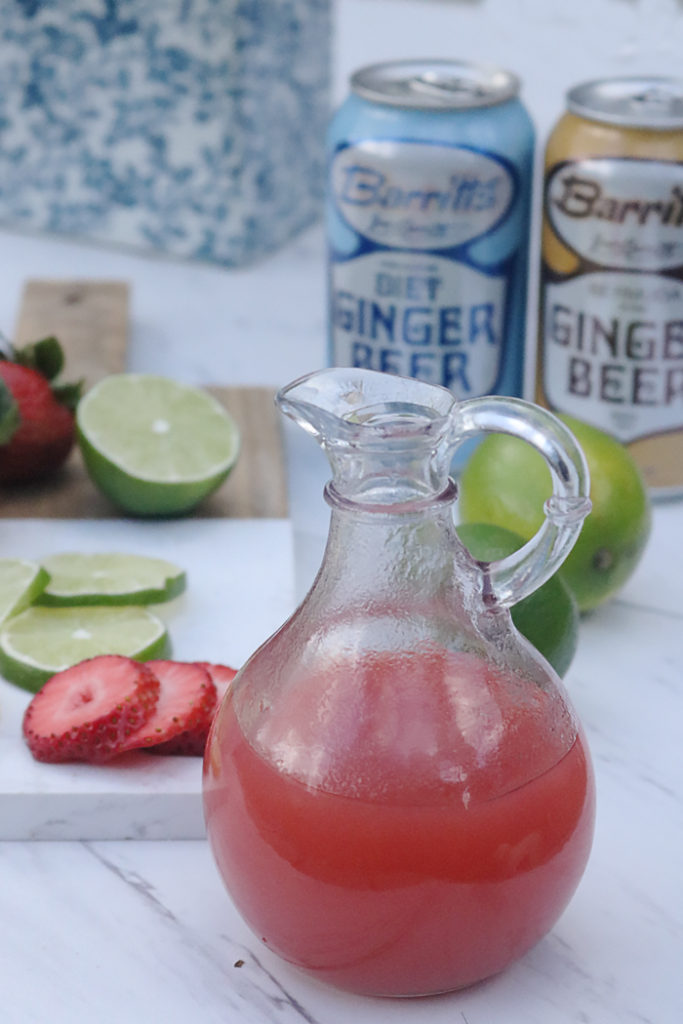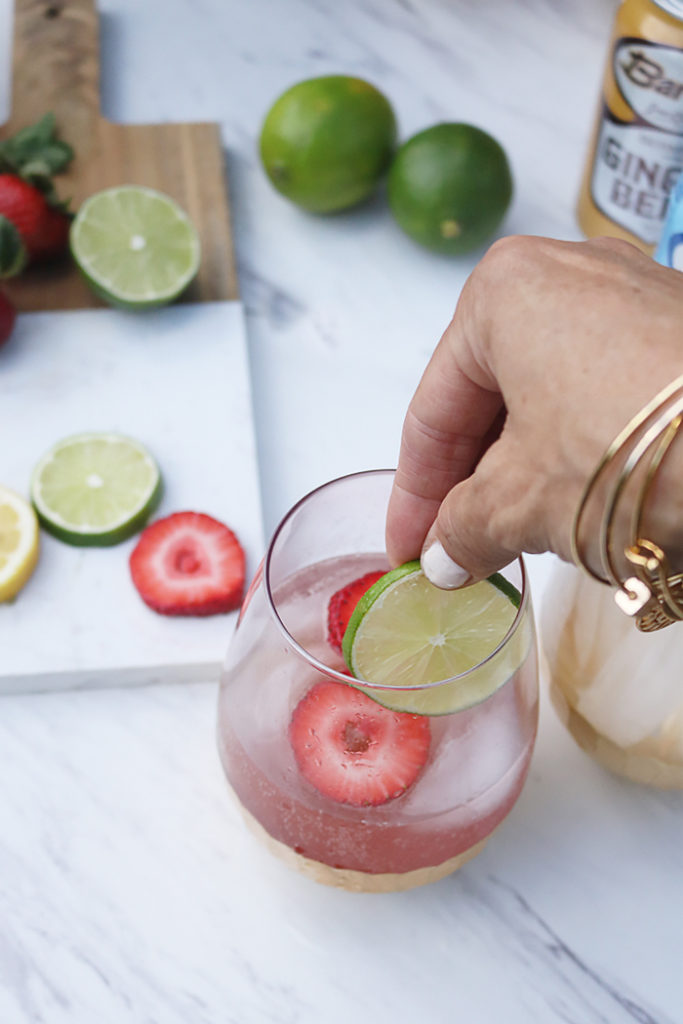 To make the strawberry lime moscow mule mocktail, I used fresh strawberries and then pureed them to a pulp and poured through a sieve. The results are fresh strawberry juice. I did add a little water to make the consistency slightly thinner and agave to sweeten it up just a bit. It's the best way to drink a strawberry! Of course, if you aren't up to the extra labor you could just use prepackaged strawberry juice. But you can definitely taste the difference between fresh and packaged!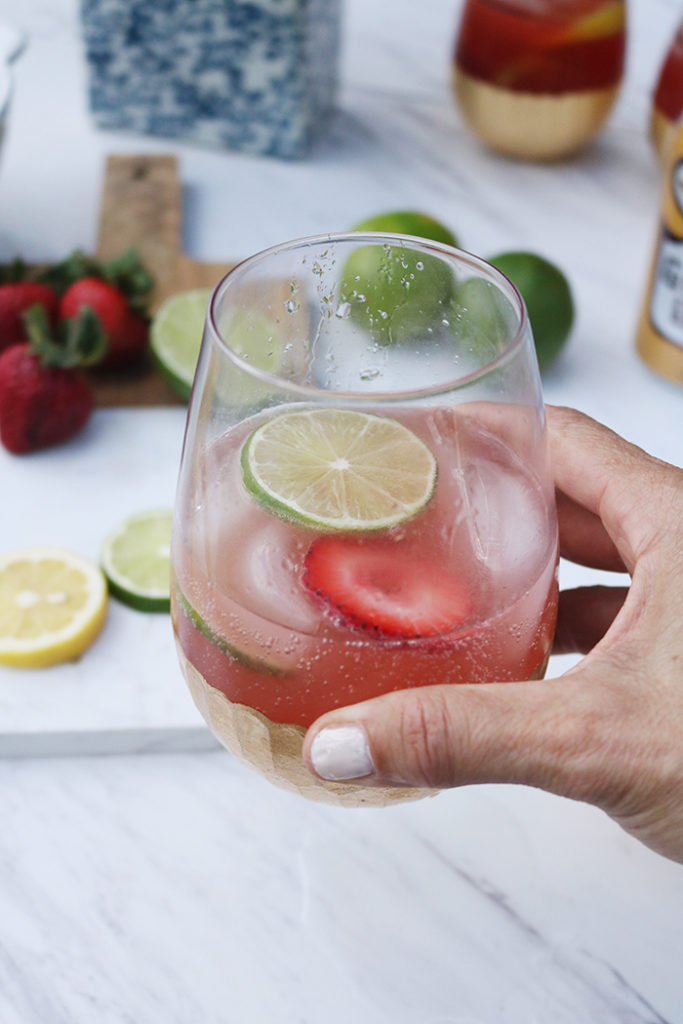 Strawberry Lime Moscow Mule Mocktail
1 cup of fresh strawberry juice (pureed with a little water and then pour over a sieve) or store-bought strawberry juice
2 tablespoons of fresh lime juice
1 bottle of Barritt's Ginger Beer
Sweeten to taste with agave if needed
A splash of fresh lemon juice
Garnish with lime wheels and strawberries
Enjoy!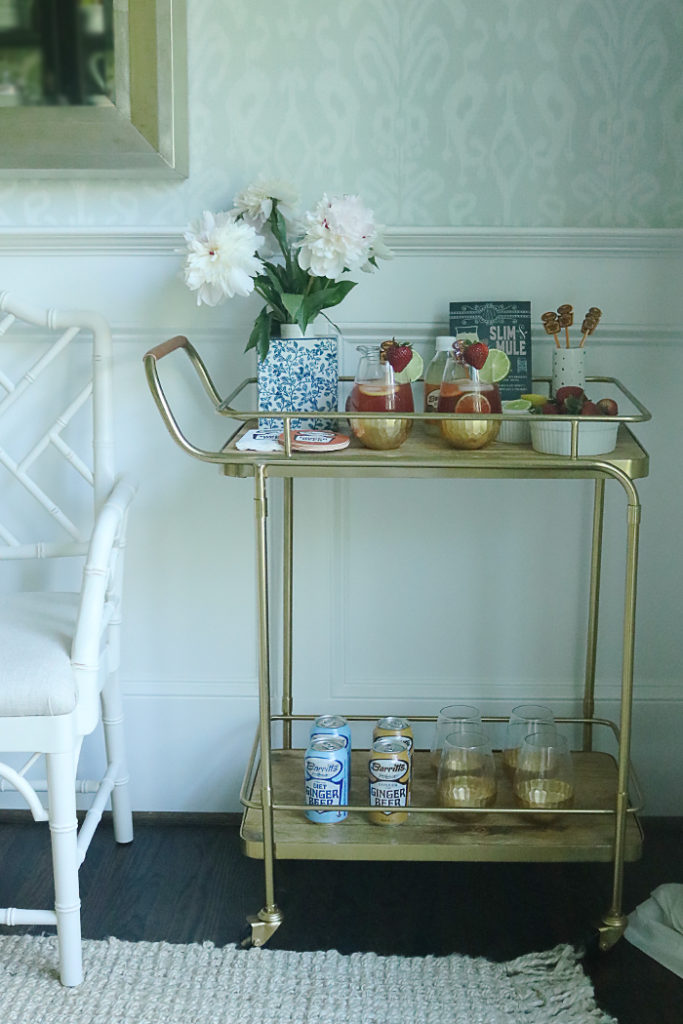 If you are hosting the Memorial Holiday party with friends and family, set up a mixing station for your guests. Use a bar cart or a large serving tray and have it set up so your guests can easily mix their favorite moscow mules together. Since there are only a few ingredients needed, moscow mules are perfect. Here are a few of Barritt's moscow mule recipes . Make sure to have clean copper mugs or glasses available for your guests. Barritt's ginger beer packaging is so cool and perfect to put on display along with other juices. Have fresh limes and lemon wedges, stirring sticks, coasters and cocktail napkins readily available on your bar cart. If you are planning to serve alcohol, make sure to have it readily available along with recipe cards or mixing ideas so my guests have a fun variety of choices.
Enjoy your Memorial Weekend and many upcoming warm summer nights!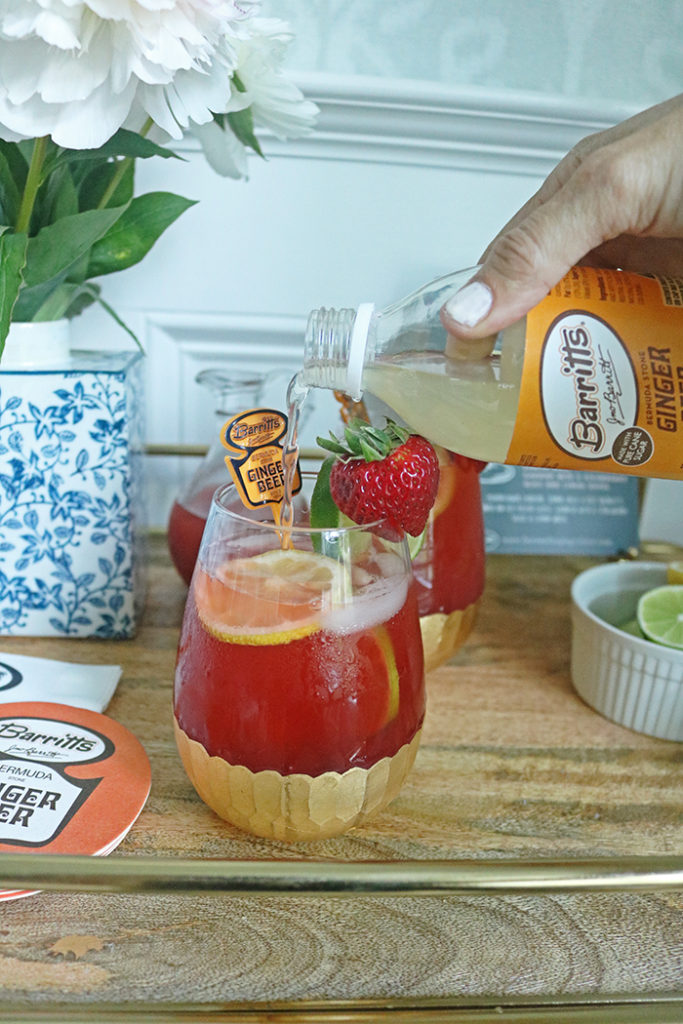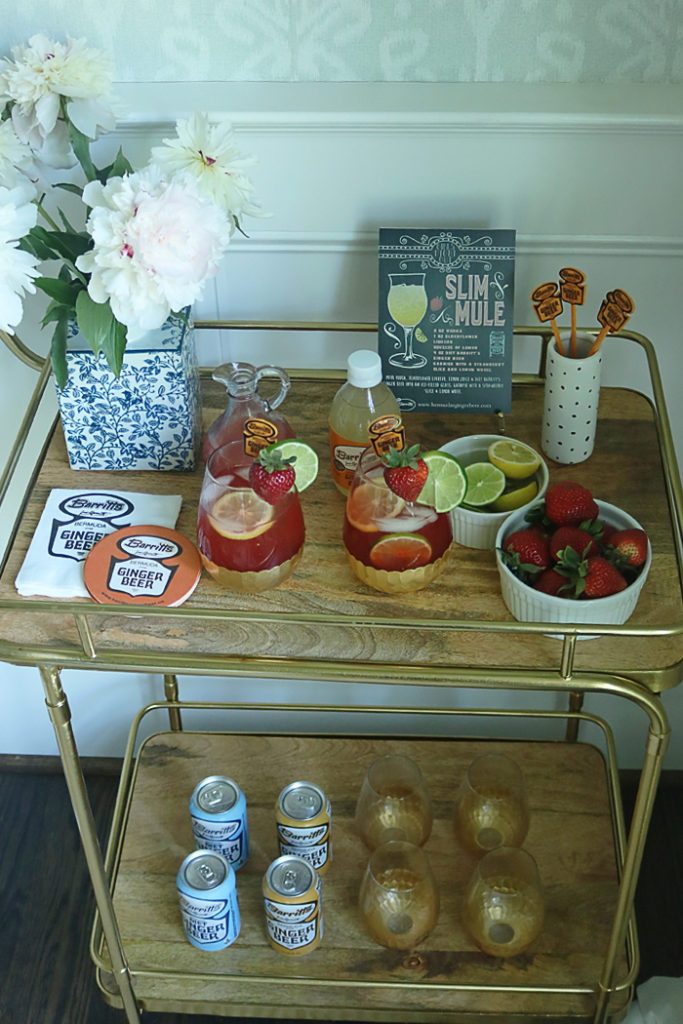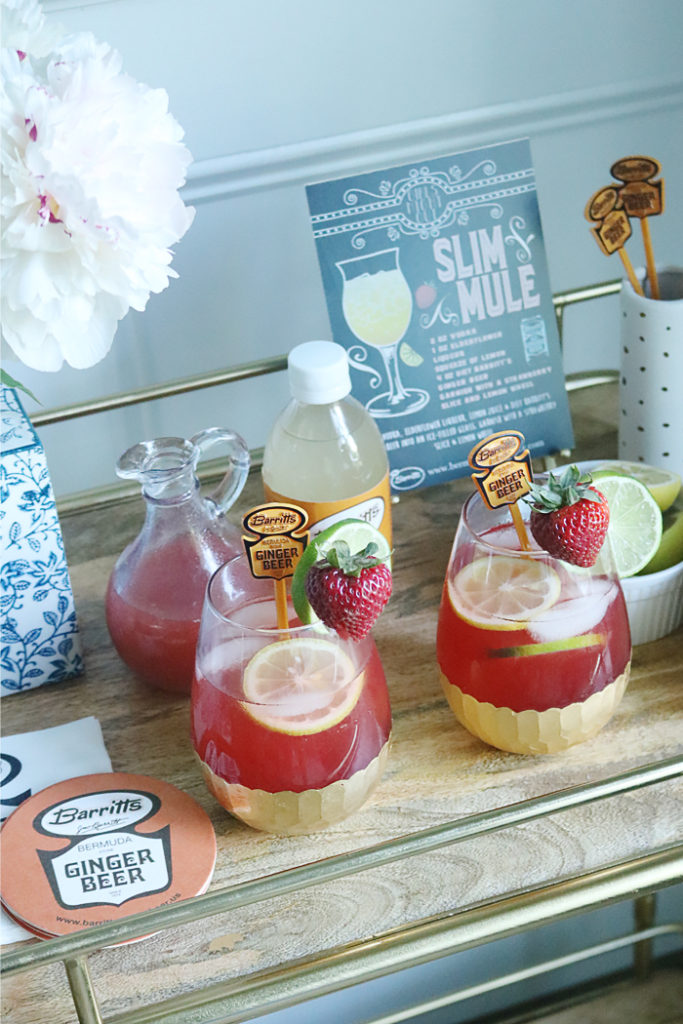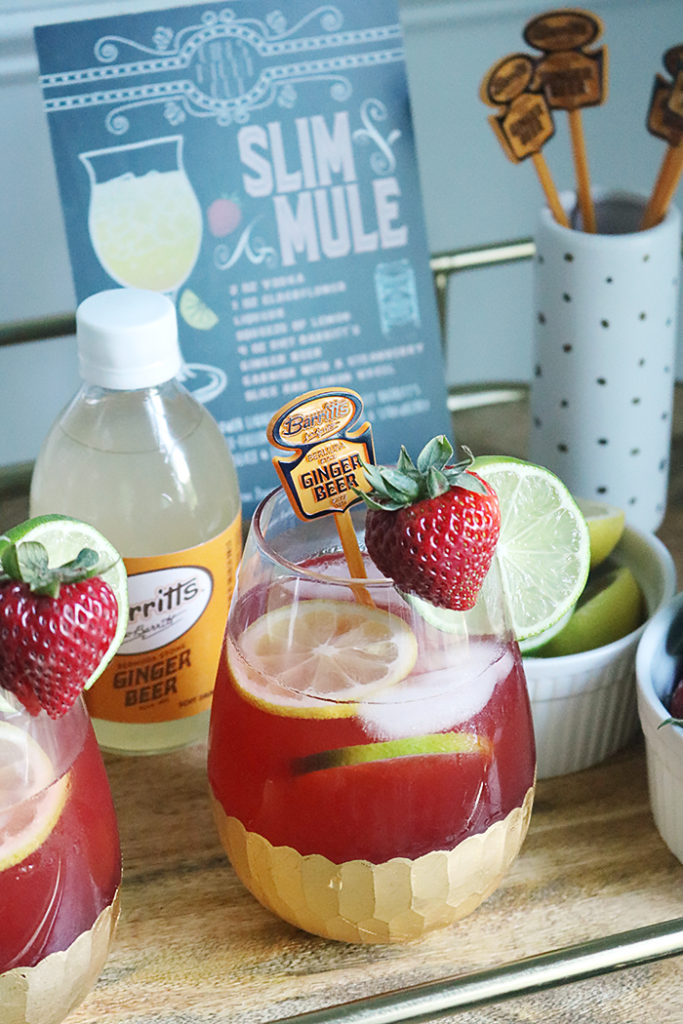 Thank you Barritt's Ginger Beer for sponsoring this post!