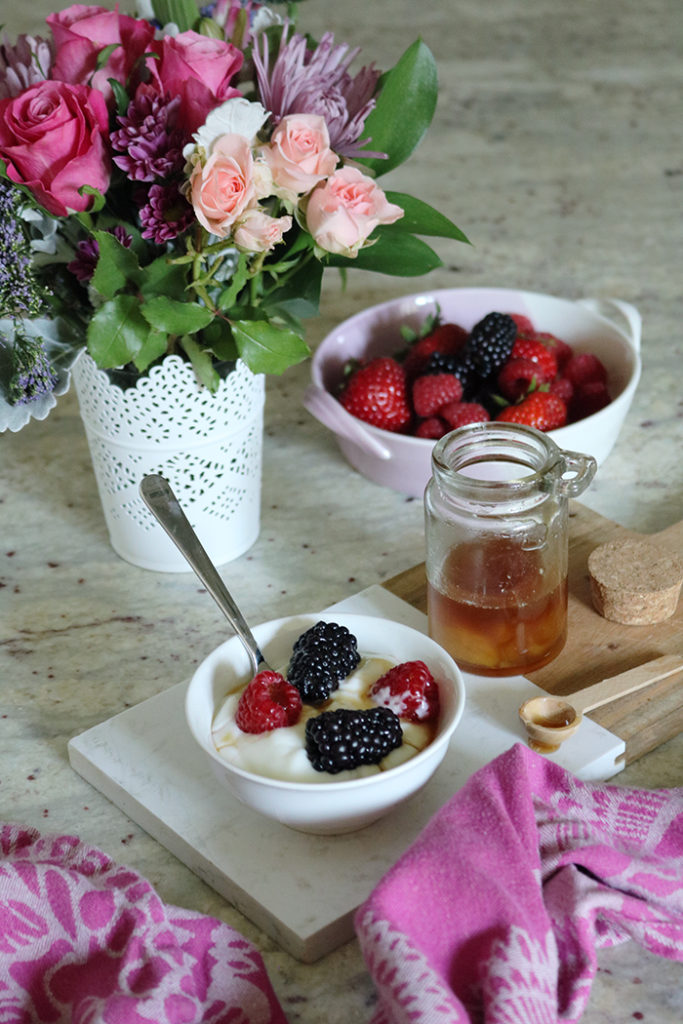 10 Easy Ways to Stop Sugar Cravings
One of the easiest and fastest ways for me to lose weight is to stop sugar cravings, and I am going to share 10 easy ways to stop sugar cravings for good. That means to cut out sugar all together in my daily diet. I know. It's SO hard. The will and discipline to succeed is difficult. I get it. I know. Failing is on my mind, but it shouldn't be the reason to not stop sugar cravings. What I have found is having alternatives to refined and processed sugar makes it possible to be successful. I have also found that having a game plan and options is the easiest way to stop sugar cravings. Everyone knows how bad sugar is for you and it certainly had some pretty bad effects on me. I had to have so many dental treatments from dentists such as Dentist Fort Wayne to try and fix my rotten teeth, thanks to sugar!
I am going to sharing some of my ways that I have found to be helpful cutting out sugar in my diet, but I also turned to my guru fitness nutritionist sister Christine for additional ideas. She works with clients developing eating plans, and she knows many ways on how to stop sugar cravings and keep it off for good. Here are 10 Easy Ways to Stop Sugar Cravings for good!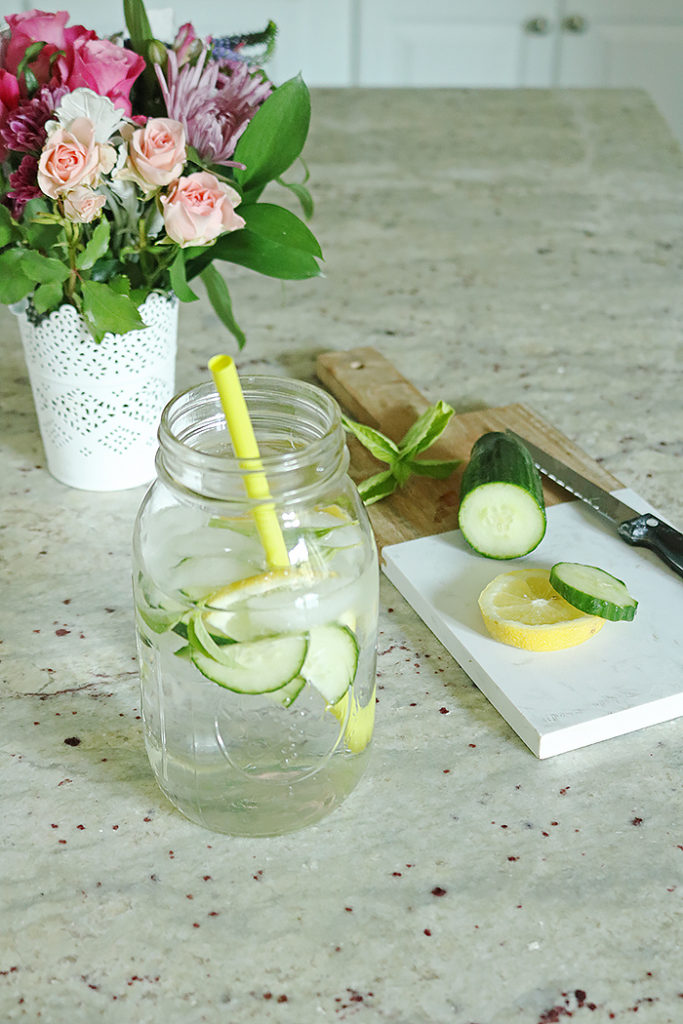 10 Easy Ways to Stop Sugar Cravings
Drink Water…and lots of it with lemon. Start your morning off right with a big 32-ounce glass of water and squeeze a lemon in it. Lemon coats the inside of your stomach wall, which aids in digestion. It's a great way to flush out your system, keep you hydrated and jump-start your metabolism. Also it suppresses the appetite so it helps with weight lost. In return, drinking water with lemon will crave those sugar needs! The best way to satisfy your cravings is to drink water. Dehydration confuses us with the need to eat and have sugar. Drink a big glass of water in between meals or when you feel the cravings. If you want you can add lemon, cucumber, basil. Or any other fruit to your water to add flavor and sweeten it up.
Avoid Processed Foods. There is so many hidden sugars in processed foods. Make your own instead. You'll be surprised how much sugar is in salad dressing, ketchup, salsa or even pasta sauce. If you can't make your own, then find one that is sugar free or low sugar. Read labels when shopping, and be aware what you are putting into your body.
Find alternatives to Sugar. There are plenty of other sweet tastes out there besides sugar, therefore you should not struggle to find sugar alternatives to help you lead a lifestyle filled with little to no sugar at all. We all know too much sugar is bad for us, so this is a great way to make a change.

Use healthier alternatives like maple syrup, raw honey, Aspartame, raw blue agave or stevia. These alternatives don't have the same evil effect that white sugar has on the body. But they will make you feel like you are getting your sugar fix. Be adventurous and try spices like cinnamon and ginger. I love sprinkling cinnamon on my oatmeal, smoothies or fruit. Here are more information about cinnamon that I previously posted about. Cinnamon is a great alternative because it curve sugar carvings and tricks the body into thinking you've had sugar. The real trick is cinnamon controls blood sugar.

Sweeten with Fruit. Fruit is truly Mother Nature's candy. I love to freeze berries for a little frozen treat. Watch how much fruit you eat though. Fruit has a lot of carbs. Christine says that the best time to eat fruit is after workout, and to keep it a limit of about 1 cup of fruit a day. Here are a few tasty healthy berry dessert recipes.
Find a "healthy" tasty treat that you can enjoy everyday. I feel like this is very important for being successful in cutting out sugar in a diet. Ask yourself–what is your plan when all your kids are eating ice cream, or there is a big cake on your counter that is eyeing you–what are you going to do? Cave in? No way because you have something else to fall back on. Here are a few of my favorite healthy tasty treat ideas:

Protein ice cream–take a 1/2 cup of almond or cashew milk with a scoop of Quest protein powder (any flavor. but I love cookies & cream). Put it in a blender with lots of ice to make it thick and blend. Add frozen berries or a nut butter if you'd like. This is my favorite and I make it when my kids are all having ice cream.
Unsweetened plain greek yogurt with fruit and topped with maple syrup and sprinkled with no-sugar granola.
Herbal tea with stevia or honey. Make it an iced tea when you are feeling a slump during the day. I love hibiscus tea because it's naturally sweet and make a great ice tea with honey and fresh basil leaf. Here are some other healthy drink recipes.
Drink a tall glass of almond milk or cashew milk or eat a spoonful of almond butter. It's simple and quick but can definitely curb sugar cravings when desserts are right in your face.
Frozen berries or frozen grapes. These are tasty during the summer months and makes you think you are eating a frozen dessert.

Save special desserts to once in a while. Don't deprive yourself. Still enjoy that birthday cake or holiday pie, but make it only an occasional event. That way you are mentally telling yourself that you can enjoy it but you aren't doing it all the time. Then when you have the sugar, you will notice how your body feels and your chances of not wanting to eat sugar again are good because you are not feeling so well.
Sleep! This is my weakness. Finding enough "time" to actually get in 7-9 hours of sleep. We are all so busy, but sleeping more will balance the hormones so our body doesn't crave sugar.
Distract yourself. When those sugary temptations come or the need to pig out on a donut, distract your self. Have the will power to walk away and make yourself busy or finding the pleasure in something else like watching a favorite television show, calling an old friend, reading a novel or doing a craft. Whatever it is, put your sugary energy into something else.
Eat 6 small meals instead of 3 large meals. Eat smaller portions but more frequent. Not only does it rev up your metabolism but it makes it so you don't get too hungry. It keeps your cravings at bay and easier to grab something healthy. Don't ever skip meals. That is a sure way to fire up the sugar cravings.
Eat more greens. Yup! Make sure you are adding those dark leafy greens to each meal of the day. You'll be feeding yourself those good nutritional vitamins and minerals. Opt for crunchy veggies to keep your mouth going and satisfied.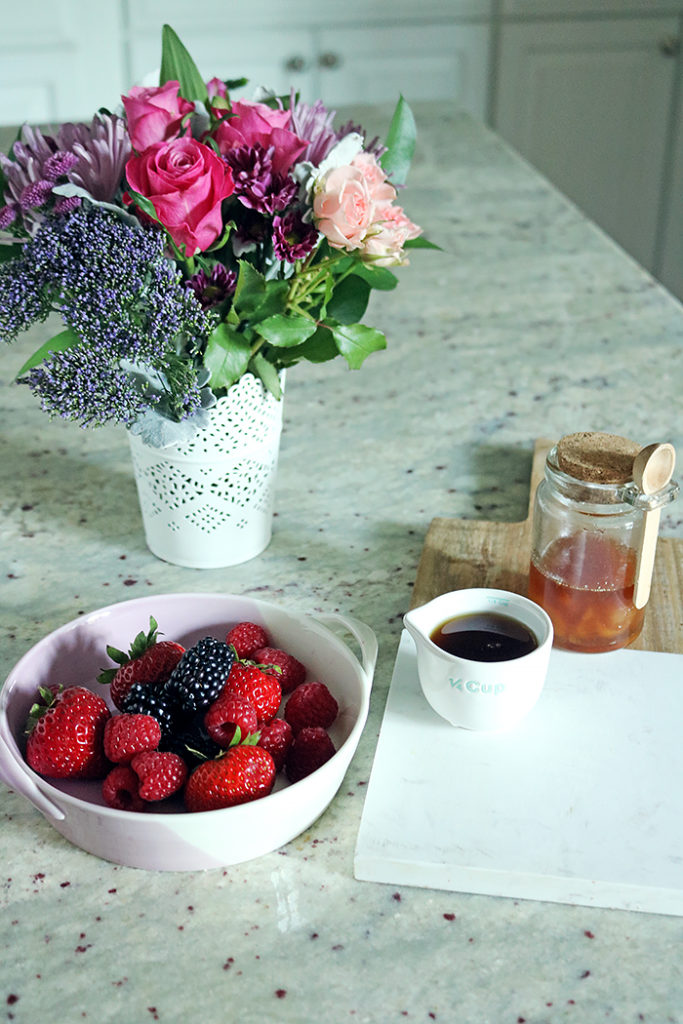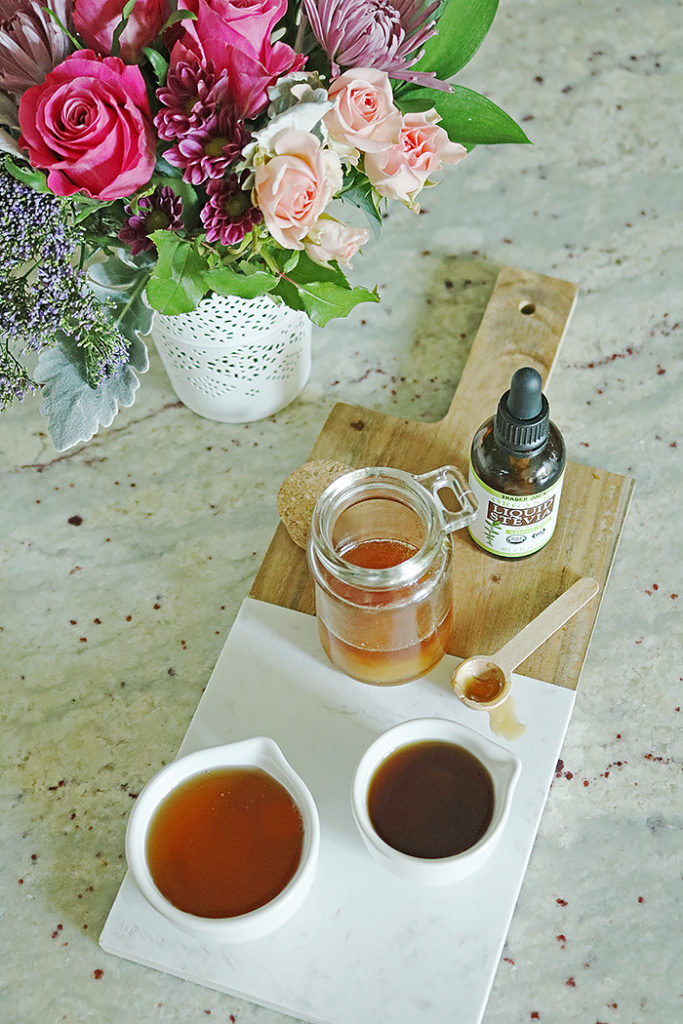 Shop the Post: