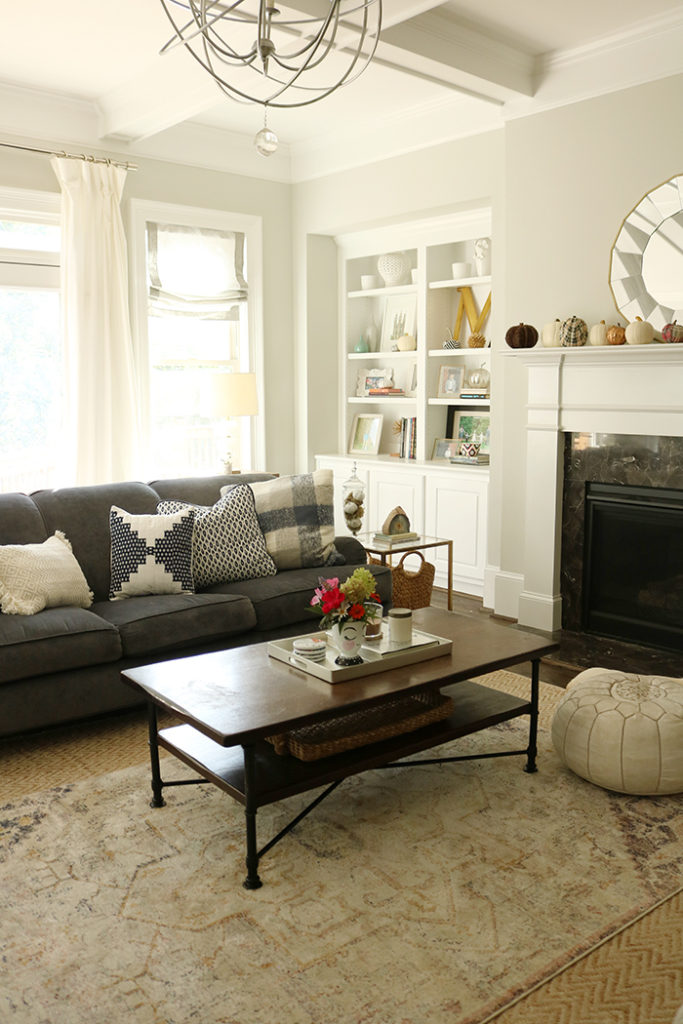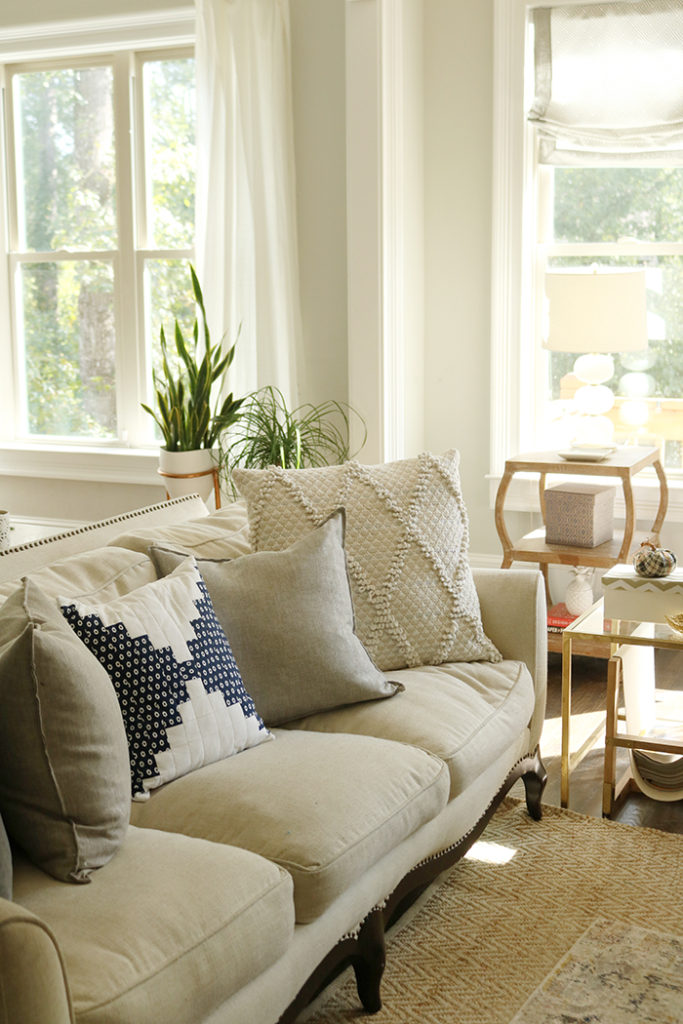 Updating Living Space for Fall
I just packed up some of my coastal, summery home decorations to embrace the cooler months ahead.  By adding a few cozy warm touches to the home makes a big impact for updating a living space for Fall.  Just a few simple items are needed when updating a living space for fall.  I like to keep the colors somewhat natural so when Halloween, Thanksgiving and Christmas comes around it's easy to incorporate the holiday decorations.  This year I am loving the touch of navy that I've seen around the design world.  So I decided to add navy to my living space to warm up the wintery whites.  I'm feeling like navy should be reclassified as a neutral.  Who's with me on that??  Anyway, the best way to update living space for fall is with the use of pillows!  It's simple and inexpensive.  Recently, I took a couple of old pillows and had them reupholstered with inexpensive navy fabric that I found at a discount store.  My upholsterer only charged me $28 per pillow.  Not bad on the price!
I also added a few other pillows to balance off the pillow sizes.  The navy and white quilted pillows on the two sofas are so gorgeous and add a fun pattern to the mix.  Theses quilted pillows are handmade by ModernStitch.sb , and they have a fun collection of beautiful patterned quilted pillows.  When updating living space for Fall using pillows, look for pillows that have texture and heavy fabric like flannel or wool.  Don't forget to add throws to your copper blanket ladder or over the sofa.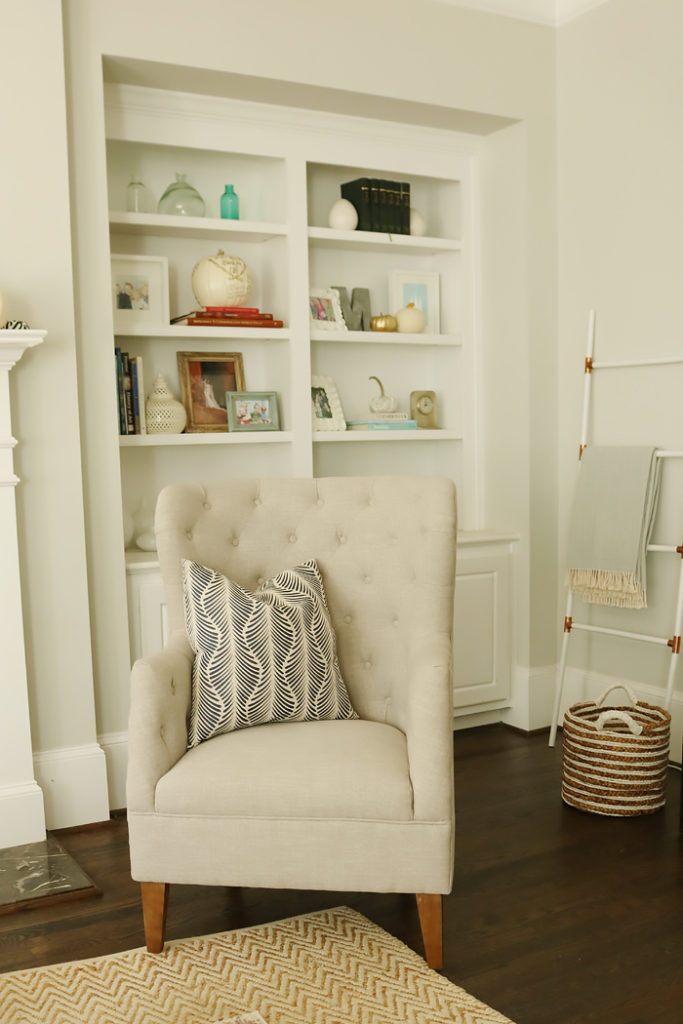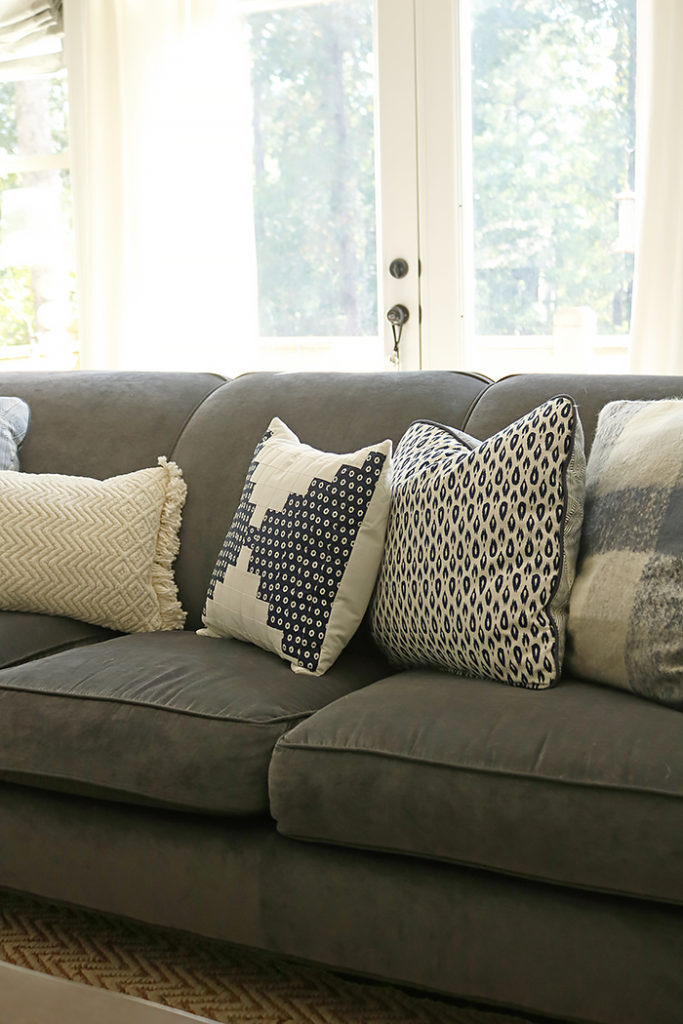 Another way to update the living space for fall, is adding cozy touches to the mantle.  I added a variety of pumpkins to my mantle, and I am loving the simple look.  Some of the pumpkins are from DIYs that I did last year like the fabric pumpkins and tissue paper pumpkins.  These are both an easy and simple craft for a big statement.  I also hung modern wreaths over some of the mirrors I have around the house.  With a simple wreath you can easily had wintery white during the later season.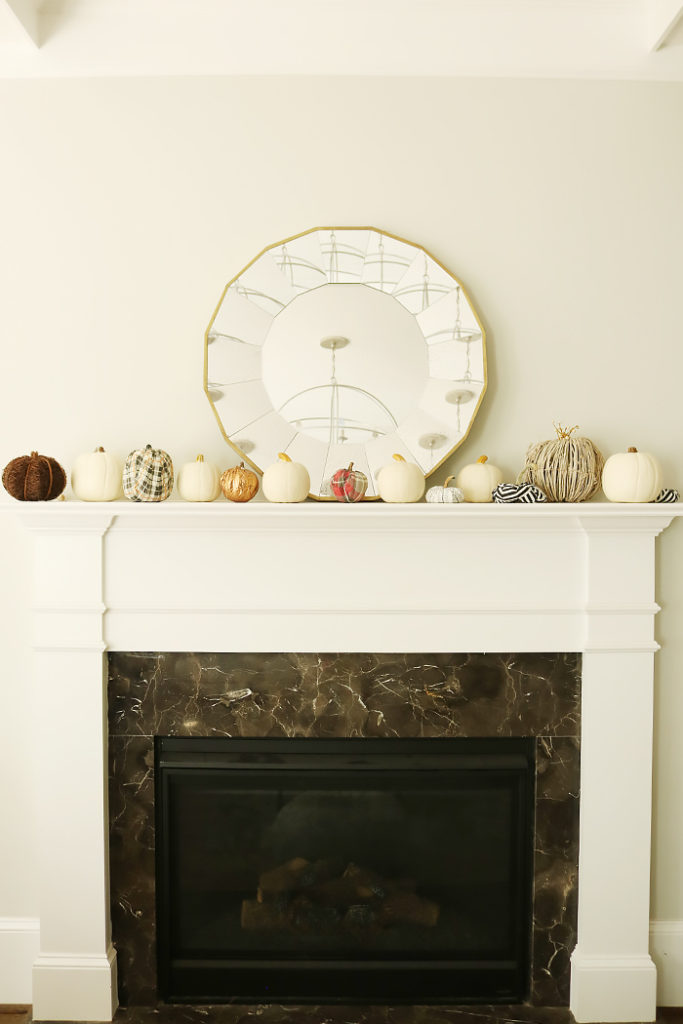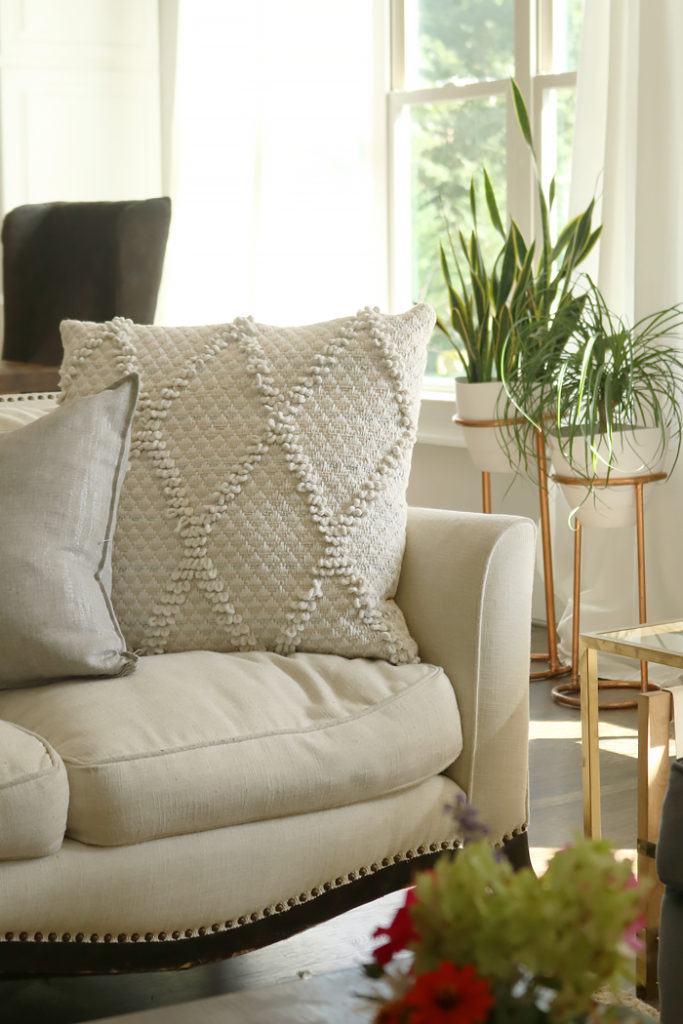 For my shelves and tabletops, I traded in my coastal shells and coral figurines for white and mercury pumpkins.  It was an easy replacement because the coastal items were also white.  I also added white pumpkins and moss to glass display jars to decorate the end tables and console.
And last but not least I decided to layer my rugs to add warmth and a little bit of color.  The traditional rug ties in the navy hues while still keeping it neutral.  It will be easy to play up the rug with the pinks for the Christmas season.
How do you update a living space for Fall?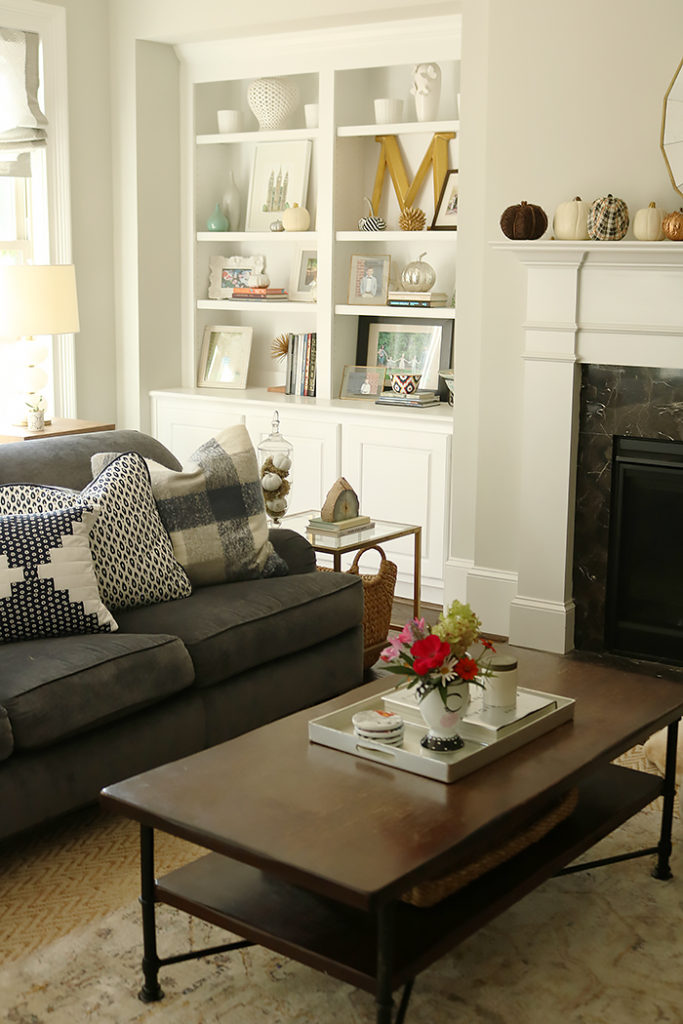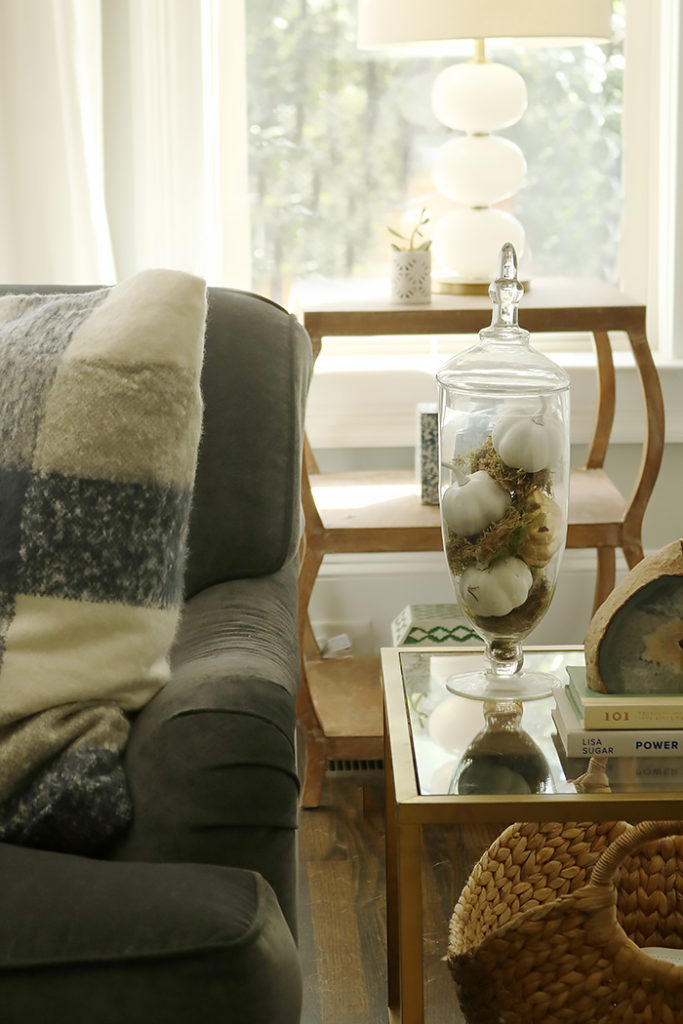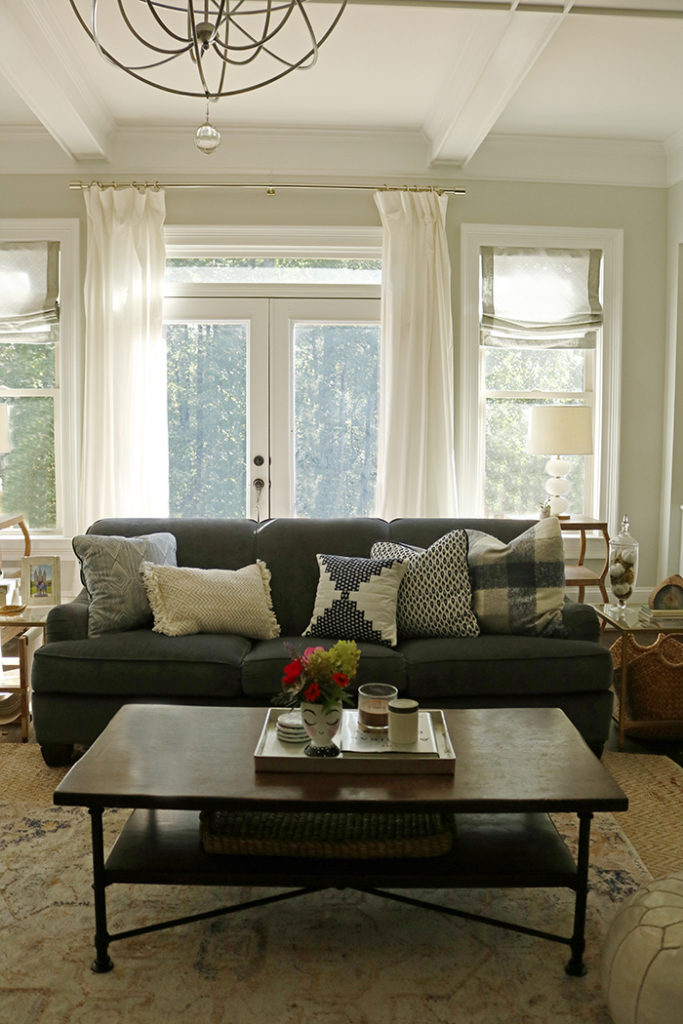 SHOP THE POST: