Holiday Gift Guide for Her | Holiday Gift Guide for the Every Girl
It's that time again to start the Holiday shopping, and when it comes to finding the perfect gifts for every girl, it can be a struggle. This 2017 holiday gift guide for her covers the nature lover to the fashion queen and in between. Surprise your friend with one of these gifts, or add these ideas your holiday wish list to send to your husband or boyfriend. So many great ideas! Your husband or boyfriend will probably really appreciate being sent a gift guide, as it will make their life a whole lot easier and you'll know that you can get exactly what you want. They might even decide to send you their own gift guide of all the gadgets that they want as well! Which would be really helpful for you. Make sure you send them a gift guide though, of the things that you want. So, if you prefer makeup, shoes or even something like this personalized photo lighter, then make sure you tell them. If you just want to be spoilt rotten this holiday then these gift ideas below are the perfect solution for that!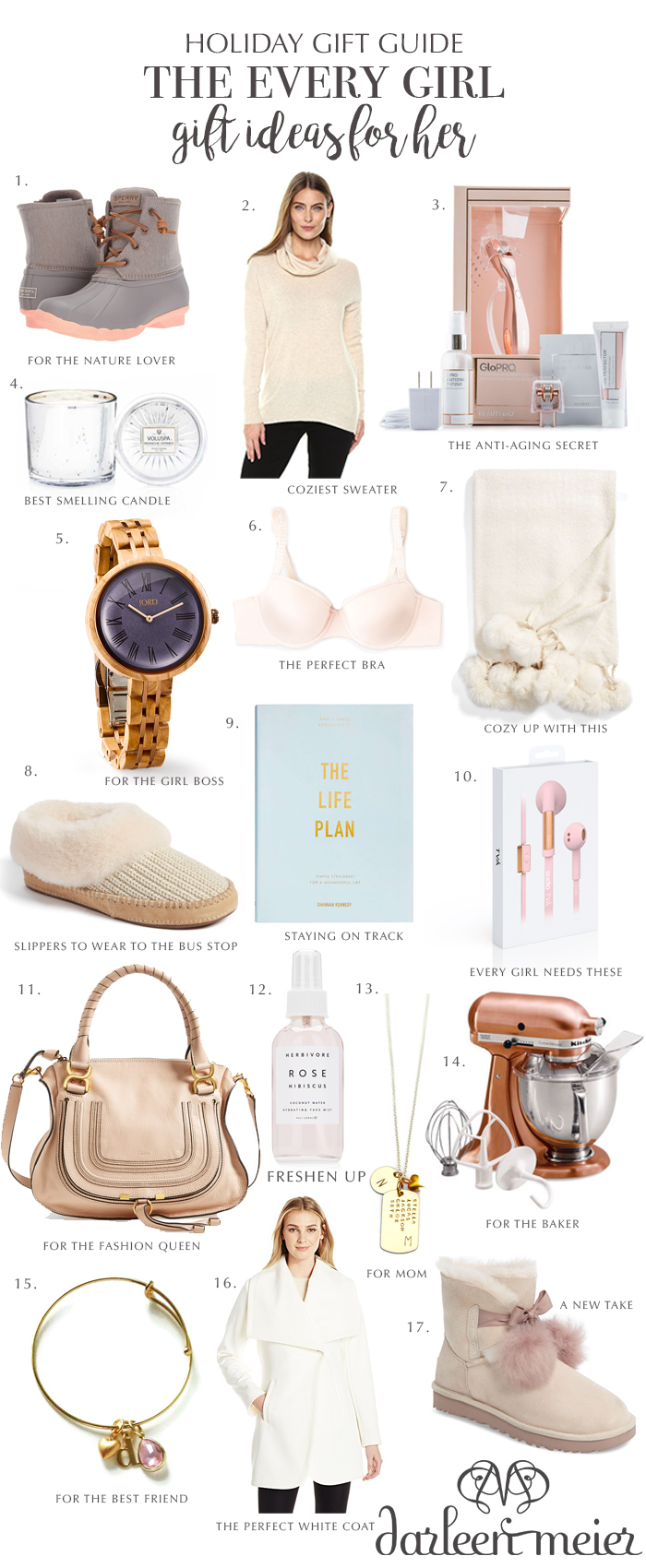 1 | 2 | 3 | 4 | 5 | 6 | 7 | 8 | 9 | 10 | 11 | 12 | 13 | 14 | 15 | 16 | 17
A few gift ideas from this year's 2017 holiday gift guide for her that are my current every day use are the Sudio wireless headphones. These headphones have amazing sound quality, and you really can gift these to anyone and they will love them! Right now they are having a Black Friday sale at 25%, but if you miss the sale use my code DARLEEN15 for 15% off. Another gift idea listed that I use every day is the Personalized Dog Tag necklace from my shop. Hand stamped with my kids and husband's names, it holds dear to my heart and wears well with so many different outfits. And the favorite gift idea that I've been using quite a bit, now that the weather is cooler, is the Lark & Ro white coat. Stylish and well made, this coat is flattering on all body types and wears well dressed up with a cocktail dress or dressed down with a pair of jeans and booties. If you're looking for a beautiful watch, my friend recommended Omega watches, she says they are just fabulous, if you're interested buy Omega here.