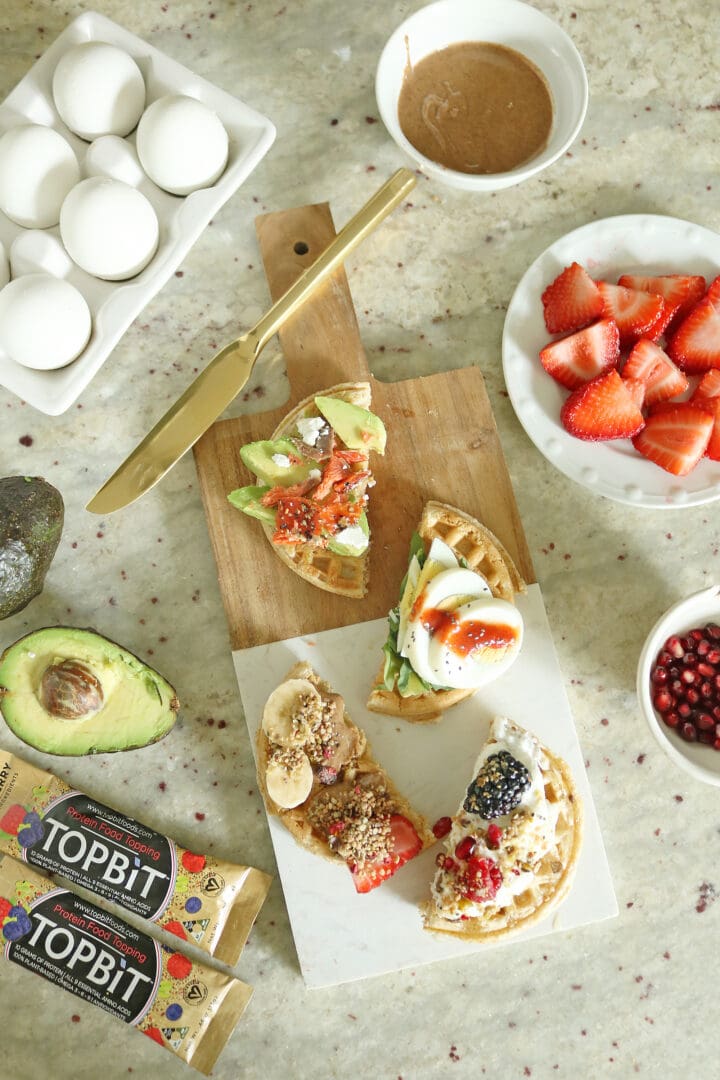 Quick Breakfast Ideas On the Go:  Waffle Edition
Morning time is always crazy busy in most "Mom" lives.  Getting children off to school, cleaning up morning breakfast mess, heading off to work, running errands–whatever it may be, Mom's needs seem to always come second to none and the thought of eating breakfast is simply not possible.  I have learned through the years, though, that breakfast is a must to keep me going in the morning and to a start for healthy eating throughout the day.  But I need quick breakfast ideas on the go that are healthy and hearty filled with good carbs, protein and low on sugar. Lately I have been addicted to starting out with a waffle base and topping it with different proteins and fruits.  I heat up the waffle, top it and eat it on the go.  It's perfect, tasty and keeps me full all morning long.  I'm sharing below my favorite healthy waffle recipe at the end of the post along with my favorite waffle toppings.  The waffle and toppings is a fun quick breakfast ideas on the go!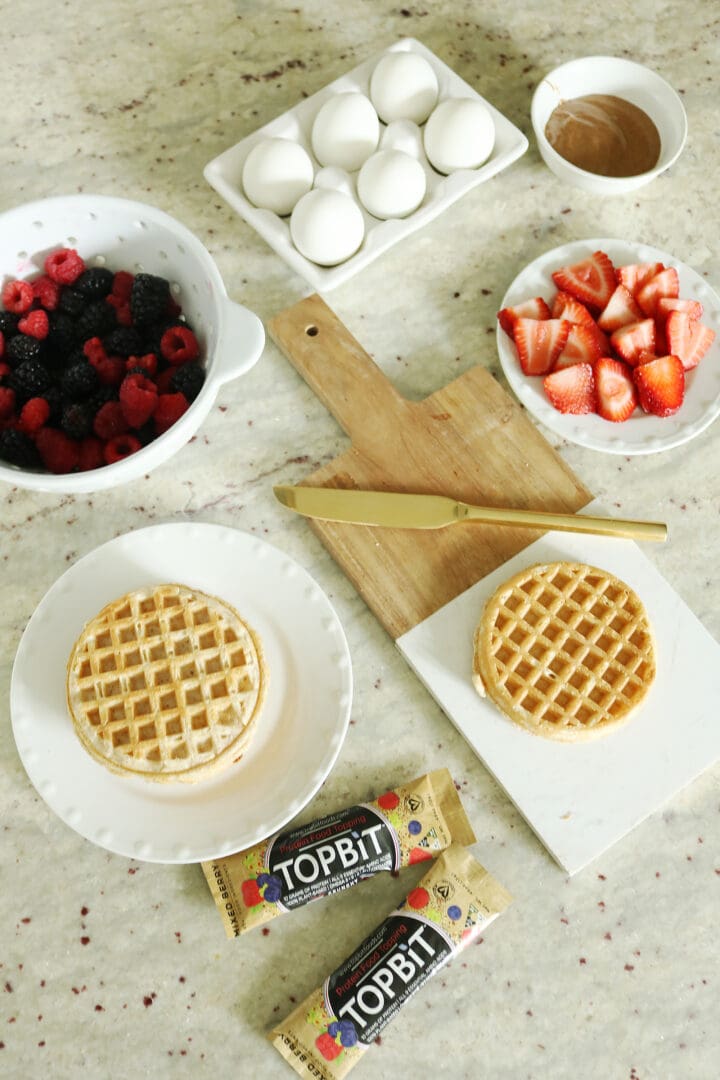 Start with a plain whole grain waffle.  Keep it healthy and low on carbs and no sugar.  Get my favorite healthy waffle recipe below or use my favorite healthy waffle mix.  I like to make a huge batch at the beginning of the week and then save them in the freezer.  Then I pull them out and pop them in the toaster while I am getting children ready for school.  My waffle recipe is approved for most low carb diet plans.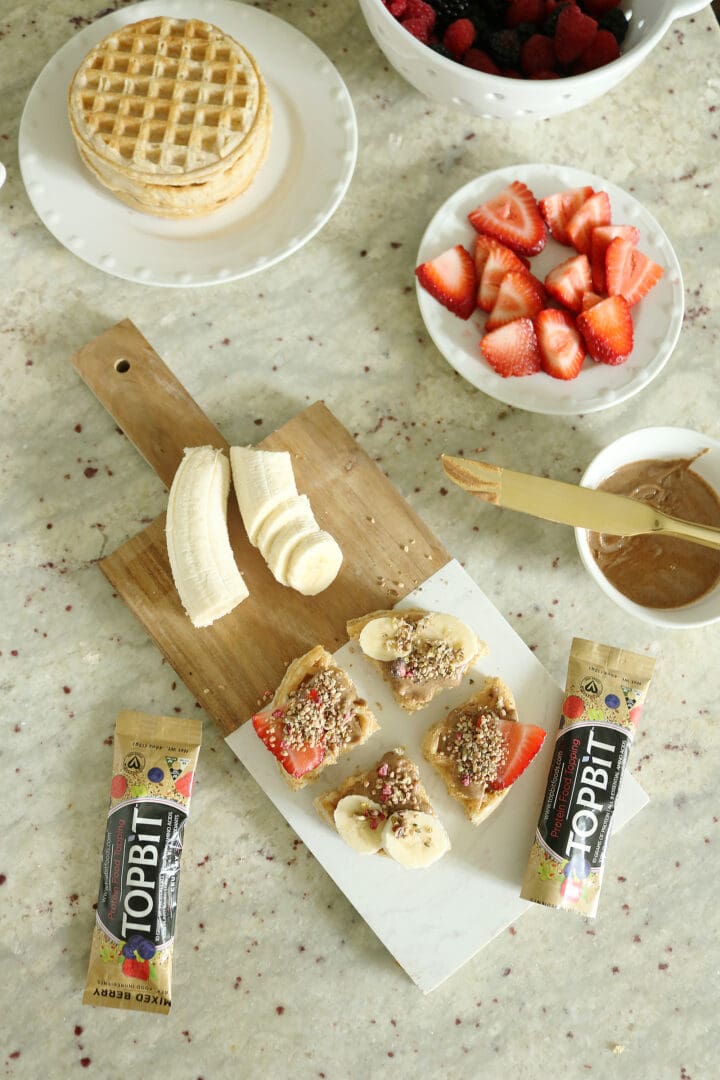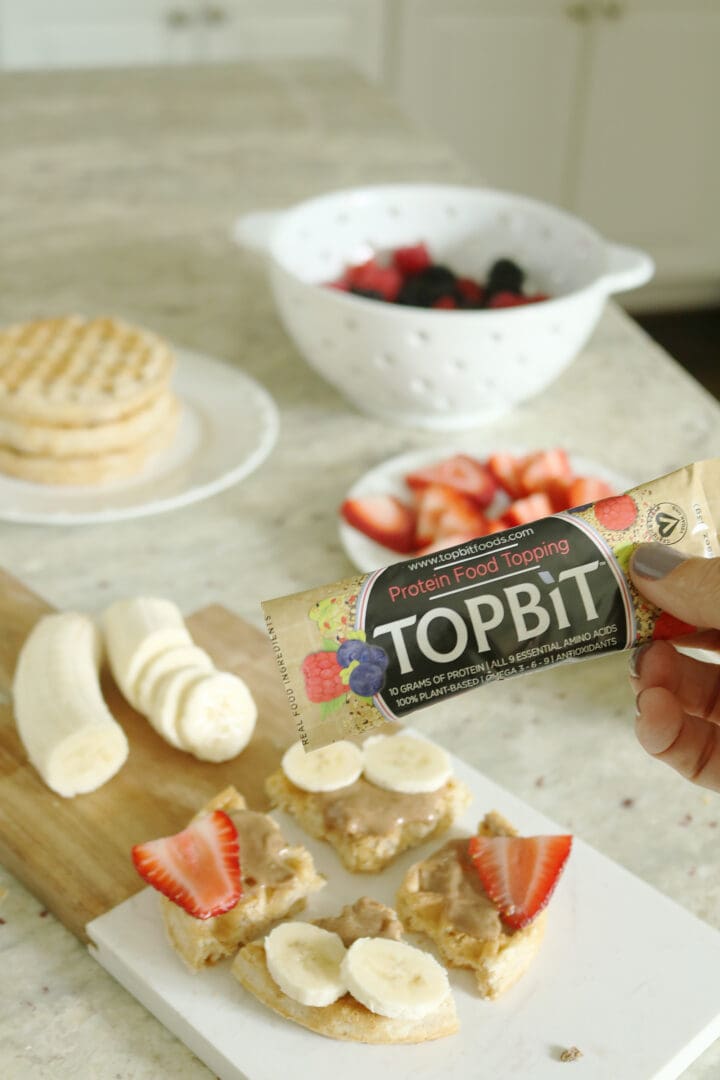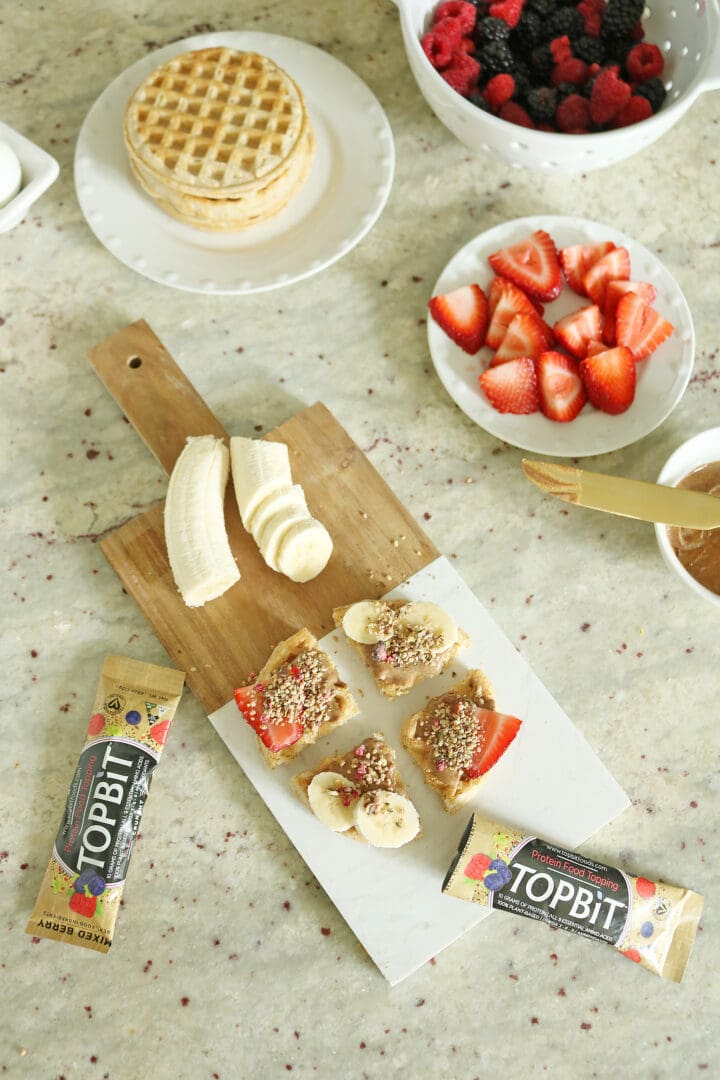 Waffle combination: raw almond butter, sliced bananas and strawberries, sprinkled with TopBit Mixed Berry
This combination of raw almond butter, sliced bananas and strawberries and topped with TopBit mixed berry protein food topping is one of my favorites, and I probably eat it at least once a week.  I just recently discovered TopBit and am in love with the product.  It's real food protein topping, which is perfect if you are one who like to have a balance meal of high protein, low carbs.  That is me!  TopBit has at least 10 grams of plant-based protein and filled with essential amino acids, omega 3-6-9 and antioxidants.  I am in love with it especially since it comes in mixed berry and even a savory herb, which is great to use on savory dishes!  TopBit mixed berry protein is made with organic hemp seed, lentils, organic brown rice protein, organic flax seed, organic chia seed, to name a few along with dried berries.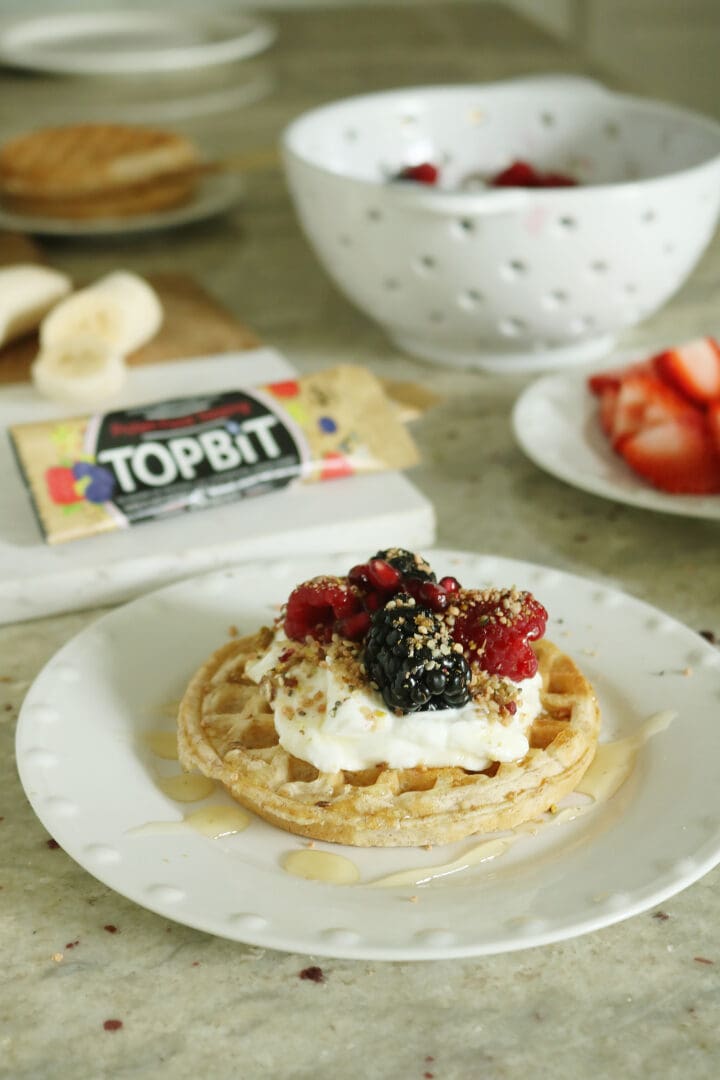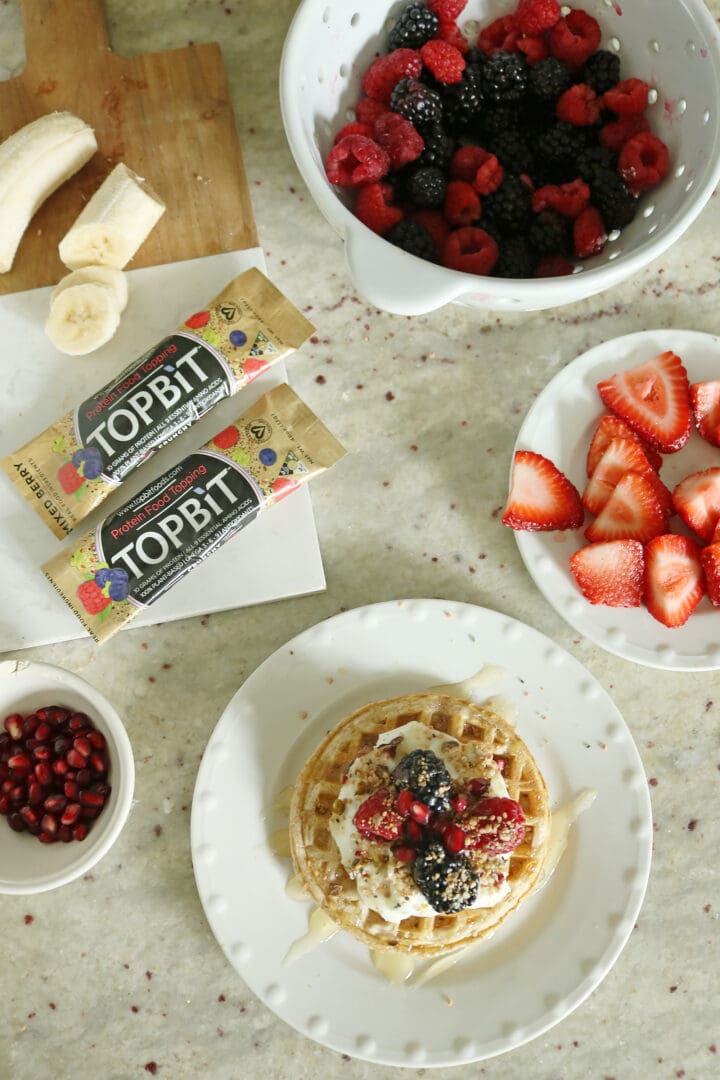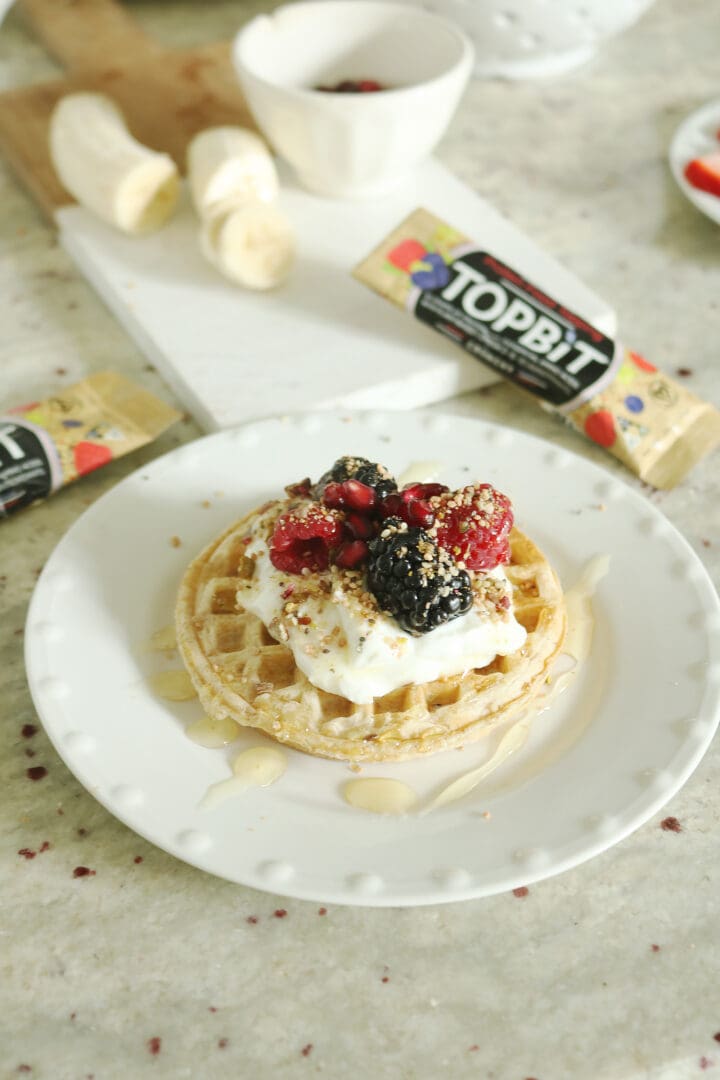 2. Waffle Combination: nonfat plain greek yogurt, fresh berries, sprinkled with TopBit Mixed Berry protein food topping, drizzled with raw honey
If you have a sweet tooth, this will satisfy your craving.  I love this combo even when it's not breakfast.  Honestly I usually like to have this as an afternoon snack then breakfast because it is so yummy and filling!  The TopBit food topping completes the waffle topping from low carb to protein and gives the yogurt a yummy kick.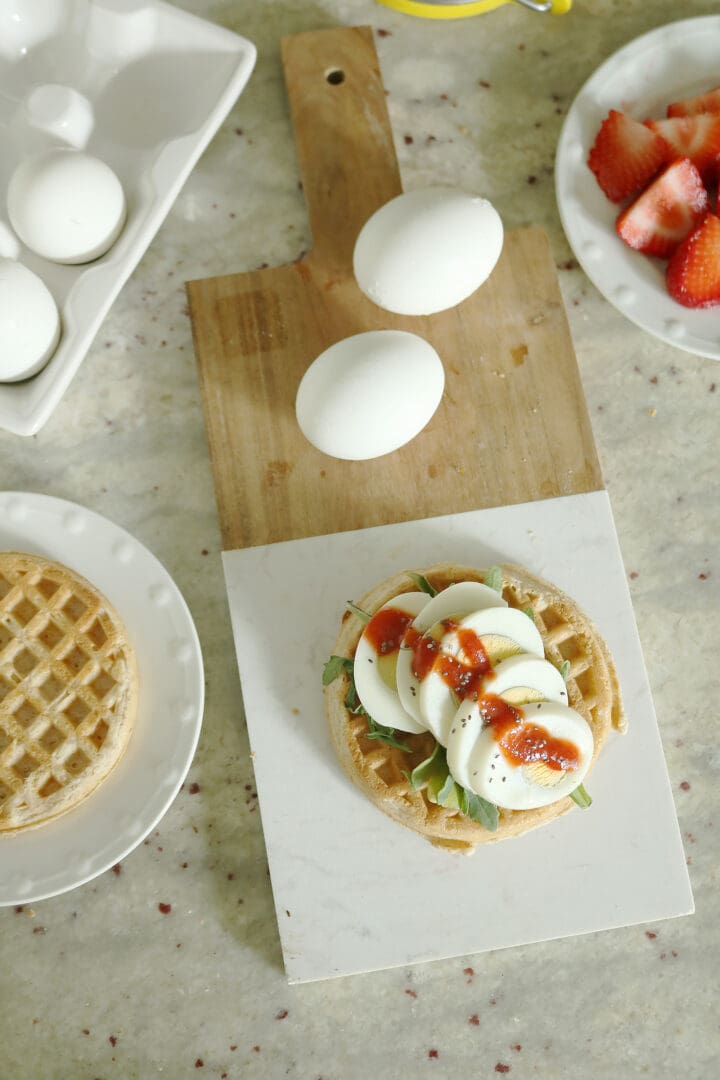 3.  Waffle combination: arugula or spinach, sliced hard boiled egg, drizzled on sriracha, sprinkle TopBit savory herb protein food topping
If you are looking for a quick breakfast idea on the go that is filling but with a kick of flavor, this waffle combination satisfy the savory tooth and is very nutritious!  The Sriracha sauce adds heat and flavor, but the TopBit savory herb topping balances it all out.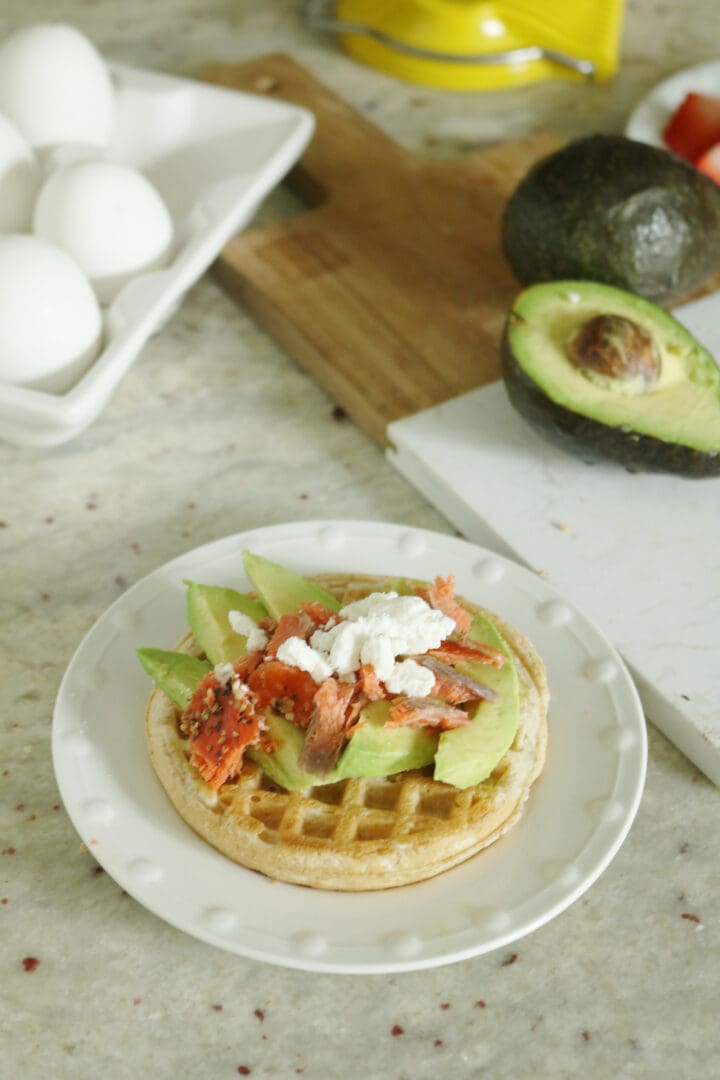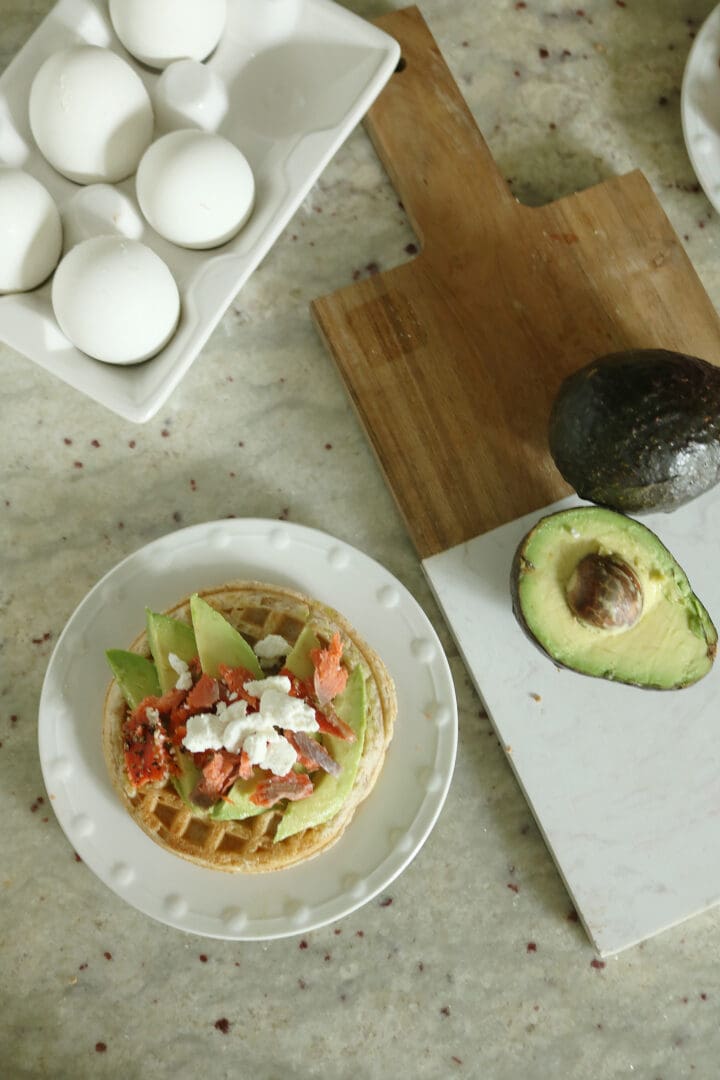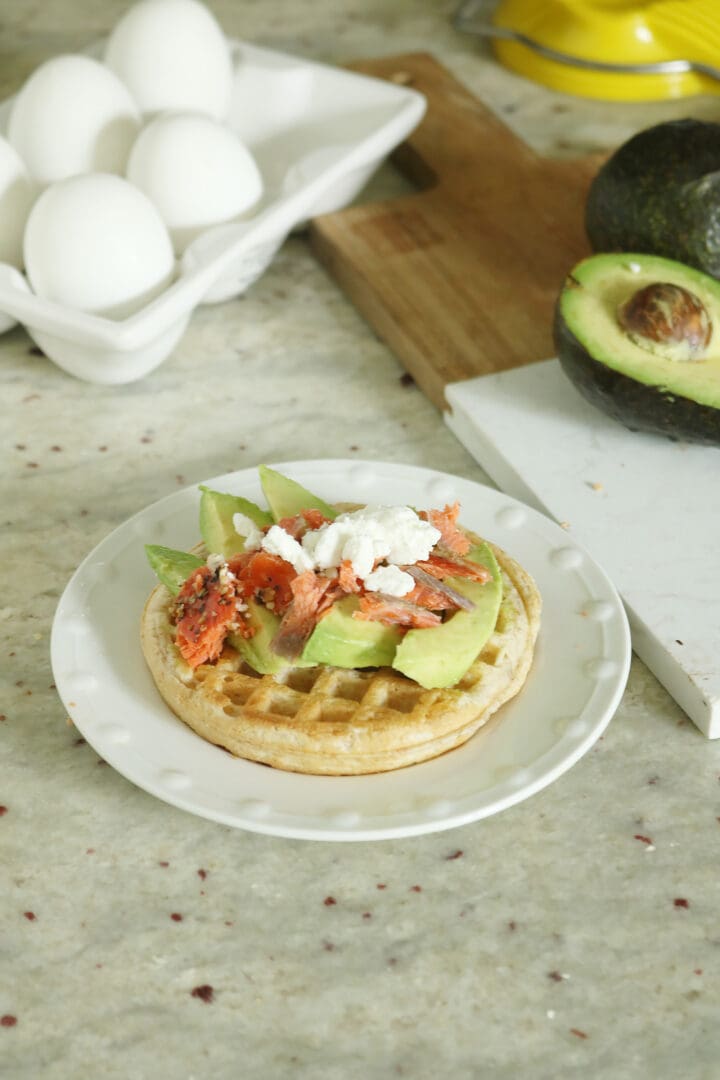 4. Waffle combination: smoked salmon, avocado slices, goat cheese, TopBit savory herb protein topping
We eat a lot of salmon in the house and my kids love smoked salmon.  I start the base of the waffle with avocado slices then sprinkle a little smoked salmon on it and finish it off with the protein topping.  So yummy and filling!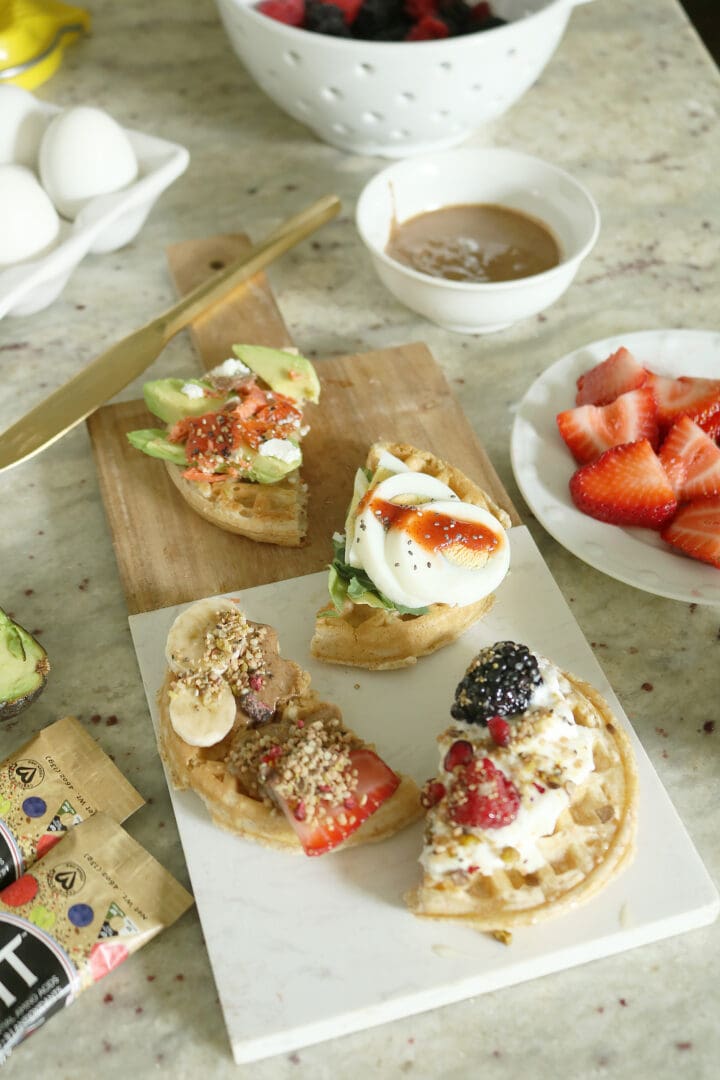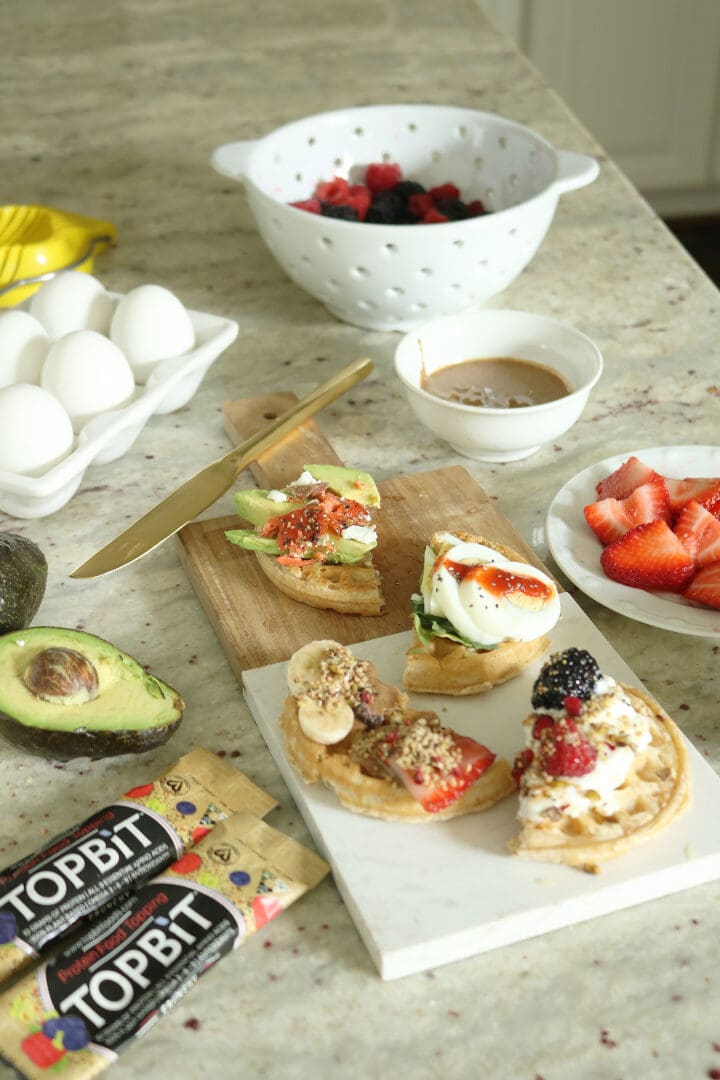 How yummy does these quick breakfast ideas on the go: waffle edition look ?  Mouth watering!  Who knew you could do so much with a waffle.  Below is my protein packed waffle recipe:
Low-Carb Waffle Recipe:
(Single Serving)
3 egg whites
1/2 cup oats or oat flour (almond flour works good also)
1/2 tsp of baking powder
1/4 cup cashew milk or almond milk
1 tsp of coconut oil
cinnamon to taste
stevia to taste
Mix everything together in a blender. Then pour in a hot waffle maker.  Enjoy!  Add mashed bananas or puree pumpkin for added flavor.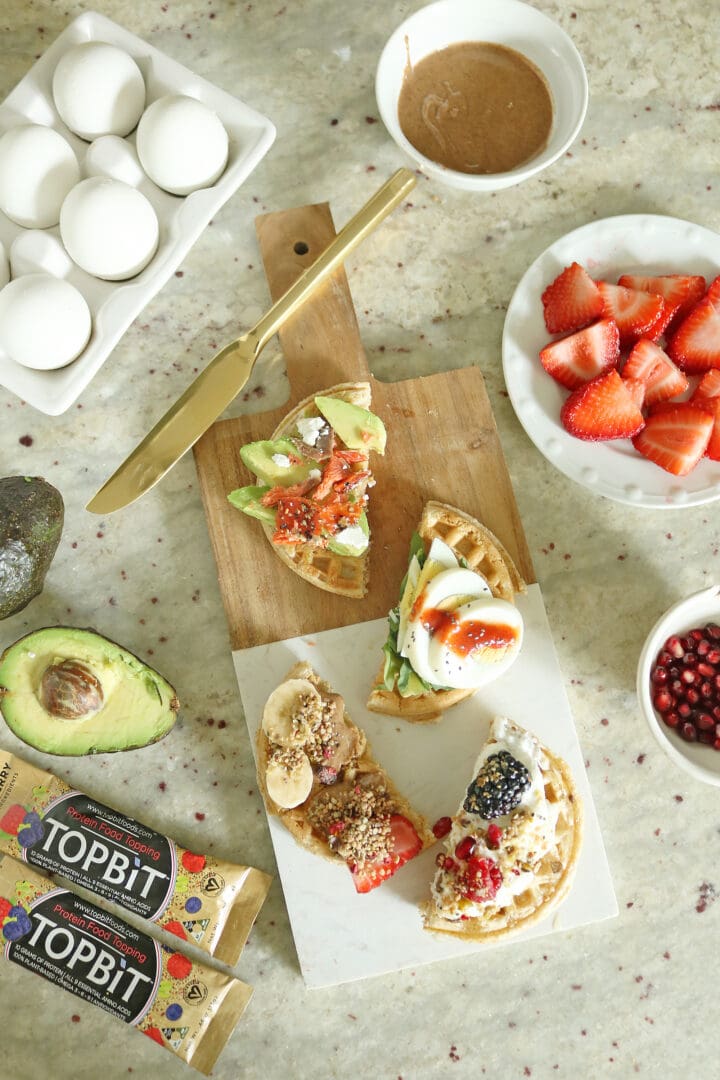 Thank you TopBit Protein Food Topping for sponsoring this post.  Enjoy free shipping on all orders and enter promo code : TOPBIT15 to receive 15% off your purchase.
SHOP the POST:
SaveSaveSaveSave
SaveSave