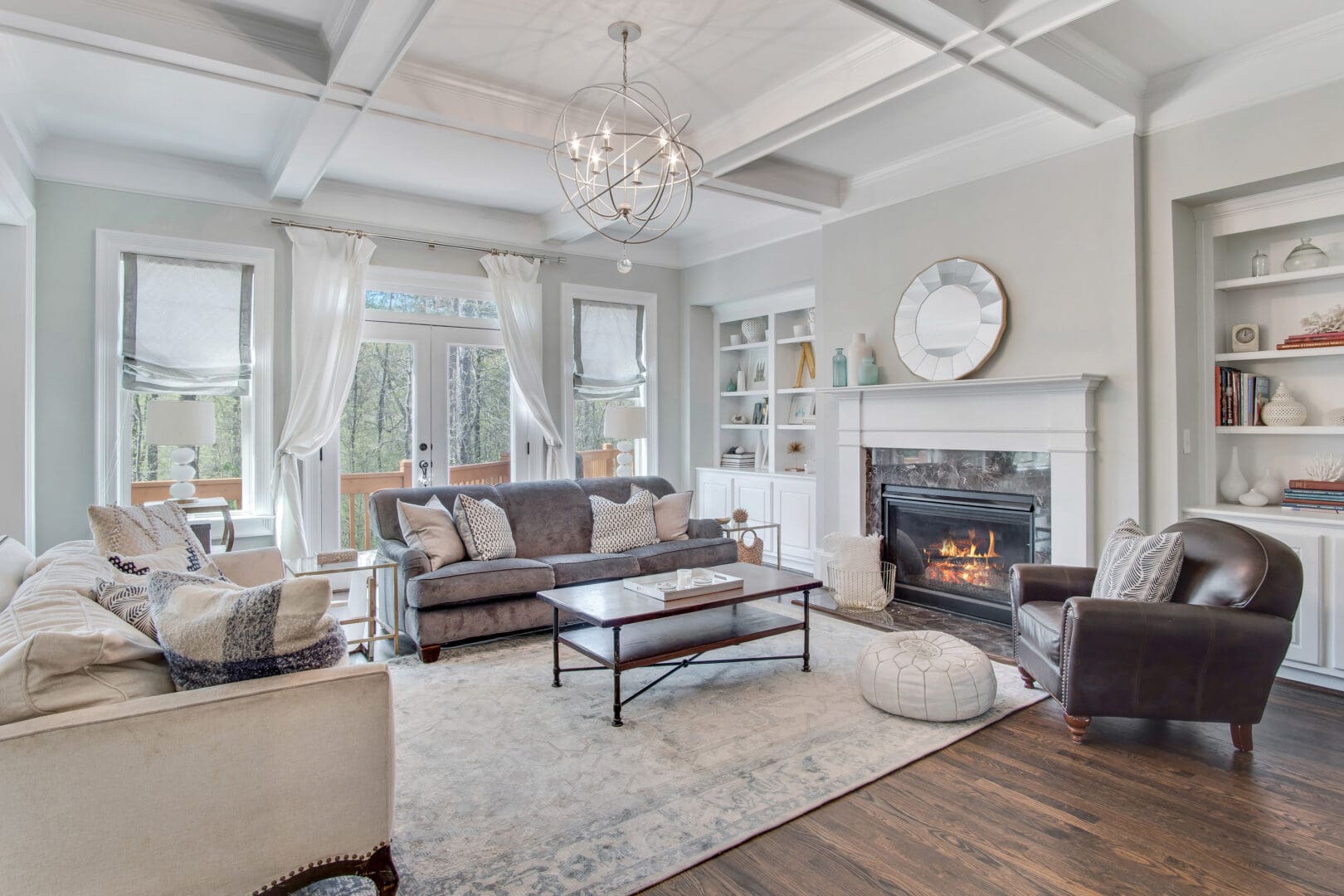 My Georgia Home Tour
This summer has been a whirlwind of moving, traveling then moving again. I can't believe how quickly summer has flown but also how much it has dragged on and on. Moving took a lot out of me if I am going to be honest. I never thought it was going to be easy, but this was something else. I'm glad this is all sorted now. A friend of mine is currently in the moving process to a house near little lake, so I thought I would give her some advice, to help make the move a lot easier. Moving is exciting but there are so many different things that need to be considered. As she basically lives on the other side of the world, I was doing some research and recommended she looked into something like ConveyOnline service these suburbs, just so she knows that when it comes to the legal documentation of moving, she doesn't have to do this alone. It is always great to know that there is someone out there willing to give you a helping hand, especially from people who know what they are doing. This was a really good tip that someone gave me, so now I feel I should offer it to anyone who needs help when it comes to moving. Anyway, we have been unpacking our new house in Connecticut. I finally have my computer up, wifi and a little spot in my new office to work. But everything is still a complete mess, and we are still mostly in boxes, which makes me nostalgia for my home life in Georgia. Moving is the worst on so many levels! One tip I would give if you are moving house, is to make a list of your new local emergency contacts just in case, for example, if you're moving to Perth you might need a locksmith in Bentley quickly. So since I'm in this sentimental stage I thought I need to give you my Georgia home tour since I haven't really given the grand tour, just bits and pieces of rooms. I will say when we bought the house six years ago it was not a house I really liked. The whole house was painted yellow inside and there was a lot of brown. Very southern especially with it's sweeping staircase. But slowly I made it my own. Just before we put it on the market I really loved the home, and we created so many wonderful memories there. We lived right outside Atlanta and had the convenience of a big city but our neighborhood backed up to a little river and a private nature preserve with walking trails. We felt like we had our own little forest in our backyard. I'm excited to give you my Georgia home tour: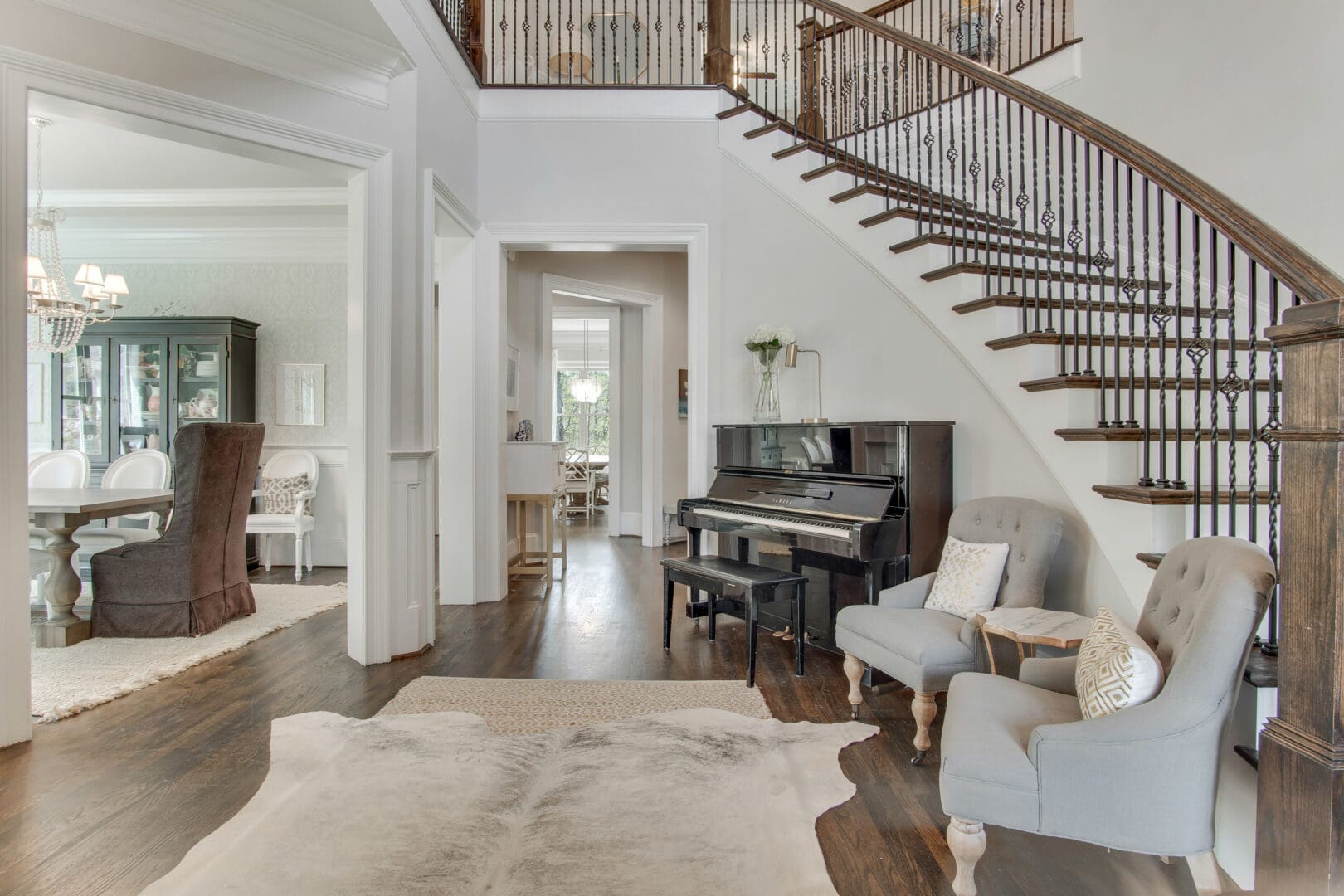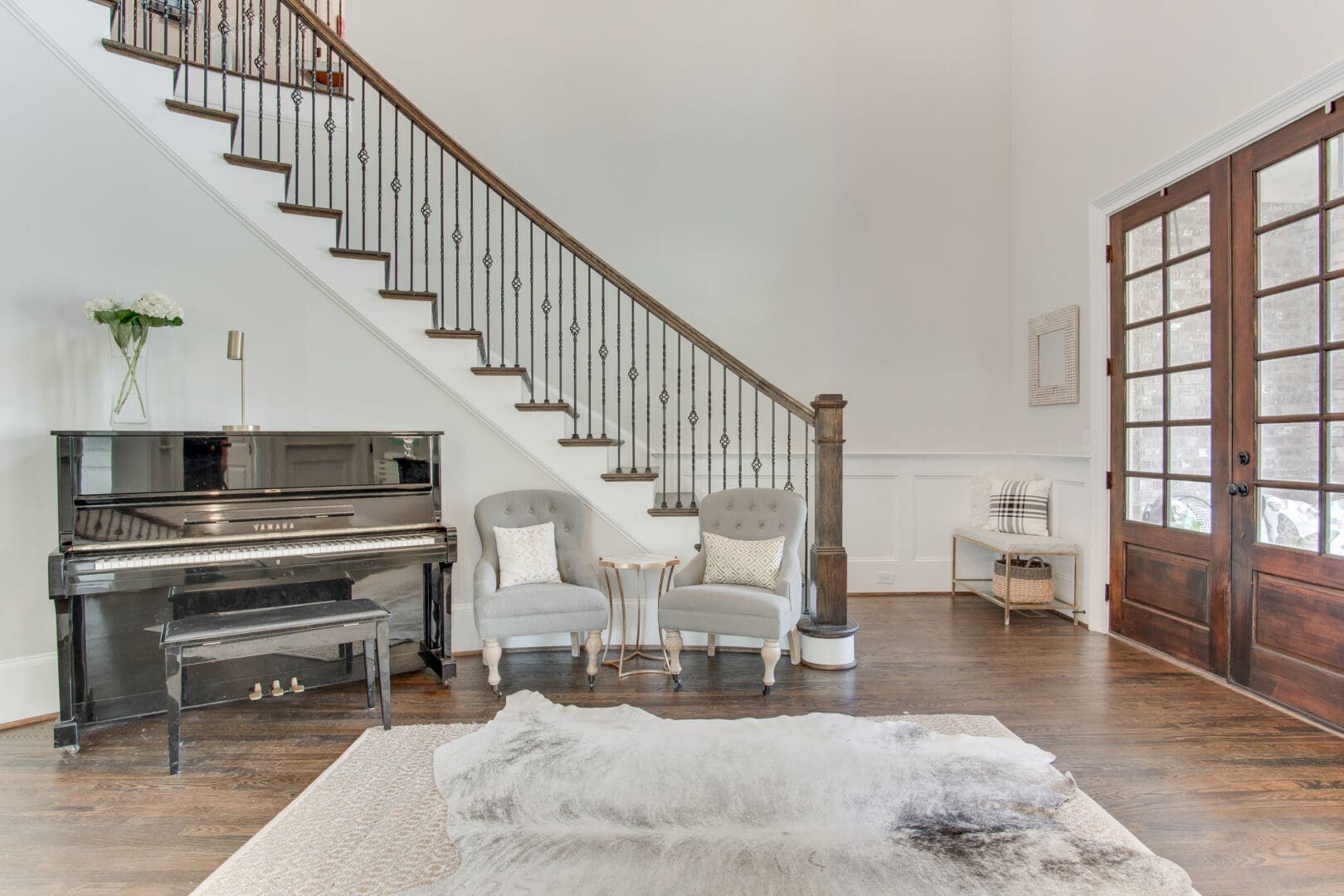 Entry Way
The entry way was the selling feature of the home with its grand curved stair case and two story ceilings. I always felt a little embarrassed by its grandiose entrance especially when friends came over but I tried to keep it minimal and welcoming with seating and a basic cow hide rug (which is the best rug for a lot of foot traffic!). I made the DIY entry metal bench, which had storage for shoes and a place where guests could place their bag. Having the piano in the entry way was such a great idea because every time my kids walked past it, which was multiple times a day, they would sit down to play it.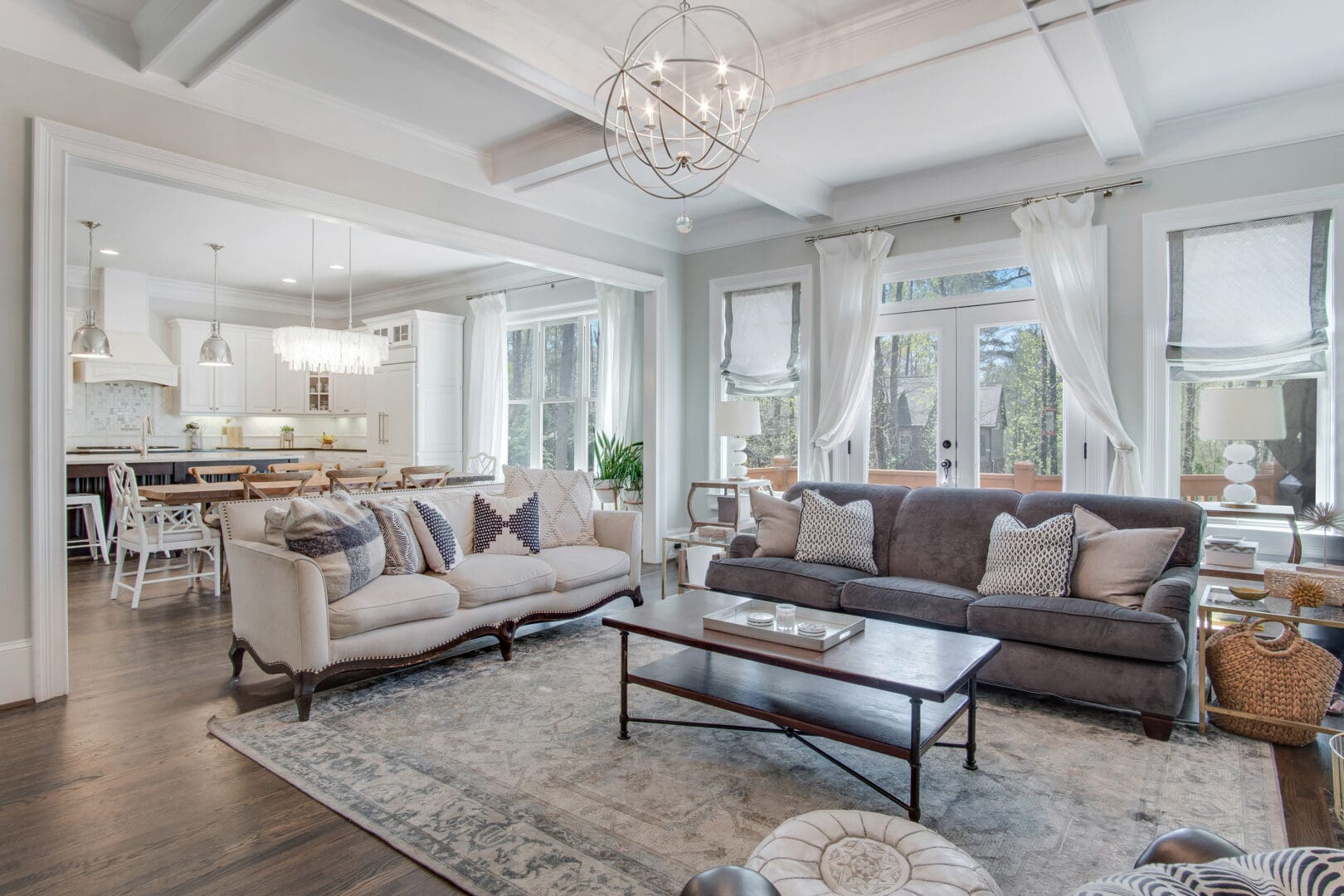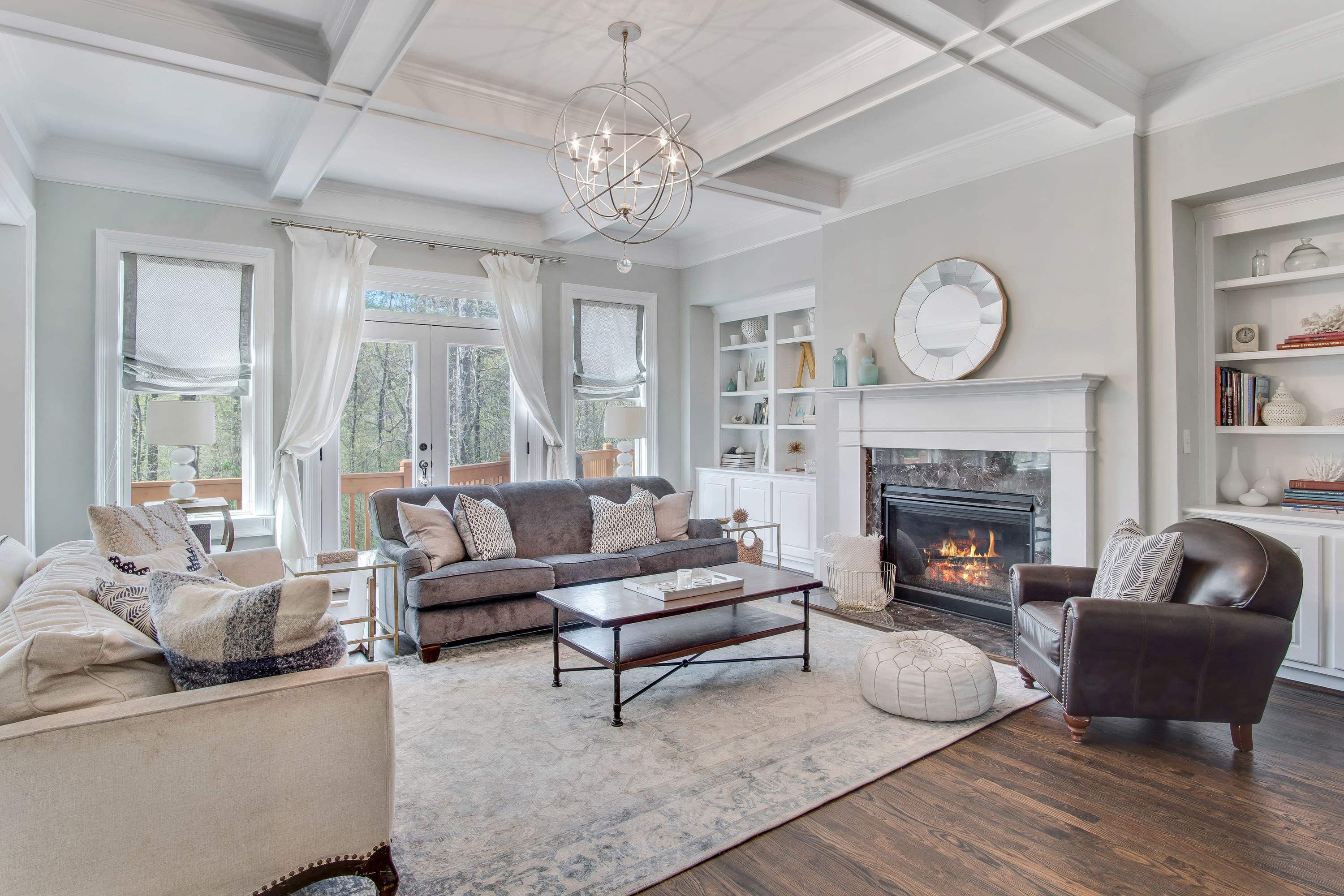 Family Room/Great Room
This was the room where the family hang out most of the time. We watched TV here, played board games, held parties. I really loved how the great room opened up to the kitchen area. These two rooms were our favorites and are missed the most. I pulled all the wooden blinds down and added curtains and made the roman shades (which I still need to do a how-to post). We had the two sofas reupholstered to the current fabrics. They used to be brown and yellow! We added the orb chandelier. Check out how I styled our built-in bookshelf. And check out how to make your own DIY copper planters and DIY copper blanket ladder.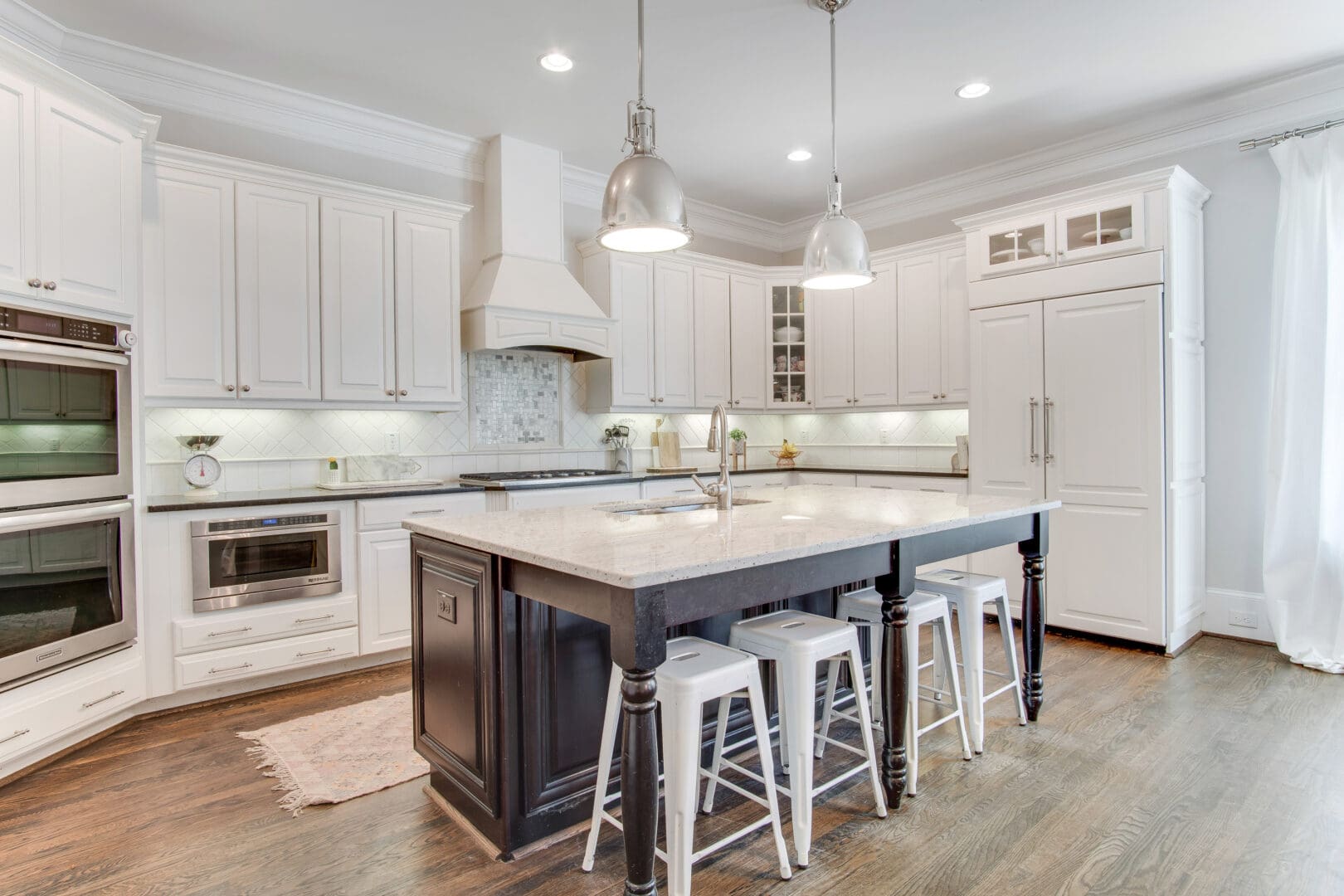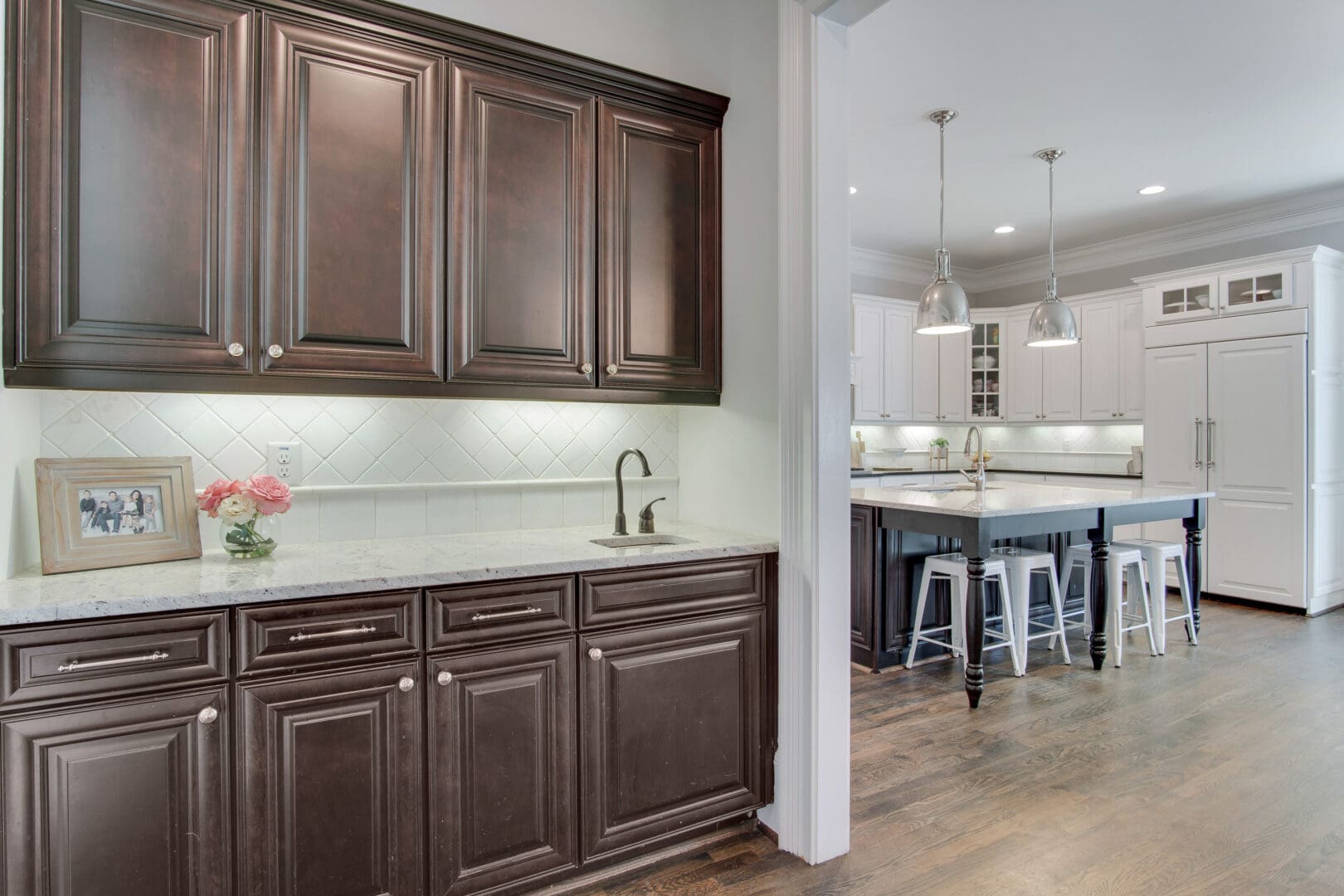 Kitchen
I've posted my kitchen frequently through my social media outlets. My kitchen is your typical white builder-grade kitchen. When we first moved in all the handles were dark brass and there was no pendant lights over the island or chandelier over the kitchen table area. We made those changes pretty fast and it brought beautiful visual interest and was a fairly easy update.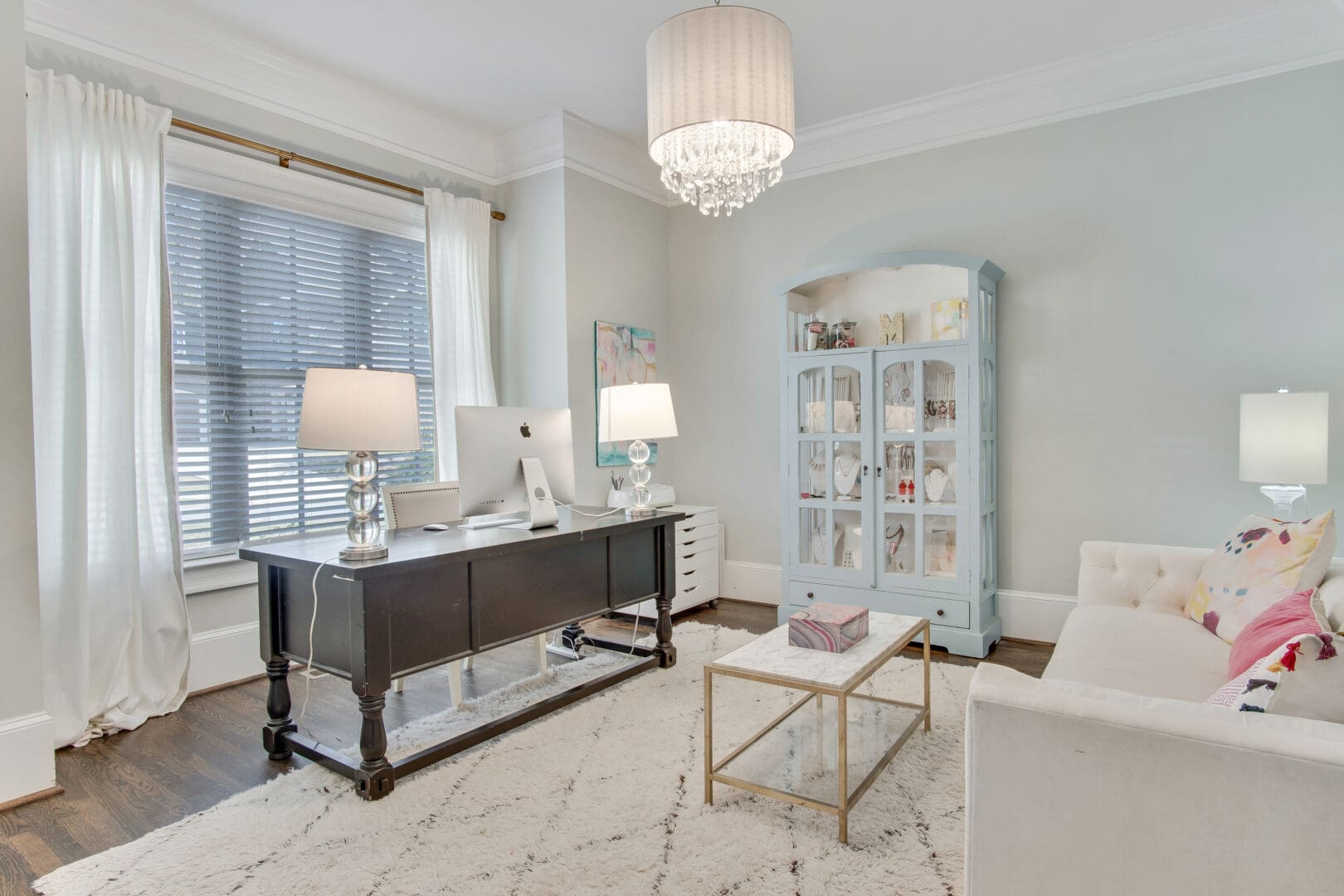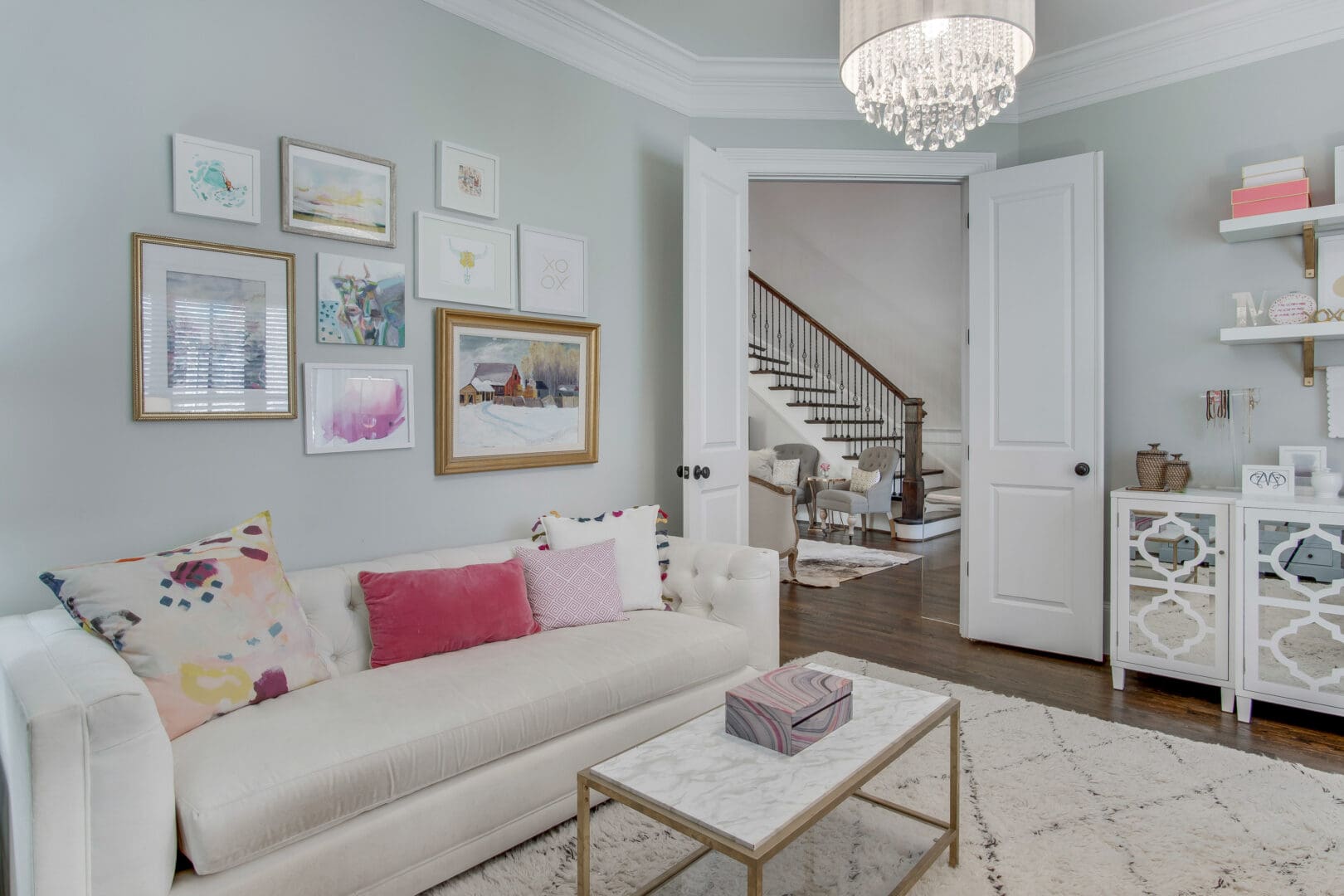 Office
My office is right off the entry way so I wanted it to be another inviting room but also functional for my every day needs. I recently posted all about my office studio and the inspiration behind it along with many more photos! Find out more along with resource guide.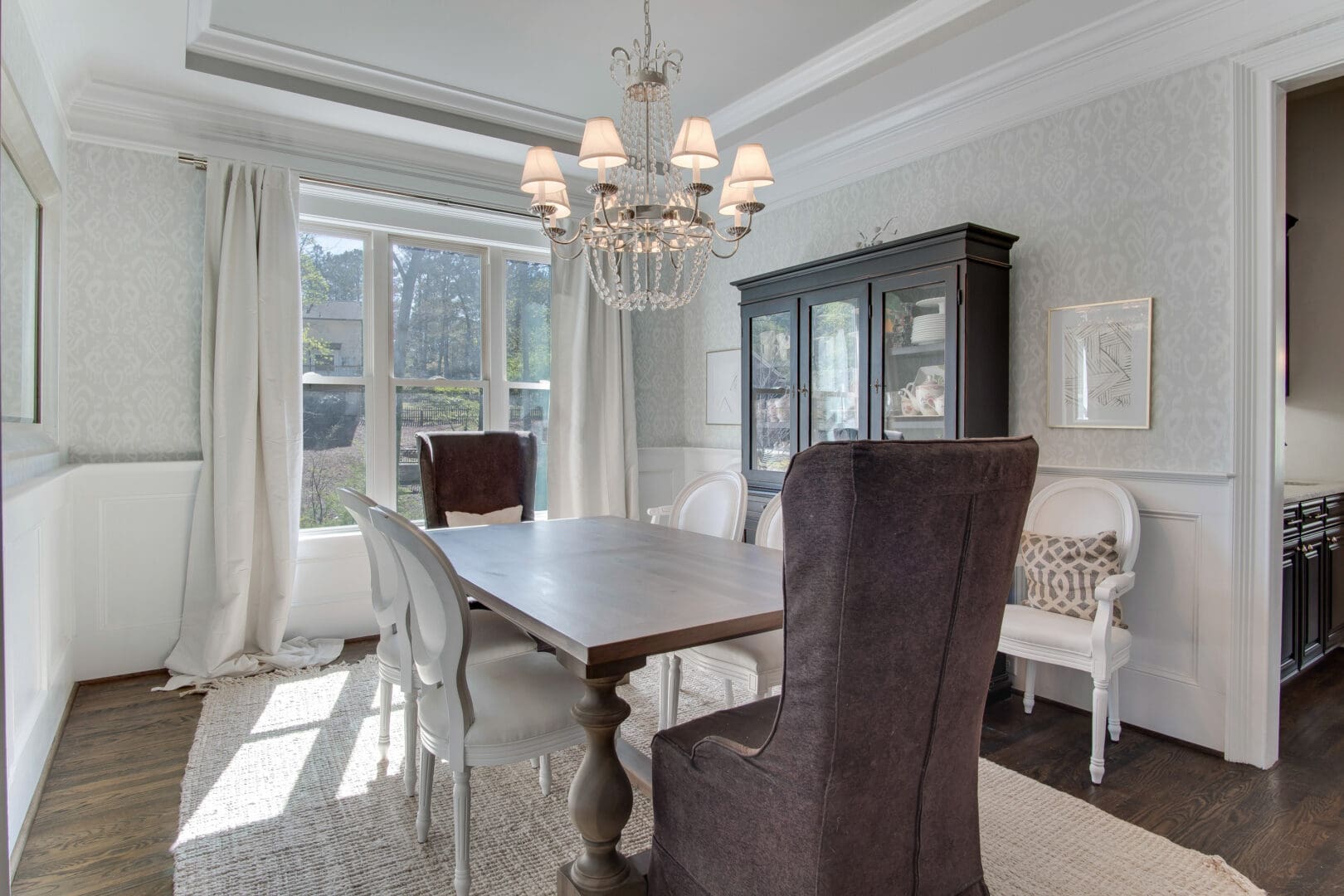 Dining Room
This is the room that gets the best morning light! We added wallpaper to the room to add visual interest. We bought the ikat wall paper at a local wallpaper store and I can't remember what the style or brand! The dining room table is my favorite from Restoration Hardware along with the white pleather chair that have held up so well with children after so many years.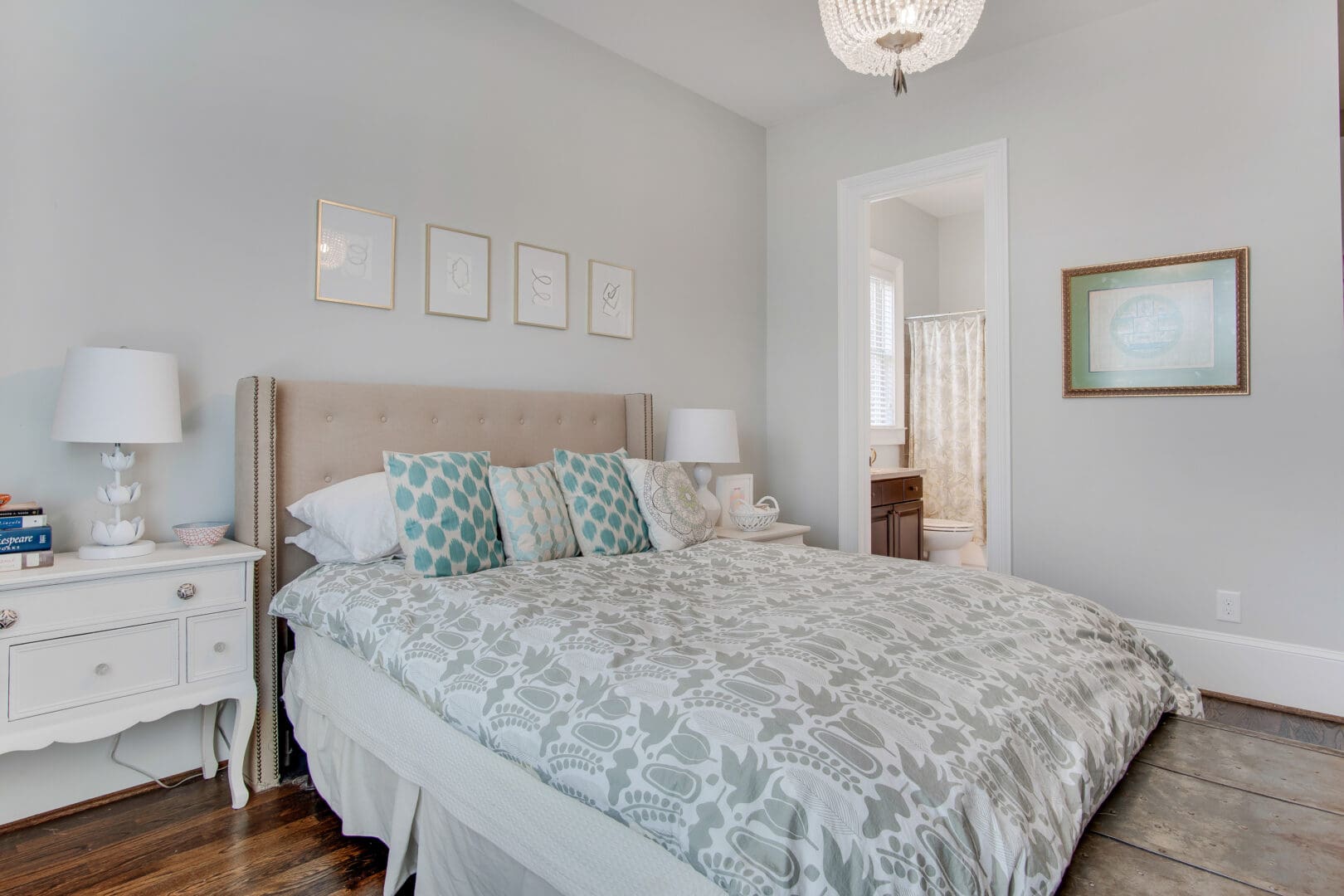 Guest Bedroom
You can read more about my Guest Bedroom, which I posted many of the resources. The gold framed art pictures were an easy watercolor DIY. Our guest bedroom was located on the main level.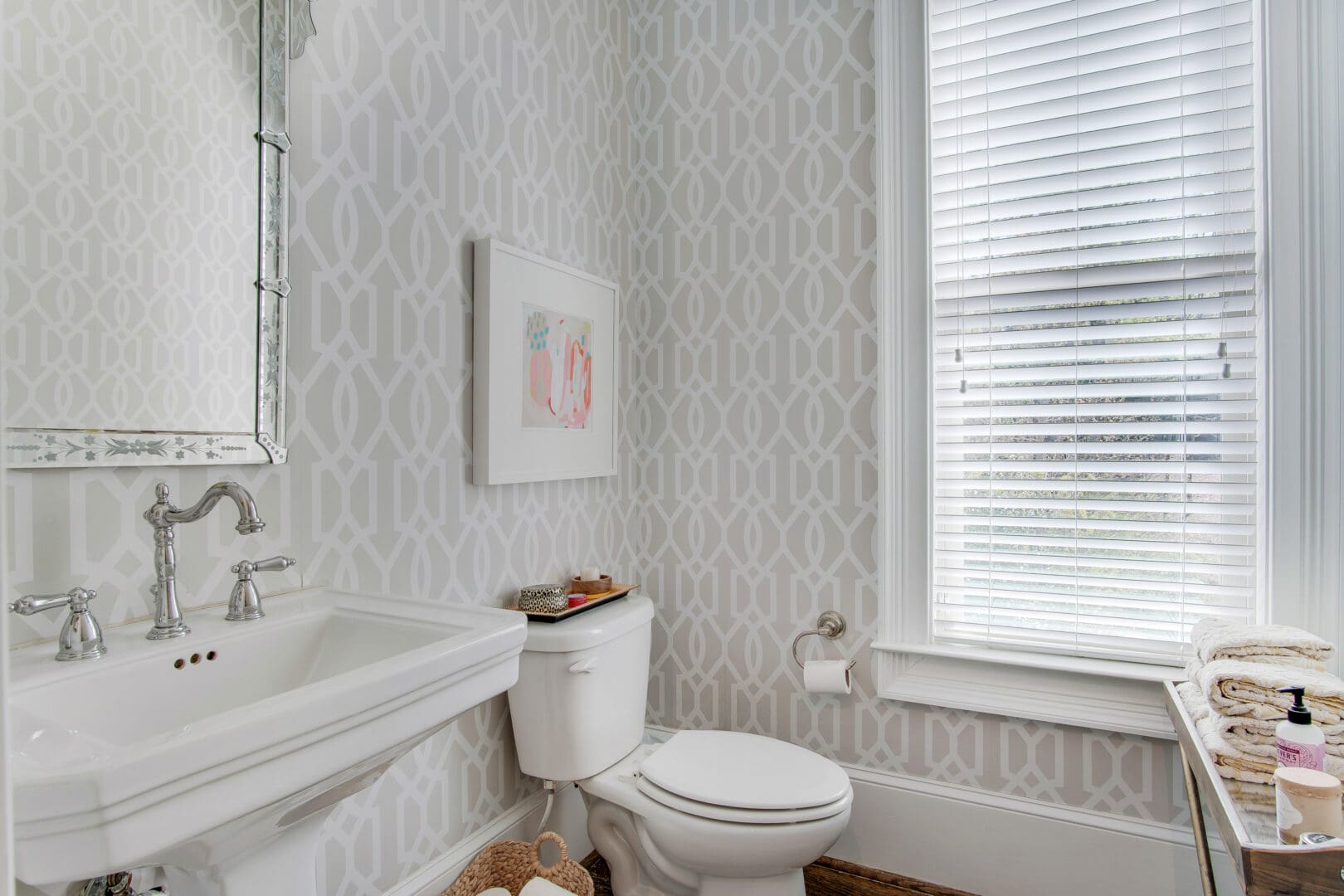 Powder Bathroom
You can see the before and after pictures of our powder bathroom. We wallpapered the entire bathroom and I still love that trellis wallpaper! It's amazing how a few easy updates can drastically change the look of a room even in a bathroom.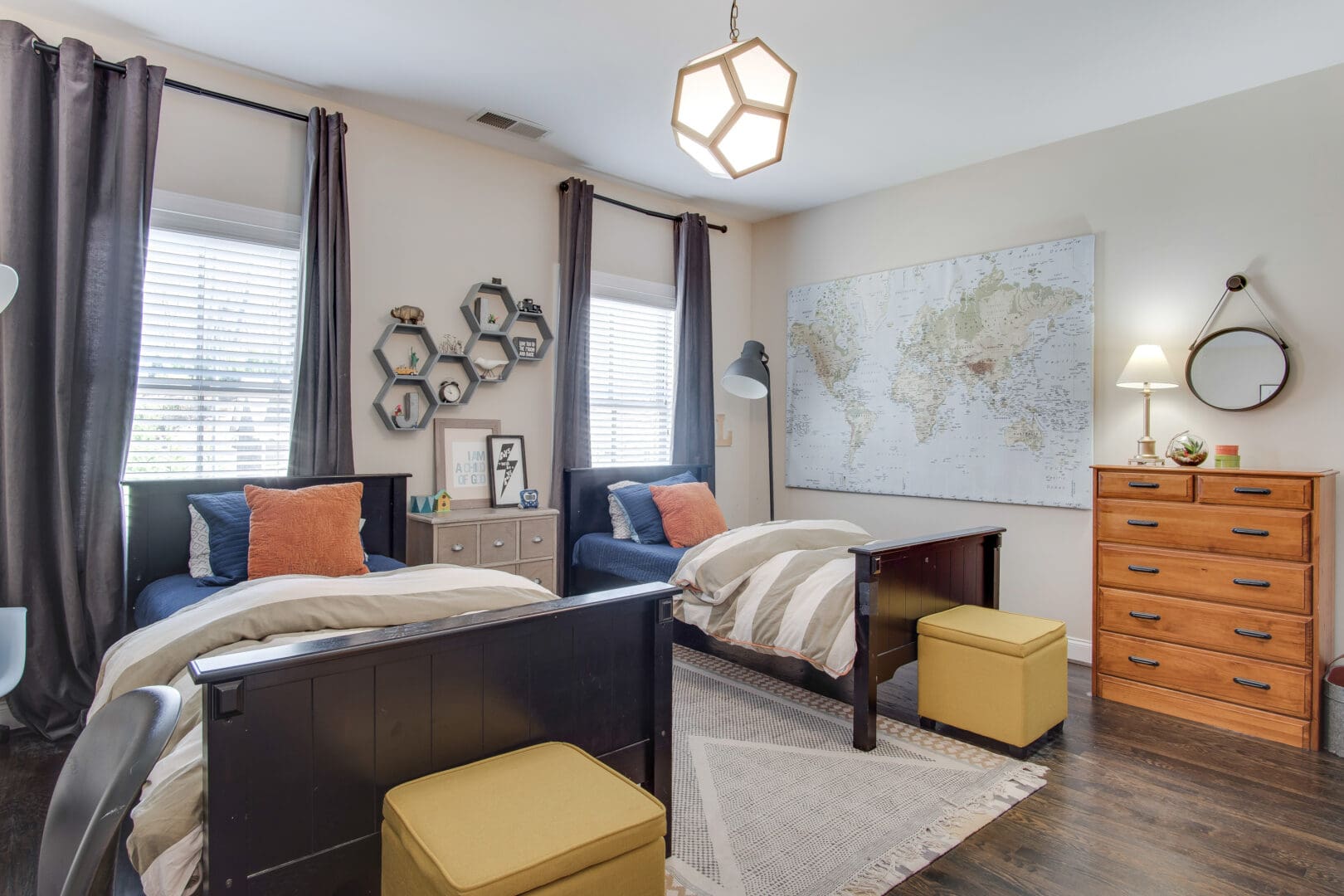 Boy's Bedroom
I just recently posted all about the boy's bedroom. This was a room I ignored for a while! But slowly the room came together. The boys loved this room. The final decorating piece we added was the pendant light, which I was so sad to part with. Such a fun light! Check out all the resources on the original boy's bedroom post.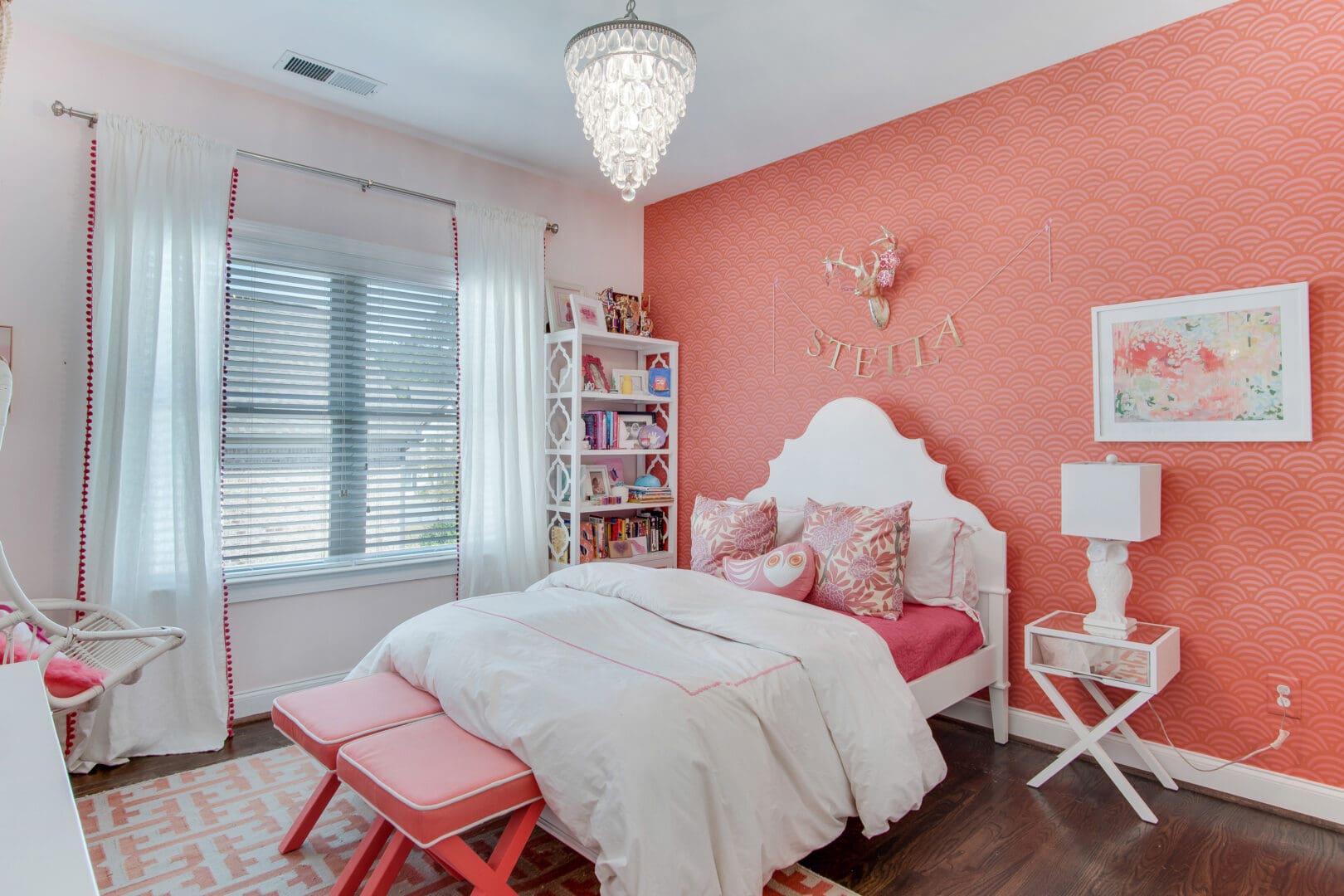 Girl's Tween Bedroom
Another favorite room that we are sad to part with or at least the wallpaper! We still are so obsessed with that wallpaper and it's been over 5 years! This was a room I quickly put together shortly after moving into the house. You can find all the resources and additional photos on the original girl's tween bedroom post!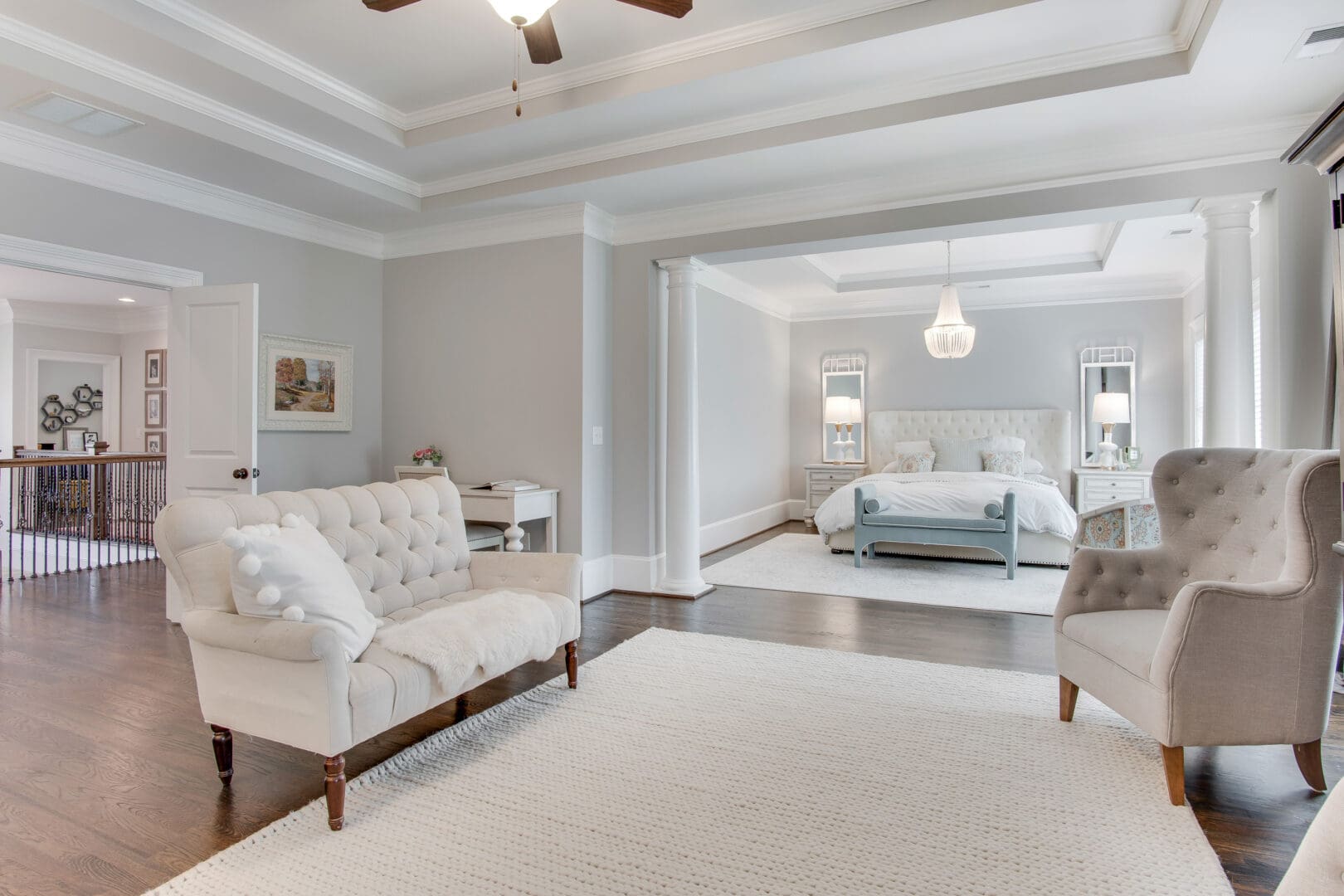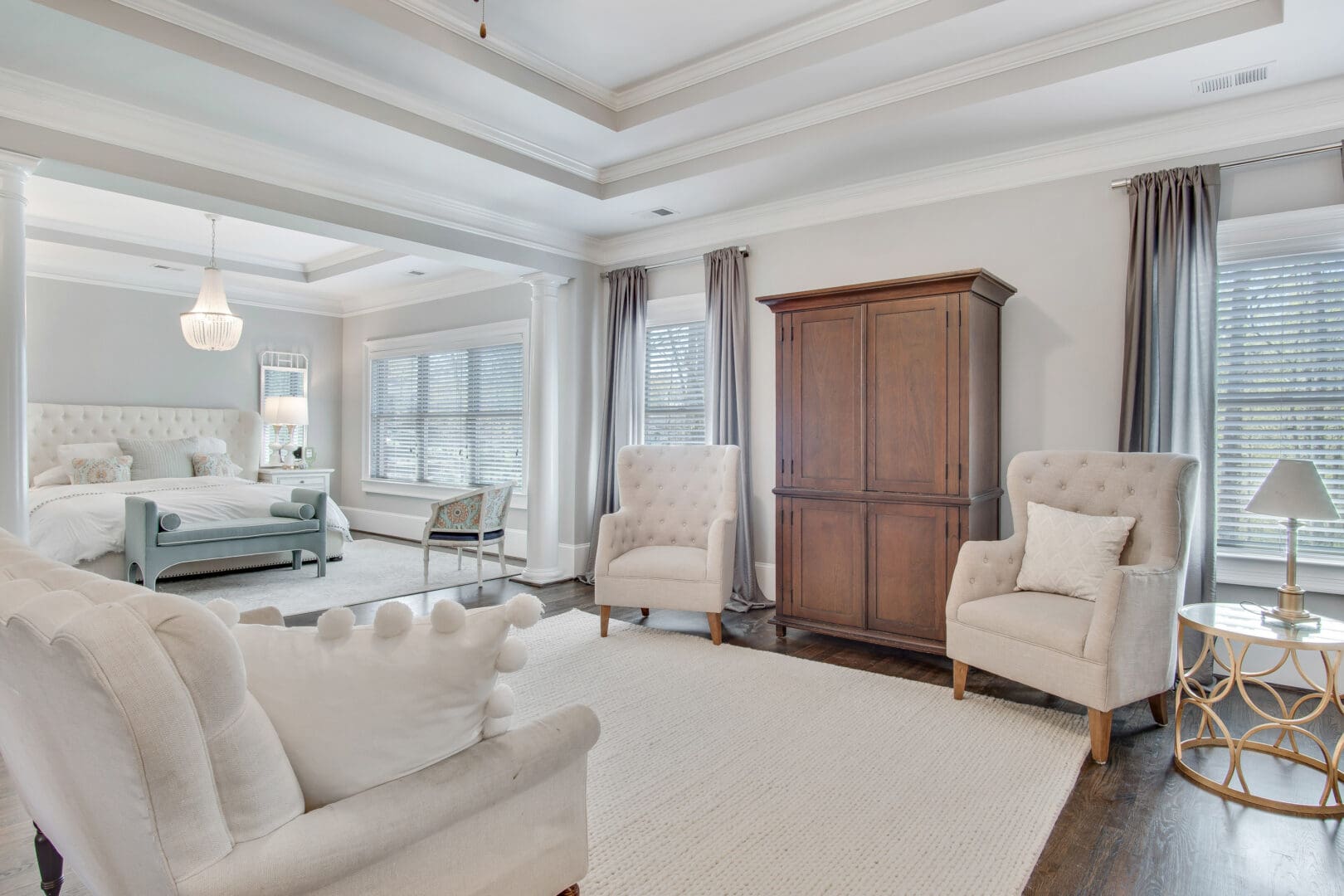 Master Bedroom
Okay our master bedroom was the VERY last room…or two that we furnished, partially because it was so large and needed a lot of furniture. I did a few DIYs in the room like our dresser (which isn't pictured) but you can see the before and after of the dresser. Also I lacquered the two tall bamboo mirrors that are beside the bed. The little tub chair was a garage sale find that I reupholstered. I should of done a little more posting on that cute chair because I love it and love how it came out with the complementing solid and print fabrics! You can, however, see the before pictures of the chair. The two tall lamps was a flea market found that my friend found for me. I lacquered the middle section white and then spray painted the bottom and top gold and replaced the shades for new ones. I really wanted to do a few more things to this bedroom so I wouldn't say it was completed but close to it!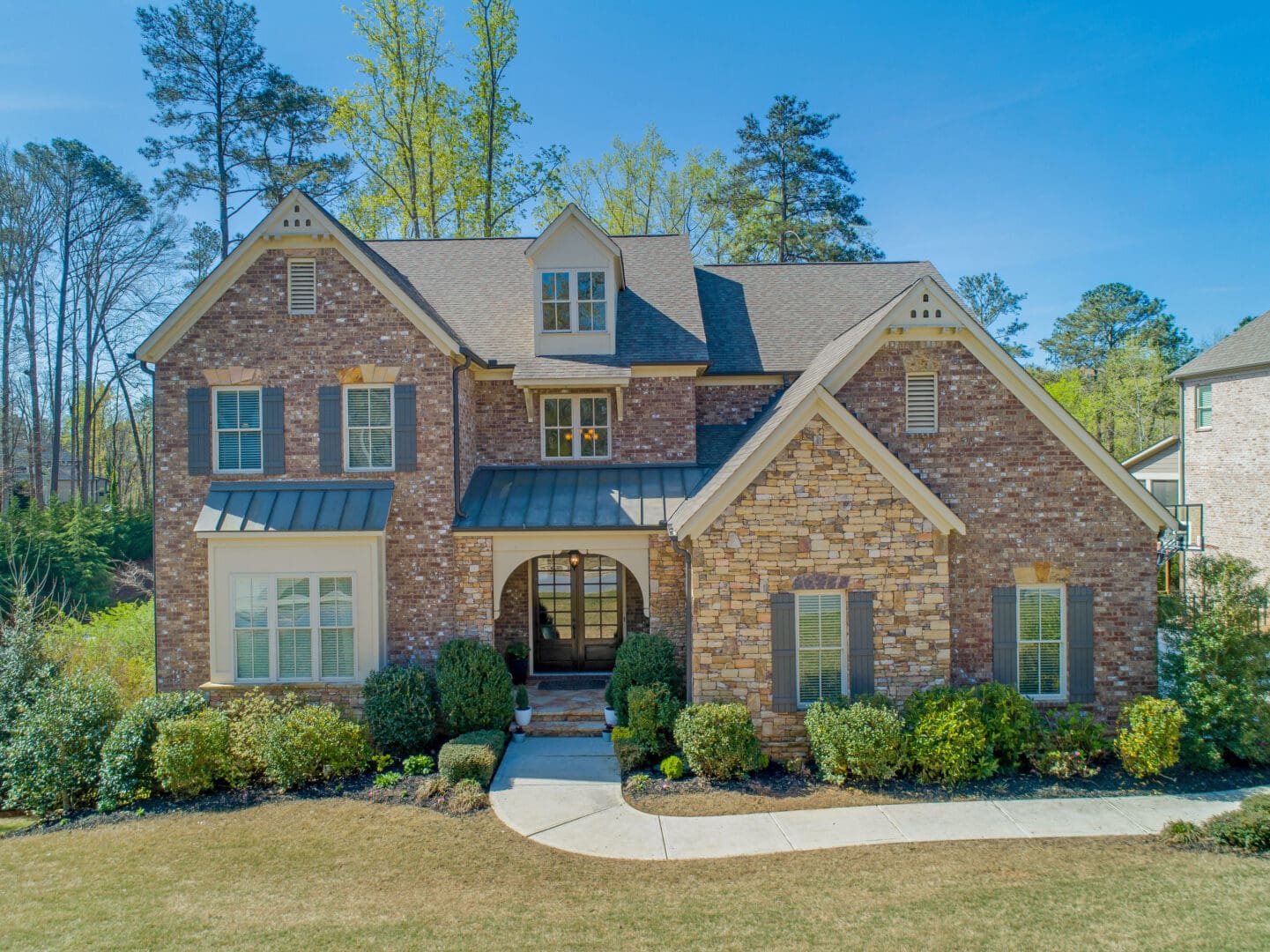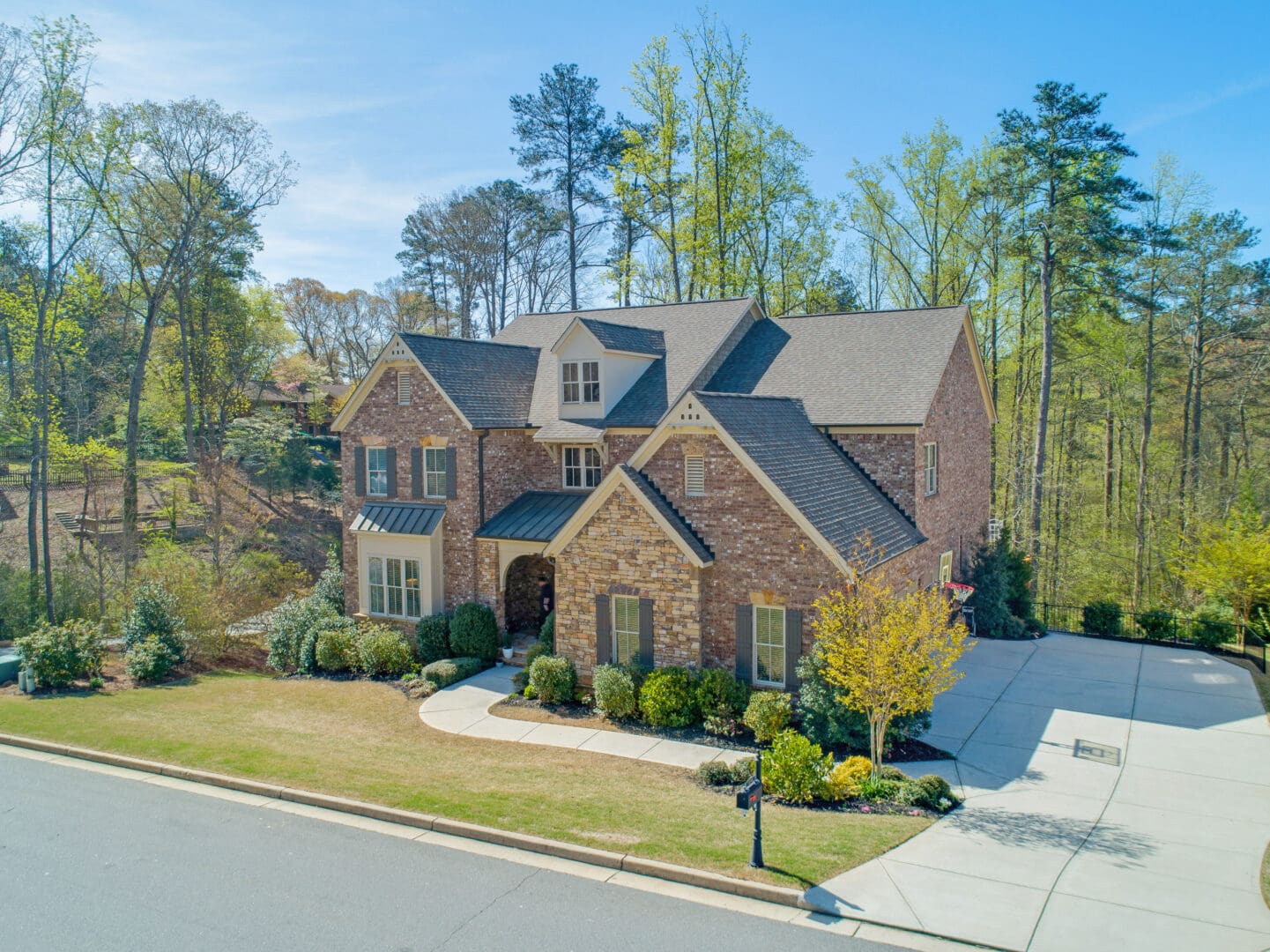 Thanks for coming along my Georgia Home tour! We have loved this home but are excited to change up the new home we are have moved in! Let me know if you have any questions about resources. I will try and answer!