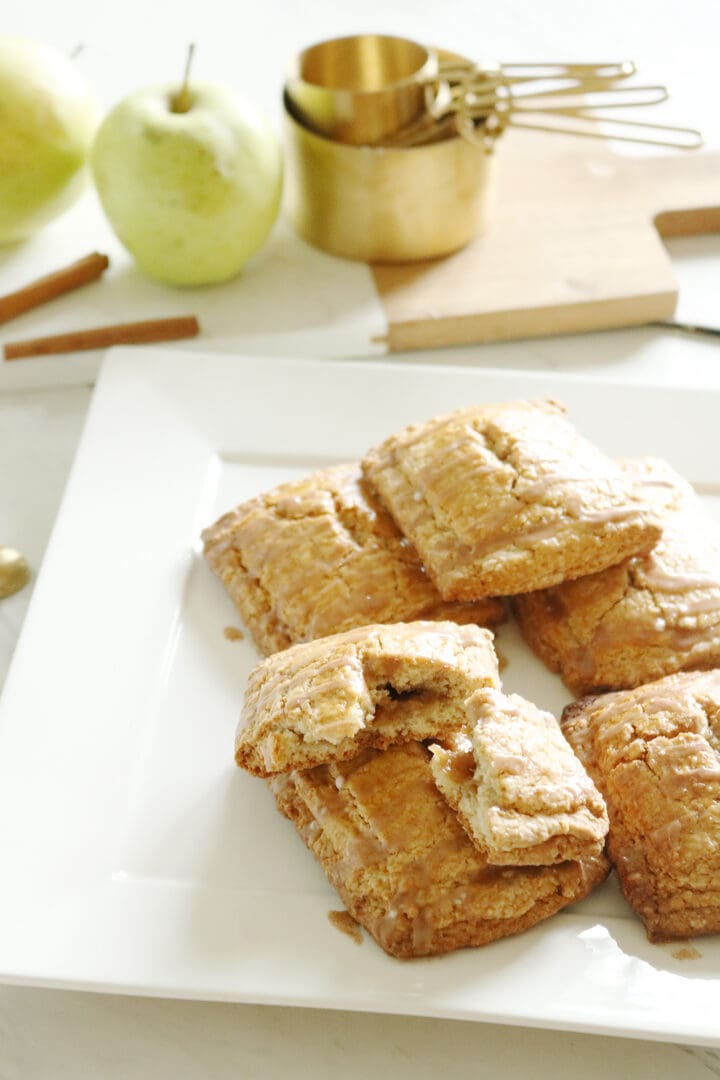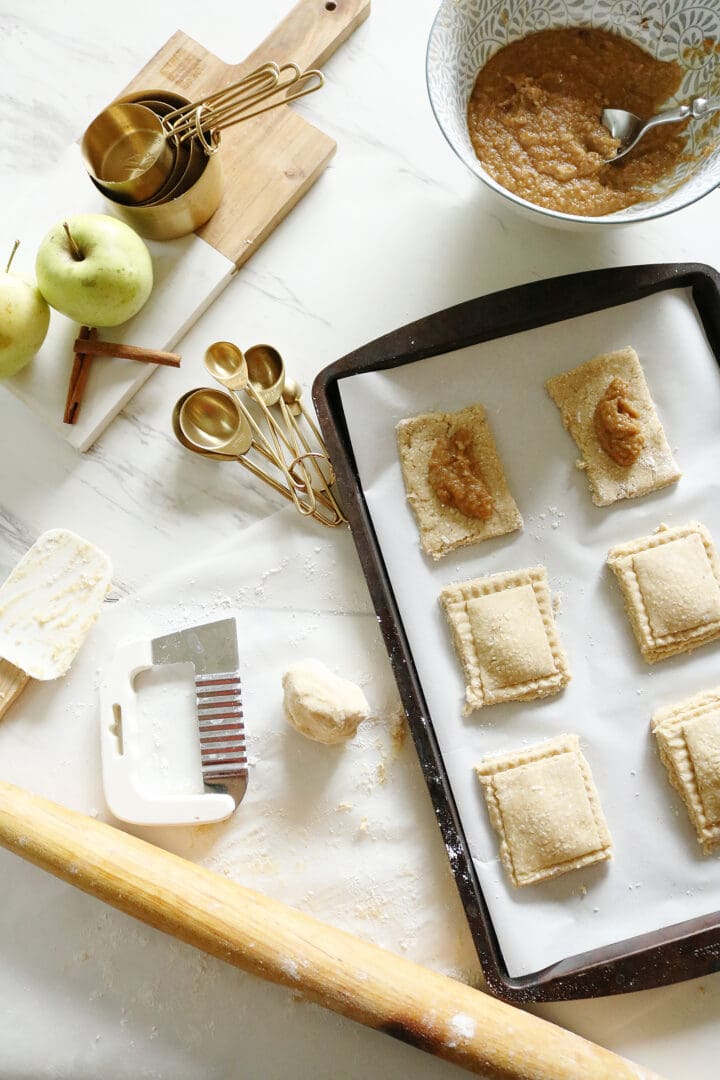 Gluten-Free Apple Pop Tart
To kick off the fall season, we headed to the apple orchard and picked fresh apples right off the apple tree.  We love this family tradition, and have been doing it since my babies were babies.  For days after, we then do a marathon of non-stop apple baking for days, cooking up our favorite family recipes like apple pie, apple muffins, applesauce, apple snacks.   A few years ago, I made up an apple chart  about what apples are best for cooking and baking.  I still use that chart today!  Some other things we are going to make with our apples are dehydrated apples for trail mix and apple salad and throwing in apples in a pork dish.  So many yummy ways to use up your picked apples.  My children love pop tarts!  They want me to buy them every time I am at the grocery store.  Problem is they are loaded with so much sugar, preservatives and high fructose corn syrup.  I have notice one of my children having an adverse affect on processed high-gluten foods, so I am trying to be a little more diligent in making food items instead of buying pre made.  Also, I have been exploring the gluten-free baking world to see if it will help him and his skin and behavioral issues.  I have noticed he does do better when I am watching what he eats and cutting out the junk.  So, I thought it would be fun to bake up a gluten-free apple pop tart with our picked apples.  My kids loved these Gluten-free Apple Pop Tart and begged for more so this recipe will be apart of our yearly apple baking traditions.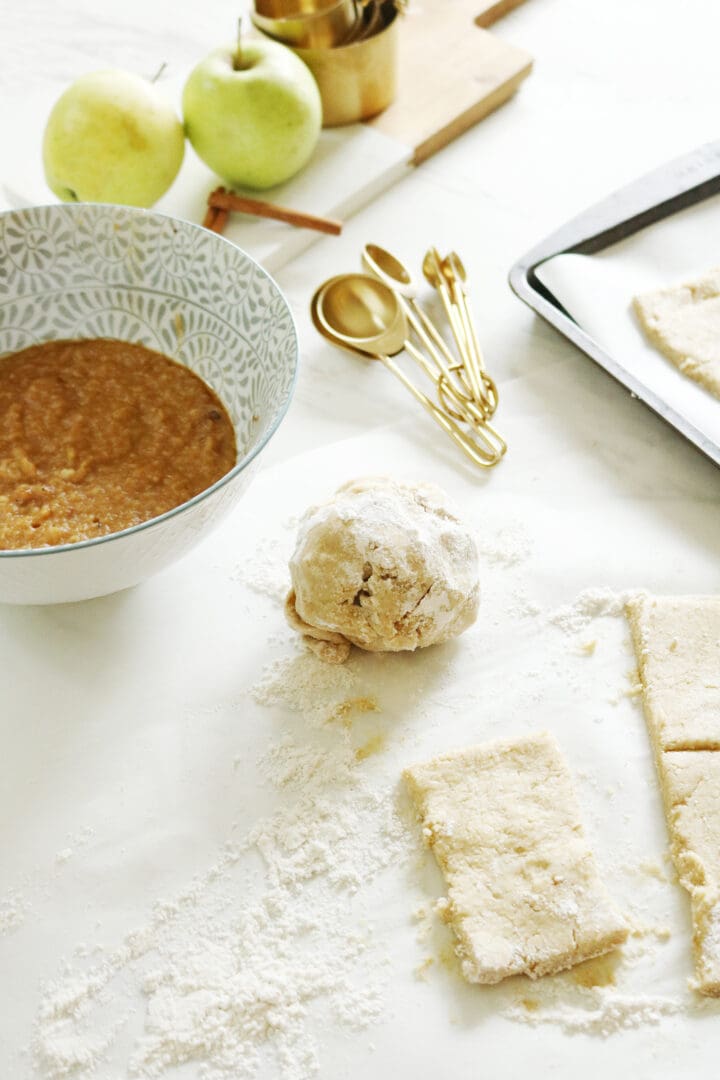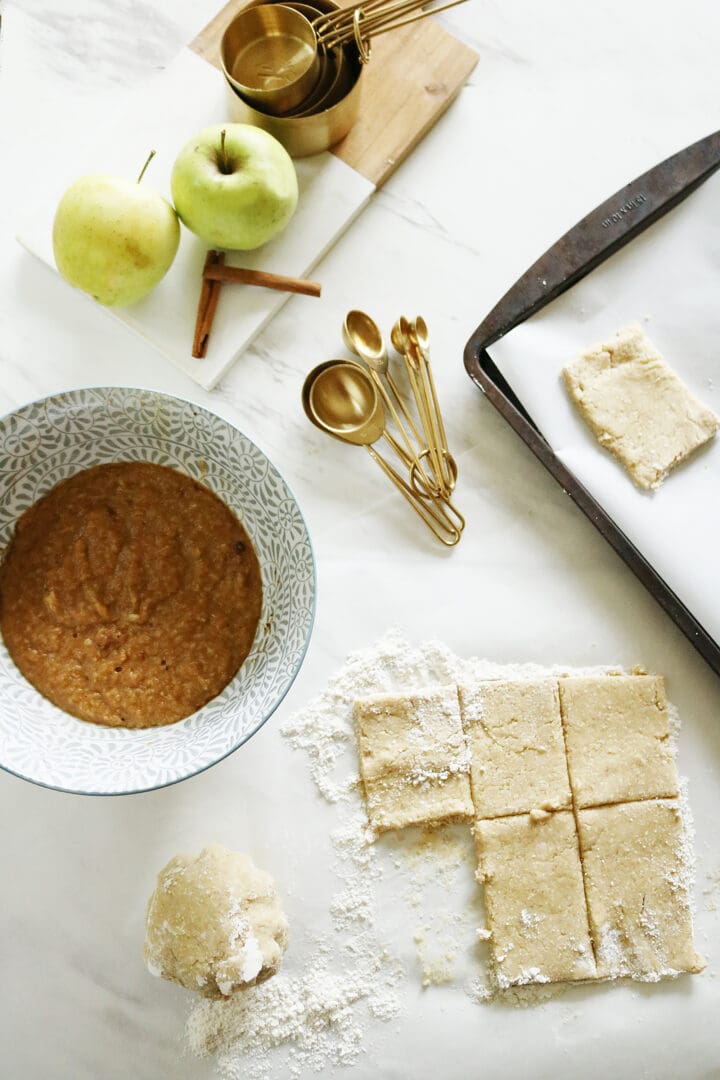 The gluten-free dough was made following from this Epicurious sweet pastry gluten-free dough, which works for also making gluten free cookies.  I will list the dough recipe below also.  My kids love love this dough!  It's one of our favorite gluten-free recipes.  Make sure to put the dough in the freezer to set the cream cheese and butter.  It will make it much easier to roll out.
The apple filling is similar to apple sauce.  You can really make the apple filling chunky but my kids are funny about texture so I always blend up the apple filling in the blender to make it smooth before adding it to the gluten-free rectangle dough.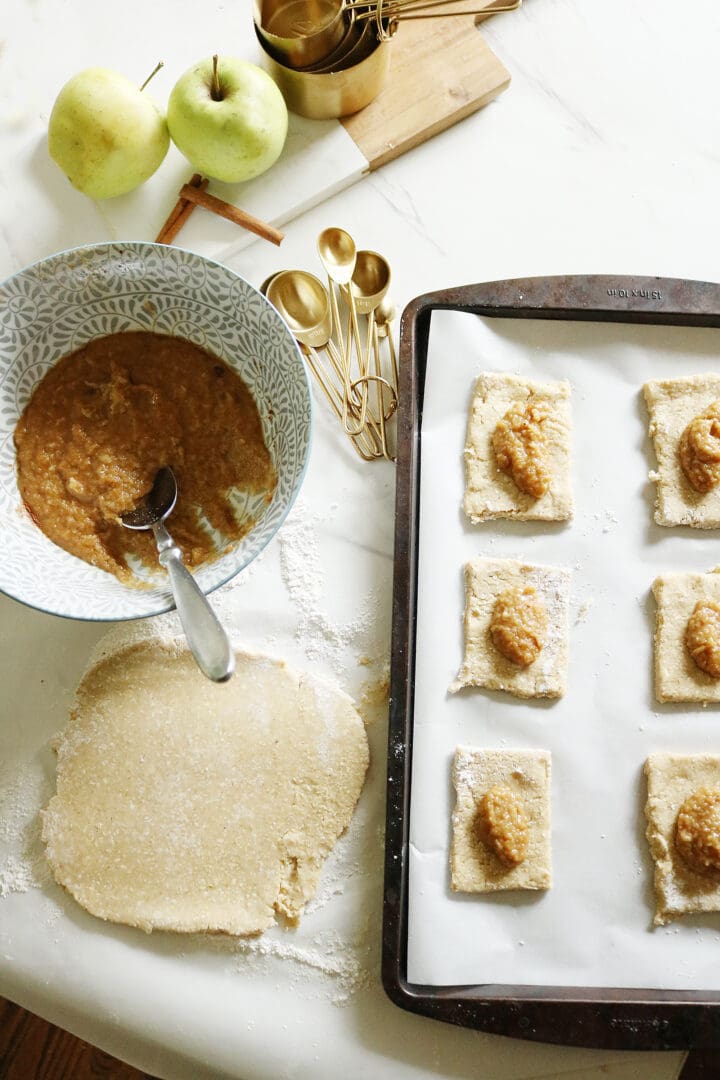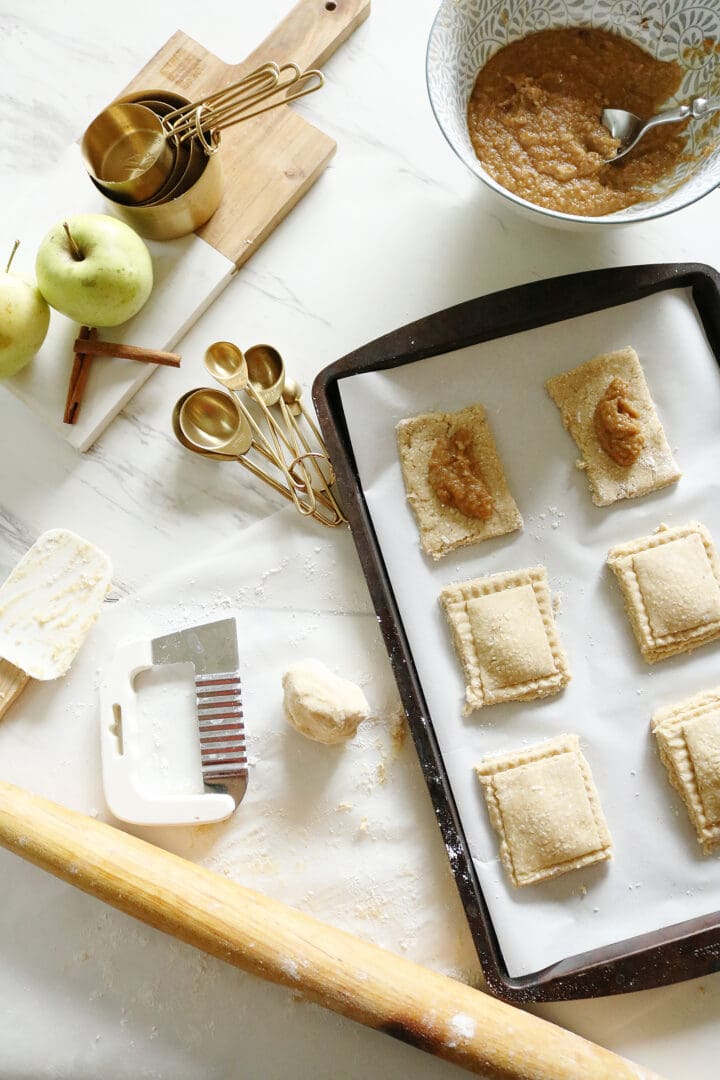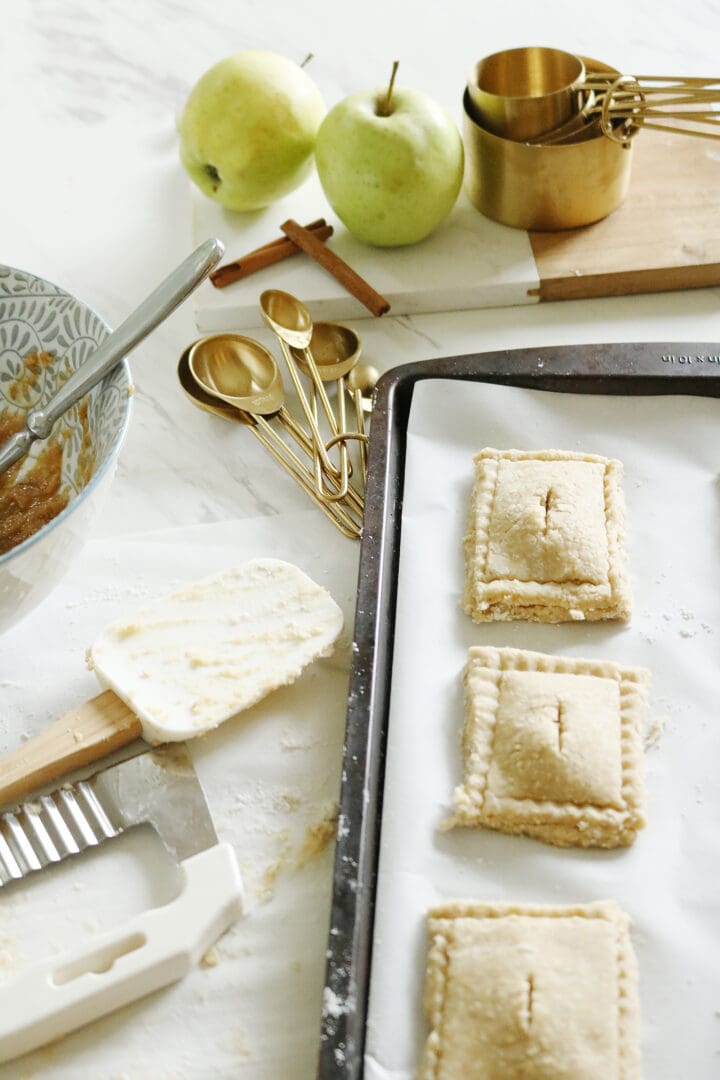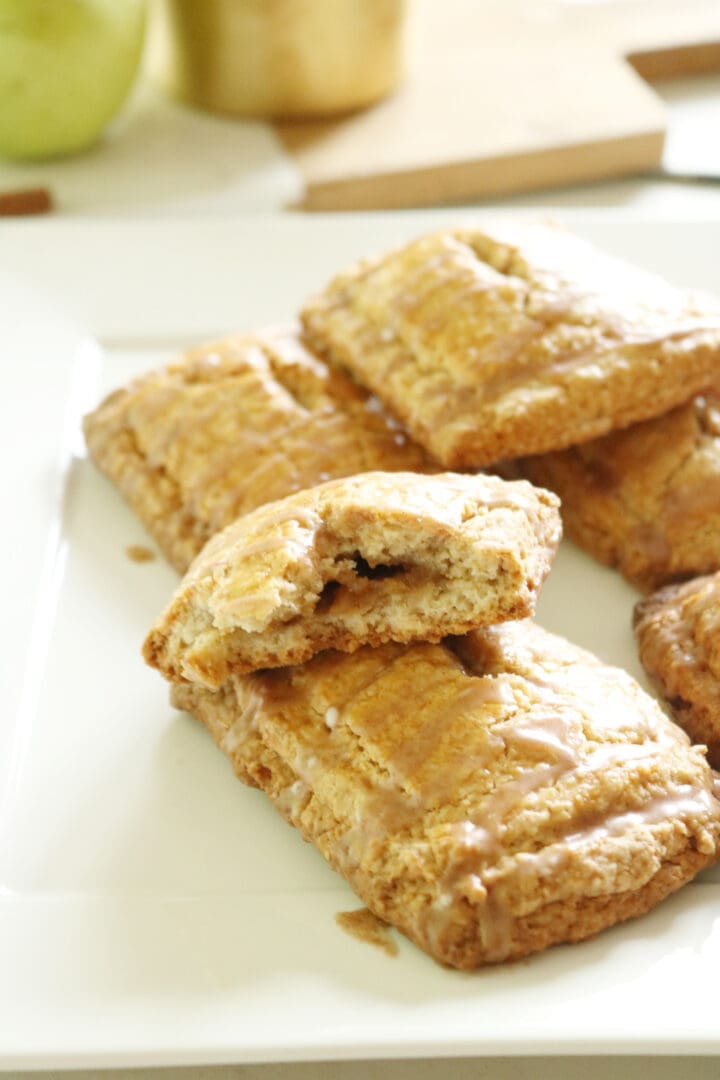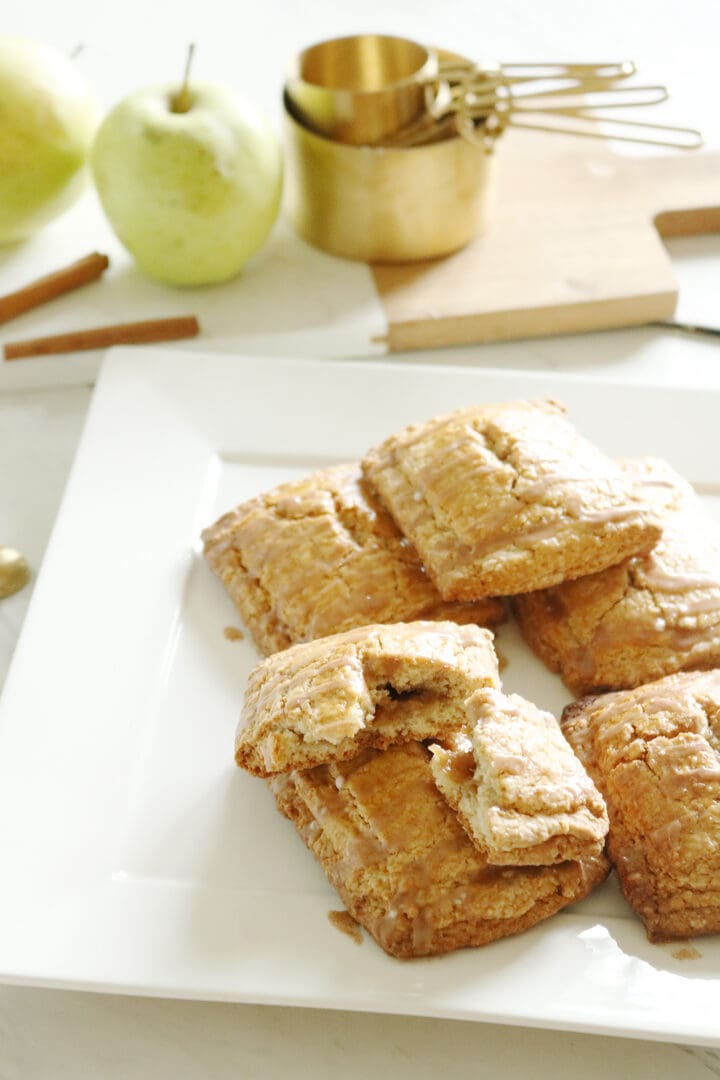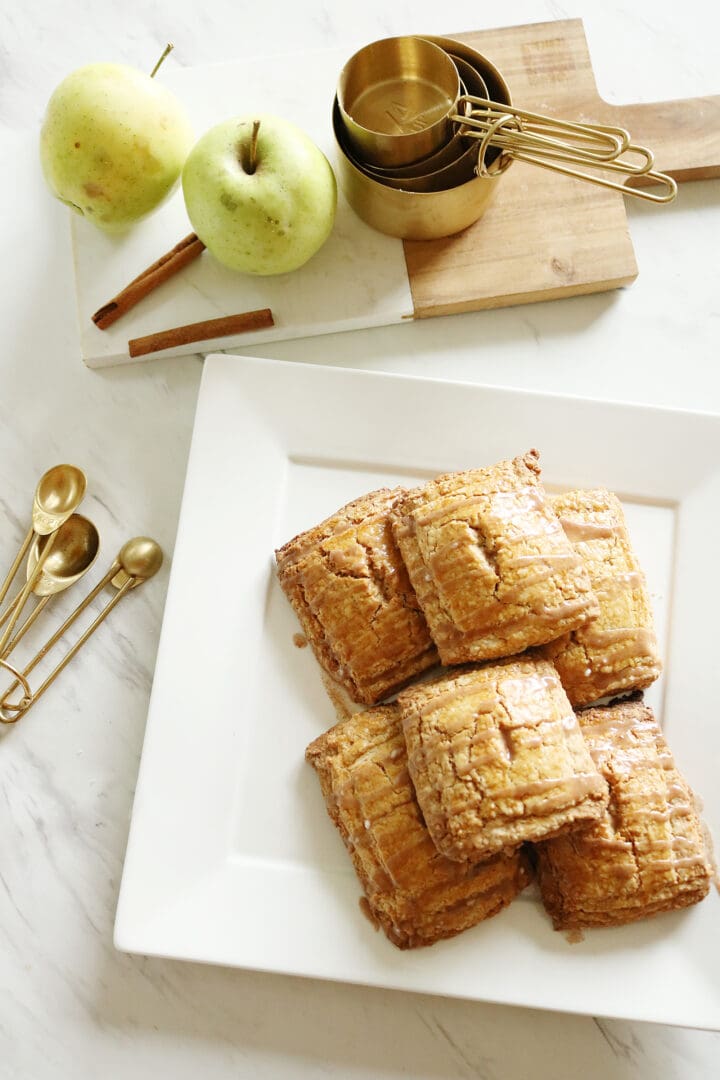 Gluten-Free Apple Pop Tart
Pie Crust Ingredients:
1 1/4 cup gluten-free oat flour (take 1 1/4 cup of oatmeal and blend in your blender to make oat flour)
1/2 cup of gluten-free flour, plus more for dusting
1/2 cup granulated sugar
1/2 teaspoon salt
1/8 teaspoon baking soda
8 tablespoons (1 stick) butter, cut into small pieces
2 ounces of cream cheese, cut into small pieces
1 large egg
1 tsp vanilla extract
Instructions for Gluten-Free Pie Crust:
Pulse all the dry ingredients in a bowl until combined.  Add butter and cream cheese and blend.  Then whisk in the egg and vanilla and blend until the dough begins to hold together.  Then knead together and form into a rough ball.  Cover and put in freezer up to 10-20 minutes to firm the dough.
Apple Filling:
3 tablespoons unsalted butter
2 apples peeled, cored and thinly sliced
1/2 cup light brown sugar
1/2 teaspoon ground cinnamon
1/8 teaspoon salt
1/2 cup gluten-free flour
Instructions for Apple Filling:
Melt the butter over high heat in a medium sauce pan.  Add the apples and stir until soften, usually 2 to 3 minutes.  Add the sugar and continue stirring until the sugar has melted and mixed with the apples.  Remove from heat and transfer the apple mixture to a bowl.  Then add the cinnamon, salt and flour and mix well.  Then put the mixture in a blender and blend until smooth.
Cinnamon Glaze
1 cup confectioners sugar
2 tablespoons water
1/2 teaspoon cinnamon
Whisk together all the ingredients in a small bowl until smooth.
To assemble the Gluten-Free Apple Pop Tart:
Preheat the over to 350 degrees.  Roll out the dough on lightly floured surface and cut into 3″x 5″ rectangles.  You will need a top and bottom for each pop tart. Brush egg wash (1 egg lightly beaten) on the bottom of the rectangle.  Spoon 2 tablespoons of the filling on top of each bottom rectangle.  Gently place the top dough on.  Use a fork to lightly press the edges together and seal them.  Brush again with the egg wash to make the pop tart shiny.   Cut a slice on the top of the pop tart to allow for the steam to escape.  Bake for 30-35 minutes.  Let it cool then drizzle on the cinnamon glaze and then let it set for about 10 minutes before serving.
Here are some of the tools we used for making our Gluten-Free Apple Pop Tart: