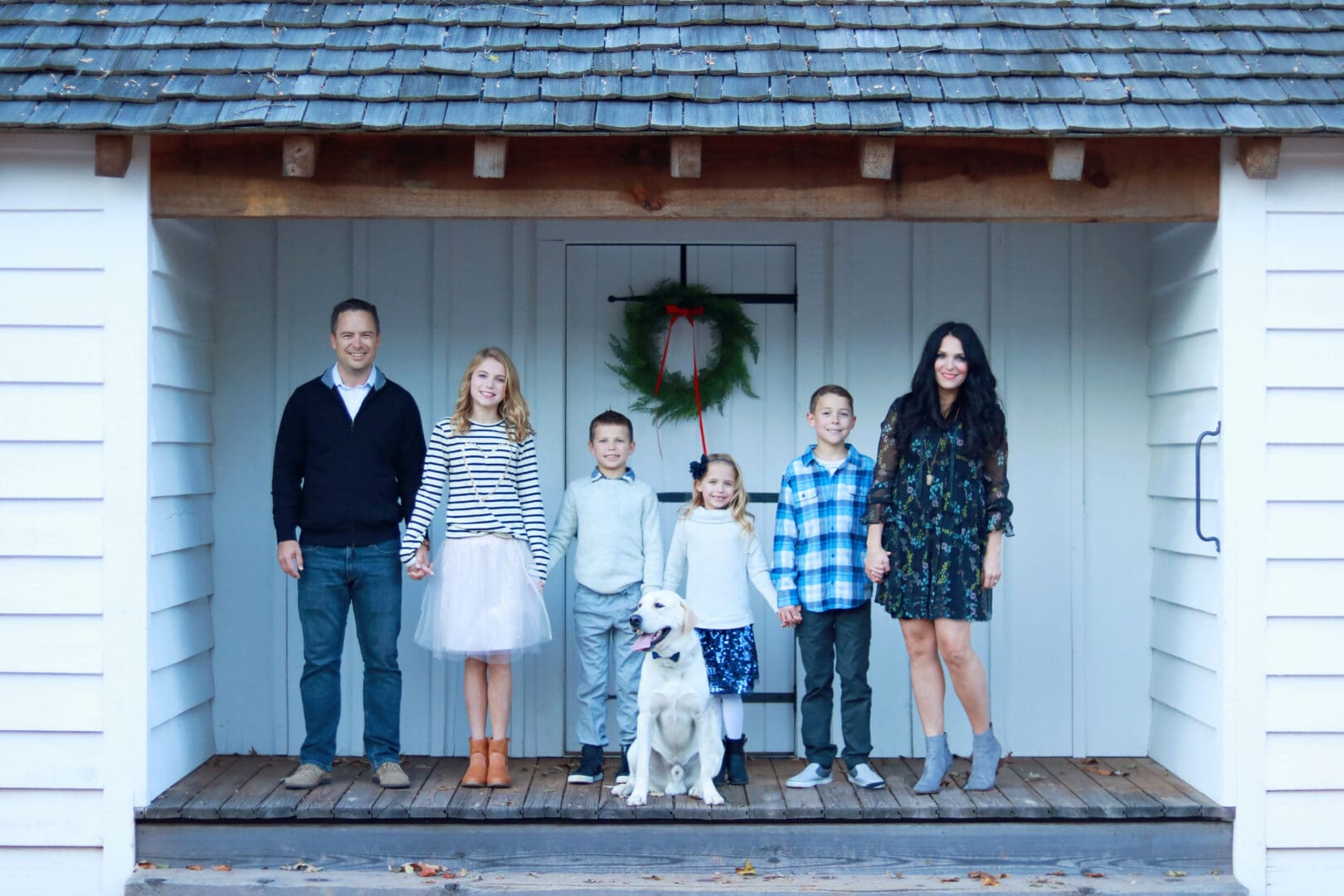 10 Tips to Styling your Family Pictures
Every year I tell myself I am going to get our family pictures taken before the month of September, Christmas cards ordered by November and all the cards mailed out by the first of December.  But every year it never happens quite like that!  Here we are the first of November, and now I am finally thinking about family pictures.  The panic is starting.  What am I panicking about?  All the shopping to get everyone dressed in matching outfits.  It can be quite stressful and time consuming styling your family pictures. Why must it be such a daunting task?  Well, these cute family pictures were taken last year during the first part of November.  They are some of my favorite!  We even got Scout in the pictures.  I would say after 15 years of family pictures with my peeps, I have become quite a pro at styling family pictures.  So, here are my 10 tips to styling your family pictures: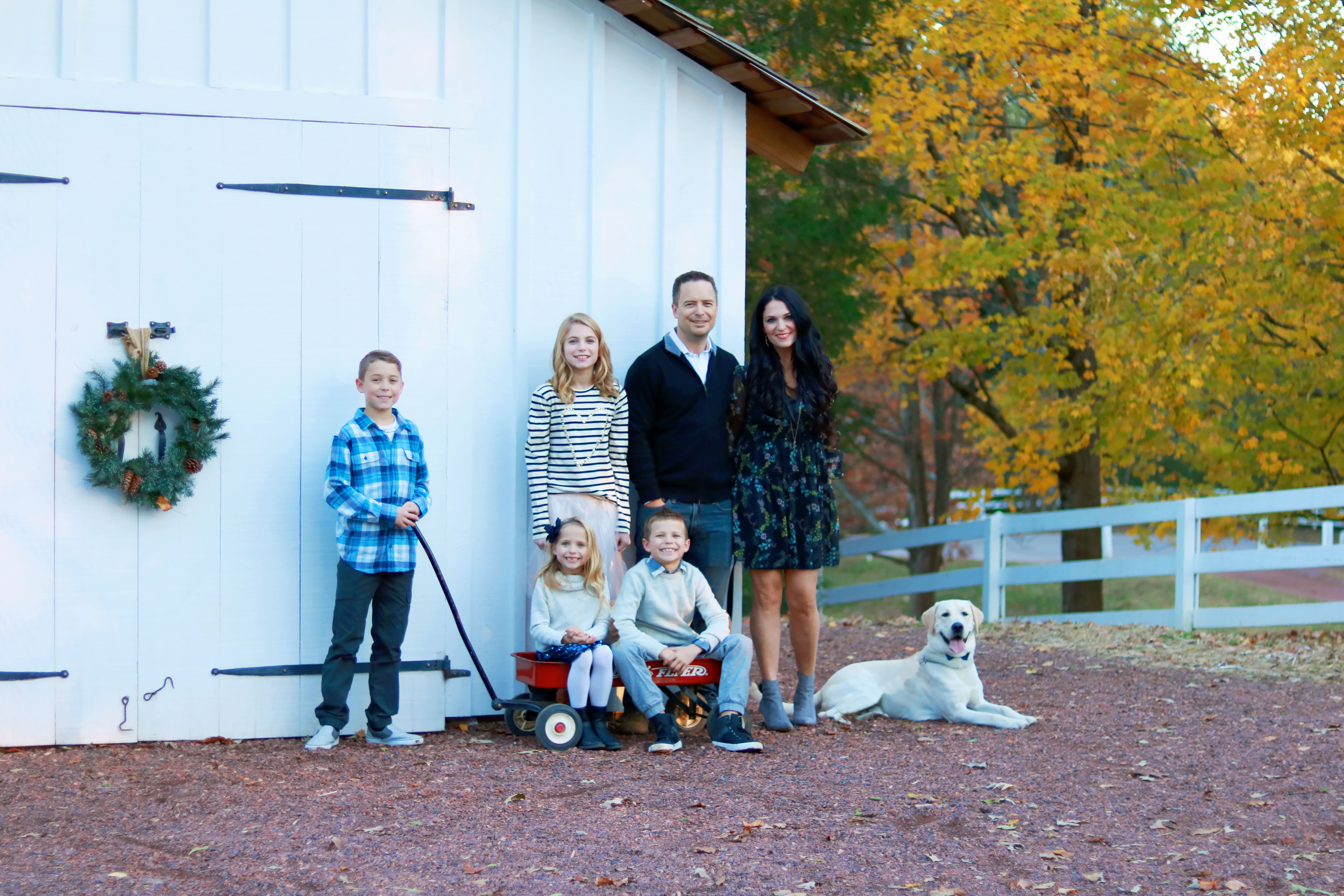 10 Tips to Styling your Family Pictures
 Begin with one outfit you love.  Just like a blank canvas, you must begin with one color.  Styling is similar.  You begin with one outfit and then build.  The first outfit can be either for you, a child, or husband.  Something you love and are drawn too.  The outfit will set the tone of the picture. So, think about the seasons and location and what kind of story you want to portray with you family pictures.  Do you want a beach theme, outdoorsy theme or city theme?  These are concerns to be consider when picking out that one outfit.
Coordinate your Color Palette. As you build from that one outfit, look for other outfits that coordinate with the color of your first outfit.  If you wear a dress then pull from the colors of the pattern.  If you are going a more casual route, then pull from the color of the top or a jacket.  Make sure not to match though.  That's when family pictures get a little over the top.  So, if someone is wearing a plaid top, not everyone wear the same top.  Instead pull from one of the colors and coordinate the rest of the outfits with that one color.
Mix patterns with solids and patterns with complement patterns.  Add texture and variety to a family picture by mixing complementing patterns with each other.  Plaids, stripes and florals always go together when they are in the same family color group.  But don't wear two patterns with one person.  Instead mix the patterns throughout the family.  Then wear one pattern with a solid, similar to what we did above. Avoid graphic t-shirts!
Consider your Location.  When you shop for your family pictures, consider where you are planning to have the pictures taken.  If you are doing a mountain theme in the middle of Fall, you won't wear shorts or an evening gown but instead probably casual clothes.  Or if you were taking pictures in a city setting, you'd probably wear more street attire.
Layer clothes.  I like to layer clothes when styling my family pictures because it adds variety and texture to the pictures.  Also, it looks more finished and complete.  Layering clothes works great with boys and men.  Layer with sweaters, jackets, vests, button-up shirts.  With girls, a cute scarf or bow headband can add character to the photo.
Add props. Why not?  If you want to make the picture seem more casual then bring in a prop into the photos.  It's not necessary, but we have done it the last couple photos and it makes it so fun and less stuffy.  We did the Christmas wreath and wagon last year and it helped lessen the stress when we were taking the pictures.
Dress for comfort. Family pictures are already so stressful.  Make sure to dress comfortable so you don't have whining children (or husbands) during the photoshoot.  One of the keys to great family pictures, is when every one is happy.
Groom Prior to the Photos.  After you have your coordinating outfits together, then focus on grooming your family!  What I mean by groom is getting hair cuts, coloring hair, manicures (yes, fingernails do show up).  I like to try and do these things about a 1-2 weeks prior to the photoshoot.  The closer to the date the better and cleaner the results.
Shop the Collection.  One of the easiest ways to save time and sanity (but maybe not money), is pick a store that carries all clothing lines (children, men and women) and shop their collections in all their departments.  They design the collections to have a cohesive look throughout their store.  So if you are having a hard time matching a mustard yellow top, stick within the store's collection and you will most likely find a complement colors.  I am sharing my favorite family clothing stores below.
Lay it Out and Take a Picture. This will ease your concerns once you see it all next to each other.  Lay the clothes on the floor and you can move items or eliminate items that don't line up with the other items.  This will save you a ton of time and hassle.
Here are my favorite Family Clothing Shops for Styling your Family Pictures: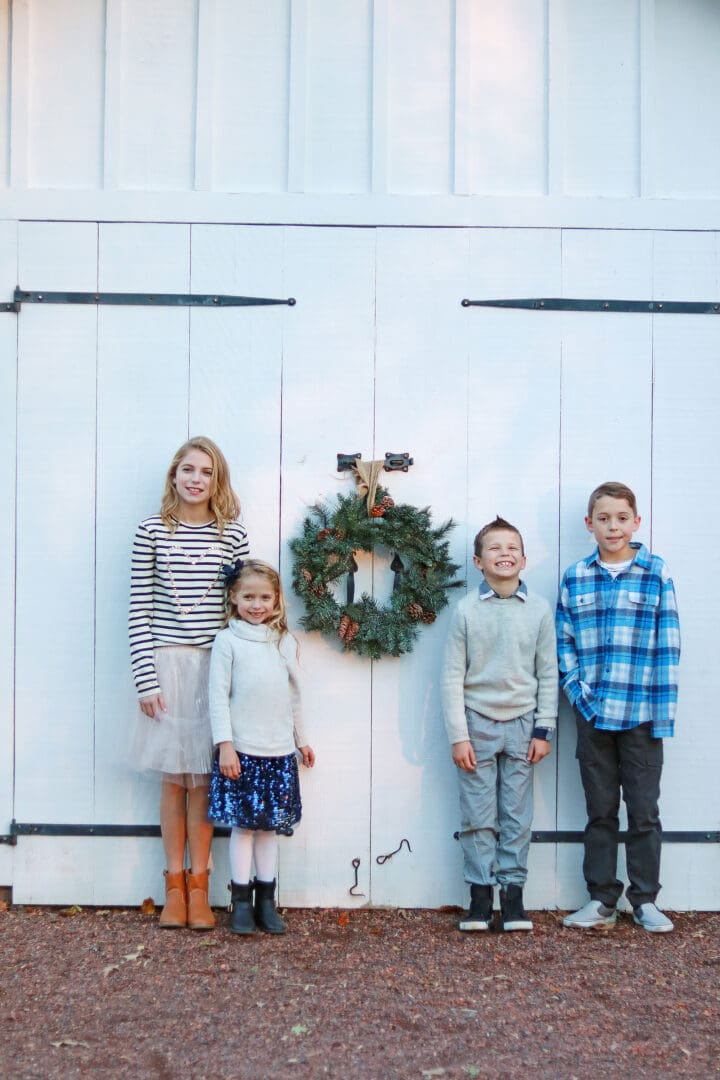 SHOP the POST: