Choosing the Best White Exterior Paint Colors to Update Our Dark Gray House.
Our new house needed a paint update. We thought that the day we closed on the house. Exterior house painting was put toward the top of our house renovation to-do list. Our exterior paint color of smoke gray paint wasn't horrible but needed to freshen up. The house's black shutters were broken and the stained garage door and front door were scratched, faded and wouldn't open properly. I knew that I would have to contact a local garage door company as well as repaint it, but it needed to be fixed as soon as possible! The porch was dark and hidden. The house hadn't been painted for 15 years, so it really needed to be brought back to life, and a fresh paint job would do the trick. Our new exterior paint colors that we liked consisted of whites, grays and blues.
There are many houses in our town that are beautifully painted white. Every time I drive by them, they always catch my eye. I knew I wanted to paint the house white to give it a modern updated look. I also liked the fact that white makes a house look larger and creates an exceptional architectural backdrop.
Here are "before pictures" of our house exterior paint colors . You can see how it needs to be given a paint update.
Porch: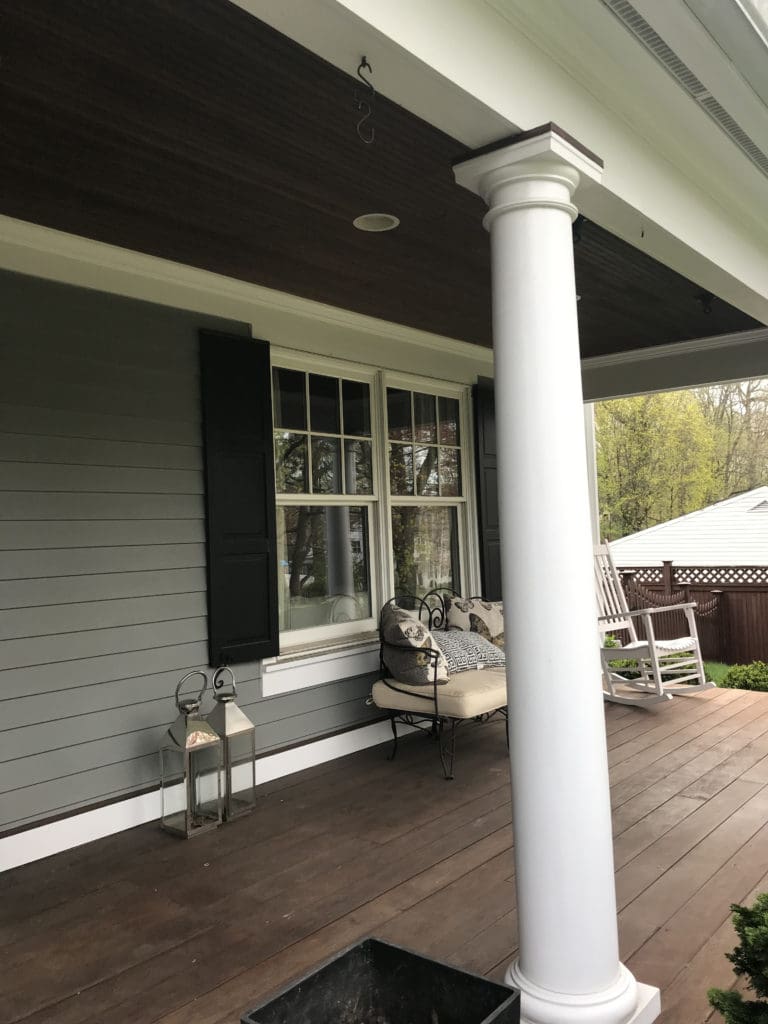 The stained brown ceiling makes the porch look dark and boring. You can in the background our stained dark fence. We are eager to change it up and go from the dark side to the light side.
Garage:
Our garage door is faded and scratched, and it looks beat up from a far. But this is a really beautiful wooden garage door, and it is the first thing you see when you drive up to the house. I have been on the fence what kind of finish to go on the garage door. Whether it's paint or stain, I have heard various opinions of both.
Through this whole painting process, I have turned to painting expertises, interior designer, friends and family to get their thoughts on this painting project. They have been so valuable, and I have learned so much! I compiled my top white paint colors for painting the exterior that we either tested our the house or was suggested by an expert.
I also complied blues and gray exterior paint colors that we are considering for our garage door, shutters and door. That's if we decide not to stain our wood doors!
Which paint colors do colors do you like?