Adding Pink to our Traditionally White Christmas
I'm dreaming of a PINK Christmas…say what?! Okay, okay okay. White Christmas always, but a little pink won't hurt. Right?! This year I had so much fun adding pink to our traditionally white Christmas. I used the same ornaments as last year and just added a few new pink elements to change up my traditionally white Christmas. I love our Pink Christmas, and the subtle accents of pink against the white and metallic golds and silvers.
The first thing we did before we brought in the tree into the house was flock the tree. I started flocking my tree last year when I couldn't find a garden shop that would flock trees. We had a great garden shop in Atlanta who would flock freshly cut trees, so I've been surprised that I can't find one here in the Northeast. But the flocking process is easy! I used this snow flock spray, and its just like spray painting your tree but with fake snow. There is a drying time period of about 24 hours so you do need to take that into account with your timing on decorating. I used about 3 cans on my 7 foot tree.
After adding the white lights and my original Christmas ornaments, I added artificial snow batting that is used for Christmas village scenes to get the wintery snow look. Easily rip off sections and bat it together to make snow clumps. Next I took dyed pink pampas grass and placed them on the branches for a drama look and to break up all the white. One of my favorite elements to the tree! I used this coloring dye to dye the pampas grass. (DIY coming soon!) Although I did add one box of new pink Christmas ornaments to my tree, just those few elements really changed the look of my original tree. And I love it!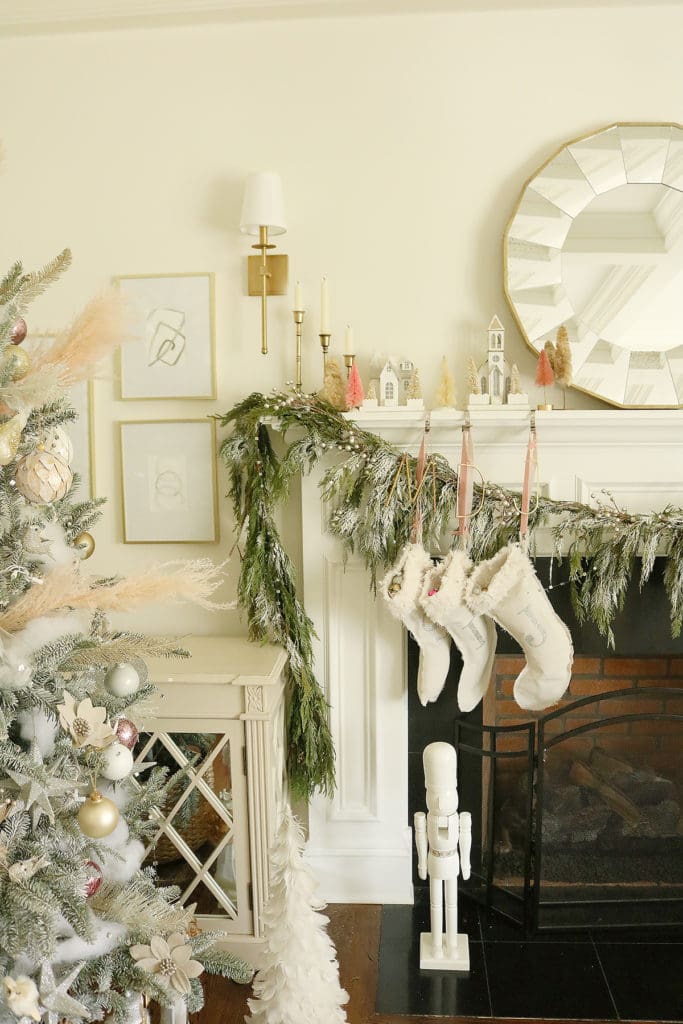 For our mantel, I used the Fraser fir garland and added a little of the spray flocked snow so it would complement the white tree. Then sprigs of metallic faux berries. The pink velvet ribbon to hang the stockings adds that touch of pink to the mantle.
I love my Serena and Lily pillows so much that I added another blush pink pillow to the mix and it goes perfectly with our Pink Christmas.
Shop "A Pink Christmas":