My go-to Roasted Chicken Recipe for a Busy night and Busy week.
Easy recipes are my go-to during the week. Our nights have become so busy that if I don't meal prep, dinner is coming out of a box. One easy recipe that has become a favorite among my family and also with my schedule, is what I call the 3-in-1 slow cooker roasted chicken recipe. I called it a 3-in-1 because I can usually get two dinners and one lunch out of all the chicken meat that comes from a whole organic roasted chicken. This recipes takes no more that 10 minutes to prep and get it cooking. I usually start it in the morning so by dinner it's ready to be eaten. I also like to cook it on the high setting for food safety.
With this recipe, I buy an organic whole chicken because it's healthier and I don't want any pesticides and synthetic chemicals in my meat! Also, getting three meals out of this, I use the bones to make chicken broth, which has so many health benefits.
Fresh ingredients will give the chicken the best flavor–much better than dried ingredients. So use fresh herbs, garlic and lemon juice. I like to use raw apple cider vinegar in the slow cooker roasted chicken recipe because it adds flavor and moisture to the chicken meat.
How to Use the Entire Chicken for More Than One Meal
After I cook my slow cooker roasted chicken, I pull all the meat off the chicken, or debone the chicken, and put it in a large container in my fridge. I will then use that meat for lunch the next day. Usually I make a large chicken salad or I make chicken sandwiches for my kids. Then the following night I will make another chicken dish like chicken enchiladas, a chicken casserole or a chicken pasta. The meat really goes a long way!
Then I don't throw the chicken bones away quite yet! After I pull all the meat off, I make chicken broth with the bones. I throw all the bones in a saucepan, cover with water. Add carrots and celery, along with lemon juice and apple cider vinegar. I put it on my stove and cook on low through the night. The next morning, I strain it, throw the bones away and put the broth in a large mason jar. I then use that chicken broth for chicken soup, in my stir veggies and any other chicken dish. It's the best way to maximize the entire chicken. Not only does it save time but also money. And it is very healthy too!
How to Get Crispy Skin on Chicken?
To get that crispy, dark chicken skin, I pull my whole chicken out of the slow cooker and transfer to a baking sheet and put it under the broil for about 5 minutes. You just have to keep an eye on it because it cooks it quickly!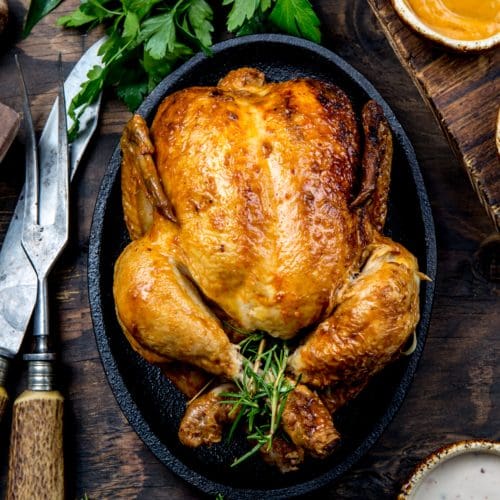 3-in-1 Slow-Cooker Roasted Chicken
Sharing how to get three meals out of one with this slow-cooker roasted chicken recipe.
Ingredients
1

Organic Whole Chicken

4

Carrots

Cut into 2" pieces

4

Celery

Cut into 2" pieces

1

Onion

Cut into quarters

1

Lemon

1/4

cup

Raw Apple Cider Vineger

1/4

cup

olive oil

extra virgin

2

garlic cloves

minced

1

tbsp

Trader's Joes 21 Seasoning Salute

2

tsp

Pink Himalayan Salt

2

tbsp

Fresh Thyme and Rosemary

1

tsp

pepper
Instructions
Remove chicken from packaging and pat dry using paper towels. Remove any giblets and the neck (if included). Tie chicken wings together with cooking twine.

In a small bowl, stir together salt, pepper and Trader Joe's 21 Seasoning Salute. If you don't have this seasoning, then use basil, oregano, paprika, and onion powder.

Clean and cut carrots, celery stalk and onions. Place into slow cooker and cover the bottom of the pan. Place whole chicken on top of the vegetables.

Pour olive oil and apple cider vineager all over the chicken

Cut the lemon in half and squeeze the juices directly over the chicken skin. Add minced garlic to the top of chicken skin. Sprinkle seasoning mixture over the skin to coat, making sure to completely coat. Place the lemon halves inside the cavity of the chicken.

Top with fresh thyme and rosemary and place around the whole chicken and inside cavity.

Cook on high for 4 to 6 hours. Or low for 6 to 8 hours.

After cooking, pull the chicken out of the slow cooker and place under a broiler for 5 minutes to get the crispy skin.