Stylish Boho-Chic Teen Girl Bedroom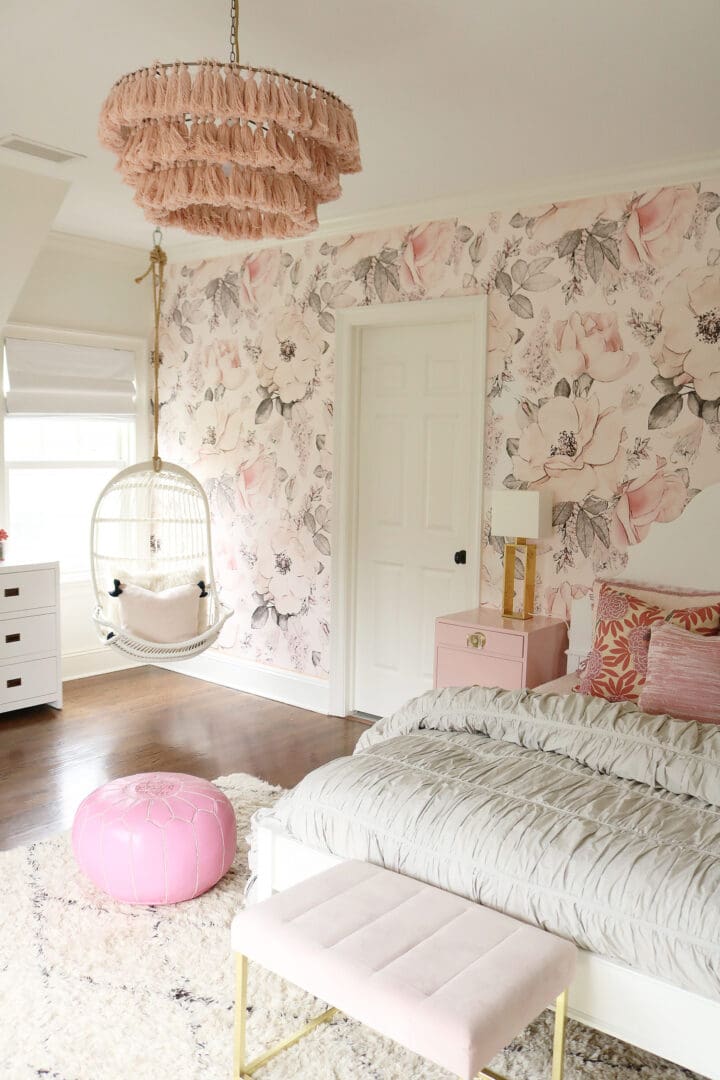 It's been a long time coming, but I am finally posting my older daughter's teen girl boho bedroom. We completed her bedroom about a year ago, and then life got in the way and I forgot to post. Oops! When the new year started, I thought it was about time to share this stylish, boho-chic bedroom. My daughter Stella and I both had a fun time putting this bedroom together. She was very evolved with the whole process from wallpaper, to installing the wallpaper, to picking out furniture, light fixtures and reusing some of furniture we already owned. Before we started, she told me she wanted it to be feminine, yet have a bohemian vibe. She also said she wanted grays incorporated in the bedroom. This removable wallpaper was the perfect answer to the style we were looking for and really set the tone to the rest of the room. Stella and I both installed the removable wallpaper, and I did a whole post on that process. I hope to post about the difference between removable vs. permanent wallpaper since I've installed both! So stay tune on a future post.
So before I share photos of her teen girl boho bedroom, I want to share the before pictures because you know I love a good before + after photo comparison. When we moved in, the room was painted a turquoise and mango color. We wanted to lighten up the room and make the room more sophisticated. The room has a dated flush mount light fixture and old wooden blinds. It needed a good refreshening. So we painted it white then added the floral wallpaper.
The Before
The After
What a difference, right?! One of the things that I love about this room is all of the natural light. There are three windows in this room! Okay I will post all of the resources below, so scroll down for that information. Make sure to also check out Stella's old tween bedroom that is just as cute and has been nationally-recognized in magazines and designer websites!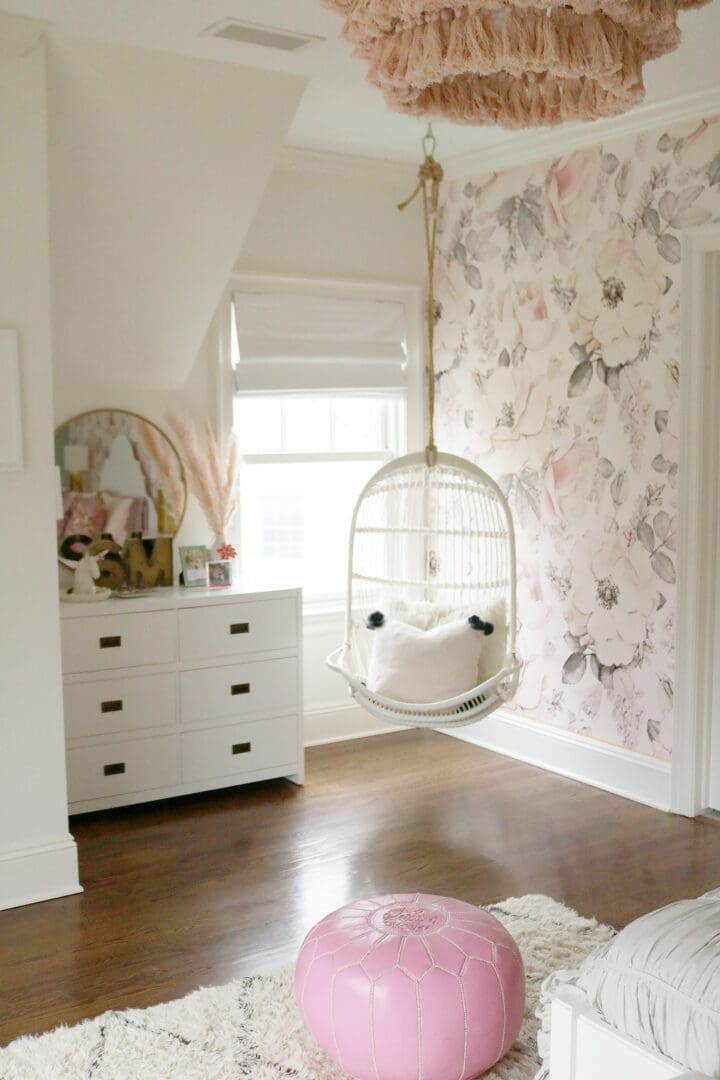 Resources
Removable Wallpaper | Full-size bed (similar)| tassel chandelier | lacquer nightstands | gold modern table lamps | velvet bench (similar)| pink pouf | hanging chair | tassel pillow on hanging chair | white shag pillow | floral throw pillows | tassel velvet pillow on bed | quilt set | duvet cover | sheet set (similar) | Ugg throw | Morocco rug | chest of drawers | round gold mirror | marquee gold letters | unicorn ring dish | white parson desk table | gray velvet chair | pink pillow on chair (similar) | pink world globe | white task lamp (similar) | xoxo print | white roman shades | white leaning mirror | Greek key bookcase (similar)