Tips for Paint, Countertops, Backsplash and Hardware for Kitchen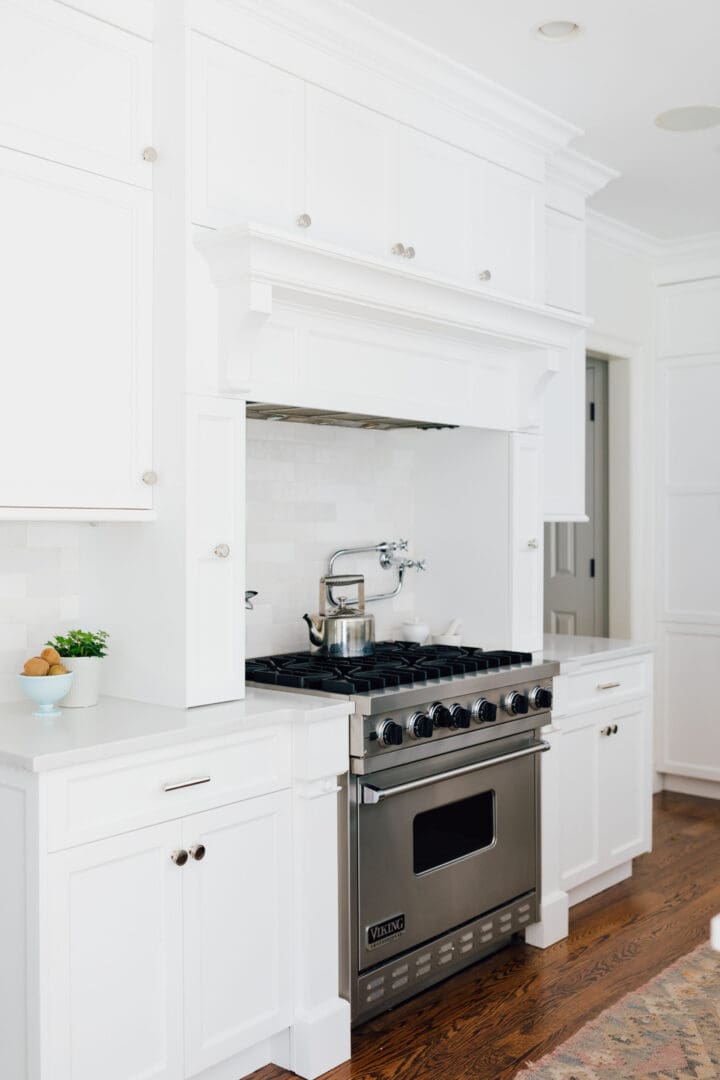 Looking back after living six months in our newly remodeled kitchen, I really have no regrets and love how everything turned out. We had a certain space and budget we had to work with, and I truly believe we maximized the resources we had. The kitchen remodel lightened up the space, added so much more storage and natural flow to the kitchen. So while I have posted the before and after pictures of our kitchen remodel reveal, I haven't shared the kitchen model tips we have learned and the knowledge we have gained about picking out paint, countertops, backsplash and hardware.
Embarking on a kitchen remodel can be daunting, and making the right decision can be so scary! So much financial expense goes out that you really don't have to screw it up and regret any decisions you make. And for many you want to make sure you will get your investments out if you sell down the years. All these concerns weighed upon my mind, but through a lot of research and talking to professionally, I felt confident in my decisions. Honestly, each kitchen remodel is unique in itself so it's hard to compare, but here are my kitchen remodel tips that you may find helpful if you plan to embark on a remodel project.
Paint
Prior to our remodel, our kitchen had really beautiful custom cabinetry, and I couldn't bare to rip them out and replace them. The shaker, modern overlay style was exactly what I wanted, so we decided to keep it. However, the color of the cabinets was not our favorite. The cabinet color was a dull cream, almost yellowish color which made the kitchen very dark. We decided to hire a professional cabinet painter to repaint the cabinets and give the cabinets a fresh look and look brand new. We had the choice to go with lacquer paint or a lacquer/oil cabinet paint. Most factory cabinets are painted with lacquer, but when we priced it out it was so expensive to the point where it would be cheaper to just replace the cabinets with new ones. The problem with lacquer is it doesn't adhere to cabinets that are already painted to you have to completely sand down all the cabinet to the bare wood. I had lacquer kitchen cabinets in my Georgia house, and while it was had a beautiful factory finish it would chip especially on the corner, and you can't do anything about it except for refinishing it completely down to the wood and re-lacquering the whole piece.
We ended up going with Benjamin Moore Cabinet Coat product in the Chantilly Lace color. We did hire a professional painter who took the cabinet fronts off and professionally sprayed the cabinets so it would have an ultra-smooth, factory-like finish with long-lasting beauty. It was expensive hiring the professional painter, instead of doing it ourselves, but worth the cost because the cabinets came out looking brand new! We have had no problems with the paint and the cabinets are easy to wipe.
Countertops
I would be lying if I didn't say there wasn't drama around picking out the countertops. At first I wasn't even going to change out all the countertops. I was originally thinking of keeping the black perimeter granite countertops and only updating the island. But I was just unsettled about that decision but was trying to stay in budget. Grateful for my dear friend Ashley, who sat me down and said "update ALL the countertops. you will regret it if you don't!" Sometimes you need that friend who will give you the push. So, then I was set to install marble countertops. I know the maintenance and upkeep is a lot, but marble is timeless and is a real stone! All of Italy is made with marble, and has been around for thousands of years! It is not manmade like quartz. The marble slabs are so beautiful, and no quartz can replicate the veining and color depth of marble even though it tries so hard to do. Sorry to say but there are so many quartz slabs that look so fake with their attempt of marble veining. It's like deciding on whether to purchase a real designer handbag vs. a dupe designer handbag. Go with the real stone! Also, another thing I like is that with marble you can refinish and buff out any stains or color change of the stone. So I really liked that piece of information. Unfortunately, after I picked out my marble slab, the countertop installer came to my house to measure and said there was no way they could install a large marble slab between the two pillars that are located on either side of the island. Heartbroken! I was so sad to hear the news. They said the chance of the marble slab breaking in half was too great and not worth the risk. Okay, okay…so marble has its cons. Anyway, there was no way we could move the pillars off the island; they were supporting poles and the cost to remove them was astounding. So ultimately, I went with a quartz stone from Aurea Stone called Paragon. I really do love it, and am happy we went with the quartz. It turned out beautifully, and it really does have a realistic match close to stone. One thing is you have to be careful with heat with quartz countertop. You can't put down anything that is hotter than 250 degrees! So I just have a pretty wood block that I keep out and use to transfer hot pots from stove to island.
Backsplash
Now that I got the paint and countertop figured out, the backsplash was next on my kitchen remodel. I knew I didn't want to go too busy or crazy with a backsplash design. I wanted to keep it white, light and simple and of course match with my quartz countertop. Many people choose crazy backsplash designs and get sick of it after a few years. Backsplash is expensive along with installing. Also, backsplash can be taken so personal and if you need to sell your house people can be turned off from it. So my tip is to keep tile simple unless you are doing a small bathroom. Add color and art to rugs and furniture accessories, which are easy to switch out. When looking for backsplash I looked around mostly at marble backsplash but saw the Bedrosian Cloe tile and fell in love with the high-gloss, texture and color variation of the subway tile. Also, the price was less than half of marble tile, so it was a win win!
Hardware
My tip for hardware is you don't need to spend a lot of money on it. Splurge on appliances, countertops and backsplash, but save on hardware. You may need to spend money on a good faucets, but with cabinet pulls I found that you can get the look of heavy durable pulls and knobs without the expensive price tag. A good place to find reasonably priced hardware is Wayfair, CB2 and MyKnob.com, which carries most the major cabinet brands and half the price than buying from a showroom.