This post is sponsored by Longhini Sausage
We love family Italian pasta night at our house, but we do it completely different than most families. However, I'm sure many of you might like adopting this way of doing pasta night at your house. Reality is– I have many picky eaters in my family. I also have a child who is slightly sensitive to wheat, but also a husband who's got the Italian blood and loves any dish made with pasta. So, we've had to adapt, and the new way of doing our family Italian pasta night has been a huge hit! One item we always make sure we include on pasta night is Longhini Sausage because they are locally-grown Connecticut company, with 70 years of history and heritage, using old-world skill and quality that stands out from modern mass-market or industrial alternatives. The best part is their organic line of hot and sweet sausage that is USDA Certified, paleo friendly, gluten-free, and non-GMO. I love that their premium cuts of whole muscle pork is sourced from local suppliers, and their organic sausages contain 50% less fat than required by the USDA, providing a lean, organic, high-quality alternative to traditional Italian sausage. And above all that, we love the taste!
In the past when it was pasta night, I'd toss together the pasta, marinara sauce and Italian sausage all together in a large bowl and serve it up. But then I would have one child complain that they didn't like the "red sauce", another child didn't like the Italian sausage mixed with their pasta and another child complain they didn't like the onions and mushroom mixed in with the sauce. Can you hear the complaining??! And I, on the other hand, like to watch my carb intake, so I just didn't like pasta night anyway because I would always feel bloated after dinner. So I decided to approach pasta night a whole different way–a la a carte style, otherwise known as DIY Italian family pasta bar. Here are my 3 simple tips for a Family Italian Pasta Night that everyone can enjoy:
(make sure to scroll down to get the sausage recipe)
Tip #1: Everyone loves creating their own unique pasta dish. Depending on your family size and needs, cook a large bowl of wheat pasta and also gluten-free pasta (if needed). I also include zucchini noodles for those who want to stay on the healthier side and watch carb intake (ME!). But also kids love eating zucchini noodles because they are new and taste really yummy with lots of toppings on it.
Tip #2: Cook your Longhini sausage and throw in mushrooms and onions and cherry tomatoes. I'm including the recipe below with the best seasonings, but don't put any sauce on the sausage. If you have picky eaters, they can just pick out just the sausage and not the vegetables, and then add the sauce after.
Tip #3: Separate all your toppings in different bowls. The sauces I put in separate bowls are tomato basil pasta sauce, melted butter and Alfredo sauce. Then we have various cheese bowls like parmesan and mozzarella, along with fresh chopped basil and oregano.
Family Italian Pasta Night is always a huge hit! My kids love all the variety of options, and they always end up mixing sauces together. The sausage is always eaten up the fastest, so I cook up two entire sausage packages. We never have leftovers!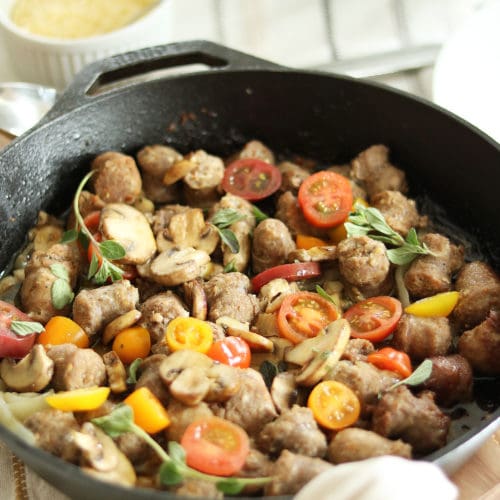 Italian Sausage with Mushrooms and Medley Cherry Tomatoes
The healthiest, easiest and fastest way to cook Italian Sausage that is full of flavor and can complement any pasta dish.
Ingredients
1

package

Longhini Organic Hot Italian Sausage

1

package

Longhini Organic Sweet Italian Sausage

1

8oz

sliced white mushrooms

1/2

sliced white onion

1/2

pint

sliced heirloom mixed medley cherry tomotoes

2

tbsp

fresh lemon juice

3

tbsp

raw apple cider vinegar

1

tbsp

olive oil

2

cloves

fresh minced garlic

2

tbsp

fresh oregano and basil

salt and pepper
Instructions
Cut sausage links on cutting board in one-inch slices.

Heat oil in large skillet over medium-high heat. Add sausages and cook for about 5 minutes, stirring frequently to make sure all sides of sausage gets cooked.

Add mushrooms and onions, and squeeze fresh lemon juice. Stir frequently making sure it is cooked evenly.

Add sliced cherry tomatoes, raw apple cider vinegar, garlic, oregano and basil.

Cover and simmer on low for about 5 minutes.

Season with salt and pepper.
Make sure to also check out our 3-in-1 Chicken Roast Recipe!