Keeping the immune system up with this Vitamin C Power Juice. Get the recipe!
With the coronavirus going around and the children homebound with school closures, I've been teaching them how to juice all sorts of fruits and vegetables. Some have been good and some yuck! But they are having so much fun being food scientists. One of the juices though that I've been making sure they have everyday, along with fresh celery juice in the morning, is what we call Vitamin C Power Juice. They love it, and even my pickiest eater will drink it! The juice is sweet and tart all wrapped up in yummy citrus and refreshing raw juice that is sure to boost your immune system. One thing to note with Vitamin C is to keep your immune system up, you need to take Vitamin C throughout the whole day. Not just one time. Immune systems fall every hour, so technically if you are fighting a virus you should be boosting your immune system every hour. But if you aren't sick then taking at least 2500-5000 mg of Vitamin C throughout the day is the best thing. It's really hard to get that much vitamin C from just foods so you need to supplement. This Vitamin C power juice has supplements in it, so if you don't like the supplements you can take them out and just use the fresh citrus fruit.
Make sure you check out out list of home bound activities for children to stay occupied during Coronavirus outbreak.
Unless you have a citrus tree of some sort in your backyard, you will definitely need to stop by your local market and pick up lots of grapefruit, oranges and lemons. You will also need a good juicer. I have enjoyed my Breville juicer. It is budget friendly and does the job. If you are looking for a higher industrial juicer, I would say spending a little more money and get this Breville Juicer. Also, make sure you grab a little helper to help peel the oranges and grapefruit. Or if you don't want to use a juicer, you can always use a citrus juicer that does the job.
Citrus fruit is so pretty! I love the variety of colors and it reminds me of spring. Display your citrus fruit in pretty bowls and use them as centerpieces around your kitchen. I love this post of displaying citrus fruit. This is a fun centerpiece for a party or temporary display, but make sure to take the tops off after because the fruit needs oxygen or it will become moldy.
After checking out the recipe below, make sure to check of these other great recipes that use citrus:
Make sure to add Vitamin C supplement for a "power boost" to the juice. We love Camu powder, which is one of the super fruits. We also add Vitamin C powder ascorbic acid.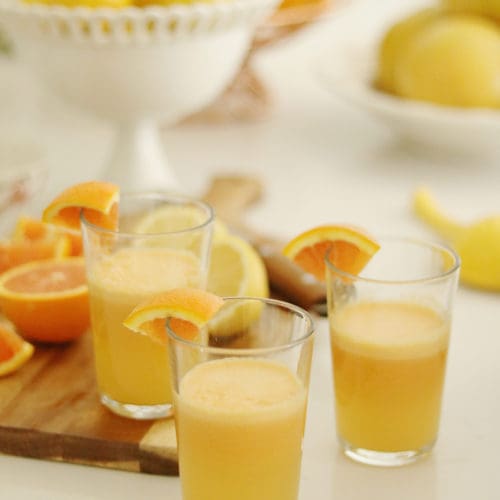 Vitamin C Power Juice
Boost your immune system with this Vitamin C Power Juice Recipe
Ingredients
1

Grapefuit

3

Oranges

1

Lemon

1

tsp

fresh ginger

1/2

tsp

vitamin C powder

(optional)

1/4

tsp

camu powder

(optional)
Instructions
Peel or cut the rind from all the citrus fruit

Put in juicer or use a citrus juice

Grate skin off fresh ginger and put in juicer or use a ginger mincer

Stir in Vitamin C powder and camu powder