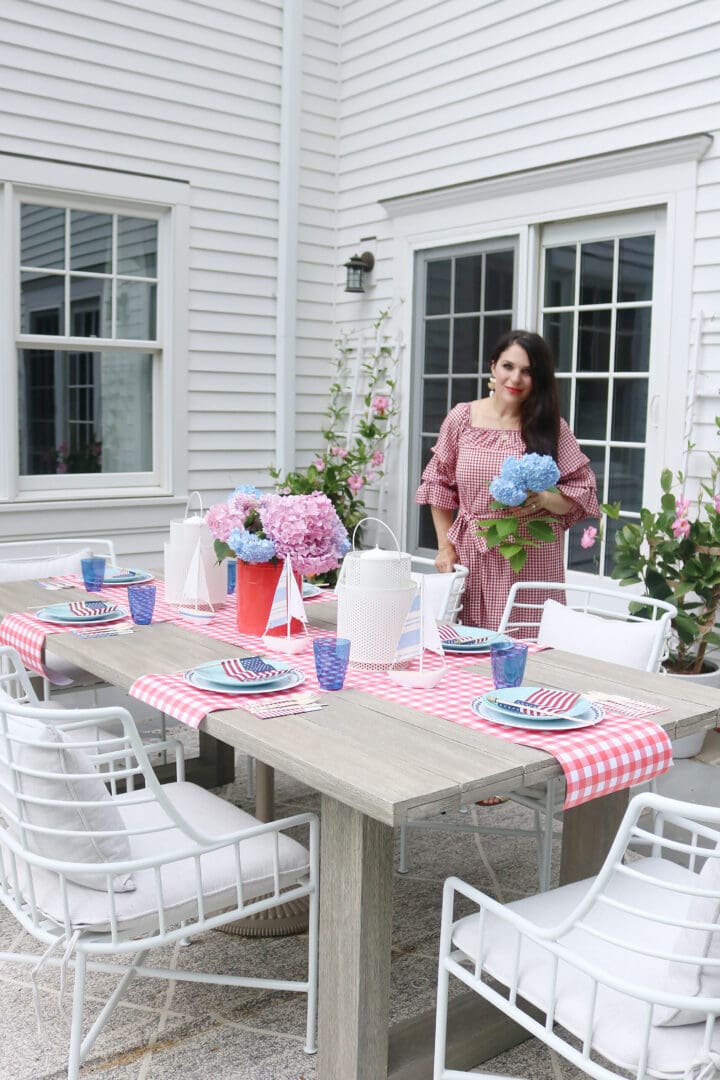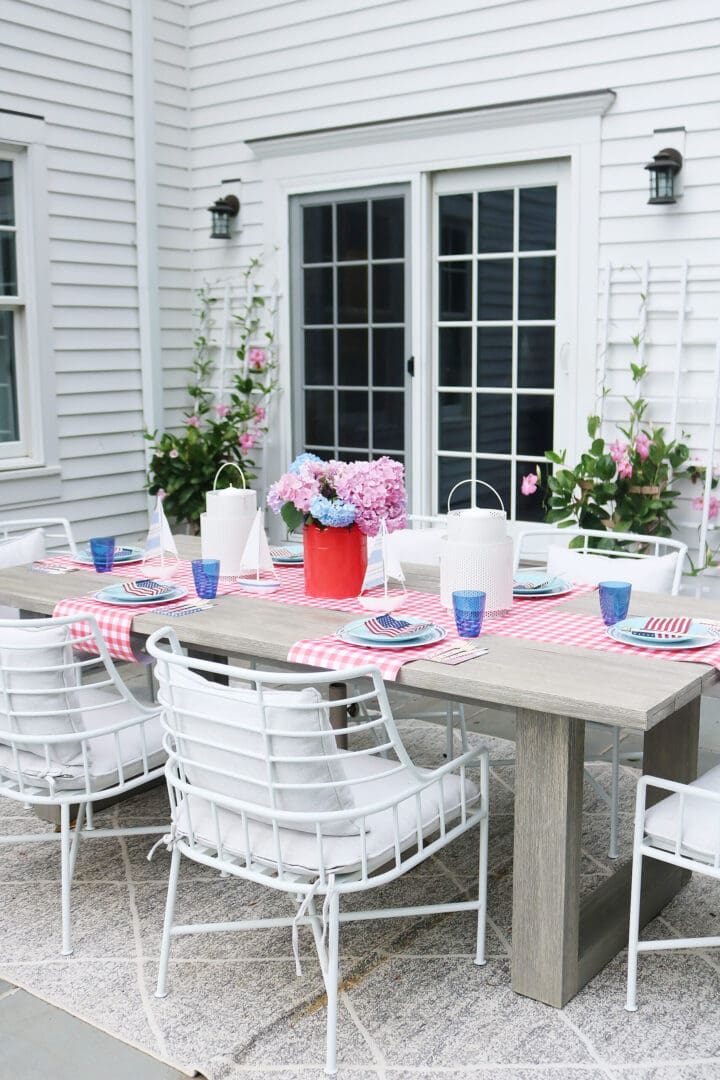 We just entered Phase 2 for reopening Connecticut due to the COVID-19 pandemic. That means we can have up to 25 people over for an outside party. Whoop! Whoop! Since all 4th of July fireworks and town festivities have been canceled for our area, a 4th of July backyard party is a good replacement to still celebrate with a few family and friends and give thanks for our wonderful nation and the independence and freedom we hold so dear to our hearts! So many blessings we need to always remember and hold dear especially when we see so much turmoil in our country today. God bless America!
Make sure to see how I styled my sister's backyard table for the 4th giving it a desert theme look. She always hosts a 4th of july party every year, so we had a lot of fun putting this 4th of July backyard party table together.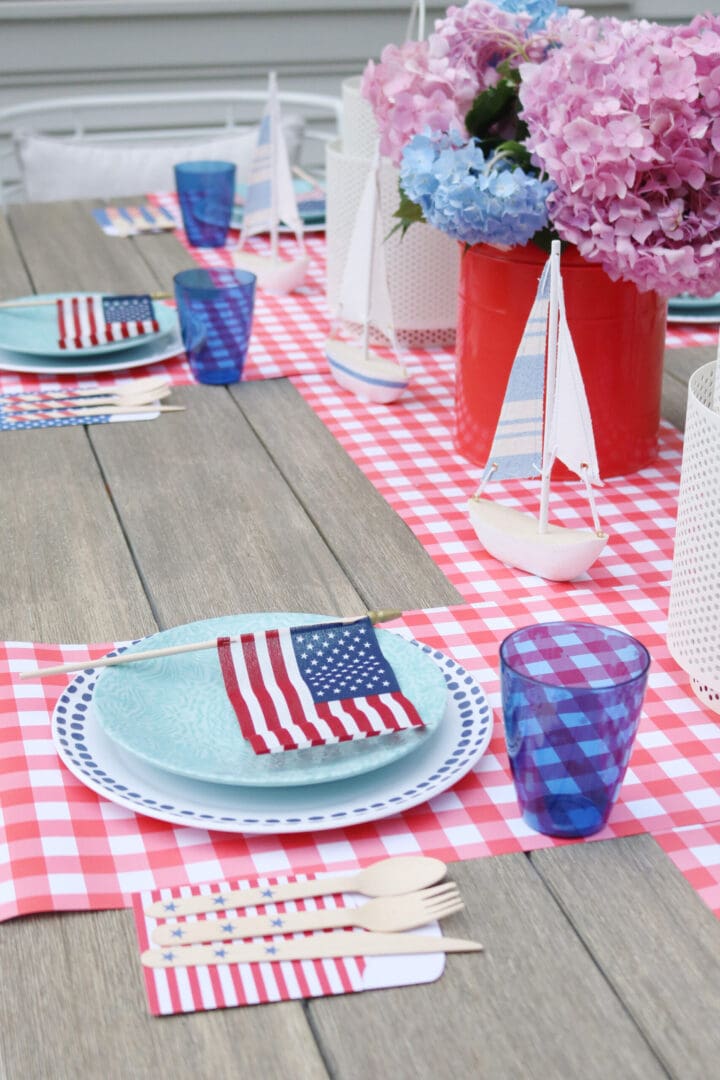 Here are a few quick tips to an easy 4th of July backyard party that doesn't require a lot of money or better yet…effort! A few things that I love decorate for 4th of July parties is with American flags! They are cheap and instantly shout "4th of July"! Plus they are a fun party favor and don't cost that much money. I bought 4 of them for $3.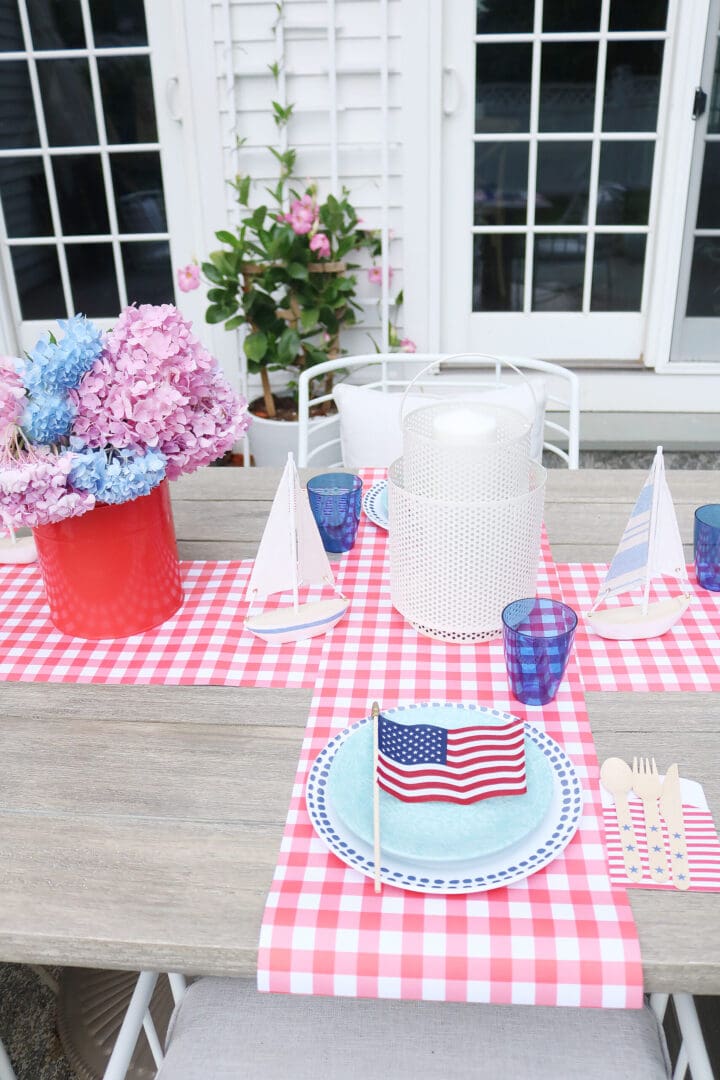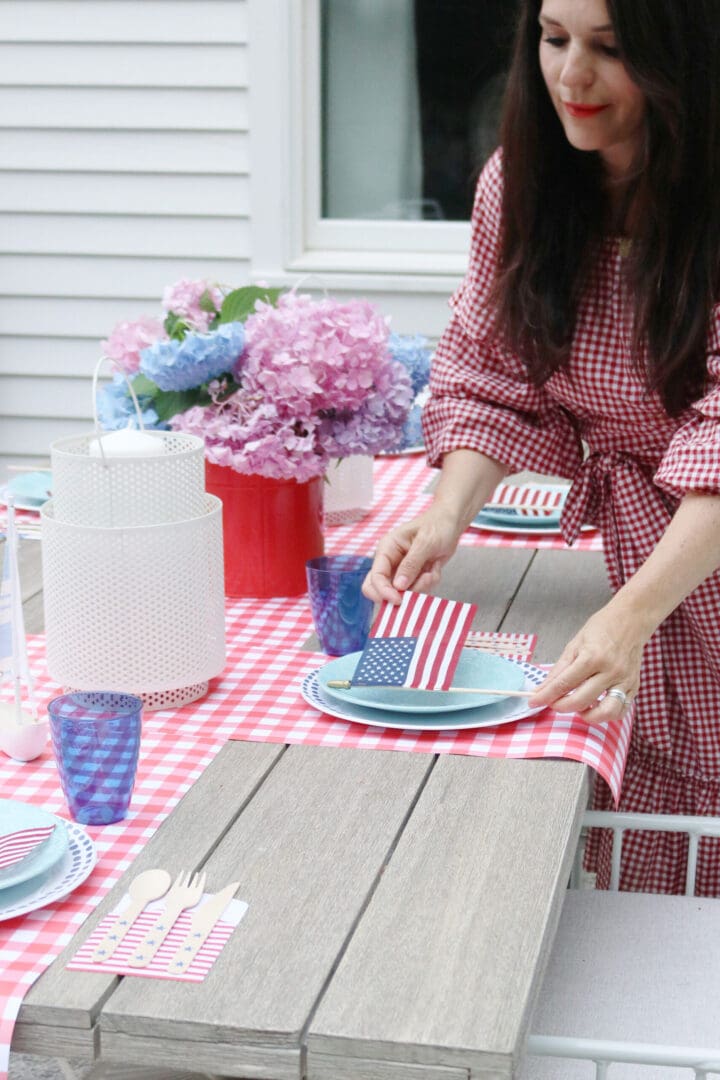 Another item I love to decorate with for the 4th of July is hydrangea flowers! They are blooming during the 4th of July, so if you don't have your own hydrangea plant you can definitely find them at your local flower market. I love to arrange with the combination of blue, pinks and white. I just cut these right from my backyard and am in love its fullness and beauty!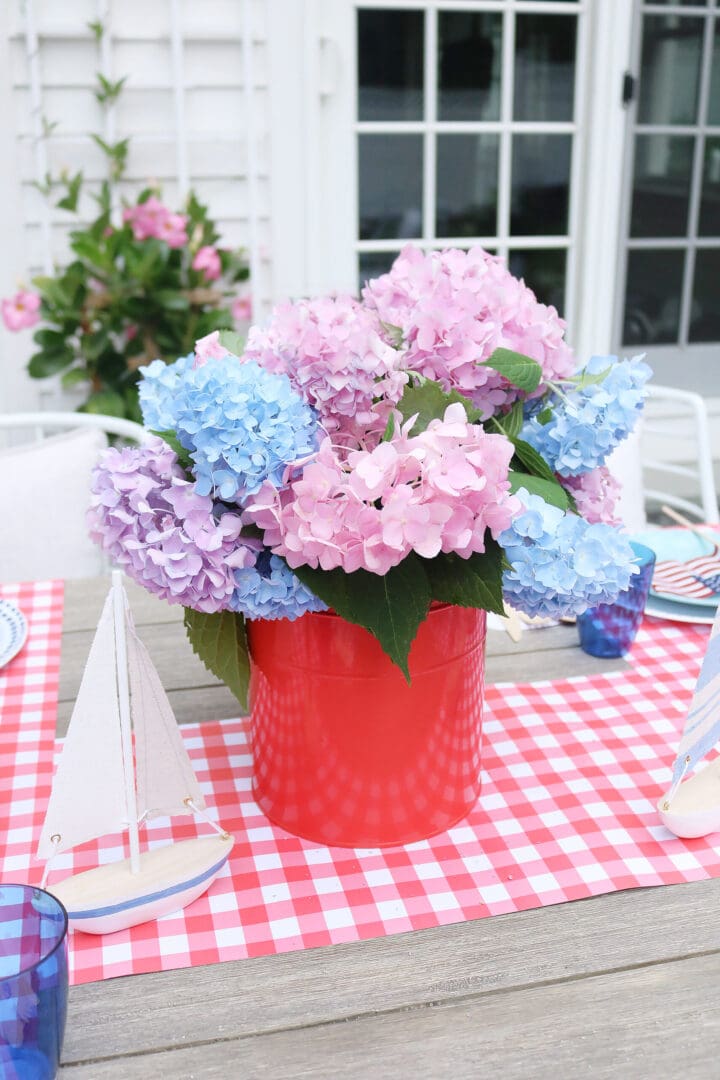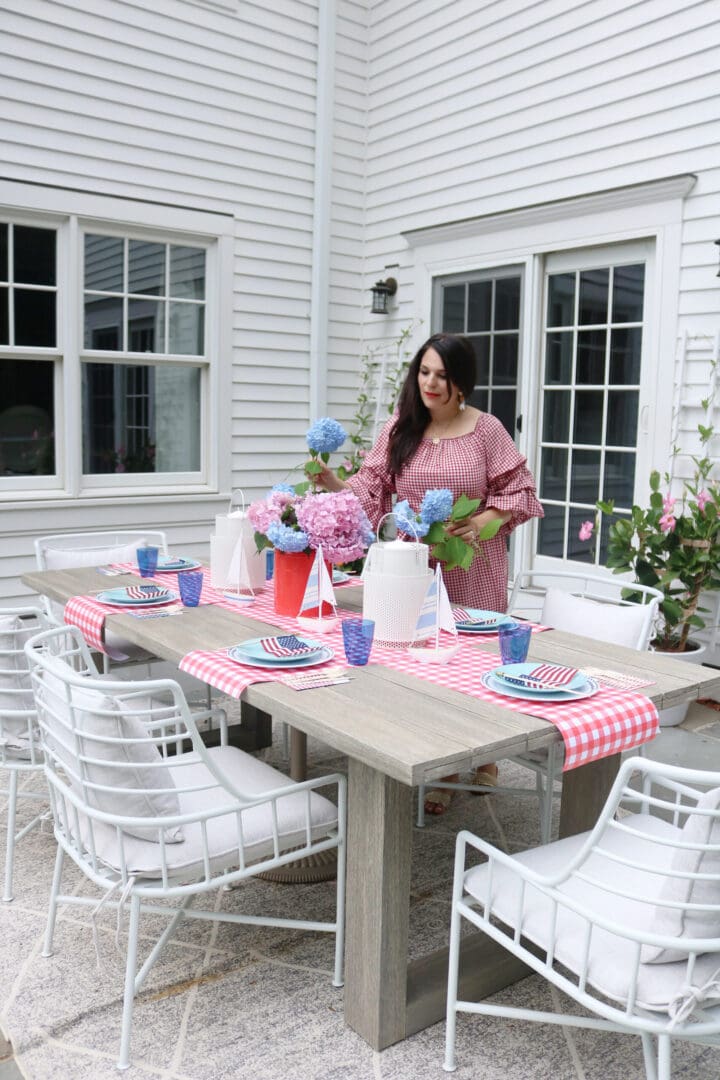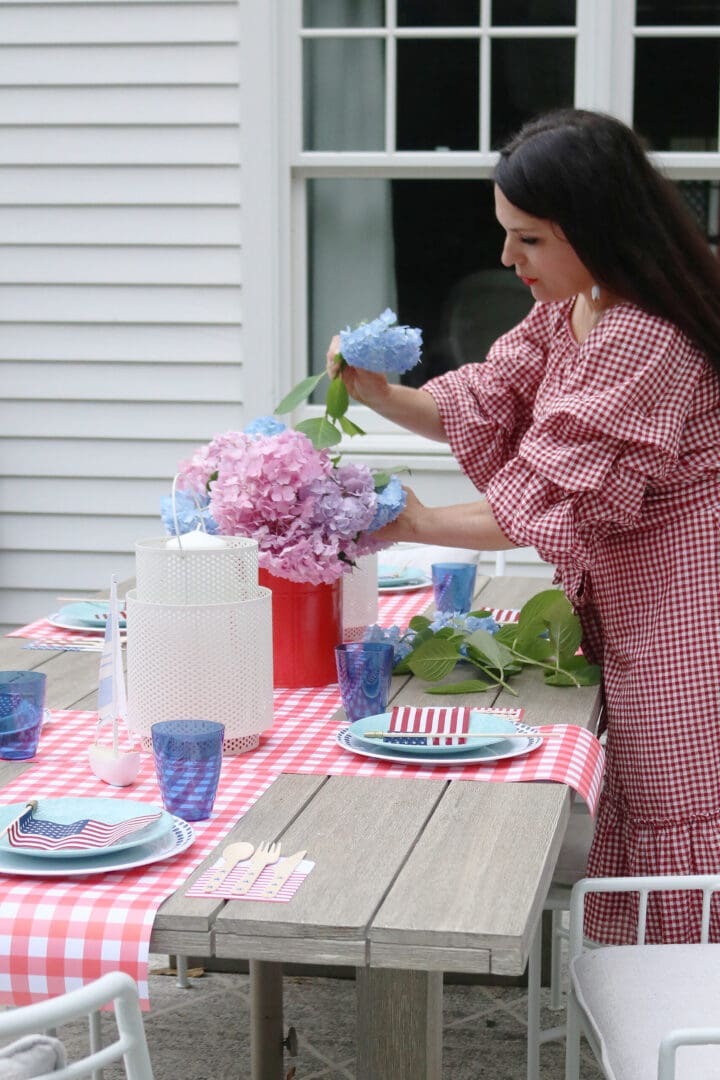 A budget friendly table decoration is using paper roll or wrapping paper as a tablecloth or table runner. This red gingham paper roll I picked up at the dollar section of Target. Here is a similar style. You cut it down to size or shape. I even used leftover wrapping paper to decorated this blue and white tablescape, and it tied everything in beautifully!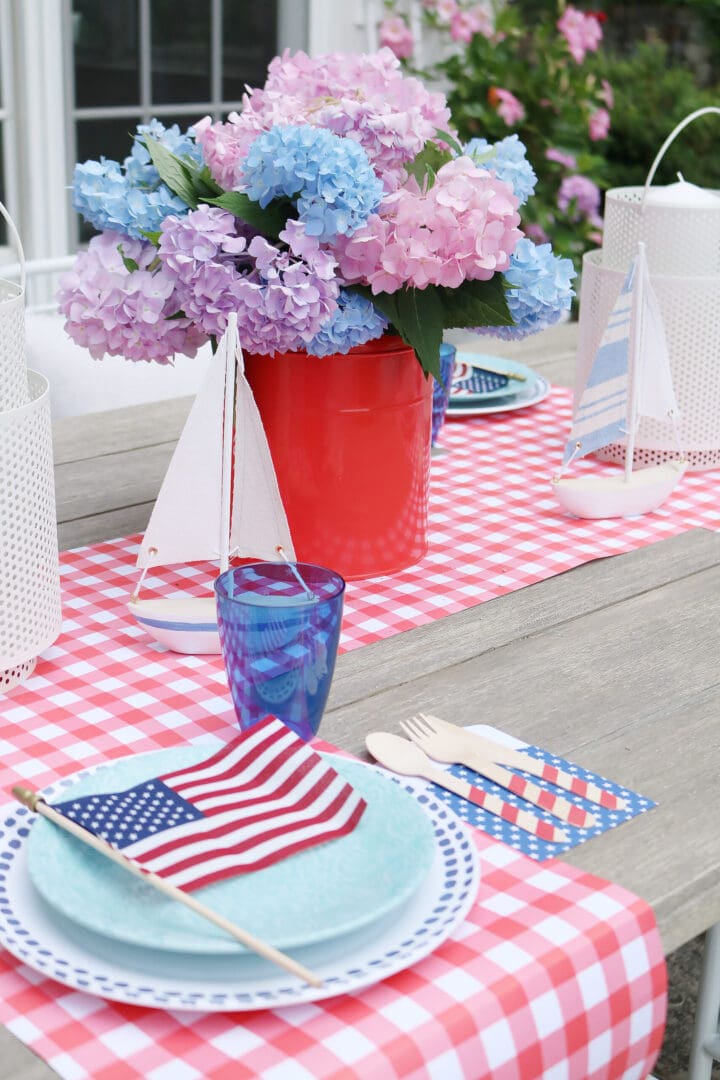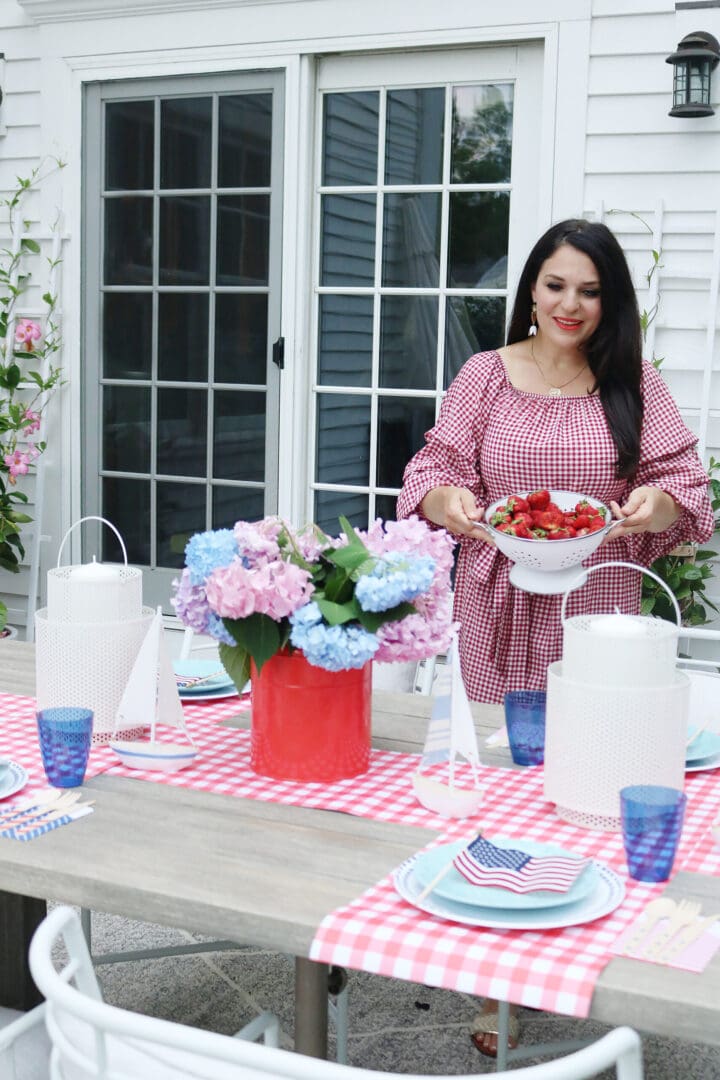 Don't forget to pick up cute melamine outdoor plates and cups! It is definitely worth the investment. I love using reusable plates and cups because it is good for the environment, less waste and easier to eat off then paper plates, especially when your plate is loaded with a ton of food! There are definitely a lot of cute 4th of July paper plates, but last year I took the plunge and bought melamine plates and LOVE them! They are also great with children.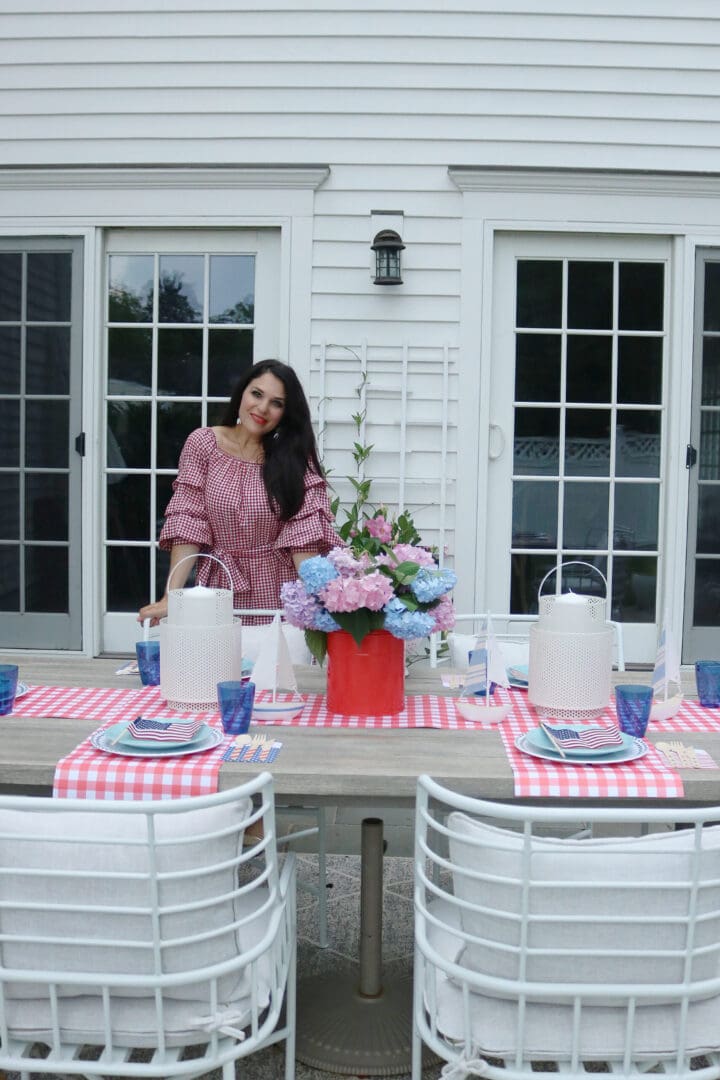 Last but not least, head to your local dollar store or the dollar section of Target and look for other 4th of July table tops like those cute little sail boats and candle lanterns. They were all found in the dollar section! Along with the wooden utensils. I couldn't resist. So much cutest and paid under $20 for it all. Then to top it all off, add a pretty 4th of July cake or cookies to also display as a centerpiece. It will give the final centerpiece punch to your 4th of July backyard party!
Then of course, you have to ask all your guests to come in red, white and blue–then get ready enjoy a night of festivities!