Thanksgiving is right around the corner, and I'm in the kitchen baking up the most yummiest healthy pumpkin pie.  You wouldn't believe by the taste that it is gluten-free, dairy-free and sugar-free pie.  All in one!  With just a couple more weeks until the big feast, I am sure you have planned your Thanksgiving menu.  And I wouldn't doubt if pumpkin pie made the list.  So, if you are one who loves pumpkin pie, but has allergies or just trying to stick to a diet, consider making this gluten-free, dairy-free and sugar-free healthy pumpkin pie this Thanksgiving.  Yes!  All those "frees" in one yummy pie dessert.  We make it every year and it is easy, healthy and highly recommended.  I almost like it better than the real deal. Almost.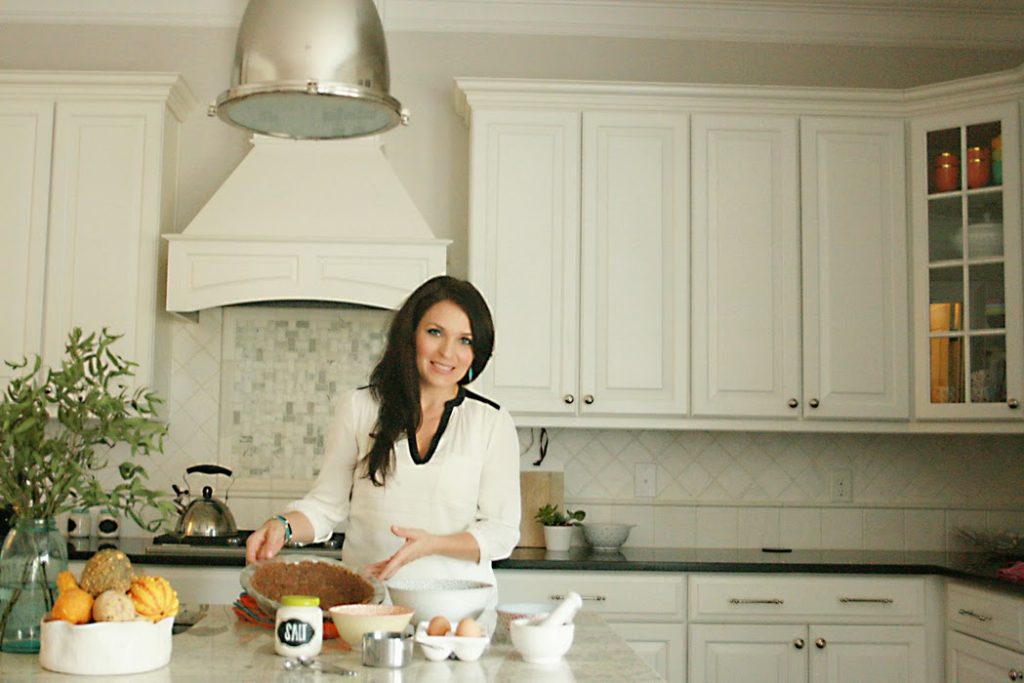 Come step inside my kitchen! From my previous posts, you know how much I love
pumpkin
and view pumpkin as a healthy root vegetable.  To get the best health benefits, it is best to make your own
pumpkin puree
out of a sugar pumpkin.  But since I know most of you are not going to go down that route, try to purchase
organic pumpkin puree
.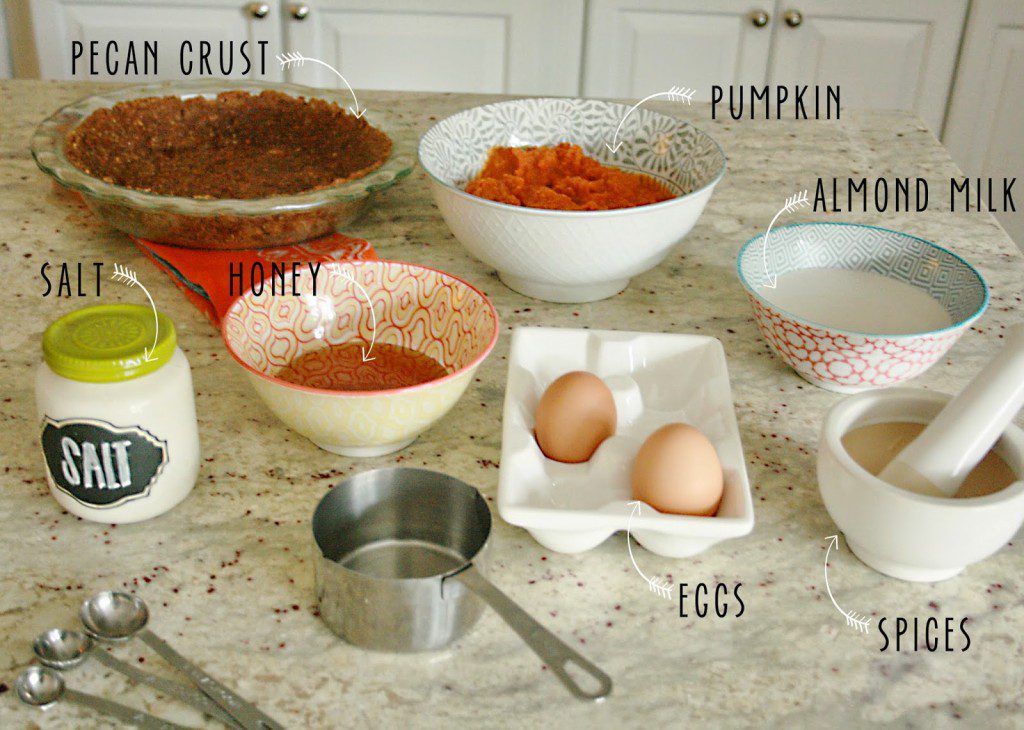 I have to point out that the pecan crust is really quite divine and what makes this pumpkin pie recipe so yummy.  Don't forget to buy organic.  Believe it or not, organic eggs will allow the pie to rise higher than non-organic eggs.  I've test it!  Buy raw, local honey.  And for the almond milk, I listed my favorite brand on my last post.  Also you can make your own homemade almond milk.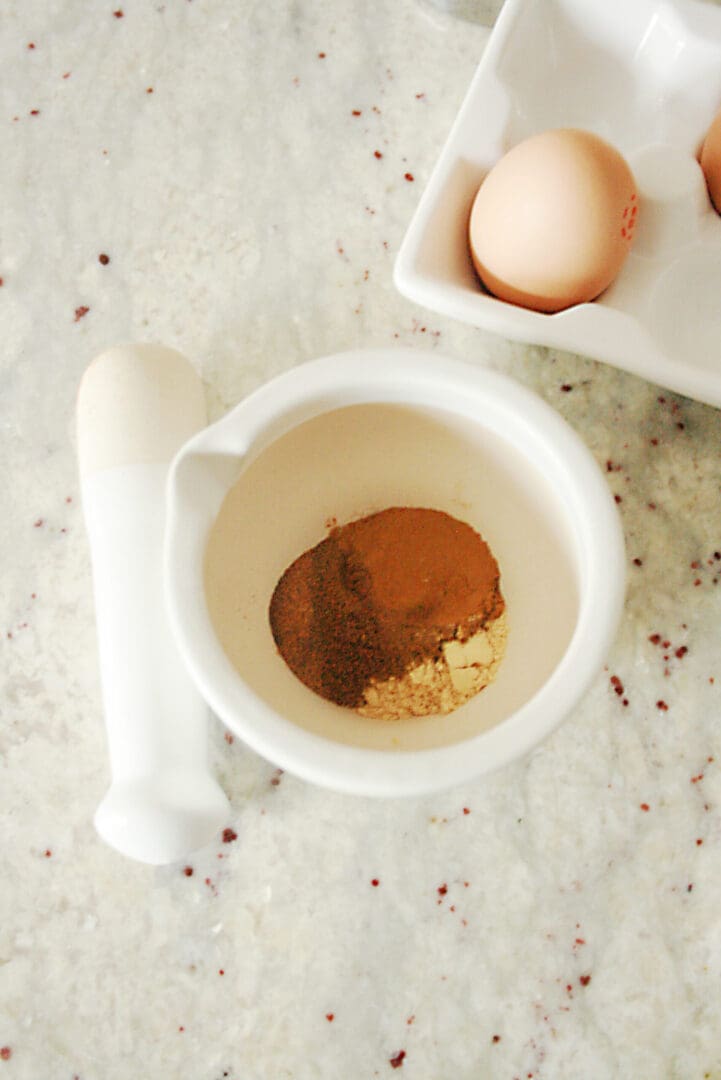 Mix up your own pumpkin pie spices with of course organic spices.  Why?  Well, non-organic has silicone dioxide in the spices.  I like the Frontier brand of spices.
Before you make mix your healthy pumpkin pie ingredients, you will first need to make the pecan crust recipe. And while that is cooking for a short time-period, blend your pie ingredients and then pour into the prepared crust.  Then bake.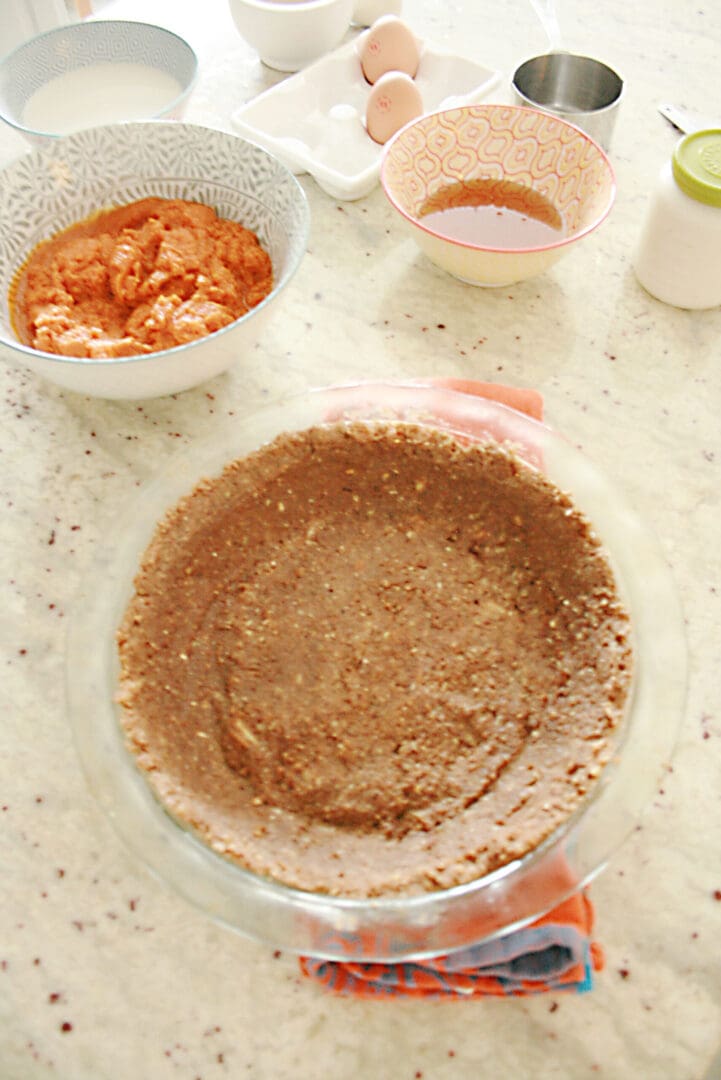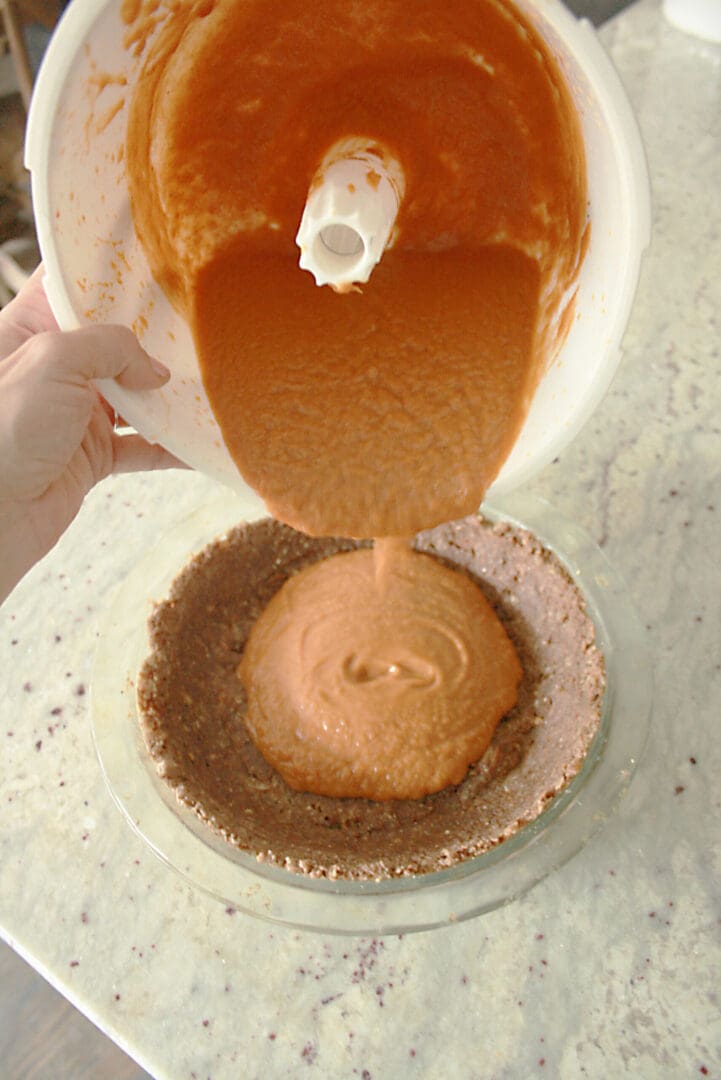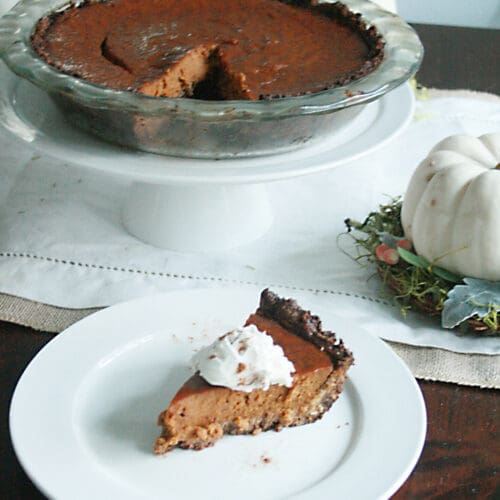 Healthy Pumpkin Pie
HEALTHY PUMPKIN PIE: GLUTEN-FREE, DAIRY-FREE, SUGAR-FREE
Ingredients
2

cups

pumpkin puree

1

cup

almond milk

2

eggs

1/2

cup

raw honey

1/2

tsp

salt

1

tsp

cinnamon

1/2

tsp

ginger

1/2

tsp

nutmeg

1/4

tsp

ground cloves
Instructions
Pre-heat oven to 425.  Make pecan crust (recipe below).  Puree almond milk and pumpkin in a blender.  Add eggs and blend.  Then add remaining ingredients and blend.  Pour mixture into crust and bake.  Bake at 425 for 10 minutes, then turn down the oven to 350 and bake for an additional 30-40 minutes.  (Depending on your own.  Pie is done when inserted toothpick comes out clean.  Serve cold and with whipped coconut milk.  (Pie tastes best when using fresh spices and letting it sit overnight to allow the spices to do their thing!)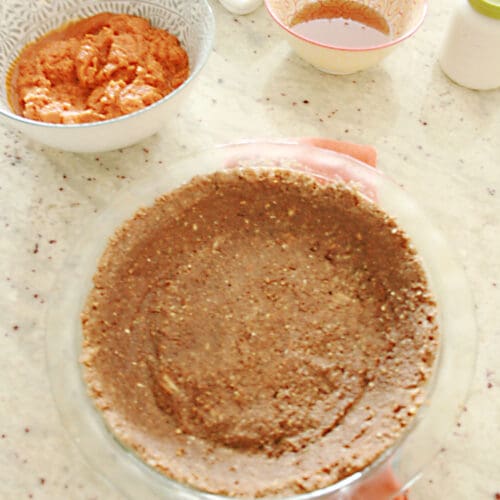 Pecan Pie Crust
Ingredients
2

cups

raw pecans

5

tbsp

coconut sugar

1

tsp

cinnamon

1/2

tsp

salt

5

tbsp

coconut oil
Instructions
Pulse pecans, coconut sugar, cinnamon and salt in a food processor or blender.  Then, add coconut oil and pulse until mixture is finely ground and holds together like damp sand.  Press the pecan mixture into 9″ pie plate.  Bake for 8 minutes until lightly colored and fragrant.  Set aside until ready to fill.
Notes
UPDATE: After baking the pecan crust for different recipes, I have skipped the pre-baking of the crust and instead just poured the filling in and then baked.  But if you want that toasty pecan taste, which is so yummy with pumpkin pie, bake prior.  But pecans burn easy, so definitely keep an eye on your crust!  Let it completely cool, then put the filling in.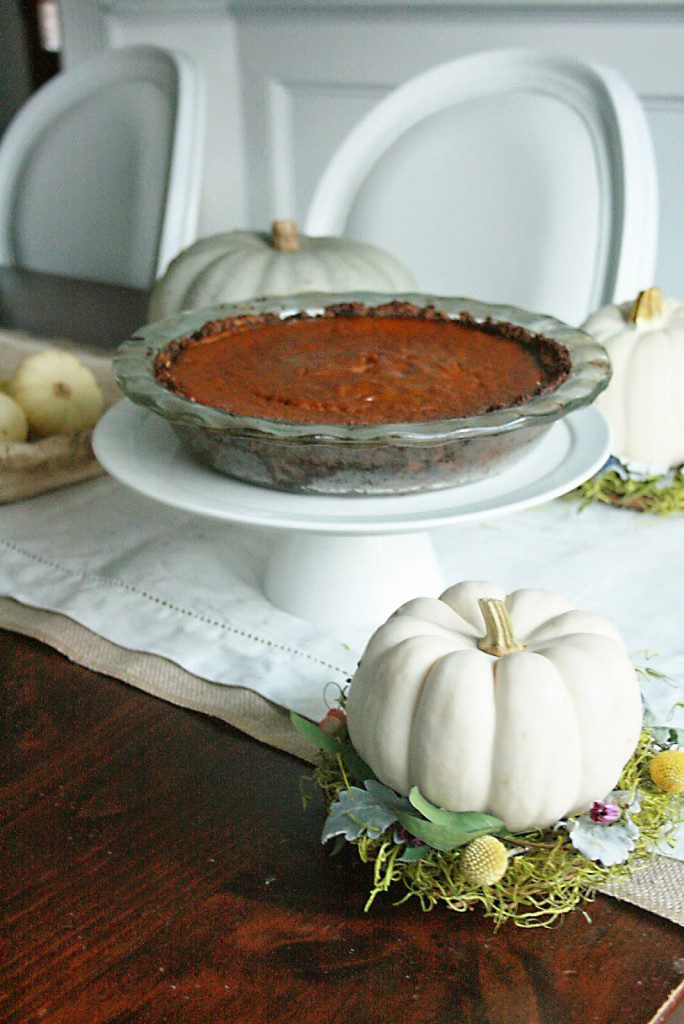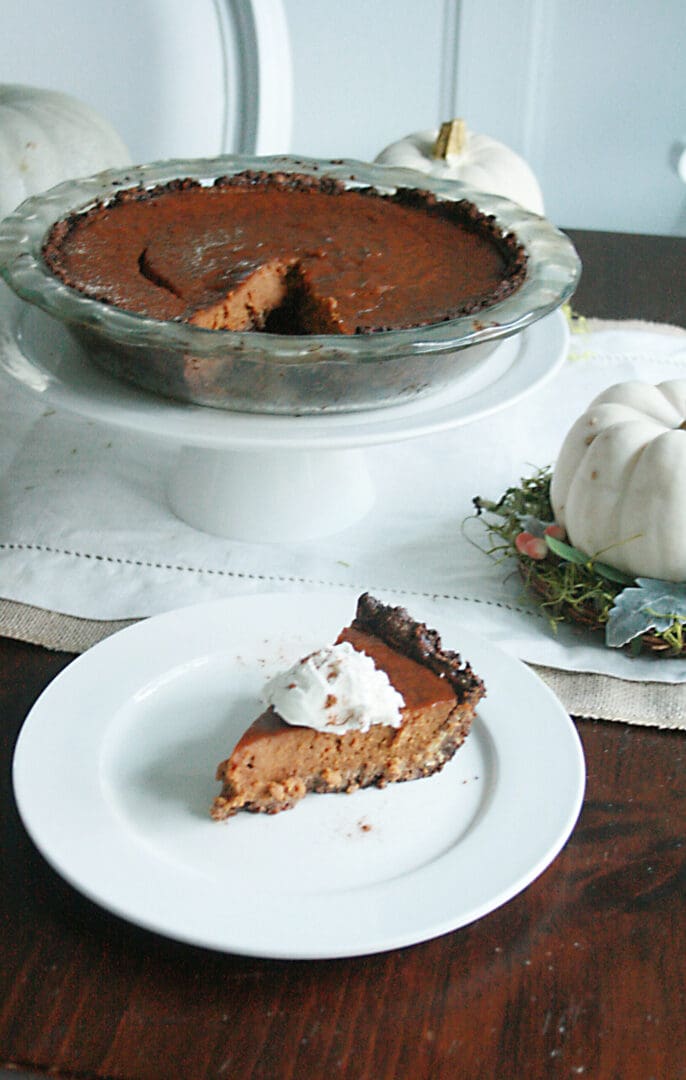 This post was originally published on November 25, 2014 for How Does She and has been updated with the full recipe.