Plus a DIY Over-The-Table Floral Rod to Make Your Thanksgiving Table a Feast to Remember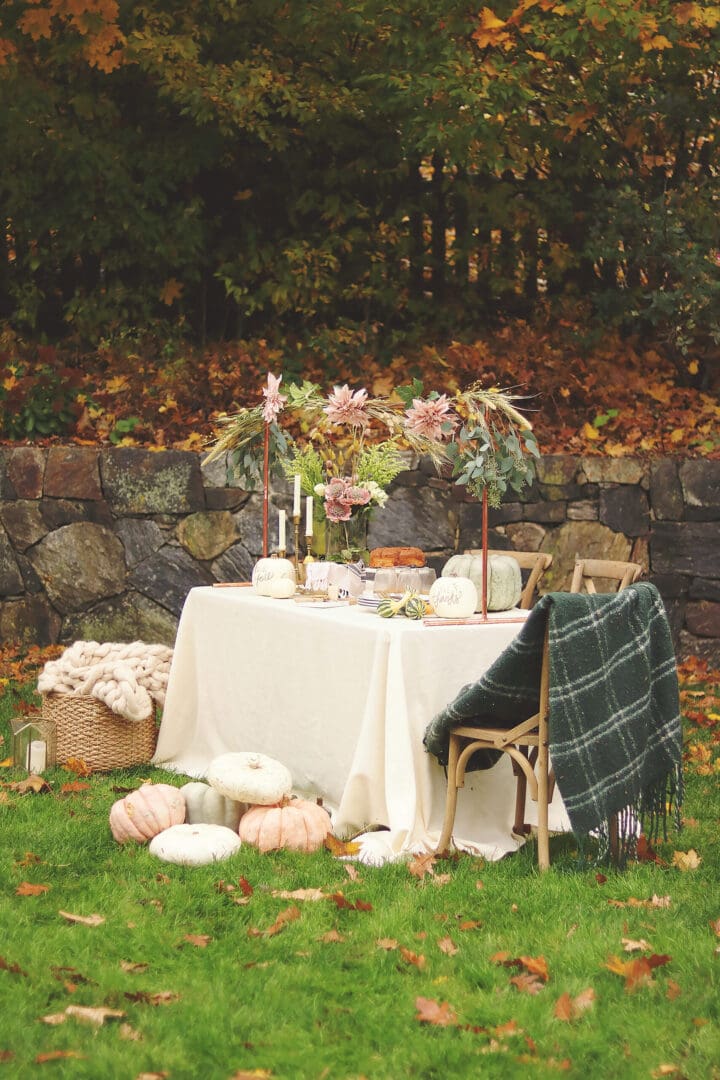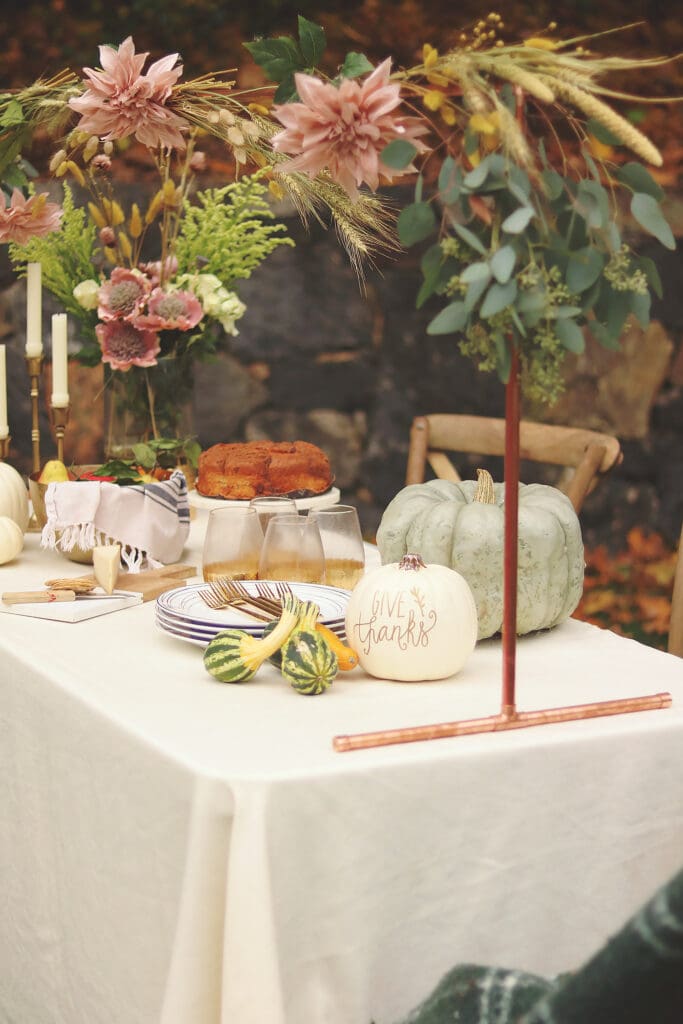 The leaves are changing, and the beauty of the earth is in hues of yellows, oranges and reds. All the reason to take Thanksgiving or Friendsgiving (is that even allowed anymore?) to the outdoors this season. There is something so wonderful about the simple pleasure of cooking and baking for friends and family and enjoying a homemade dinner, freshly made drinks and good conversation. Cozy up to an autumn table setting of warm plaid throws, copper mugs filled with cider, and of course, gorgeous blooms to boot. This year I thought it would be perfect to set up an outdoor Thanksgiving table because of the dynamics of our current situation. Take your Thanksgiving feast outdoors and still enjoy family and friends!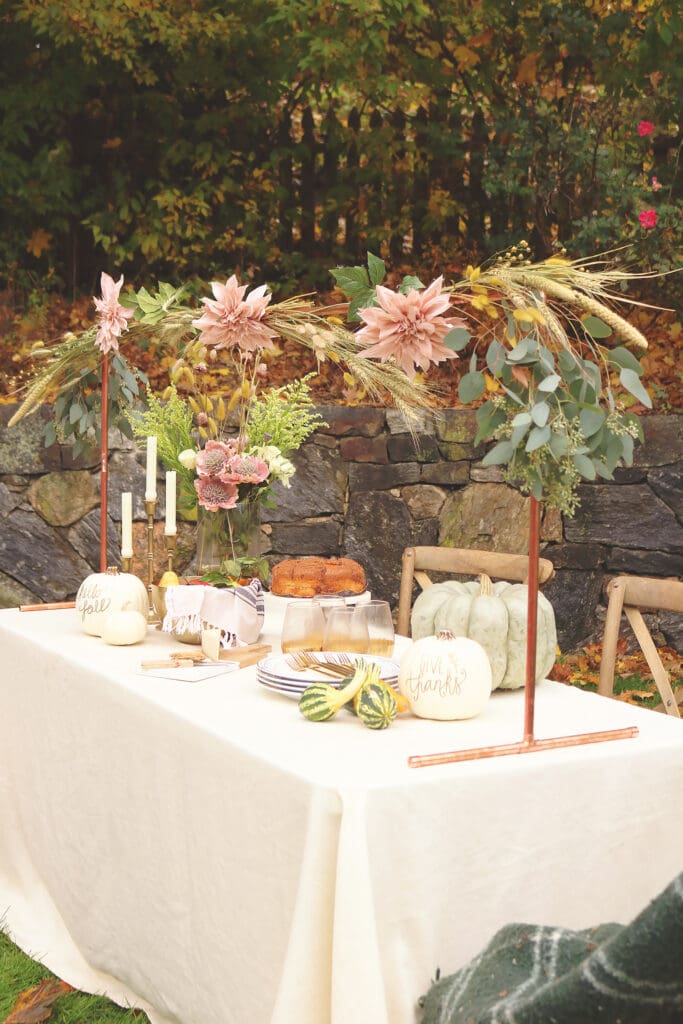 For my outdoor Thanksgiving table this year, I knew I wanted to make an over-the-table rod to display a mix of dried and real floral arrangements. After seeing the beautiful Thanksgiving display tables at Terrain using this over the table rod, I was obsessed. But knew I could make one for a lot cheaper! So many fun things that you can do for fun table decoration! I'm excited to use it for Christmas decorating. How beautiful will it look with green garland and metallic ornaments??!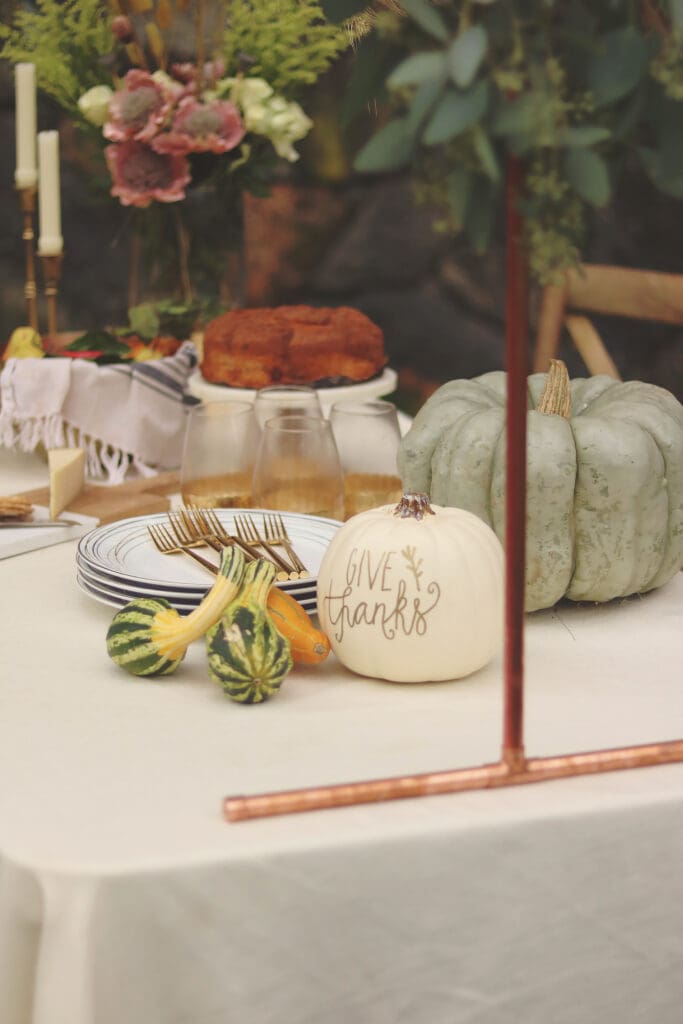 To make this DIY, please first check out my post on how to make a Copper Clothing Rack. This post will give you more details on cutting the copper pipe.
Check out my IGTV video doing a quick tutorial on it how to make the over-the-table rod. Make sure to follow me on Instagram.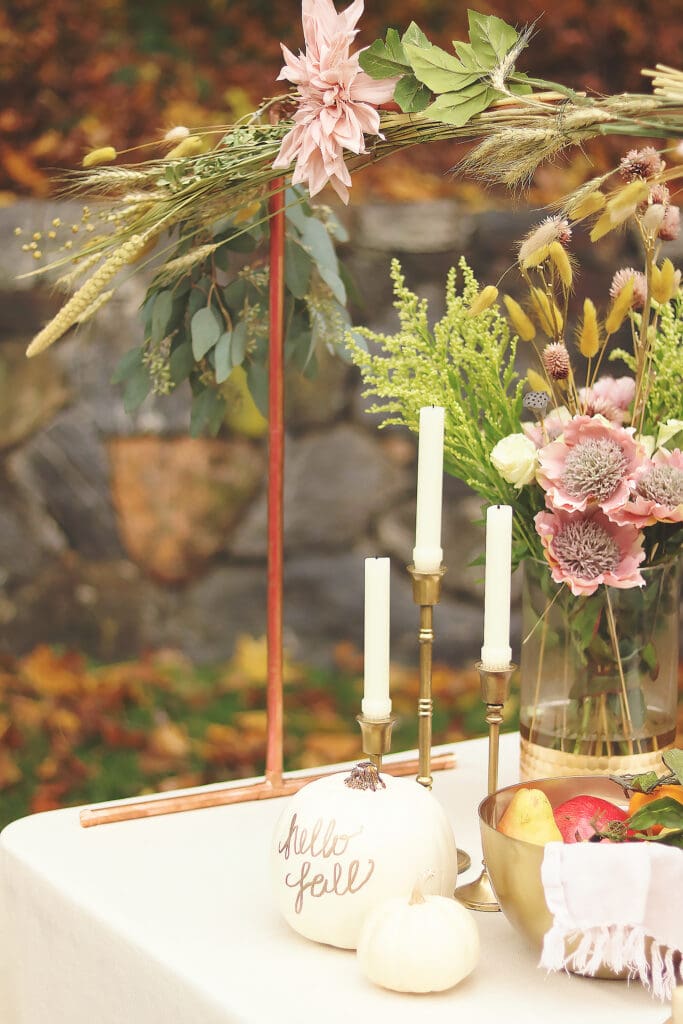 DIY Over-The-Table Copper Rod
All supplies can be found at your local Home Depot store in the plumbing department!
2–1/2″x1/2″ 90 degree elbows (make sure it's a 1/2″ on both sides! Very important!)
black sharpie
tape measure
E6000 glue (optional)
nail polish remover (for cleaning the pipes to remove all the ink)
Floral Wire (this is for add flowers and other decorations to hang off the rod)
Instructions: First thing is clean the pipes with nail polish remover to get rid of all the red ink marks. Then take your 10-foot copper pipe, tape measure and sharpie. Measure your table to determine how long you want your rod. I cut mine a little shorter than 6 feet for a 6-foot table. I wanted to use as much space of the table. BUT, keep in mind that you won't be able to use your seats at the end of your table. (Please reference the pictures above to understand.). So, if you are planning to have people sit at the end of the table, then cut your pipe shorter, enough to have a placement setting (plate, cup, utensils) at each end of the table.
Then mark with a sharpie. Cut with your copper pipe cutter. After cut two 26″ copper pipes. These will be for your sides. Then I cut four 8″ copper pipes. This is for your feet. Next you will assemble using the copper fittings. You will take the two 90 degree elbows and connect the two side pipes (vertical) to the top pipe (horizontal). Then you will take your two copper tees and connect the feet to the side pipes. Finish off the feet with end caps.
Use the glue ONLY if you want to make it a permanent fixture. But I like to take it down and store in my basement without being a burden on space, so I didn't use glue on my over-the-table table rod.
Grab your floral wire. I picked up dried floral and fresh eucalyptus branches from my local Whole Foods. I also added silk flowers that I used from this birthday party. Since the flowers can't have water on the table rod, I like to use a mixture of silk and dried flowers. Then I use real flowers for my table flower arrangements.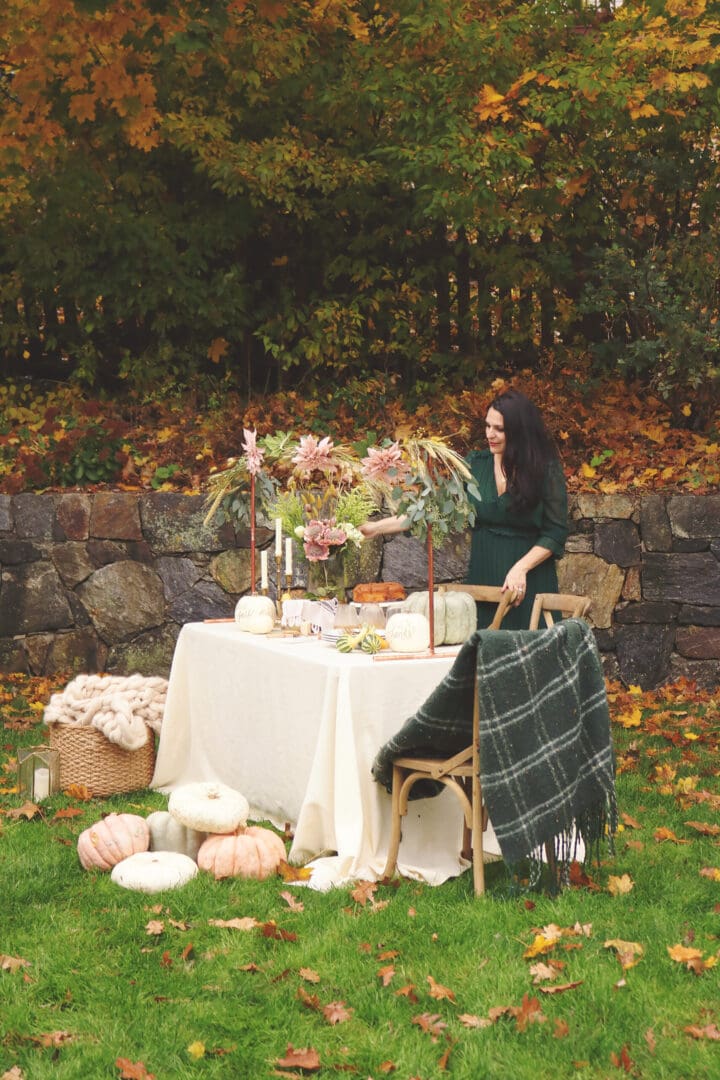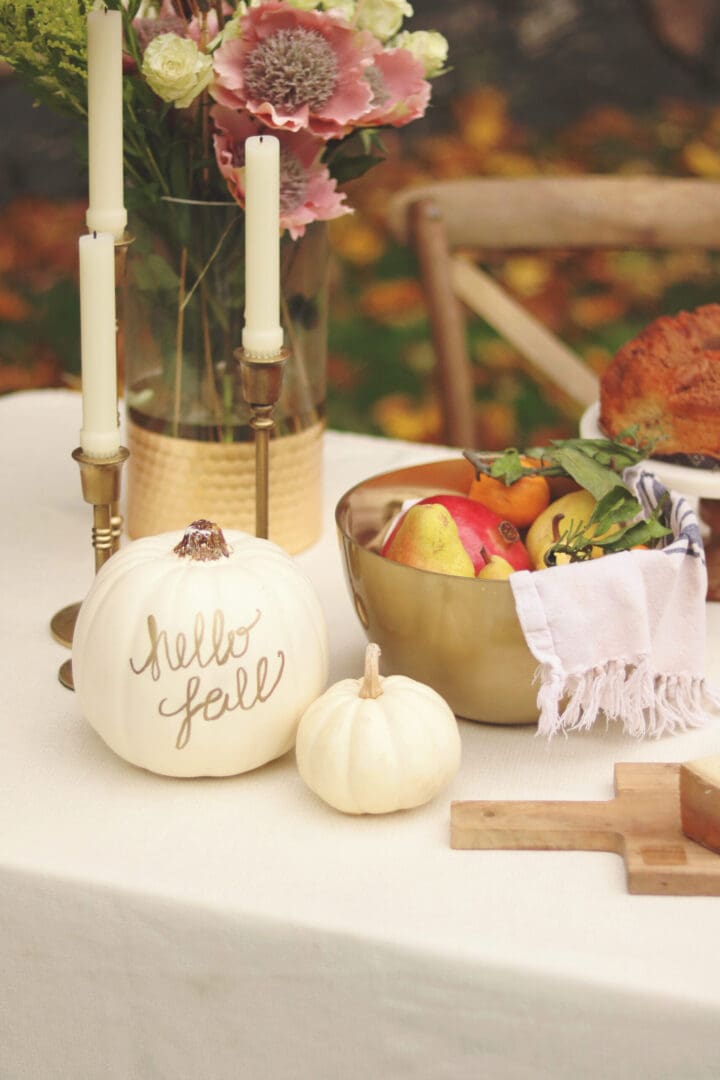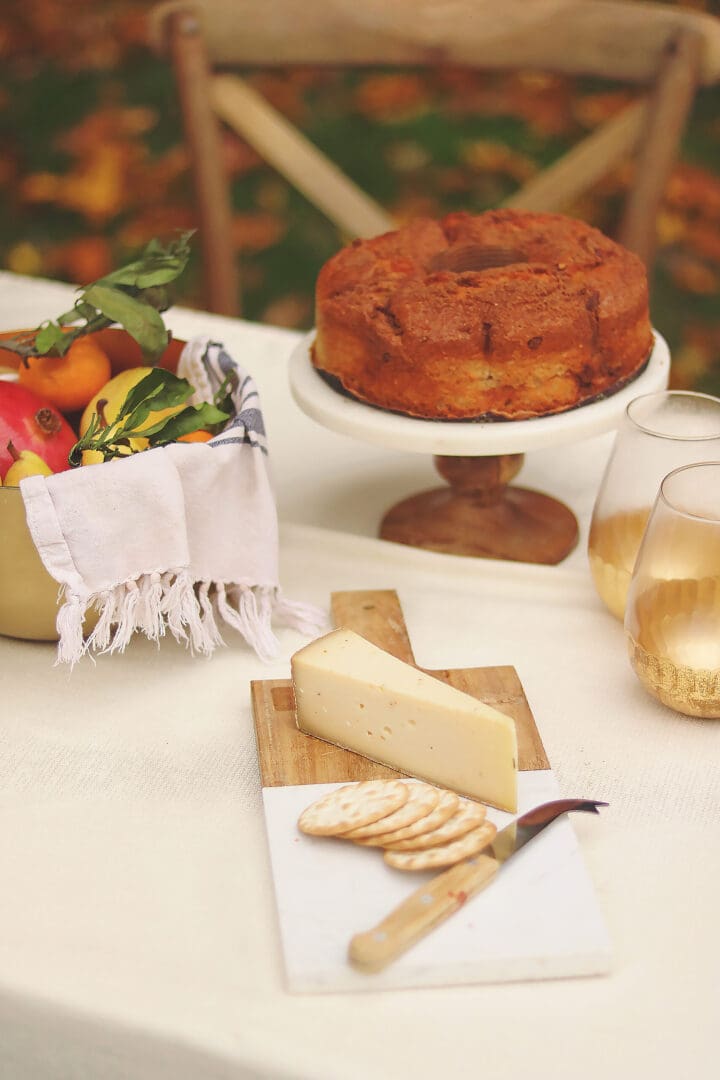 *Fun Crafting Idea: grab a metallic sharpie pen and write on white crafting pumpkins Thanksgiving phrases. OR have all your family write what they are thankful for. Enjoy for many years to come!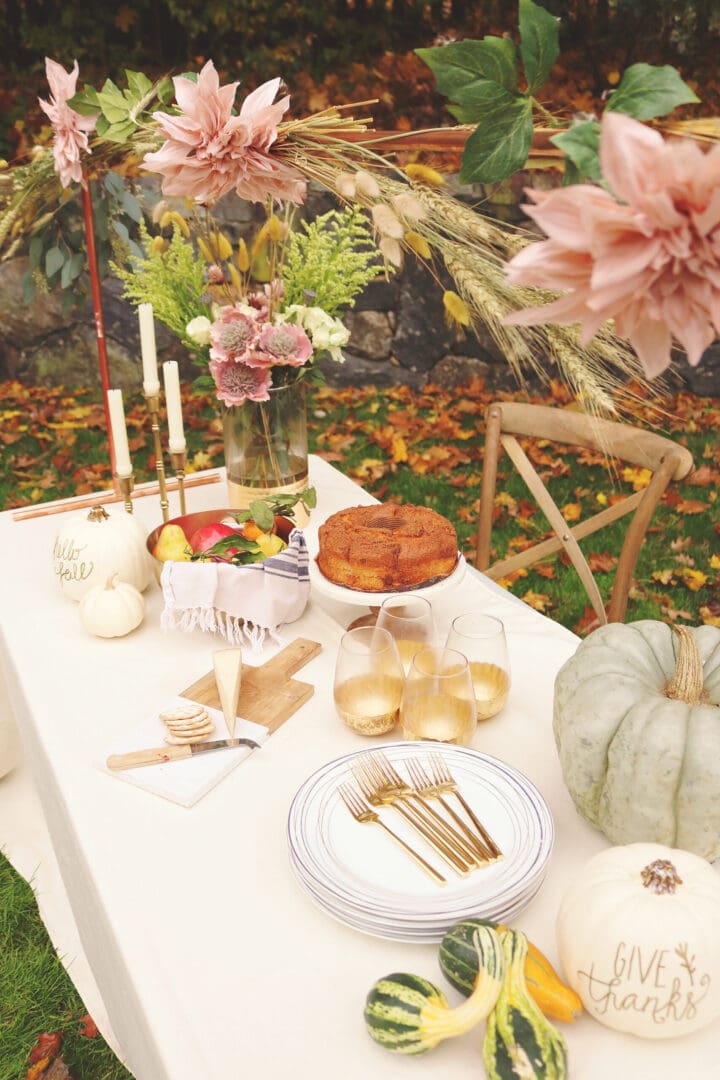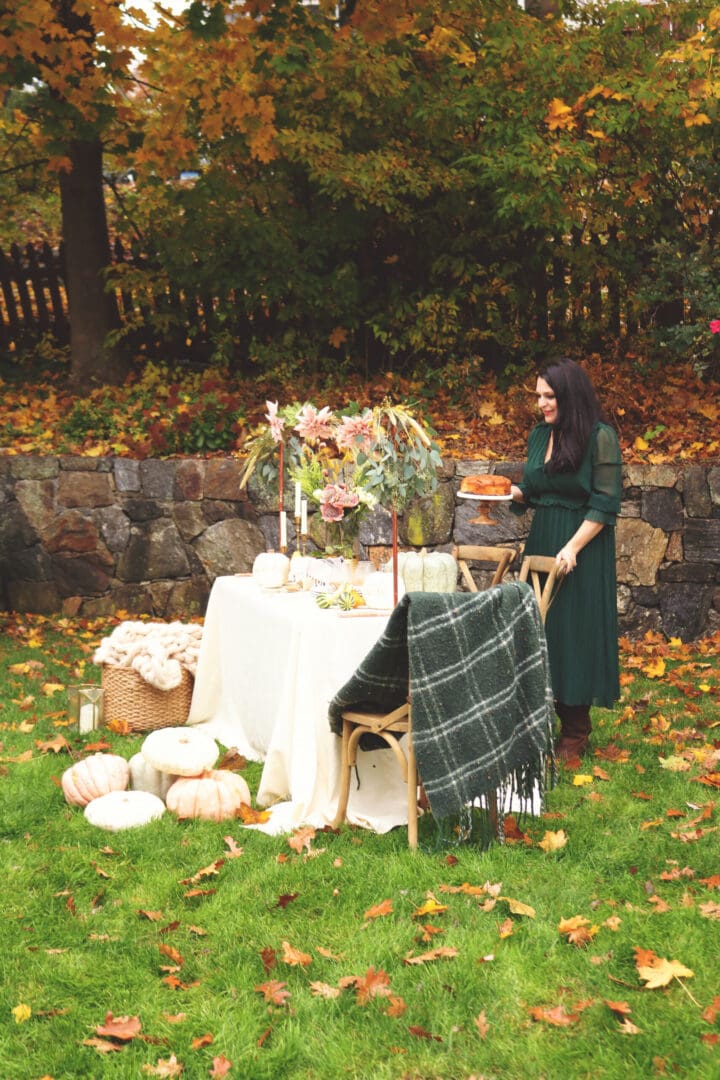 Make sure to include blankets and hot drinks to keep your guests cozy and warm for your outdoor Thanksgiving table! If you have an outdoor fire pit, make sure it is on! There was one Thanksgiving where we had it an outdoor barn Thanksgiving. It was really quite magical, but it was cold. We look back and laugh how cold it was. But such a fun memory.