Sharing My Review on Our LoveSac Sectional–what I like and what I don't like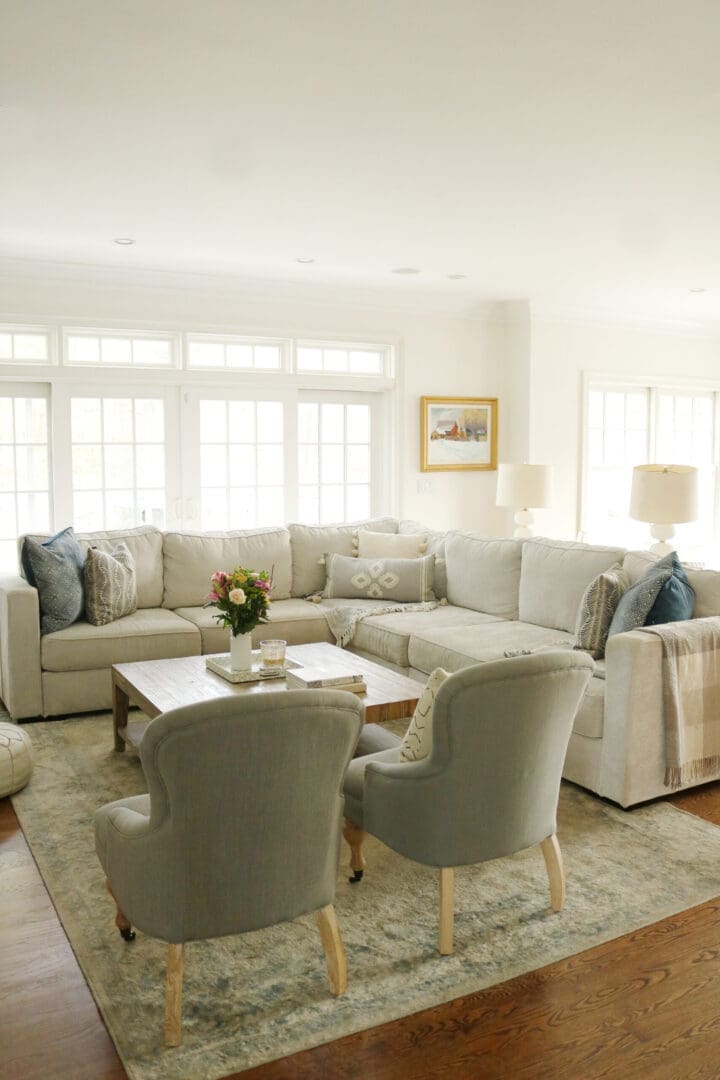 We were in need of replacing two of our sofas in our main family room. We decided instead of buying two new sofas to instead buy a large sectional. Our children are getting big and becoming young adults, so enough seating for the whole family was very important to me. I searched many sites to decided which sectional to go with. I came down to this sectional or this sectional. I love the style and the fabric choices. I wanted to go with a lighter fabric, but my husband said no way! No more white sofas! I don't blame him though. We have four children and a dog that sheds. Our white sofas have been thrashed through the years. I have spend hundreds of dollar getting the sofas professionally cleaned, and hours with me spot cleaning. But at the same time I love the clean, bright look of a lighter sofa. You can match rugs and pillows much easier with them. They are perfect for seasonal decorations. We decided to get a Lovesac sectional because their fabric is washable. The sectional is definitely an expense, but really not much more than the other two sectionals I was looking at! I know buying any large piece of furniture is an investment, so I thought I'd do a Lovesac Sectional Review to help those make a decision and decide whether a sectional would be good for their family and home life.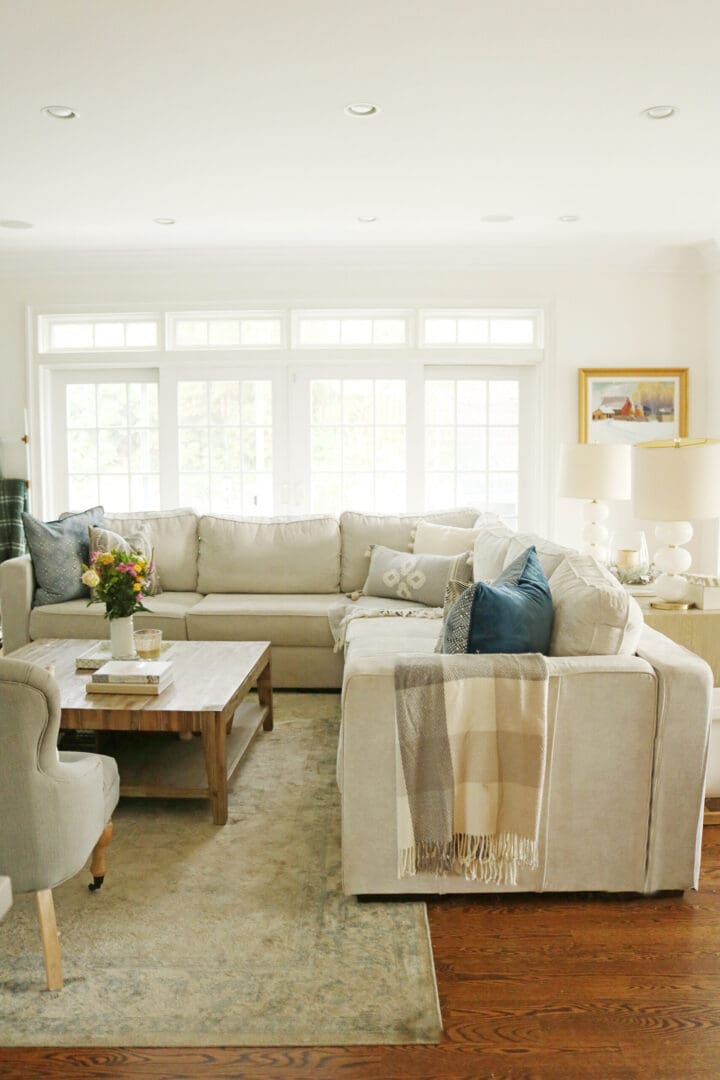 LoveSac Sectional Review
I've been wanting to get a LoveSac sectional, or sactional as they call it, for many years. One of the things that I love is that it is modular, and you can move it around and configure the cushions so it works with your space and family lifestyle. I have been wanting to buy one for our basement. I love the idea of a family-home theatre room with a giant sactional. Well, the home we moved in actually already had a home theater room, so I put the idea of the sactional for our basement in the back of my head. When the need came up to replace our two large family room sofas (my boys did WWF wrestling on it and split the sofa in half (no joke)), I thought a sectional would be perfect for our space. We finally settled on a LoveSac with the covers in their Sky Grey Corded Velvet. For our set up we purchased 6 bases and 8 sides. One side of the sectional is a deep seat, which you definitely want! We didn't think we would want a deep seat, but the traditional Lovesac seats are just not as deep as most other sofas. Once you get the back cushion on, it doesn't leave enough leg room, so four of our cushions (bases) are deep seat. Then the other two are traditional seat. This was one negative aspect to the Lovesac is that the traditional seats aren't deep enough. You almost have to purchase some of the seats as deep to make it really comfortable and to lounge. But if you get the deep seat, it sits great. The downside is that it is an extra charge!
The Lovesac is very comfortable to sit in. We purchased the traditional standard foam fill cushioning. While it is comfortable, I do wish it was just a little more cushiony and wasn't quite as stiff. My husband agrees. But the Lovesac employee said it will become more comfortable the more you sit in it. I did want the structure of the sectional to hold up, so I wouldn't have to fluff it every night. That is why I went with the standard foam fill. But if I was to reorder it again, I probably would purchase it in the down blend fill, which I hear is more comfortable and has the structure and the cushy seat. Either way if you opt for the standard foam fill, it is still really comfortable.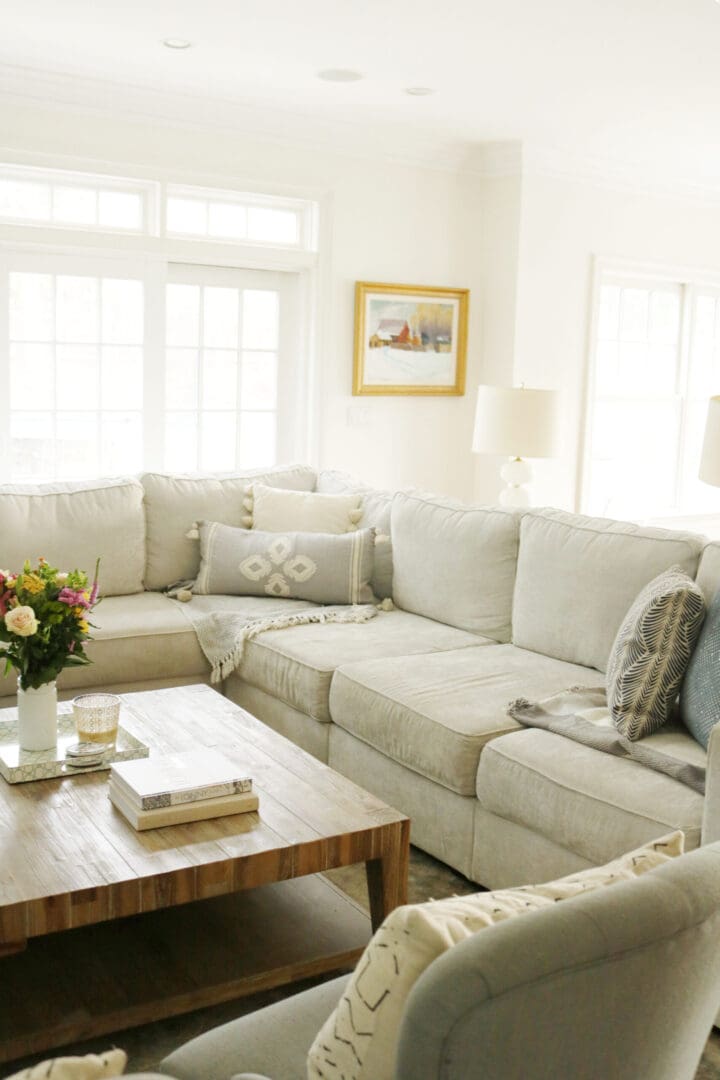 I love the Sky gray corded velvet fabric we choose. It has been so easy to clean up any marks! I haven't cleaned the fabric yet, but I love that I can! I know having this capability to remove fabric to clean will keep this sectional looking new. Our dog loves to lay close to the sofa and his body rubs up and dirties up the bases of the sectional. That part is also removable, which is awesome!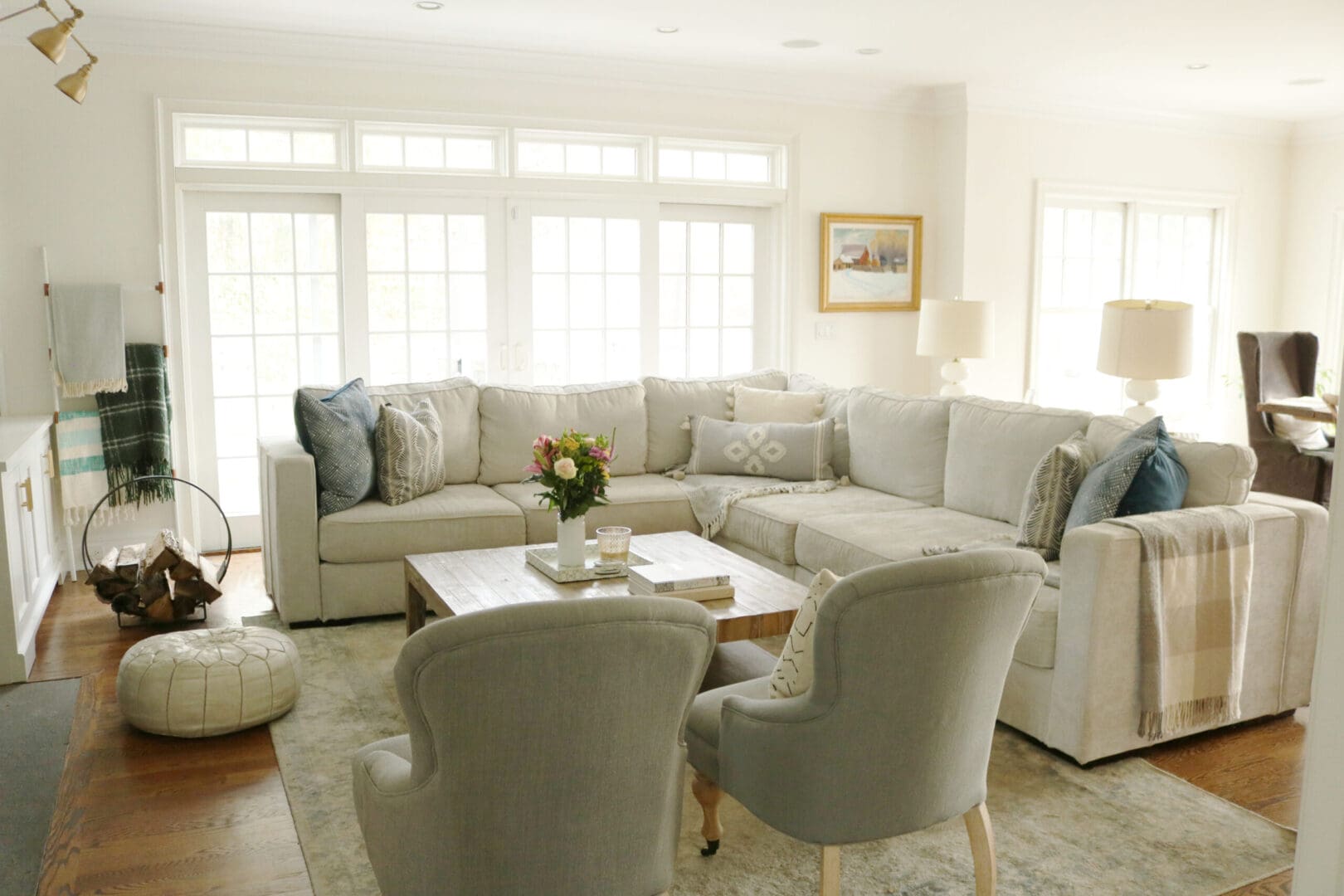 So just to recap on my Lovesac Sectional Review:
Love that it is modular and you can change the configurations! Perfect if we ever move to a different house
Invest in the deep seat option! It is worth the extra cost. The traditional seat is just not deep enough.
If you love cushy sofas, then consider purchasing it in the down fill cushion. Although the standard foam is still really comfortable, just more structure.
Love at I can clean the removable fabric on my sactional by throwing it in the washing machine!
I forgot to mention–putting the sectional together was quite a process! It arrived in many boxes. Definitely grab a friend or a family member to put it together. It's a workout!
See how I put my Lovesac sectional together on my Instagram!