Mixing art and texture brings together this light blue pink girls bedroom.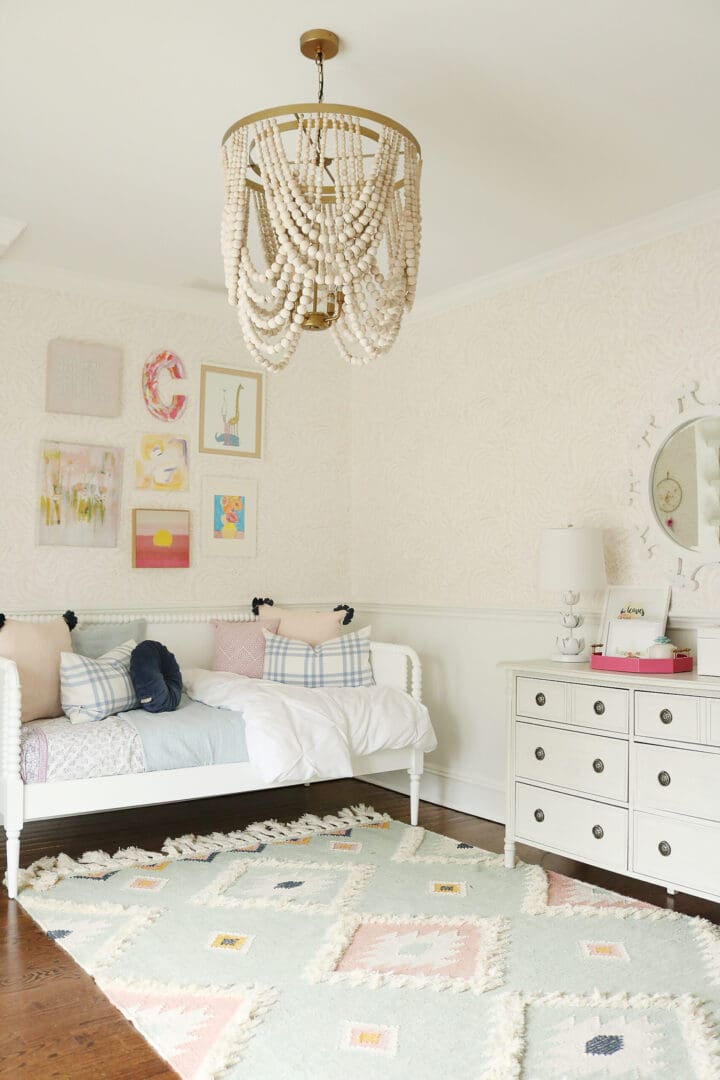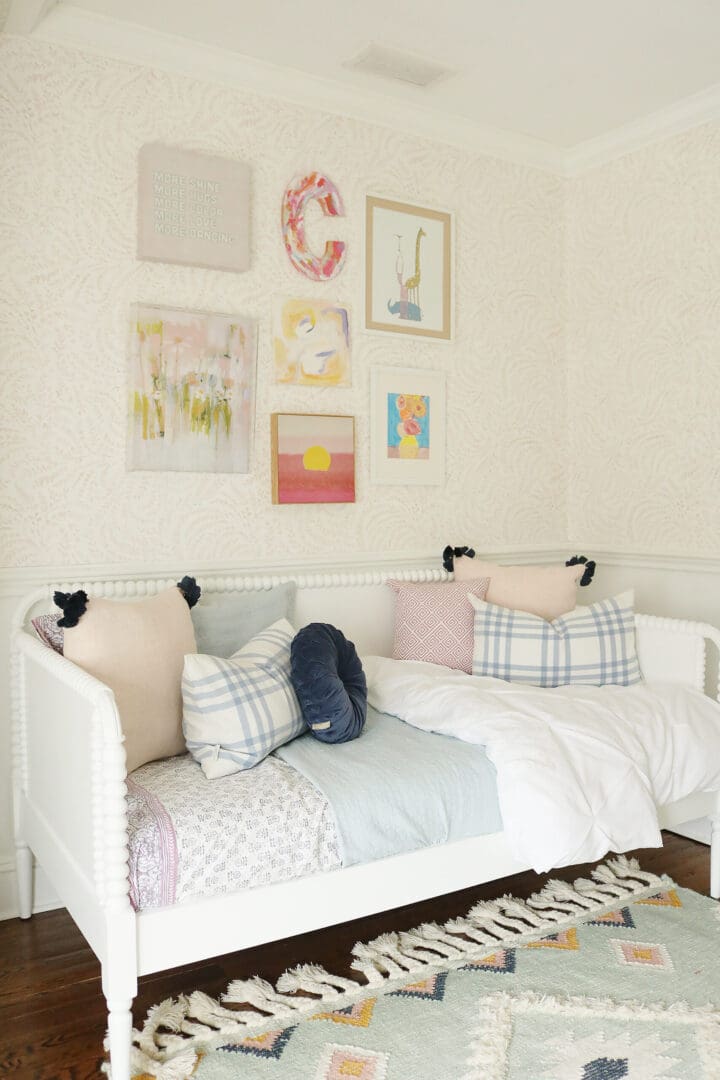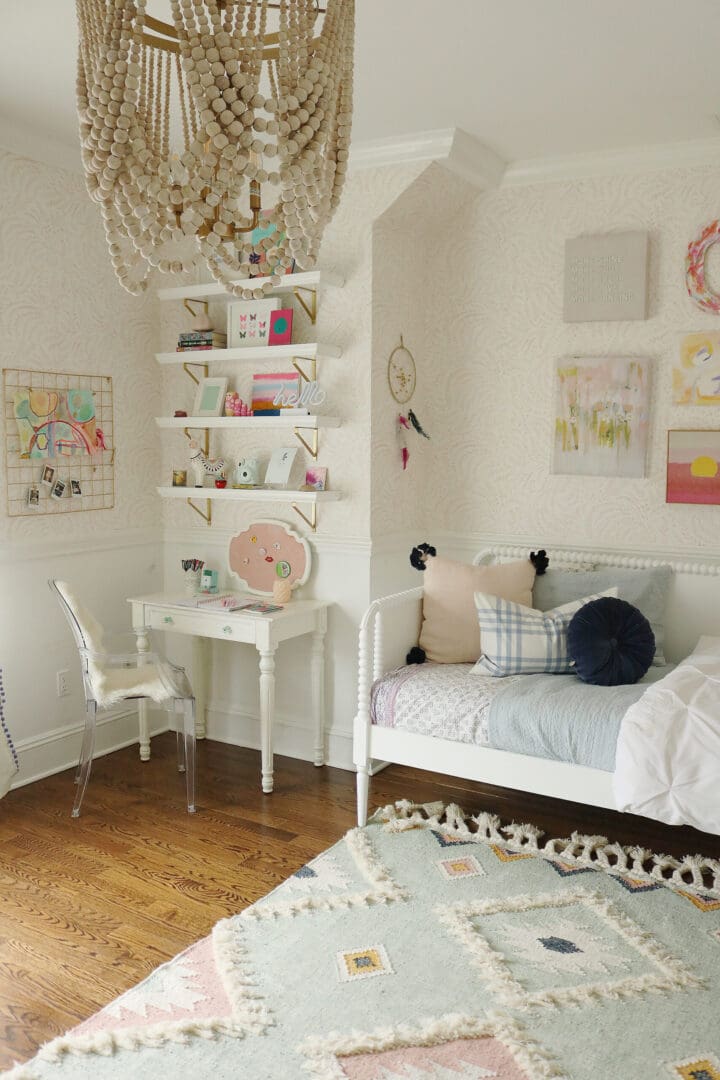 I am so excited to share with you Chloe's light blue pink girls bedroom. Being the baby of the family sometimes puts you last in line, and this is just what has happened to Chloe. But she is a champ and has patiently been waiting for her room to be completed. I actually hung the pink floral wallpaper a couple years ago and was planning to finish it last year, then with the pandemic everything was halted. By Christmas, she received the rest of her items to complete her bedroom makeover. But I will tell you her taste and opinions also changed within those two years! She went from loving pink to wanting everything blue. Oh, girls! They can be so opinionated. Instead of changing the pink floral wallpaper, that I love so much, we added blue in other parts of the bedroom. What really brought the whole room together is the boho loom rug. She loves it so much and has that light blue with accents of pink! I am wishing I bought it in a larger size. At first I was very concerned it would be too busy and that the quality wouldn't be that good. But as you can see it is so darling and perfect for the space! I just wish it was larger! To add warmth and sophistication to the bedroom, we added the wooden bead chandelier. It is beautiful, and one of my favorite pieces!
I'm listing all the resources below! But in the meantime check out some of our other girl bedrooms.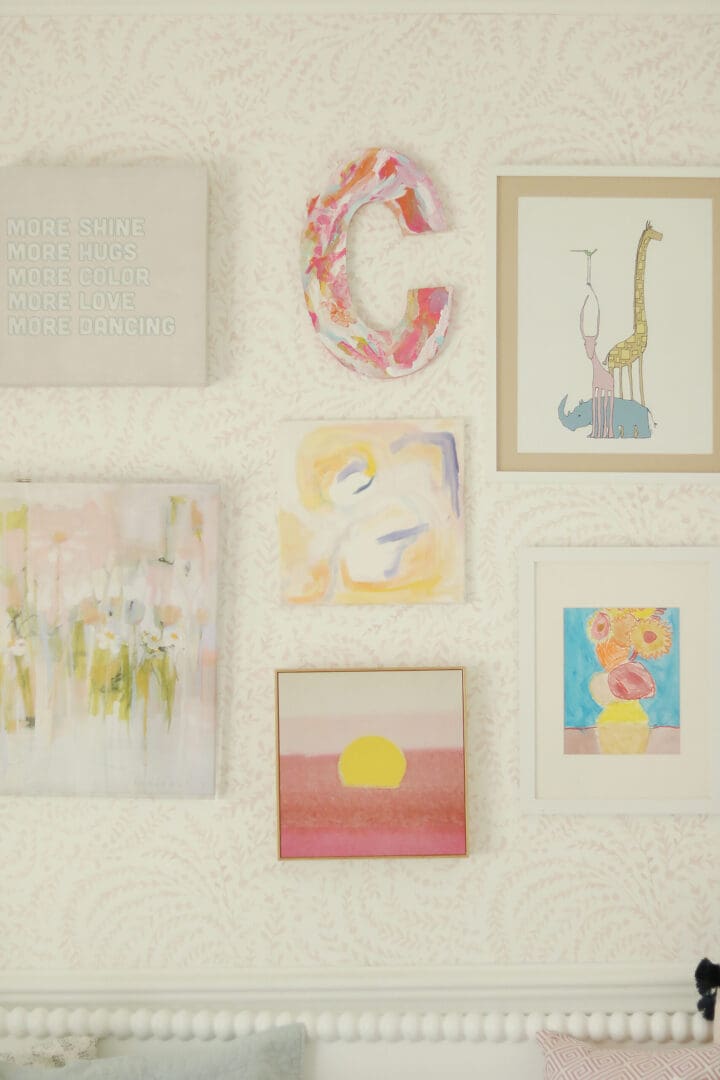 As you can see we love art! Art is a great way to tie in colors of a room together. We hung artwork that Chloe painted along with other artist's pieces. Many of the prints are from Minted. And the middle painting is from Raven Creative.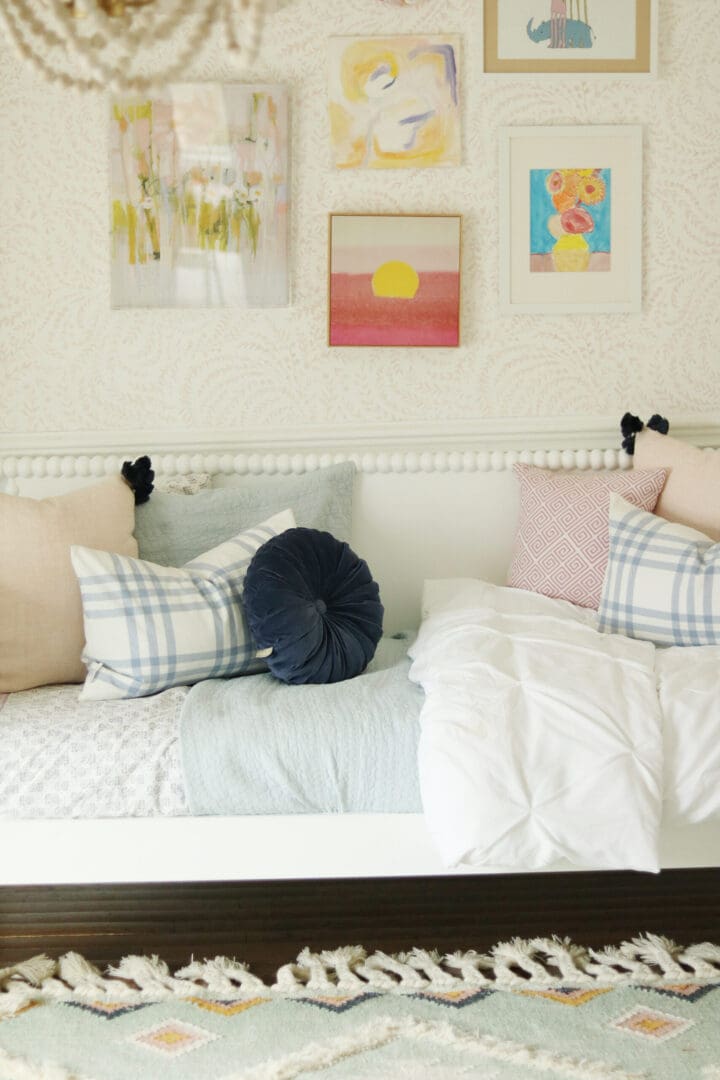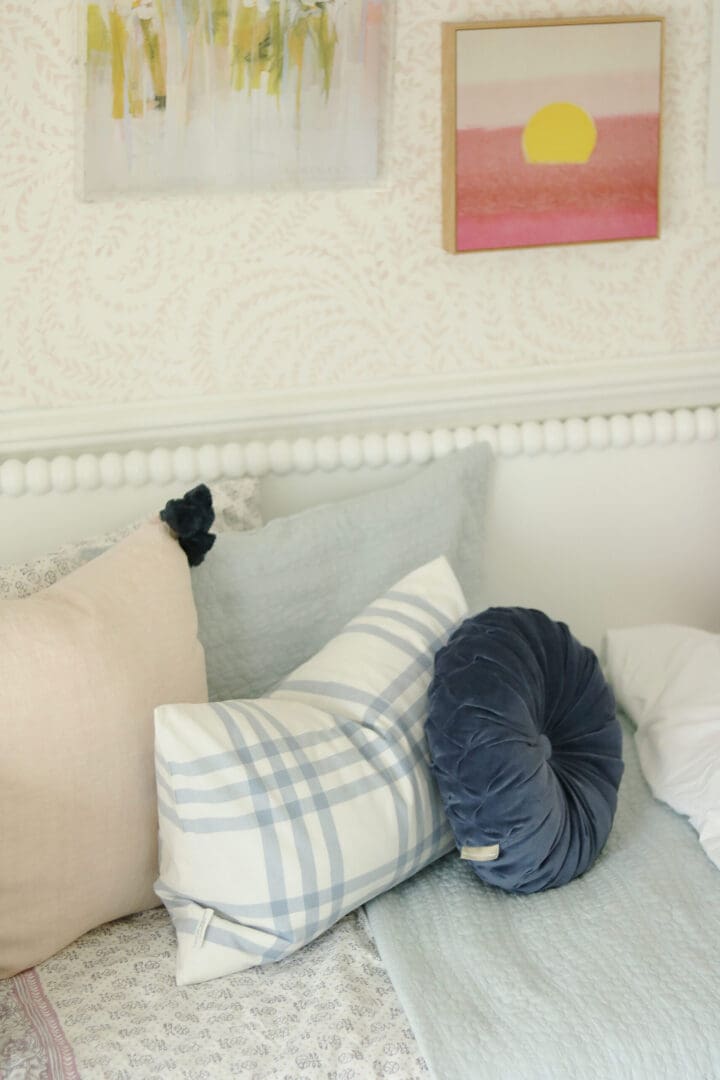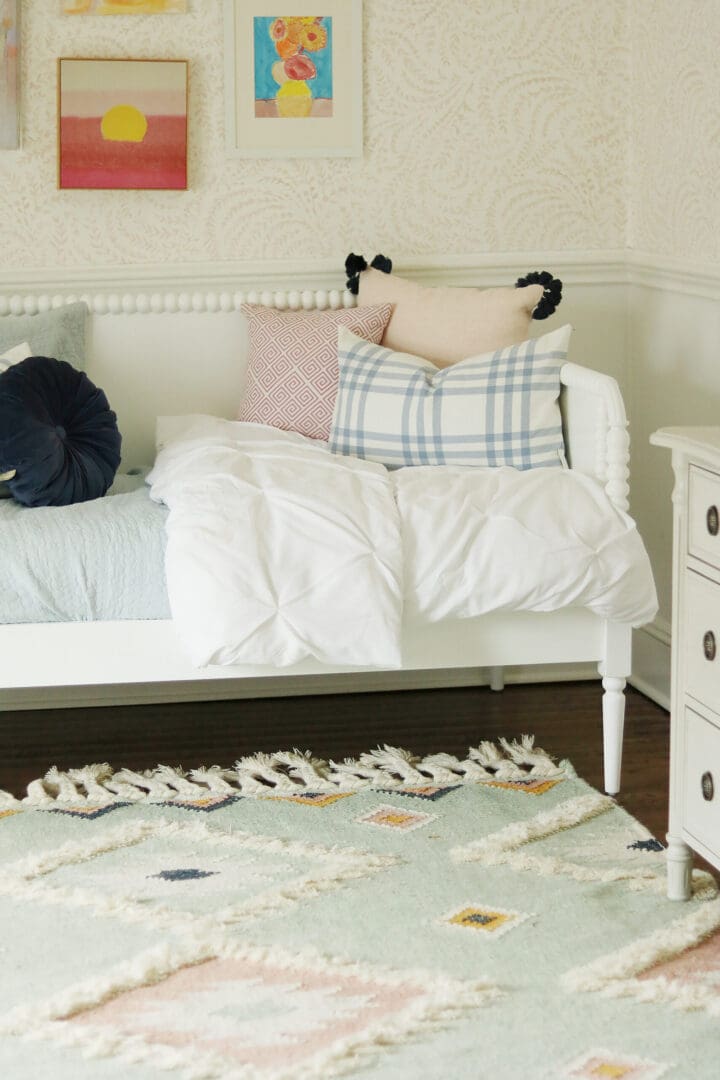 Chloe has been begging for a daybed for so long! I remember having a daybed when I was her age and loved it. It took me awhile to figure out which daybed to go with (so many good ones), but we settled for the classic Jenny Lind daybed and love it!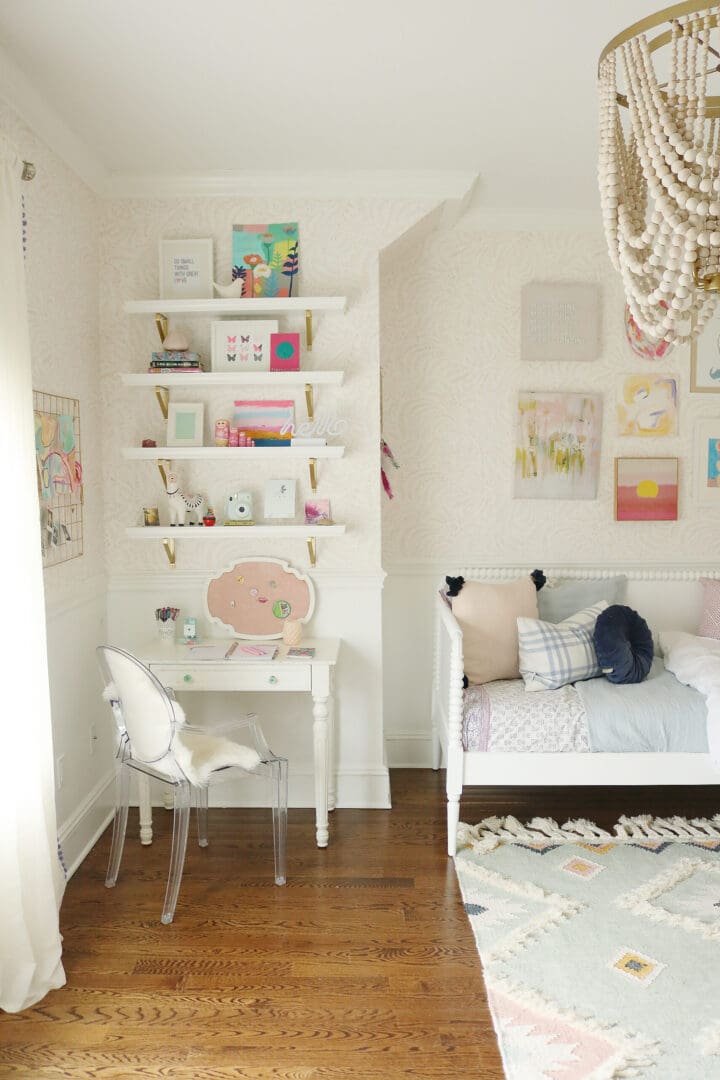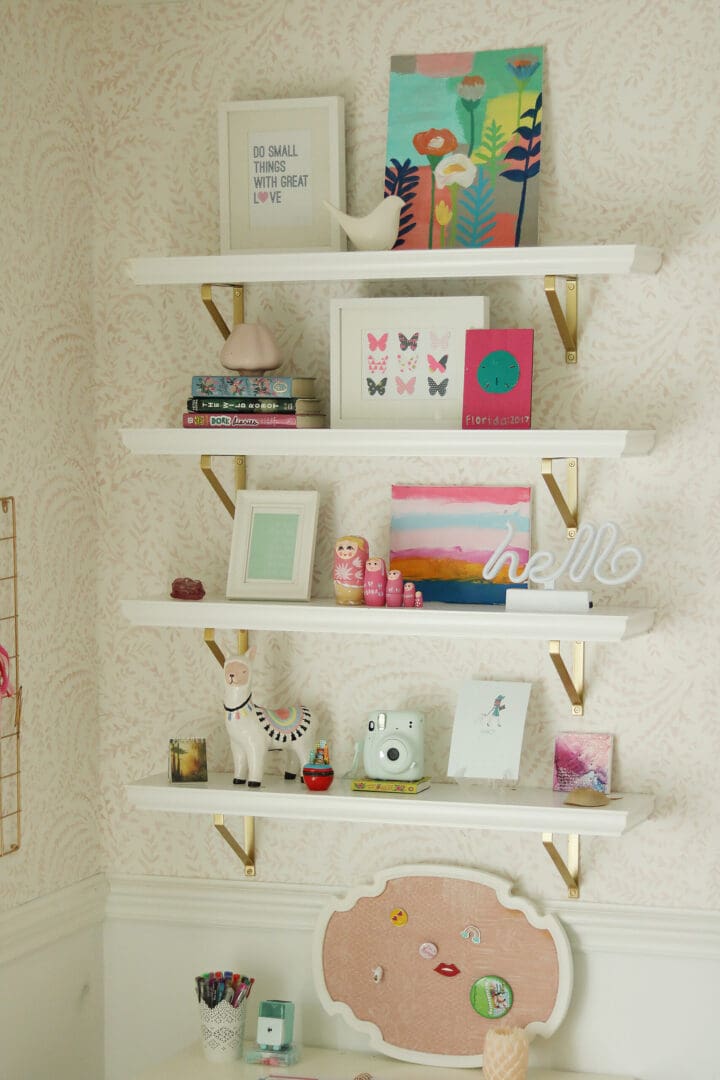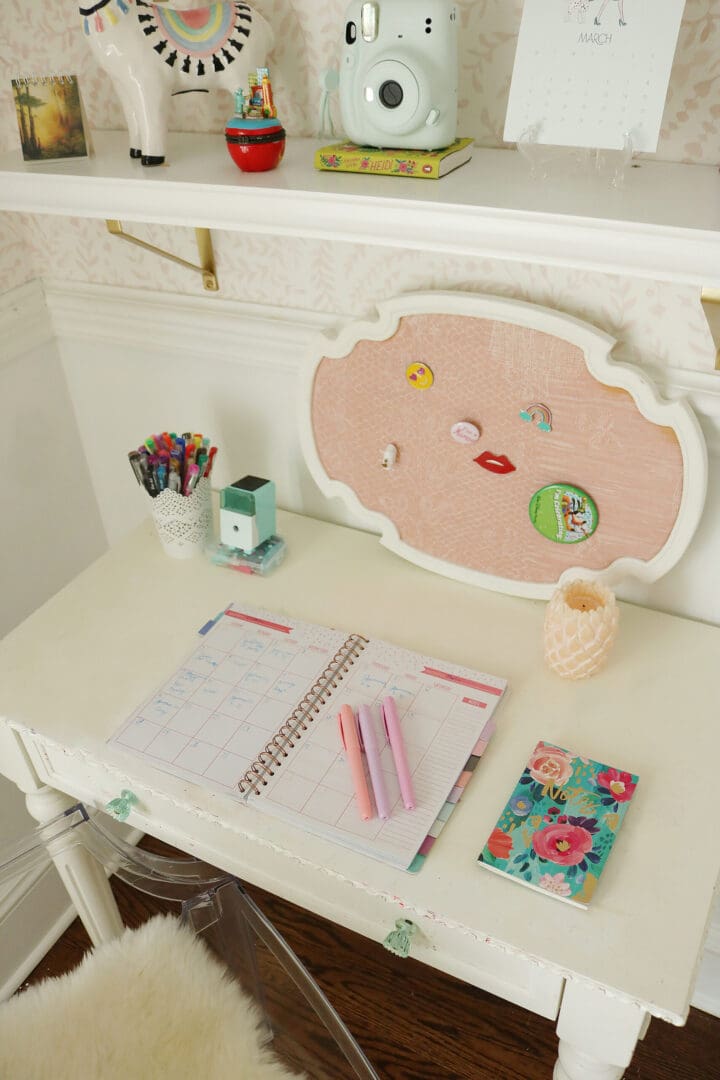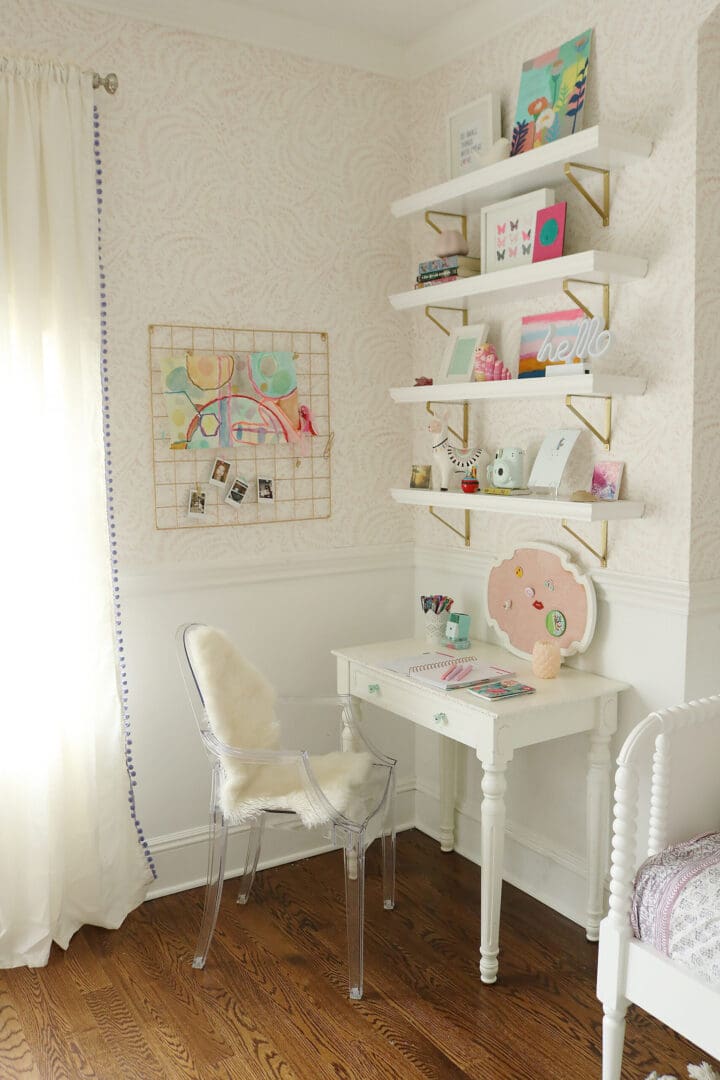 Chloe's little workspace is her favorite! She does her homework there and writes in her journal. She also likes to make sure she keeps up with her weekly schedule.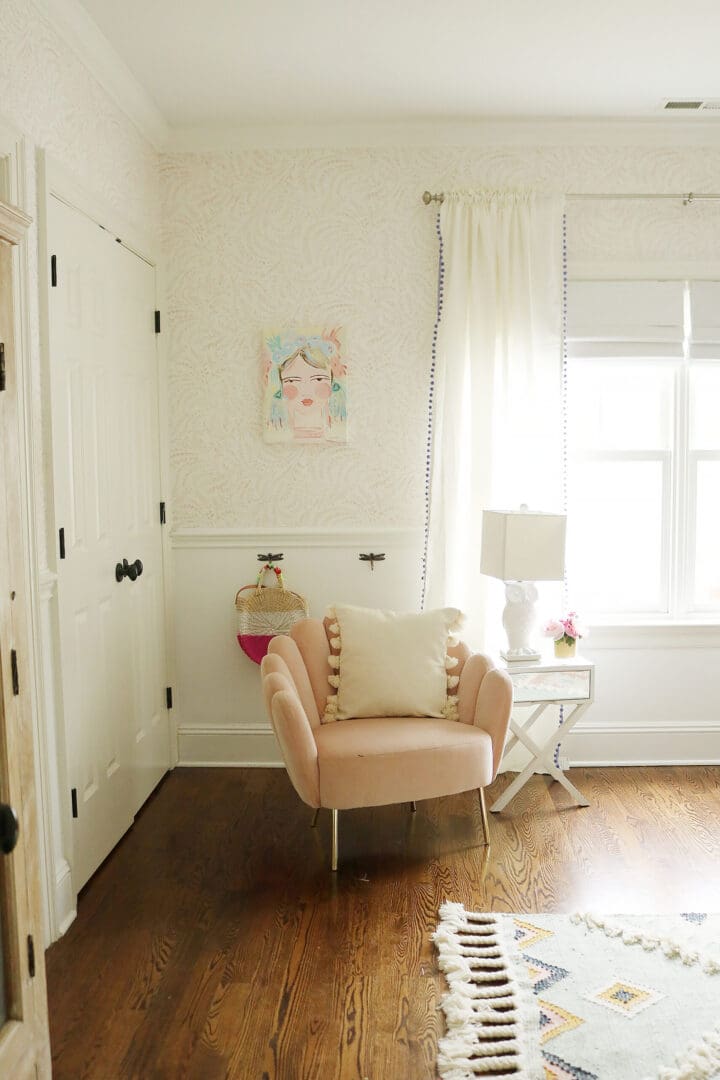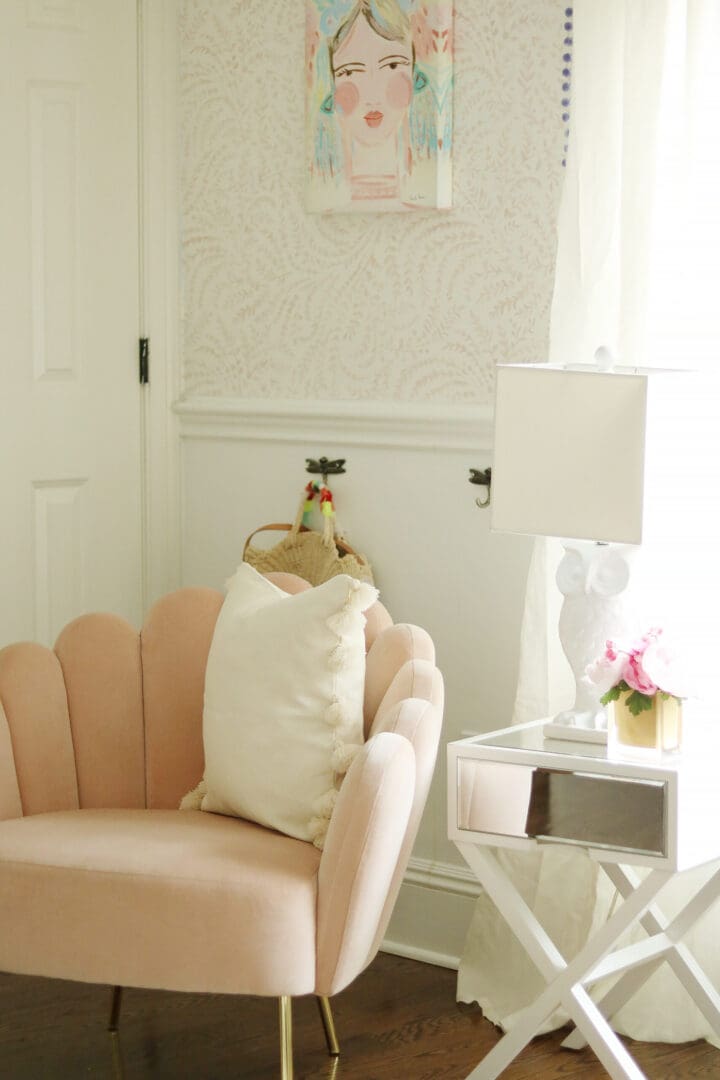 I love seeing Chloe curl up on your scalloped chair reading Harry Potter. This corner is a cute little spot and near the door to her light blue pink girls bedroom. So it is very inviting.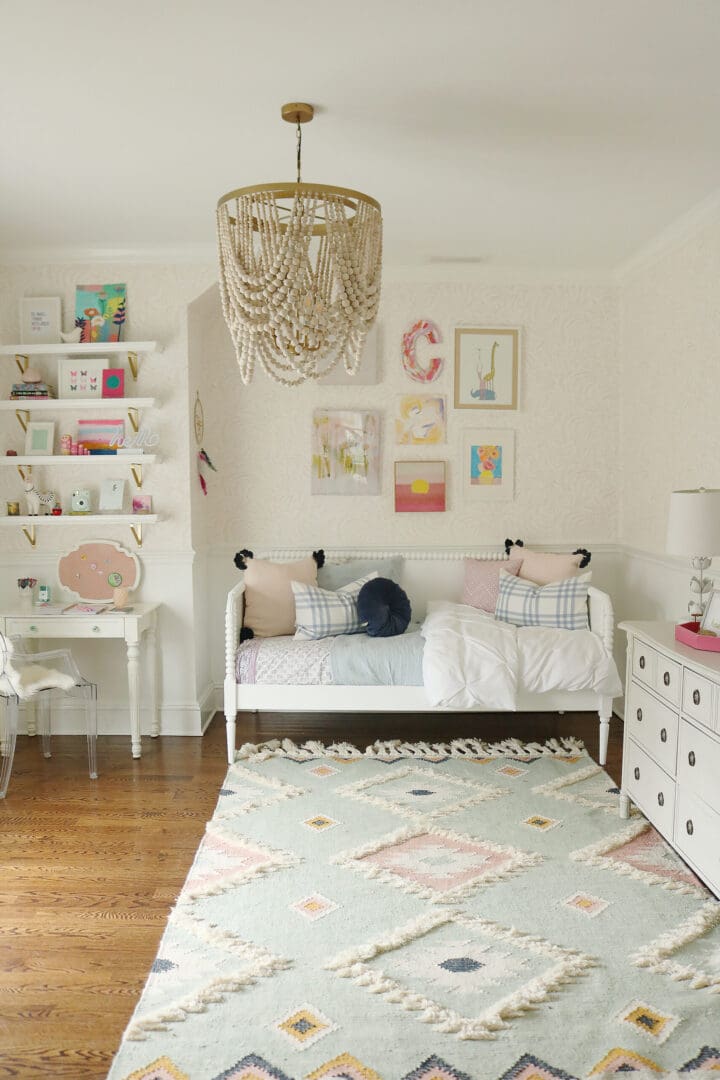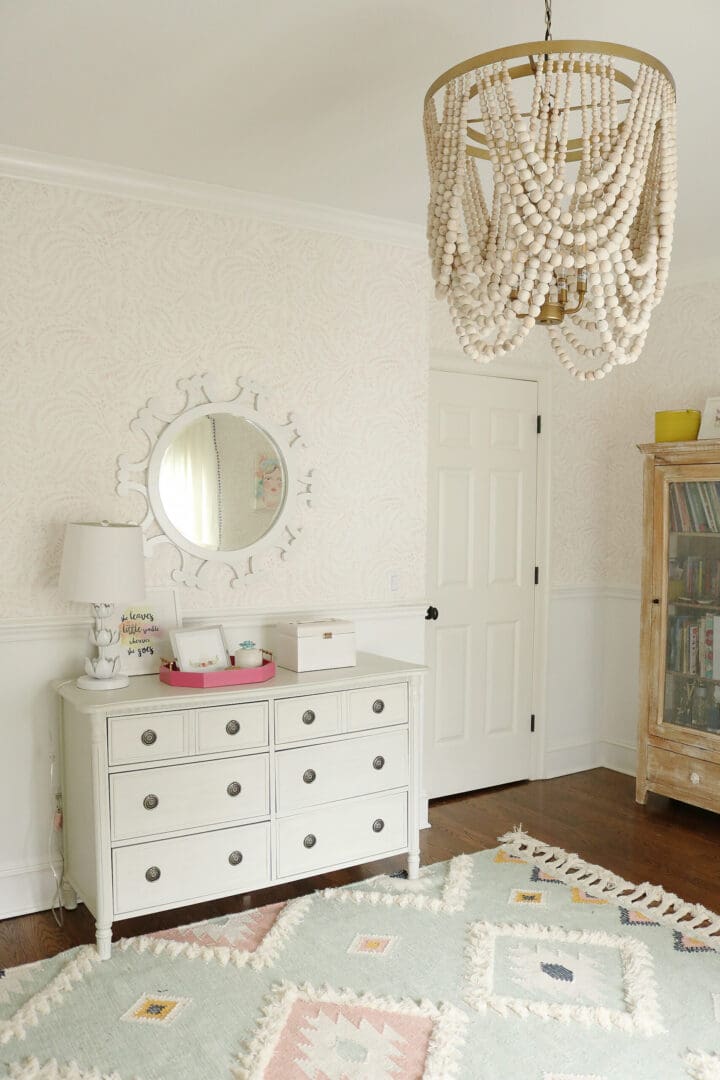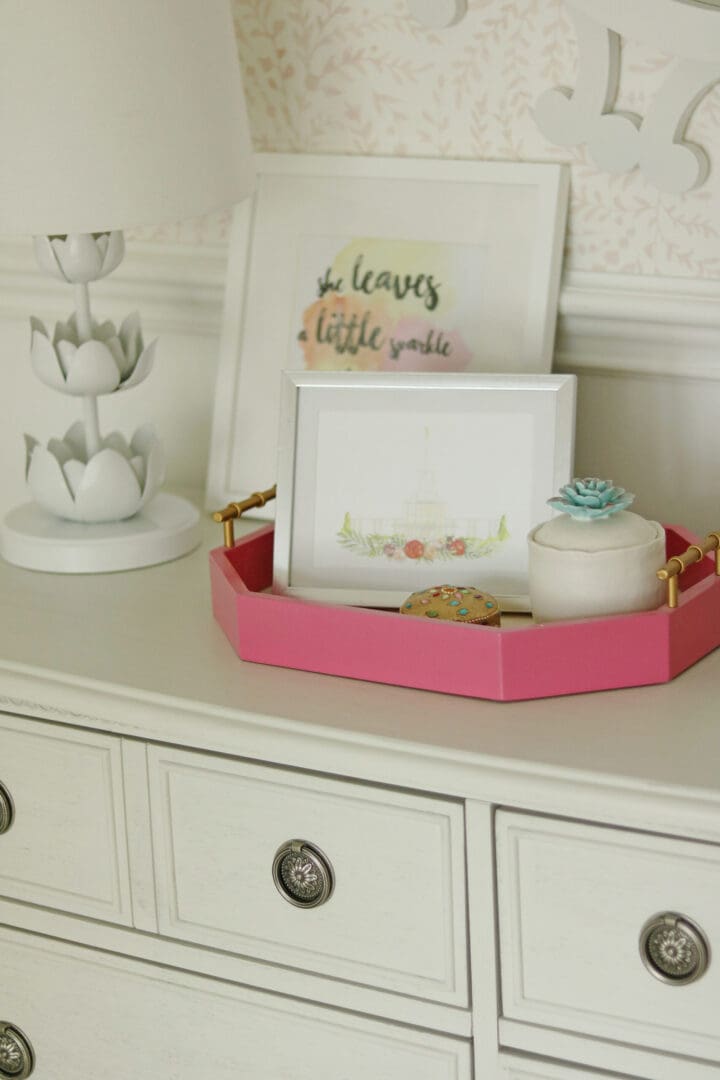 Many of the pieces that are in Chloe's light blue pink girls bedroom are leftover items from her bedroom and her older sister's bedroom. But I tried to link everything as much as I could! Let me know if you see something that isn't linked.