Simple and Easy Way to Style a Coffee Table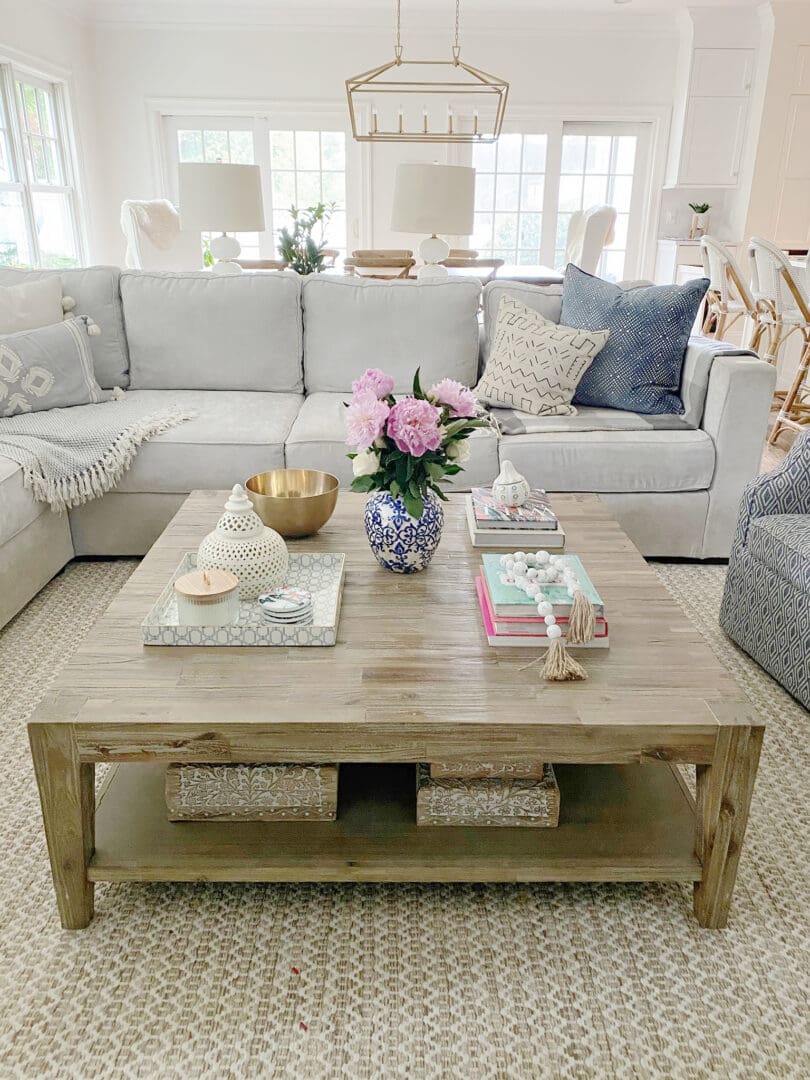 Let's be honest here…my family room coffee table does not look like this on a normal basis. Maybe in my living room, but not the family room, which usually has kids' books piled on it, TV remotes out and homework papers everywhere. Yup, it's a family room! Where all the kids like to congregate. But for purpose of coffee table styling, I thought my family room coffee table was much better of a coffee table than my living room, which is a smaller coffee table. I will say that when we have guests over or the house gets clean, I will organize and style the coffee table so this isn't completely just for this coffee table styling post! I also do like have fresh flowers or a potted indoor plant on placed on the coffee table for a pop of color or greenery. And that blue ginger jar is one of my favorites to use.
I did post a coffee table styling REEL on my Instagram, so please make sure you check it out and give it a like, comment and follow!
This is my rug. My coffee table is sold out but this one is similar!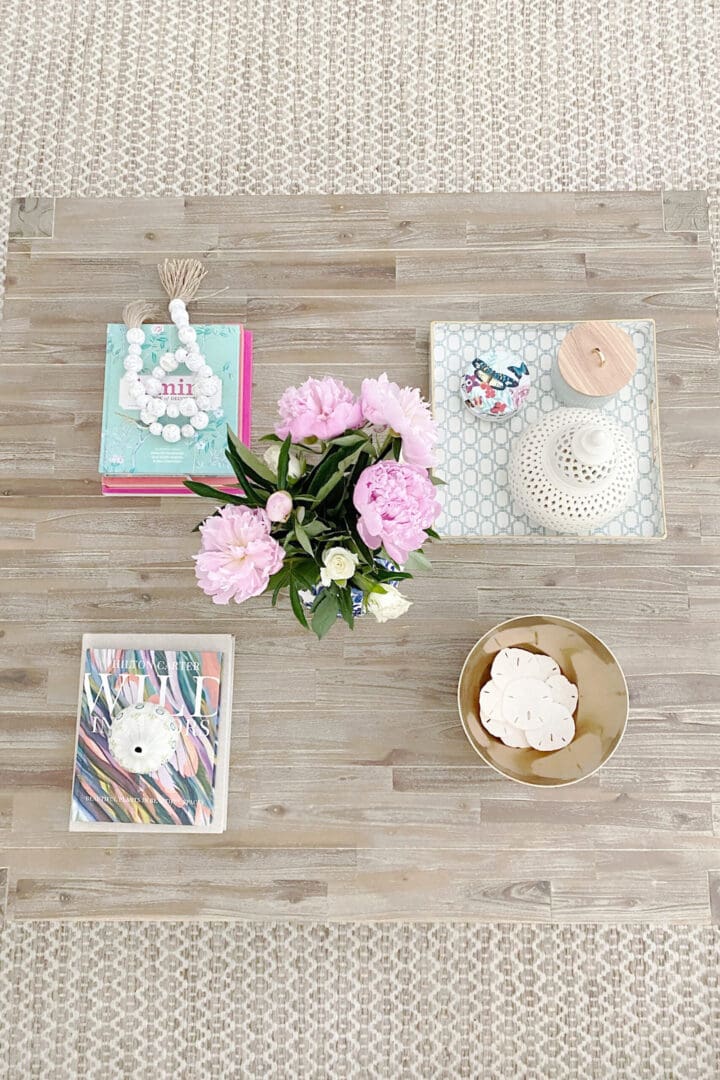 Let's talk about coffee table books! My husband thinks they are boring and pointless, but I love the weight and beauty and color from coffee table books. There is just something beautiful about them. One thing I like to do is buy the books as hardcover then take off the paper cover. It makes the book look more polish. I also do most of my coffee table shopping at the home version of this store. But you can definitely find the majority of coffee table books on amazon. I prefer interiors and fashion books. My husband prefers historical and scientific books, so I like to do a combination of both. I also like to pick up a hardcover book on places we have visited or love to visit when I am in that particular area.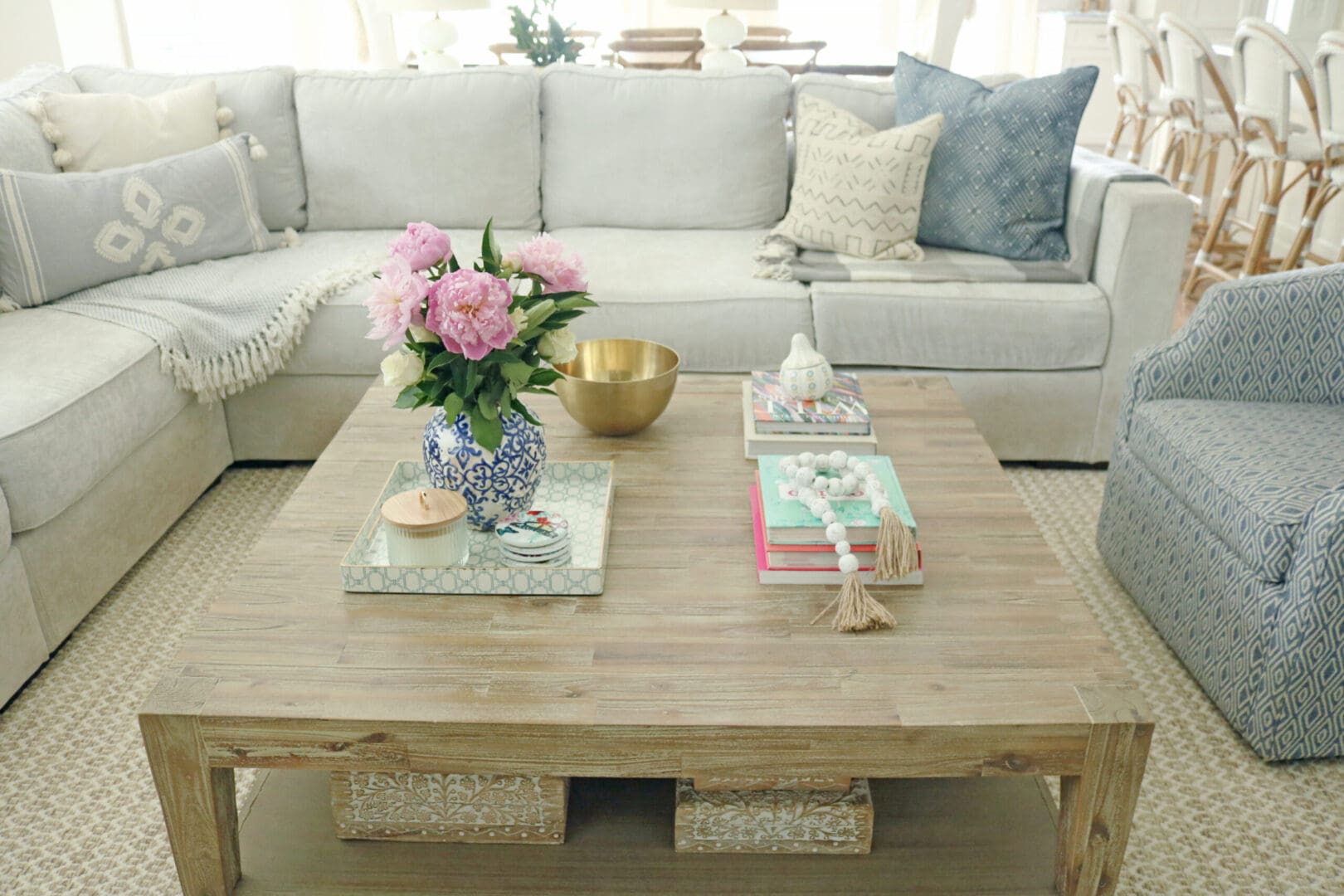 Here are a few other coffee table styling posts that I have done in the past. There are so many ways to style! I also like to make sure I add a candle because they make the room intimate when the evening. Coasters are also really important to protect the coffee table from drink rings.
Another thing that I love to add and always have on a coffee table is a decorative tray. A tray is good to keep items in order and together so they don't migrate all over the coffee table. Also, if you have a candle, this will protect your coffee table from any mishaps.

Coffee Table styling placement? Well, if you have a large square coffee table like the one pictured above, I like to do four corners of items with extra space around it. Or I like to group it in a triangle of three. I feel like the triangle of three would of worked if my coffee table books were much larger, but since they were smaller I added another stack of books to balance out the size of my tray. A rectangle coffee table works well for decorative items placed on one side of the table in a tray, while keeping the other side open for guests to use.
Shop the Post for Coffee Table Styling