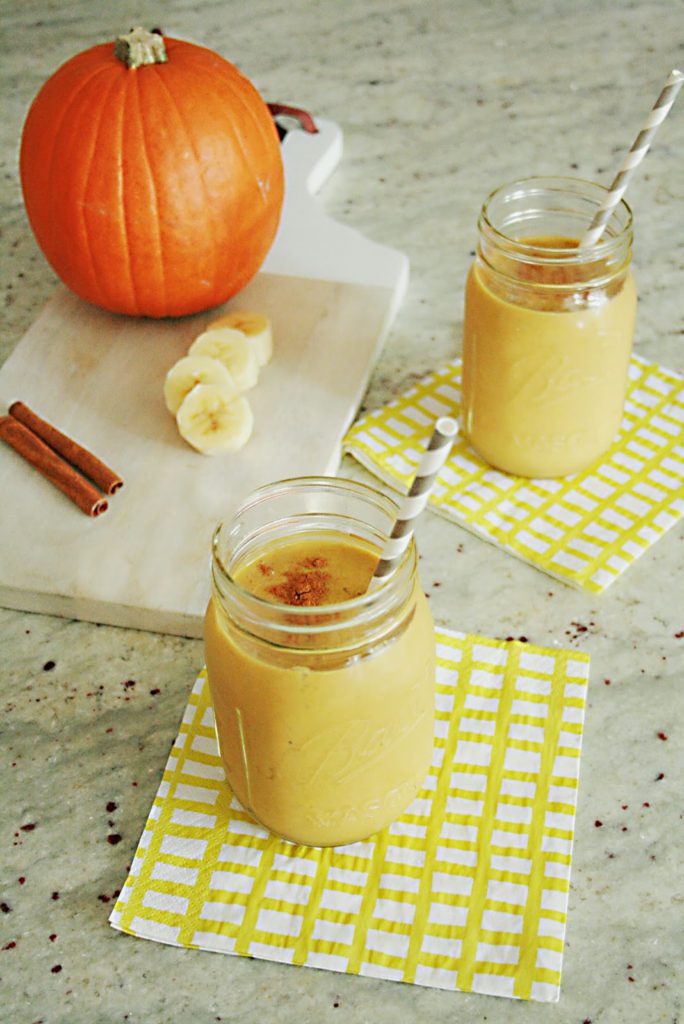 I originally shared this pumpkin pie protein shake recipe on How Does She
It's pumpkin season!  And do you know what is my favorite way to eat pumpkins??  No, it's not pumpkin pie or pumpkin ice cream.  Although I love that too!  Guess again?  It's in my morning protein shake!  Yum, Yum! Below is my recipe for a healthy pumpkin pie protein shake without the sugar and high calories. It is so good and you can use it with any of your favorite protein powder. I've been trying to eat more "clean" protein powders since many of them on the market are filled with chemicals. I linked a few favorite below but I have been trying out Clean Simple Eats, and have been very impressed. The flavor is really good and there aren't harmful chemicals and preservatives in the powder.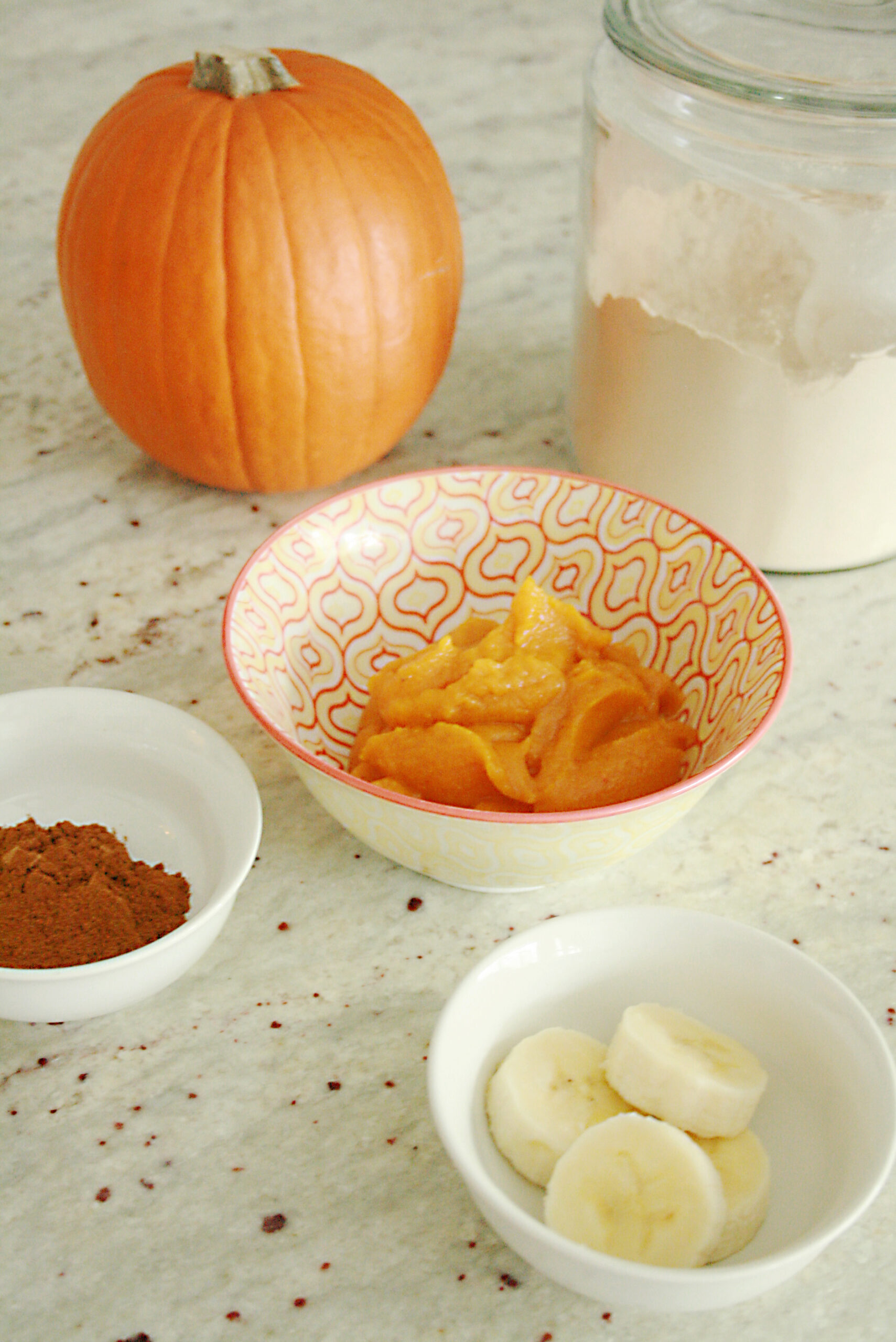 Morning protein shakes are my go-to for breakfast.  I love mixing different fruits and veggies in my shake.  So, when the weather turns and the leaves change colors, pumpkin is my favorite shake add-in.  It's like having pumpkin pie for breakfast but without the fat and calories!  Did you know that pumpkin is really healthy for you?  Just look at it's lovely orange color–packed with Vitamin C and Vitamin A.  Pumpkin is also loaded with tons of fiber, and every time I have one of these protein shakes I am full for hours.  Lots of fiber helps to eat less, which helps to loss weight.  If I can eat anything that tastes like pumpkin pie while losing weight that sounds good to me!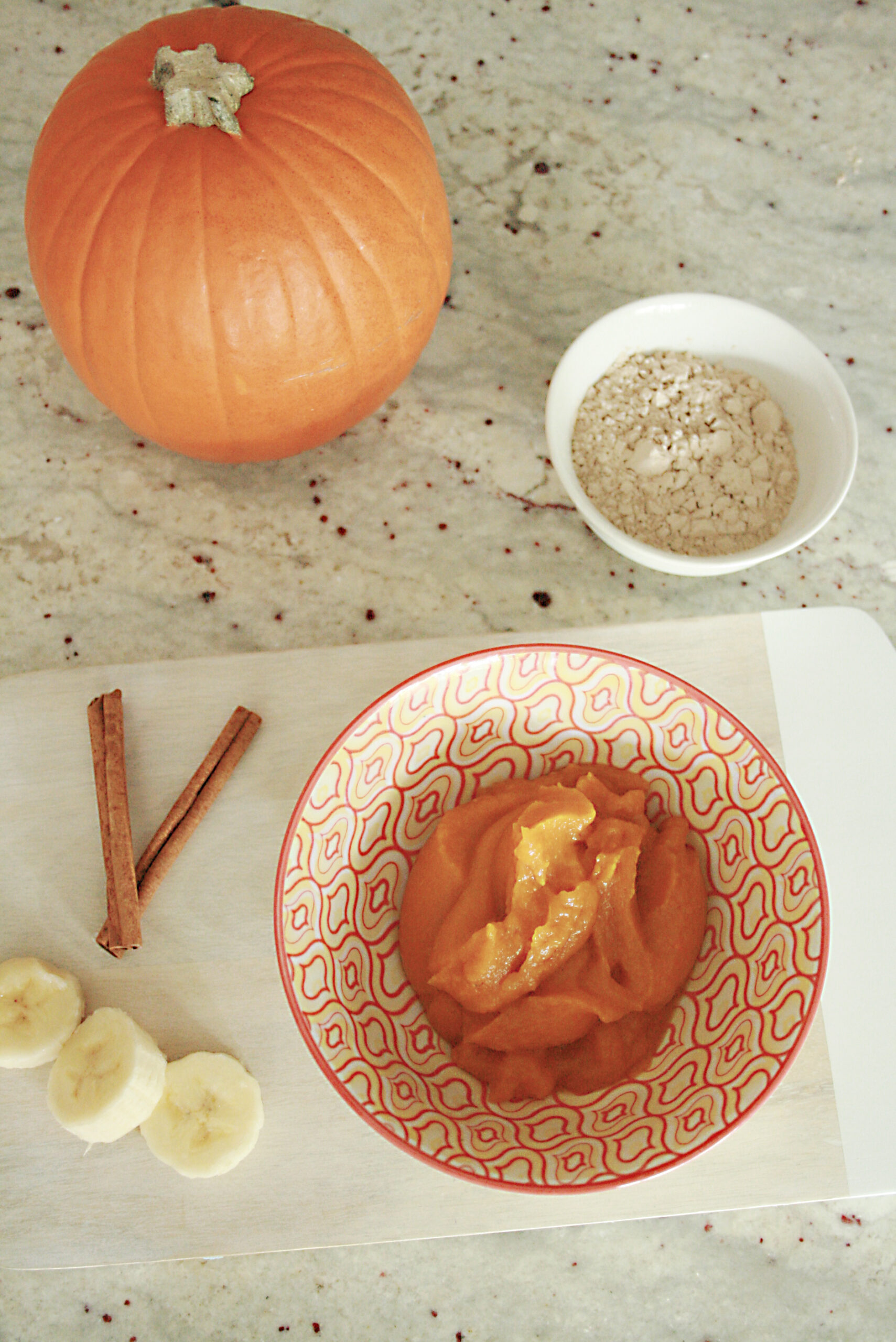 If you can, I suggest making your own pumpkin puree.  It's healthier and packed with vitamins.  Since pumpkins are currently in season, I like to take a Sunday afternoon and make a batch of pumpkin puree to last the year.  You can see my process here on my blog.  But if that's something you don't want to do, try and buy organic canned pumpkin or canned pumpkin without sugar.  I like the Trader Joe's organic canned pumpkin.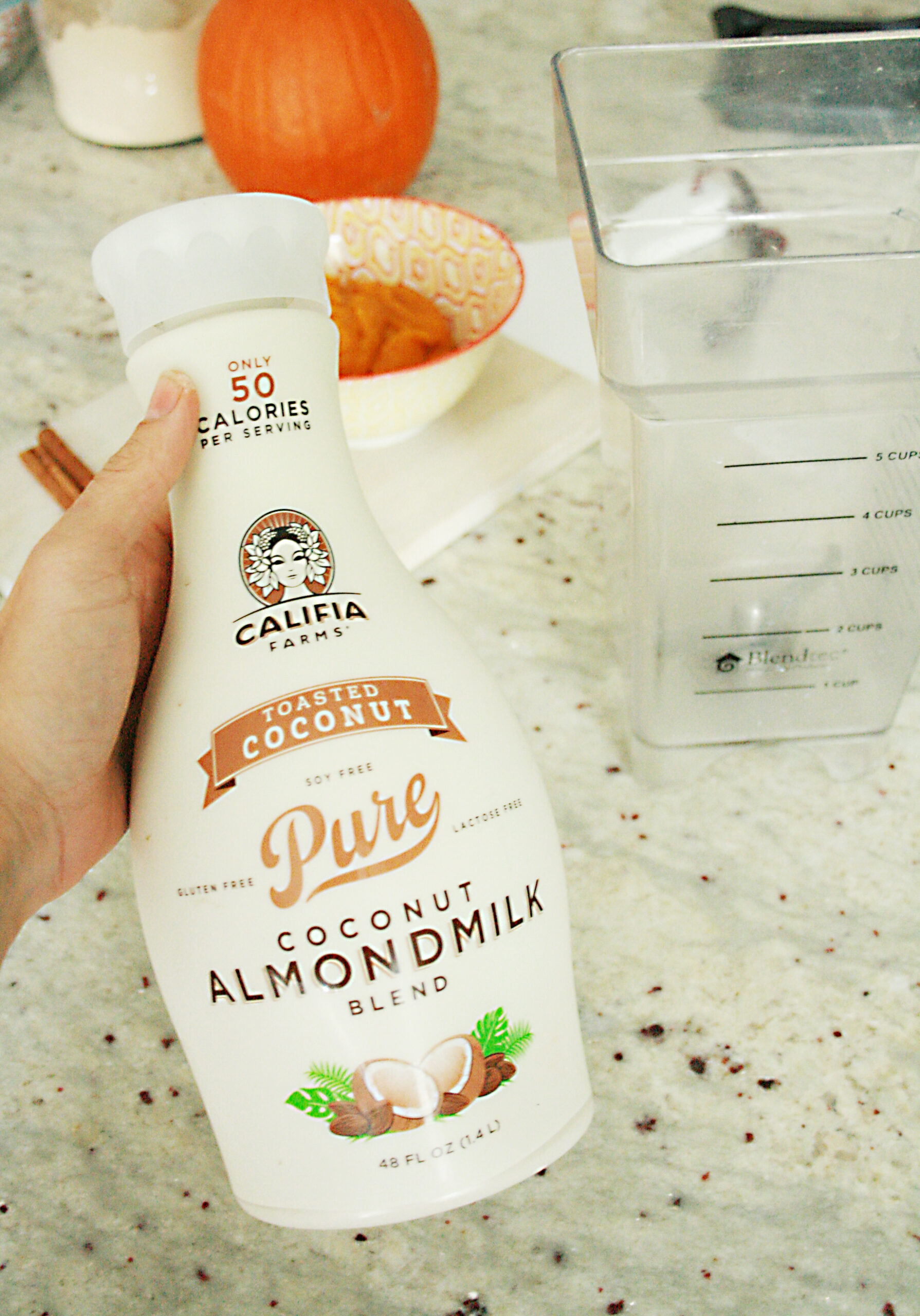 If you want to make your protein shake creamier and thicker, I suggest adding non-dairy milk, like almond or coconut milk for your liquid base.  I prefer the best of both worlds, and buy the Califia Farms' Toasted Coconut Almond Milk.  It is SO good and highly recommended!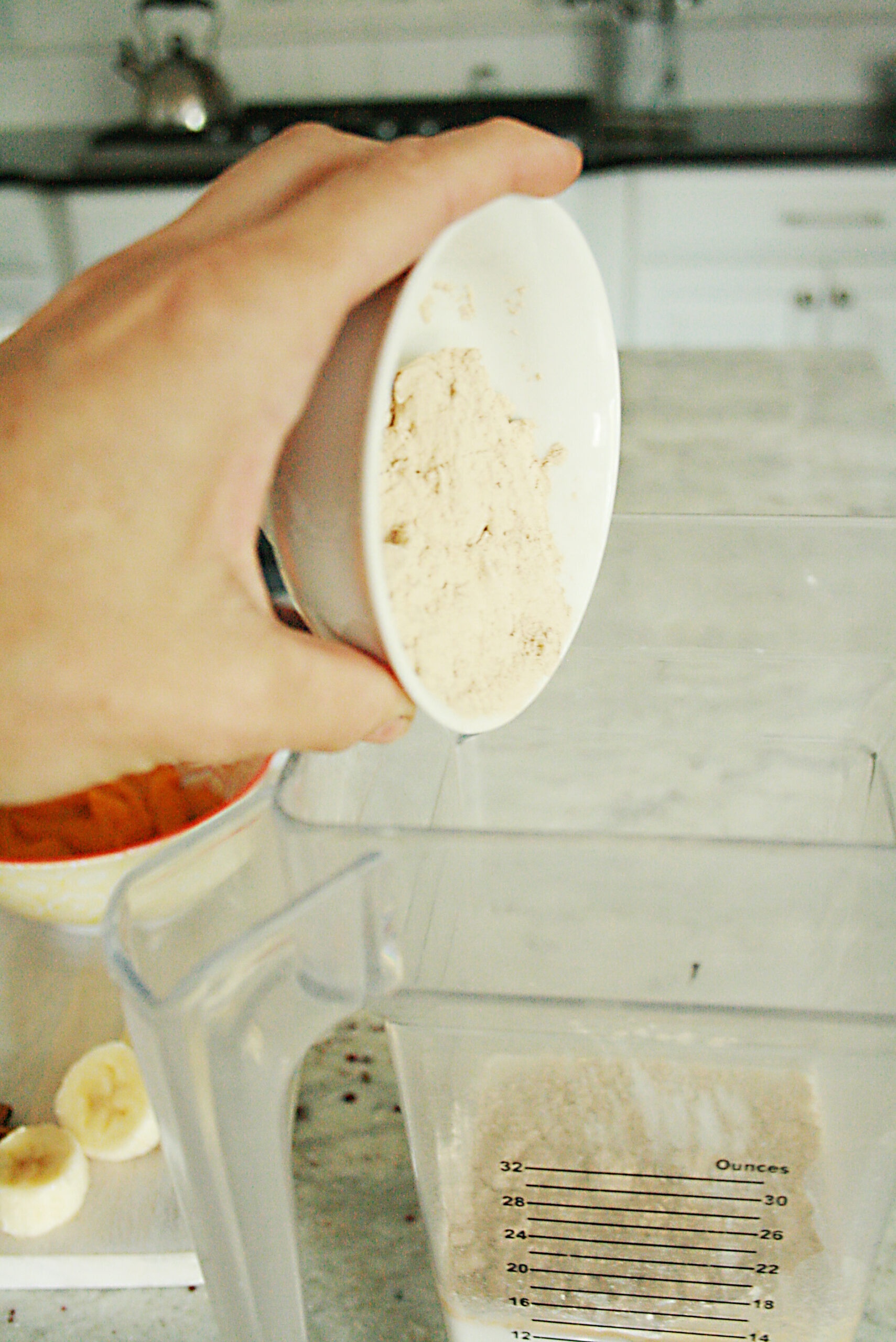 In addition to the Clean Simple Eats protein, this one also tastes amazing. If you want to keep your price down, I also love this one, which is so good but probably not the healthiest of the bunch.
Don't forget to add cinnamon. You can't have pumpkin pie without cinnamon! Good thing to know that cinnamon also has numerous health benefits. It is known to lower blood sugar in diabetes and lower cholesterol and reduce inflammation. Read more about cinnamon's health benefits. And I am going to say it again, buy organic cinnamon.
Don't you love how you can pack so much health into one little drink?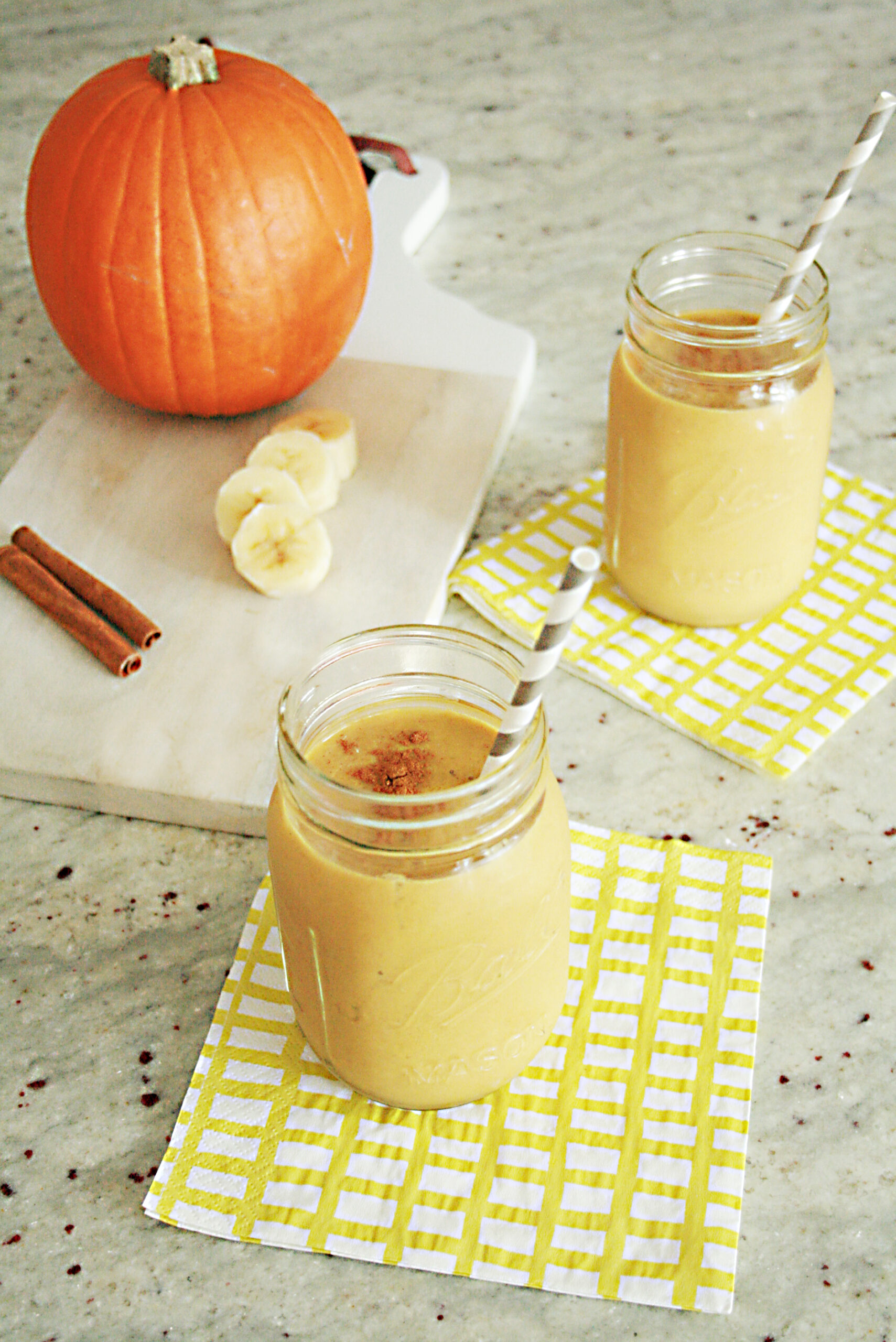 Optional: maple syrup or honey or stevia (if you need it to be sweeter)
Throw everything in a blender and blend until creamy and thick.  Drink and enjoy!  Get creative and add apples slices or pecans.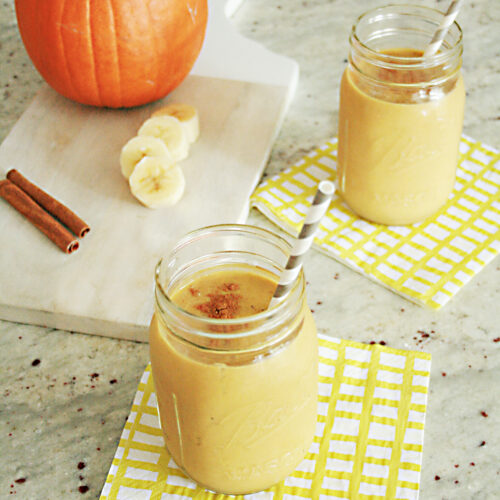 Healthy Pumpkin Pie Protein Shake
No added sugars, low calorie Pumpkin shake that tastes like a pie!
Ingredients
8-10

ounces

of unsweetened almond or coconut milk

1

scoop

protein powder

1/2

cup

pumpkin puree

1

frozen banana

1

tsp

cinnamon

1/2

tsp

pumpkin pie spice

1/2

tsp

vanilla flavor

7-10

ice cubes
Instructions
Throw everything in a blender and blend until creamy and thick. Drink and enjoy! Get creative and add apples slices or pecans. Add maple syrup or agave syrup if you want it to be sweeter.