From Muddy Brown to Moody Blues, Our Dining Room Before and After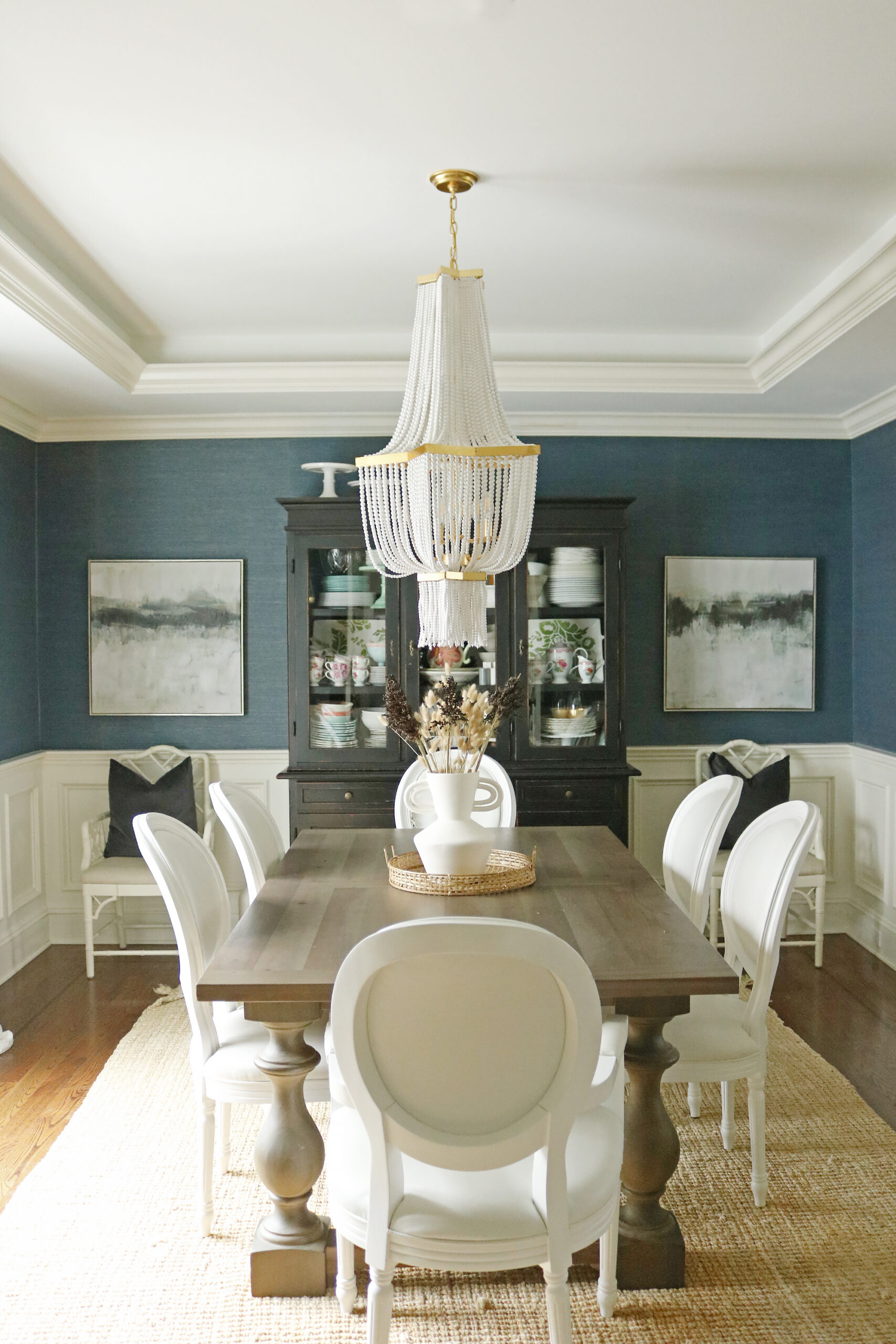 I can't believe I have never shared the before pictures of our dining room. I've been sharing this space for many many years. Prior to us moving in, it was a very different dining room. Our house was built in 2006, and it was stuck in 2006 when we moved it. Good bones, but definitely needed a nice update. I have shared numerous posts on the transformation. We still have a few rooms to tackle but most of it has been completed. I will list some of the previous house posts, so you get an idea. Exterior painting to kitchen renovations to bathroom guts–lots of great renovation projects we have taken on. Finally sharing our dining room before and after photos so you can see how making two changes completely gave the room an entirely different look. We changed the wall color and the light fixture! That is it!
Before + After of Our Home
Take a moment and check out the links above. I included before photos so you can see the difference and give you ideas if you are planning to renovate your own home.
BEFORE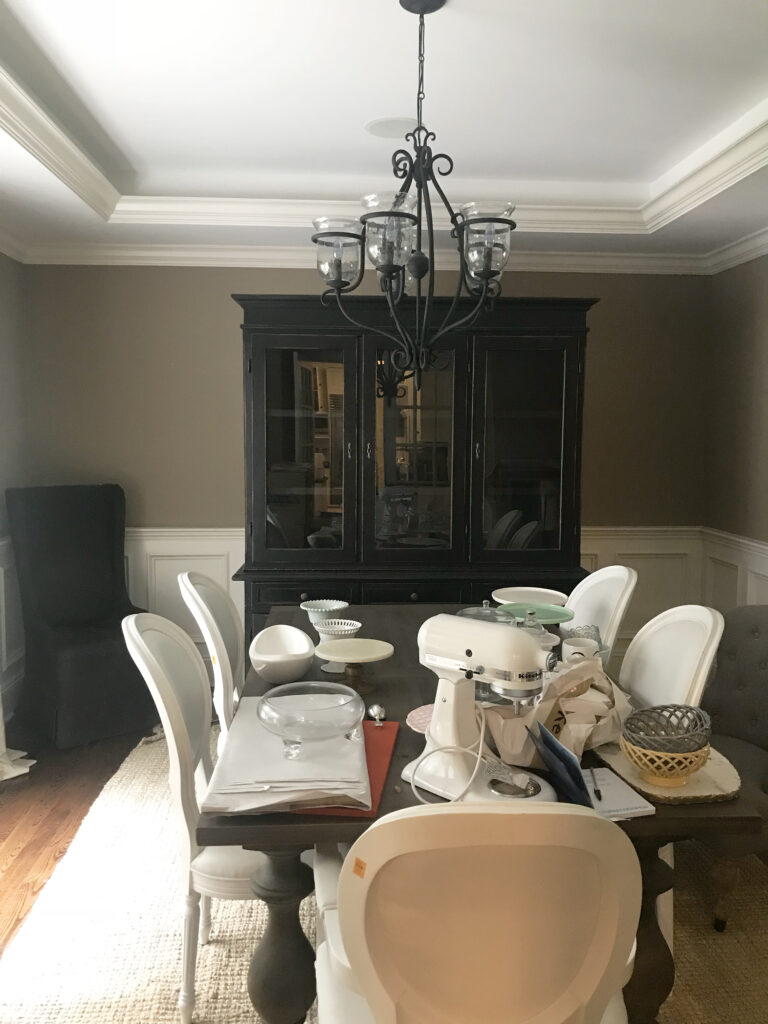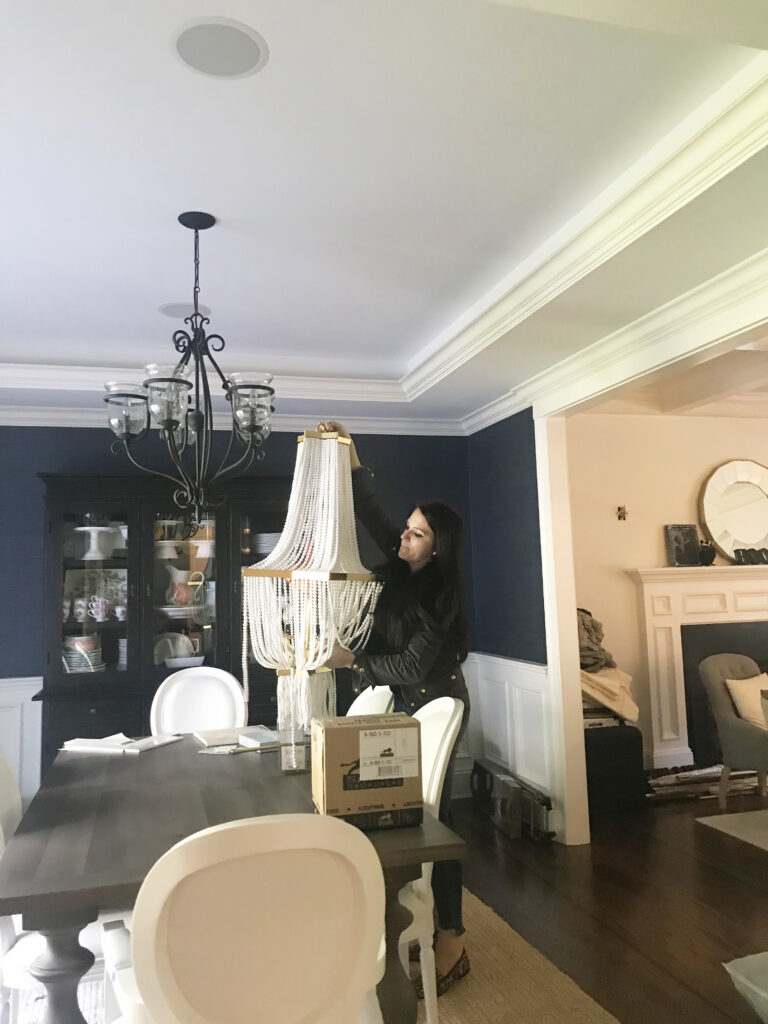 As you can see when we first moved in, the walls were a muddy brown color. I definitely wanted wallpaper and was originally planning to do a pattern wallpaper. But I loved the luxurious textured look of grasscloth wallpaper and putting it in the dining room was perfect. I still wanted to keep the room dark and moody so went with the navy grasscloth wallcovering.
The previous chandelier was so dated and screamed 2006! I wanted a statement chandelier but also one that was traditional and went with the molding and style of the home. I love the beaded chandelier and actually found this designer chandelier at a discount lighting store for a fraction of the price. It was the best find! The chandelier was sold on Caitlin Wilson but has since sold out. This is a similar style.
AFTER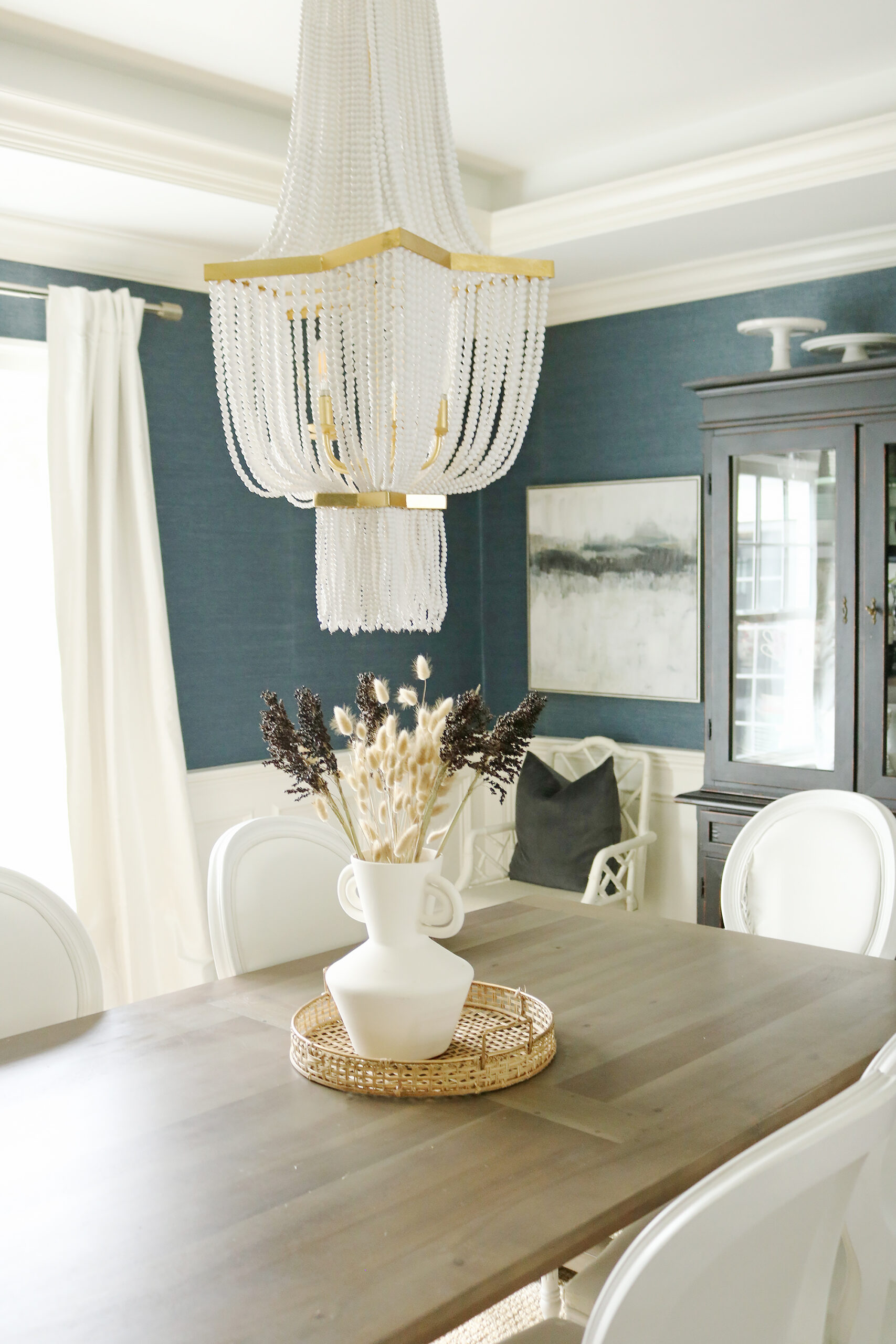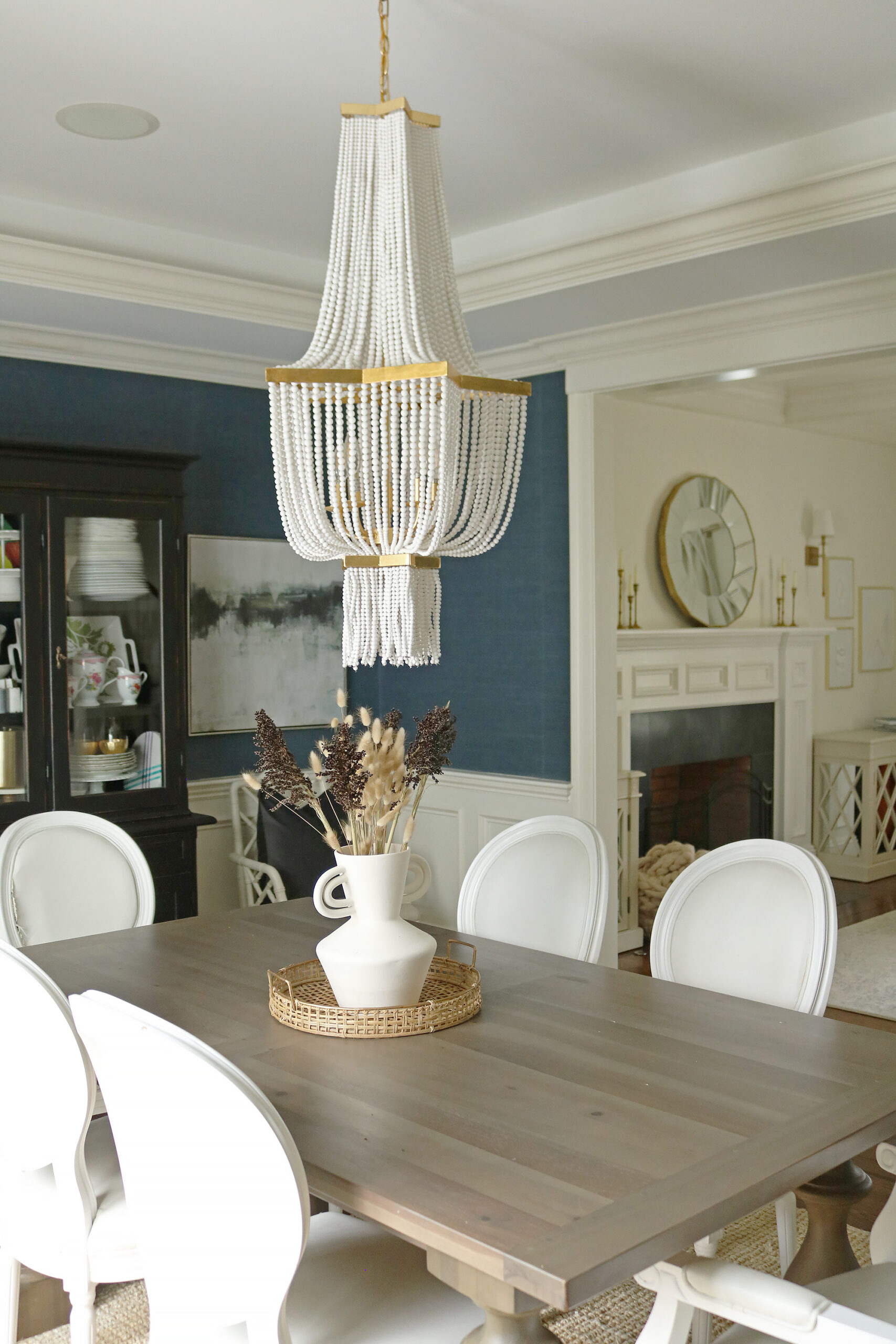 With just changing out two things, our dining room before and after is night and day! It's amazing how little work can make big changes. I haven't changed out our furniture. We had it all in our old home–same cabinet, table and chairs. In fact, I was thinking a while ago to paint my black cabinet white. But now I am so glad I didn't because black is coming back strong! I probably should style the inside of the cabinet, but we really do use everything in the cabinet and I have so many plate collections because I love to entertain!
Here are additional posts about Our Dining Room from this past year: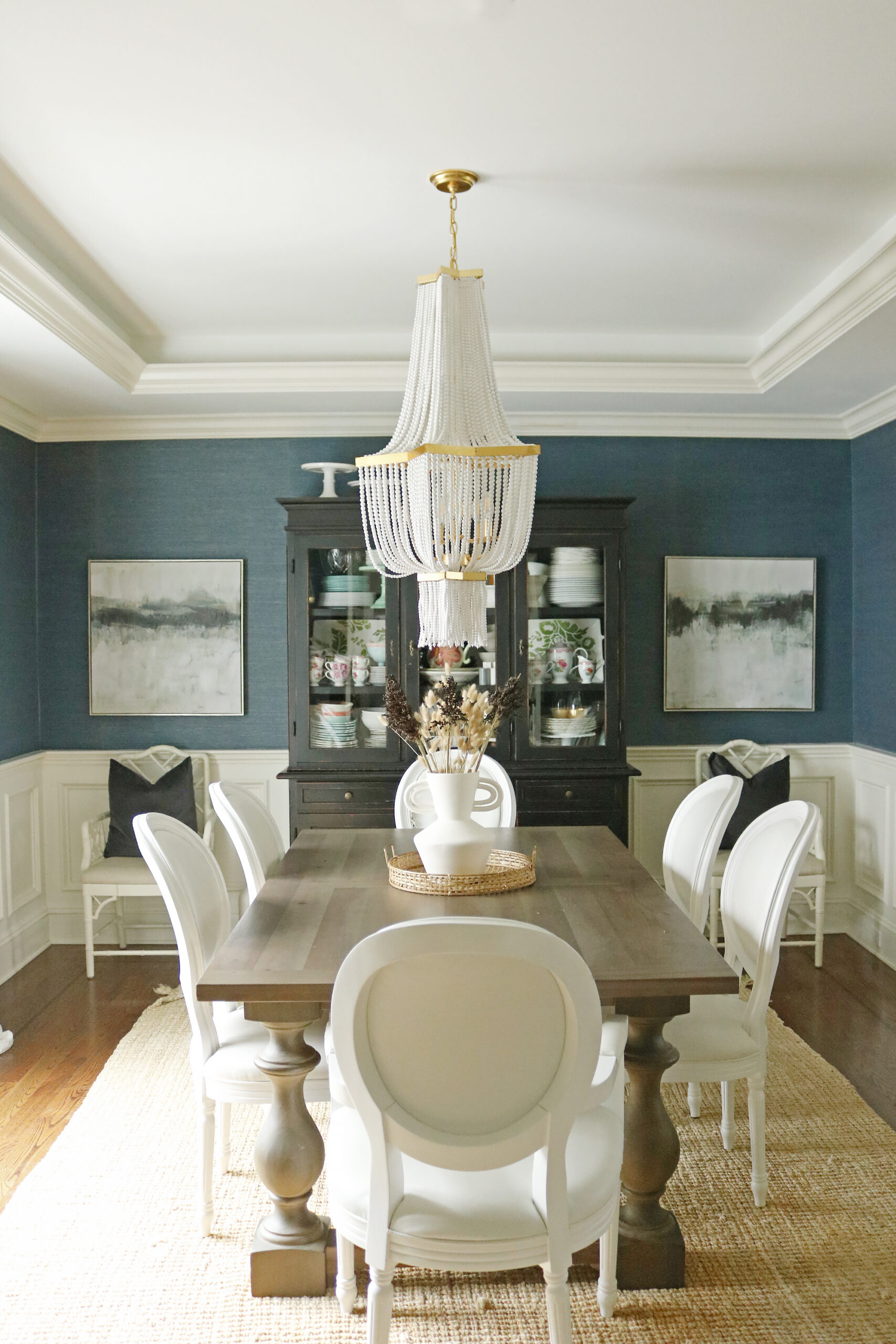 SHOP THE POST