It's about time that I am finally posting the long-awaited Star Wars Birthday party for Lucas's sixth birthday. I mean…it only happened over six months ago and we are in a whole new year and different season. But truth be told, I lost all his birthday party pictures. I was so sad and devastated. They accidentally got erased on our computer, and I've spent the last few months asking friends, who were at the party, to send me their copy of pictures. So I got a wide assortment, but think I got some pictures that captured the fun we had at the party.
We are big-time Star Wars fans, so I was really happy when Lucas wanted that to be his birthday theme. Can I just say that I actually love throwing boy birthday parties more than girls. There is so much imagination in little boys! Okay so I will try to remember everything I did. PS….excuse the glare in some of the pictures. It was a hot summer sunny afternoon!
PSS…this is a LONG post. Lots of pictures. Sorry!
Birthday table. The backdrop is actually a chalkboard. I got a large piece of wood cut at Home Depot and painted it with chalkboard paint. I wanted it to look like a starry night. Sorry for the glare!!
Jedi Training Kits–When the kids arrived, they each received a Jedi Training Kit gable box. Inside the box was their padawan training outfit, lightsaber, a little Star Wars squishy man and Star Wars pez candy dispenser. This was also their party favor box. Once they got their outfit on, I had them draw on another larger chalkboard Star Wars figures and stars, moons, comets, etc. We used that chalkboard as a photobooth to take individual pictures of the kids in their padawan outfit (but I lost all those pictures).
We also took pictures of the kids in Star Wars masks, which I used those masks as the birthday invitation. Resource below.
Birthday Table: resources at the bottom. Here's the food list:
Fruit Lightsaber: fruit kabobs
Death Star Donuts: chocolate-dipped donut holes on a stick
Ewok Nibbles: pretzels, goldfish, wheat squares
Vadar Veggies: carrots, broccoli, snap peas
Skywalker Sugar Cookies: sugar cookies
Galactic Cupcakes: cupcakes
Obi-Pop Kornobi: popcorn
Leila Buns: small cinnamon rolls on a stick
Palpatine Pizza: pizza
Yoda Soda: green soda drink
Warrior Water: bottle water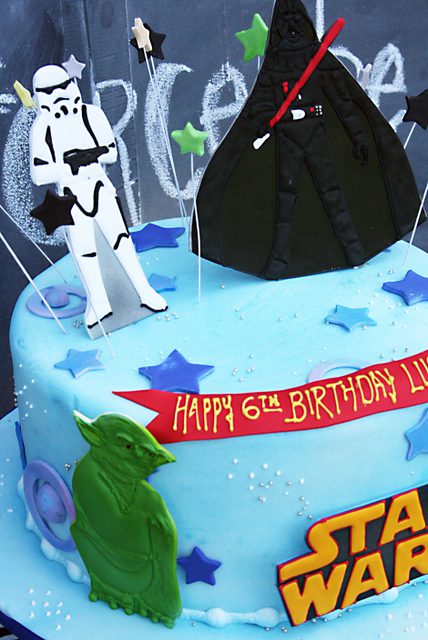 Before the party started we set up our TV outside, so Star Wars could be playing. I threw some quilts down for the kids to lay on and strung some blue party paper balls on ribbon and attached to wooden sticks across the quilts so it would square it off from the other activities. It's similar to what I did here. I lost those pictures and don't have them. When it was time to eat, I had trays so the kids could carry their food without it falling everywhere. It was really good because it contained all the food without it going all over the blankets.
Jedi Training Camp–The main party entertainment was the Jedi Training camp. Originally, a friend of mine had recommended magician Jon Finch to be the party entertainment. I was really excited to have a magician as we'd never had one at a party before but then just before the party, the birthday boy had a sudden change of heart so we had to have a Jedi camp instead! I talked to Lucas's Uncle Eric about dressing up as a Jedi Knight and training a bunch of wild boys to be Jedi Knights. He took this responsibility very serious and watched a lot of Disneyland's Jedi training camp YouTube videos. It was awesome! He even spoke like a Jedi and the kids loved it. I did purchase the Jedi Knight outfit because I was short on time to make anything for him. But it could easily be made with a long white robe with a brown sash. Or if you like to buy the one I have, let me know!
Jedi Eric taught the boys how to use their light sabers, how to swing and properly act like a Jedi Knight. Then they had to go through an obstacle course and practice their skills. The best part was when there was evil in the force and Darth Maul showed up. You should of seen the looks on the kids' face. It was awesome! I have to admit. I was scared, but they all ran and attacked him. But my ultimate favorite part was when Darth Maul and Jedi Eric went at it and had a pretty good lightsaber fight. I'm sure it brought back a lot of fond childhood memories for those too. Don't worry…Darth Maul was Lucas's daddy.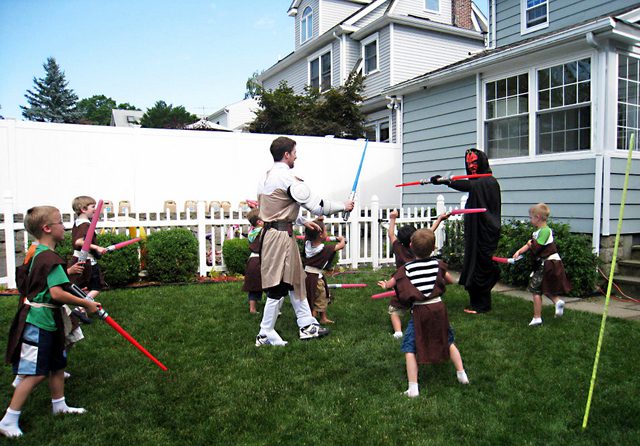 After we sang Happy birthday, ate the most yummiest birthday cake and then the kids pretended to be Jedi knights and played in our bounce house. It was such a fun party!
PSSS…I miss our backyard.
Party Resources :
cut wood and chalkpaint: home depot
adult Jedi costumes
padawan outfits: I bought brown fabric on sale at Jo-Anns to make tunics for each guest. So, you cut
out a rectangle piece and then cut a hole for the neck. I suggest cutting the holes not too big or the tunic
will fall off their shoulders. I also bought white fabric and cut long strips for ties. No sewing.
blow-up lightsabers
star wars pez candy
gable boxes
star wars printable masks: BessiePooh
party labels and food labels: me
black and white striped table cloth: my own but got fabric from Ikea and made into a tablecloth
star wars cookies: Sweet Treatz by Mary
star wars fondant cupcake toppers: Pastel Fiesta
party straws, cupcake holder, food cups, striped bags: Hey YoYo
star wars 3-d cake and cupcakes: Sweet Lisa's