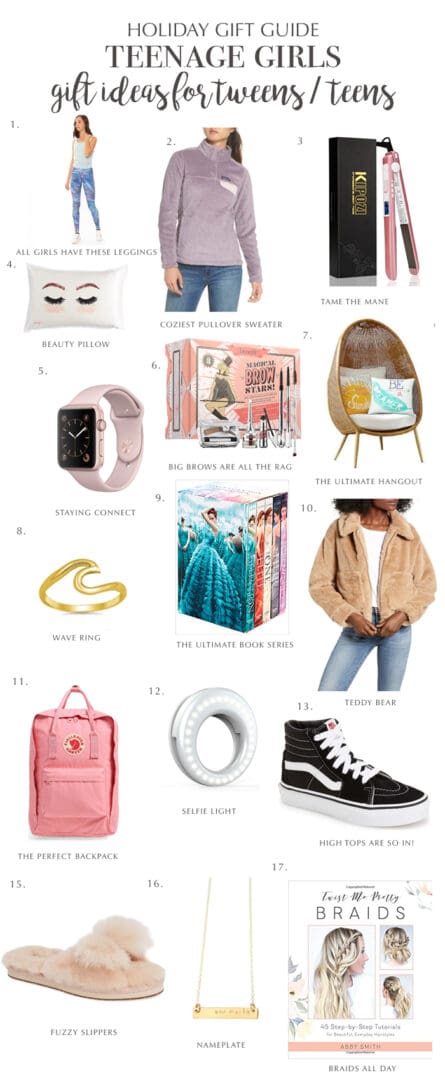 Holiday Gift Guide For Teen Girls
I love doing these Holiday Gift Guide for teen girls and boys because it is basically mine own children's Christmas list, and this is a post they help me pull together with gift ideas of what they like and their friends like.  Heading straight to the source is the best way to get the right answers.  Last year's holiday gift guide for teen girls was a huge success for you and for me…that is with Christmas morning.  I had one happy daughter, and I think last year's teen girl gift guide still stands as to what teen girls want for Christmas.  This year's gift guide I changed it up a bit and found out what all the rave is for 11-15 year old teen girls.
Some top things girls are into are contouring eyebrows and soft fuzzy things.  Personalized necklaces from Darleen Meier Jewelry is always a favorite. Similar to what I mentioned in the holiday gift guide for teen boys, presents can also be experiences or lessons like a seasons pass to a ski resort or tickets to a Broadway show.  Most girls at this age also like spa gift cards for pedicures and manicures.  Gift cards are great like at Forever 21, Amazon or Shein.  My daughter has already asked for Christmas for a hair salon appointment to get highlights.  Sometimes taking a different approach to holiday shopping is the best answer and most rewarding than tangible items.  Does it mean they won't have anything to open on Christmas morning?  Well, no!  Still wrap a gift card or a little message date with bows and paper and put it under the Christmas tree! Shop for below!
Best Stores for Teen Girls